Thursday, April 2, 2015
Message Given by the Most Holy Virgin Mary
To Her Beloved Daughter Luz De María. Maundy Thursday.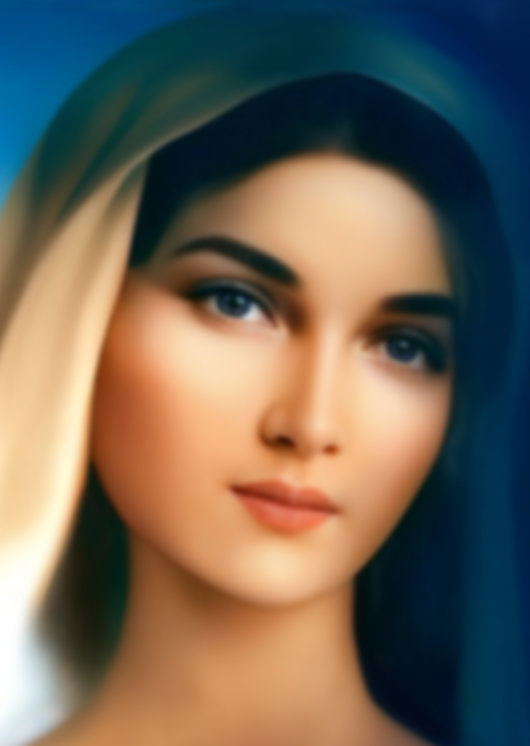 Beloved children of My Immaculate Heart:
I BLESS ALL THOSE CONSECRATED TO MY SON'S SERVICE.
I bless My favorite children.
I bless the hands that adore and—in an act of profound thanksgiving—raise the bread and the wine and allow My Son to be Transubstantiated into the Divine Body and Blood.
I bless My favorite children who tirelessly give themselves to My Son's People, those who at all times preach the Truth: "…proclaim the message …whether the time is favorable or unfavorable…"3; those who, regardless of the time, go promptly at all hours to serve the souls.
I bless My favorite children who do not seek honors or human distinctions, but want to live in My Son's Will and comply fully with their Consecration.
Beloved children of My Immaculate Heart, People of My Son who love Him:
I BLESS ALL THOSE WHO BELONG TO THE DIFFERENT GROUPS IN MY SON'S CHURCH.
There are no different groups, it is one sole group at My Son's service; but rivalries arise and, as Mother, I cannot ignore them.
TO ALL THOSE WHO CALL YOURSELVES CHRISTIANS, WHO DEDICATE PART OF YOUR LIVES TO
SOME GROUP WITHIN MY SON'S CHURCH, I SUMMON YOU TO BE ONE SINGLE HEART,
FRATERNITY AND UNITY. No service, no religious group is more than any other; it will be the least one of all if it does not keep itself at the total service of your brothers.
Beloved children:
THE ONE WHO WANTS TO BE THE GREATEST MUST BE THE LEAST OF ALL, THE LEAST AND THE MOST HUMBLE OF ALL.
THAT SON OF MINE IS THE ONE WHO HAS MY SON'S LOVE IN FULL.
Beloved children:
Do not allow conflicts to separate those who remain within My Son's Church at the service of your brothers because all of you serve My Son and Me.
3 2 Timothy 4:2 New Revised Standard Version Catholic Edition
My children do not have rivals and they do not see their brothers as rivals. My true children are unity; they know they have been summoned to fraternity, to be one single Heart at this instant in order to have the necessary strength to combat evil together, not to combat one another within the same Church.
Those who call themselves Christians and do not come near My Son, they are not true.
Those who serve in different groups within My Son's Church, and walk covered by human ideologies, are not My true children. MY SON IS NOT AN IDEOLOGY; MY SON IS "THE WAY, AND THE TRUTH, AND THE LIFE."[2]
Beloved children of My Immaculate Heart:
EDIFY, CONSTRUCT; DO NOT OVERTHROW YOUR BROTHER…
Construct, edify taking knowledge to your brothers, warning them about this instant, instant of instants, when humankind has allowed My Son's Word to be banished and has adopted as a way of life:
Irreverence towards My Son…
Disobedience of the Commandments…
And rage as banner…
YOU HAVE TRANSGRESSED ALL STANDARDS IN ALL ASPECTS.
My Son is Mercy, and He comes to you with His infinite Mercy. Without being a sinner, He even carries the Cross of all of humankind's sins, and He does this out of Love, out of Love for each and every one of you, His children.
My Son gives Himself and with each lashing He receives:
He sees how many betrayals He will receive from His children…
He sees how many denials He will get from His children…
He sees how many will hide and renounce Him to avoid suffering…
BUT MY SON SUFFERS AND IN THIS SUFFERING HIS HEART STRENGTHENS WHEN HE SEES YOU
WHO ARE FAITHFUL TO HIM, WHO DO NOT DENY HIM, WHO KEEP UP THE FAITH, WHO STRIVE FOR UNITY AMONG BROTHERS, WHO STRIVE TO KEEP THE CHURCH BEATING AT THE SAME RATE AS THE DIVINE HEART.
My Son sees you who adore Him, who do not get involved in disputes; instead you are unity, love, transparency, charity, blessing, and faith.
My Son continues to give Himself when He looks at the Holy Remnant prepared to receive Him in His Second Coming.
My Son continues to give Himself when He sees that His People know His Word and do not decline, instead they penetrate the broadness of knowledge so the coming events will not take them by surprise; they penetrate My Calls throughout the times in My different Apparitions where I reveal even the most minute details of the suffering of this generation in particular so that, once they have passed the crucible, they will shine like gold and will be able to receive My Son, not only with a "Glory!" or "Hosanna" but also with their works and acts in the Father's Will.
Beloved children:
DO NOT GET INVOLVED IN DISPUTES WITH ONE ANOTHER; HELP ONE ANOTHER SO YOU WILL DISCOVER THE ONE THAT ALREADY MOVES IN THE MIDST OF HUMANITY, so you will discover the one that, with the fake appearance of righteousness, already reveals himself before all of humankind to gestate the division of My Son's People and overwhelm all those who confess their Faith in My Son.
Beloved children of My Immaculate Heart:
PENETRATE THE MYSTERY OF MY SON'S LOVE FOR YOU; it is a Love that most of you still do not know.
PREPARE TO RECEIVE THE ONE WHO, AFTER THE ANTICHRIST IS REVEALED, WILL COME WITH MY SON'S WORD IN HIS MOUTH TO HELP AND ASSIST YOU.
Pray, My children, pray for the Priestly People so they will live the same sanctity as My Son. Pray, My children, pray because the science without conscience aims to diminish the world population.
Pray, My children, pray because the plagues advance towards humanity without you perceiving
it.
Pray, My children, the land continues to tremble and My children continue to suffer.
Continue giving yourselves for the love of My Son.
Continue united with My Son's Passion.
Continue meditating My Son's pain so you can partake of the joy of the resurrection.
AS YOUR MOTHER I PROTECT YOU AND I KISS EACH ONE OF MY CHILDREN. RECEIVE PEACE IN YOUR HEARTS, I PROTECT YOU AND ASSIST YOU, MY BELOVED CHILDREN, I BLESS YOU.
Mother Mary
HAIL MARY MOST PURE, CONCEIVED WITHOUT SIN.
HAIL MARY MOST PURE, CONCEIVED WITHOUT SIN.
HAIL MARY MOST PURE, CONCEIVED WITHOUT SIN.