Friday, April 3, 2015
Message Given by the Most Holy Virgin Mary
To Her Beloved Daughter Luz De María. Good Friday.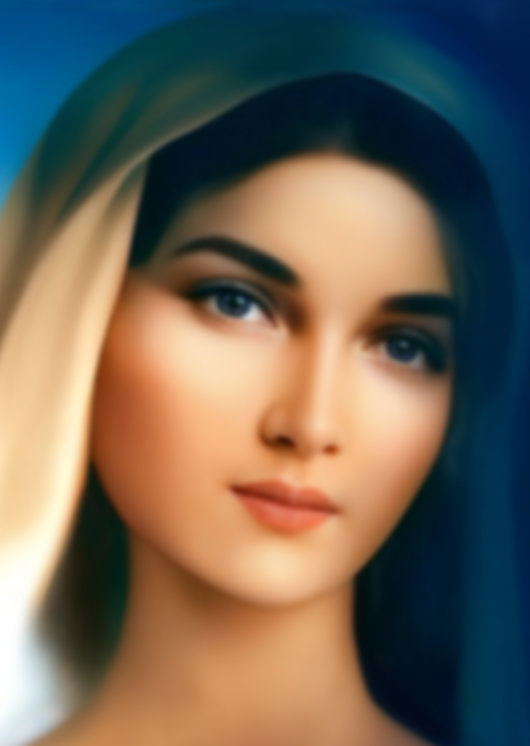 Beloved children of My Immaculate Heart:
MY CHILDREN, AT THIS INSTANT YOU ARE SHELTERED BY ME. DO NOT ALLOW THE HUMAN WILL
TO WEAKEN YOU; INSTEAD, WHEN YOU DELVE IN MY SON'S GIVING OF HIMSELF, YOU ARE FUSED IN THE DIVINE LOVE FROM WHERE ALL GOODS FOR THE HUMAN CREATURES COME.
My children know their Shepherd and obey the Call. They know that they must instruct themselves to increase the knowledge, and must not ignore what happens around them in the whole world. The suffering and the pain will encompass all the Earth.
My beloved:
MY SON'S CROSS IS VICTORY OVER ALL EVIL, OVER DEATH ITSELF. THUS MY CHILDREN KNOW THAT THEY WALK AMID OBSTACLES, BUT THEY WILL PREVAIL IN MY SON'S NAME.
At this instant each one of you must be the one who takes the Divine and Blessed Blood making the commitment to be the custodian of such a great Miracle of Love. My Son's Divine Blood was not spilled without giving fruit in His children, and fruit of Eternal Life! The Christian's daily bread is the Eucharistic Bread to strengthen the spirit as well as the body.
Children, each instant's battles cannot be won without My Son. Ask My Son for the grace of receiving Him worthily in such a great Sacrament. Before the Eucharistic Sacrament every knee bends adoring the Greatest in Christendom.
Beloved:
MY SON'S CROSS CONTAINS THE SINS OF ALL HUMAN CREATURES;
THIS IS WHY ITS WEIGHT IS SHARED BY ALL HUMANKIND. NOW YOU MUST REPAIR AND AMEND,
STAYING AWAY FROM ALL THAT LEADS YOU TO EVIL.
Children, these are instants of pain for several countries. Do not see the pain from a distance because it will spread to the entire Earth.
THE CHRISTIAN OF THIS INSTANT INSTRUCTS HIMSELF AND KNOWS ALL THAT HAPPENS AROUND HIM, SHOWING SOLIDARITY AND LIVING IN FULL THE LOVE FOR HIS NEIGHBOR.
Each one of you must be the one to wipe the Divine Face—Sign of the presence, the company, the recognition of My Son as Savior of humankind—and engrave in his heart not only the pain but also the Love that surpasses the love: The Divine Love.
MY SON CARRIES MAN'S DAILY CROSS, BUT HE IS COMING AGAIN IN HIS SECOND COMING TO BANISH EVIL.
HE COMES TO HIS CHJILDREN IN GLORY AND SPLENDOR, WITH POWER, ACCOMPANIED BY HIS LEGIONS, SHAKING HEAVEN AND EARTH.
HE COMES TO HEAL WOUNDED HEARTS AND TO BE THE INFINITE LOVE FOR MY HEART'S AND MY CHIHLDREN'S HAPPINESS.
Pray, My children, for Italy, it will suffer enormously.
Pray, My children, pray for the priests so they will be completely dedicated to their flocks, so they will not remain asleep when the human creatures need them.
Pray, My children, pray for the great powers; they do not understand that evil was determined to deceive them so they will generate humanity's last suffering.
Pray for yourselves so evil will not wreak havoc and lead you away from the True Path.
EACH ONE OF MIINE MUST BE THE BROTHER'S CYRENIAN. THERE MUST BE NO CONFLICTS
AMONG YOU. YOU ARE ALL MY CHILDREN AND AS MY CHILDREN YOU ARE STRENGTH, OBEDIENCE, LOVE, DEDICATION, SOLIDARITY, UNITY, HOPE, FAITH, SILENCE, AND PERENNIAL FOLLOWERS OF MY SON.
As My Son's children, immerse yourselves in His Most Sacred Heart, consecrate yourselves to Him and be the wall that goes up to prevent evil from penetrating your hearts through the senses. Control your senses; do not allow your senses to control you.
Beloved:
RECOGNIZE EVIL SO IT WILL NOT PENETRATE YOU THROUGH SENSITIVITY; BE HUMBLE.
DO NOT ALLOW EVIL TO SEPARATE YOU FROM THE PATH TRAVELED.
EACH SOUL THAT SEPARATES FROM MY SON'S PATH IS A TRIUMPH FOR SATAN.
Come to Me: As Mother I embrace you, with My Love I defend you, and I intercede so the gall will be sweet.
You are not motherless children; you are My great treasure.
Keep My Son company on the way to the Calvary so you will forever banish the power you have given to your "ego", and the Divine You be the beating of My children's hearts.
DO NOT PARTAKE IN THE EVIL THAT EXISTS IN THE WORLD. BE THE DIFFERENCE: A SIGN THAT YOU BELONG TO THE HOLY REMNANT. I LOVE YOU.
At this instant when you commemorate My Son's death, kill the human "ego" so My Son will remain alive in you.
Children:
CONVINCED FROM THE BOTTOM OF YOUR HEART, STATE YOUR TOTAL DEDICATION TO MY SON RECOGNIZING HIM AS THE KING OF KINGS AND LORD OF LORDS.
My blessing is for all; I love all of you.
Mother Mary
HAIL MARY MOST PURE, CONCEIVED WITHOUT SIN.
HAIL MARY MOST PURE, CONCEIVED WITHOUT SIN.
HAIL MARY MOST PURE, CONCEIVED WITHOUT SIN.