Sunday, April 5, 2015
Message Given by Our Lord Jesus Christ
To His Beloved Daughter Luz De María. Resurrection Sunday.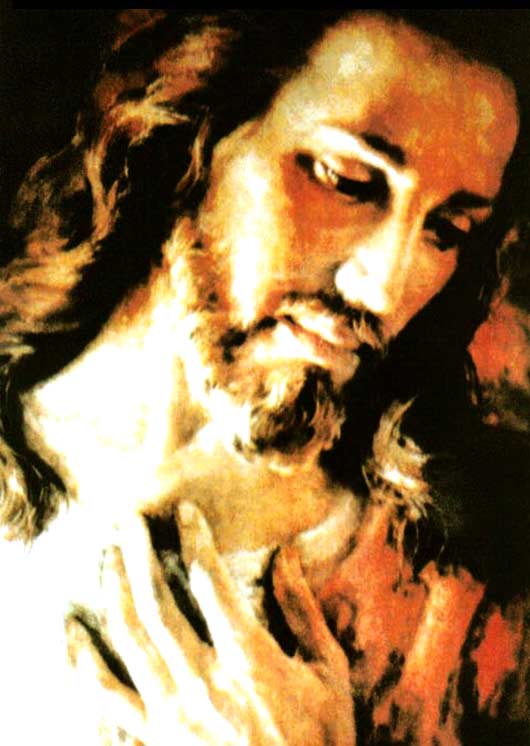 My People, beloved children, tireless walkers:
I LIVE!... AND EVERYTHING THAT IS OUTSIDE OF ME … IS NOT MY WILL.
I AM THE ETERNAL PRESENT, I AM IMMUTABLE. "I AM THE WAY, AND THE TRUTH, AND THE LIFE…"[5]
My Nets of Divine Love have gotten the best catch: My People are Faithful, they do not hesitate, and they walk in the world without belonging to this world, without allowing the world to contaminate them with evil.
My Glory is the glory of My People…
My Word is for the Salvation of My People…
My Body and My Blood are nourishment for My People...
"Not everyone who says to me, 'Lord, Lord,' shall enter the kingdom of heaven, but he who does the will of my Father who is in heaven."[6]
Beloved:
ALL HUMAN CREATURES WHO OBEY AND LIVE THE DIVINE WILL ARE MY PEOPLE.
ALL THOSE WHO RESIGN SIN AND ITS MACHINATIONS ARE MY PEOPLE.
Beloved children:
This generation is blessed with My Delivery of Myself on the Cross, Cross of Love and Resurrection.
I DO NOT MOVE AWAY FROM THE HEART WILLING TO FOLLOW ME AS A FAITHFUL DISCIPLE.
HE WHO WANTS TO DELVE IN ME, CRY AND HE WILL BE HEARD.
My Mother waits for you to give you the Light of Her Heart. Do not wait any longer. The time is not time, it's an instant that goes by unnoticed. At the blink of an eye you will feel far from Me as you are carried away by the current of offenses to Me.
The day is no longer day; it is a slight passing of the sun and a quick coming back of the moon. Man does not forecast the weather with accuracy. At this instant Nature tells man: I am God's creation, I am unpredictable to you.
Beloved:
IF YOU WISH, YOU WILL TRANSFORM THAT INCREDULOUS HEART OF STONE INTO A SENSITIVE HEART FILLED WITH MY WORD, MY WORKS, AND MY ACTS. I AM LOVE, MERCY, AND JUSTICE.
Beloved:
My Will is that you understand that I would not be a Just Judge if fairness to My People did not exist: Mercy and Justice.
I WILL GIVE THE JUST MAN WHAT HE HAS EARNED; THE ONE WHO TRULY REPENTS I WILL
FORGIVE…
TO THE ONE WHO DENIES ME, WHO DOES NOT WANT HIS CONVERSION AND GIVES HIMSELF TO EVIL, I WILL GIVE HIM MY JUSTICE TO DRINK.
All the works and acts of humankind have passed before My Eyes at Gethsemane … I know you since before you were born, I wait for the conversion of those who remain far from Me, absorbed by the world and its sins.
I INSISTENTLY CALL YOU TO RETURN TO ME. I will receive you like the prodigal son, like the lost sheep; you will be My joy, My Love, and you will drink My Mercy.
I call you as many times as necessary so that evil will not take you or lead you astray; so that evil will not take you or mislead you to lose the Eternal Life.
My Resurrection is Life for My People, Blessing and Growth for My People.
MY PEOPLE, THIS INSTANT IS PRESSING. THE CONSCIENCE MUST RISE LIKE LEAVENING. ALL THAT MOVES AROUND HUMANITY GIVES ME PAIN AS IT IS THE RESULT OF THE HUMAN CREATURE'S FOOLISHNESS, THE HUMAN CREATURES I NEVER TIRE OF ASKING TO RETURN TO ME.
You remain slaves to your human ego without accepting the freedom I offer you.
Beloved:
You will not reach freedom unless you give up your attachments …
You will not reach freedom unless you free yourselves from all vices …
You will not reach freedom unless you leave aside your shackles and nullify your human self which, protected by necessity and false hopes, keeps leading you astray into the abyss where satan is waiting for you.
Children:
WALK FASTER, DOUBLE THE PACE. THE INSTANT IS BEFORE YOU, THE INSTANT WHEN I WILL
COME TAKE OVER THE CONSCIENCE OF EACH ONE OF YOU TO EXAMINE YOUR WORKS AND YOUR ACTS. THIS EXAMINATION OF MAN'S CONSCIENCE IS NOT FAR FROM HUMANITY.[7]
Beloved:
Examine yourselves deeply; examine the way you walk… I want you in My Home; I offer you Salvation. It depends on each one of you whether you obey or continue in sin.
HUMANKIND HAS BEEN WARNED BY MY HOUSE PERSISTENTLY WHETHER THE TIME HAS BEEN
FAVORABLE OR UNFAVORABLE; IT IS YOU, MY CHILDREN, THE ONES WHO HAVE DISOBEYED ME. At this instant, sin—controlled by the rage in My children—makes Me pour tears over the Earth.
My pain is profound when I see the minds of My children, out of convenience, refuse to see how the Signs of the Times are being fulfilled.
Beloved children, you are brothers in the Faith. Love one another just as I have loved you.[8] I am with you always, to the end of the age[9].
CHILDREN, WARN YOUR BROTHERS. DO NOT KEEP QUIET IN CONDEMNATORY SILENCE.
Children, pray, pray for My Church, it will shudder.[10]
My children, the war is upon you; great events will make humankind suffer. My children, pray for the United States and for England. They will suffer.
My children, I protect you.
Children of My Will, do not rest, be better every instant. Enough! Do not walk if you are not sheltered by Me.
My Peace is for each one of you; My Resurrection is Life for My People, abundant Life.
My Resurrection is living water for each one of My children.
I, JESUS CHRIST, HIGH PRIEST FOREVER, BLESS YOU AND COVER YOU WITH MY PRECIOUS BLOOD.
Your Jesus
HAIL MARY MOST PURE, CONCEIVED WITHOUT SIN.
HAIL MARY MOST PURE, CONCEIVED WITHOUT SIN.
HAIL MARY MOST PURE, CONCEIVED WITHOUT SIN.