Sunday, April 12, 2015
Message Given by Our Lord Jesus Christ
To His Beloved Daughter Luz De María. Diviine Mercy Sunday.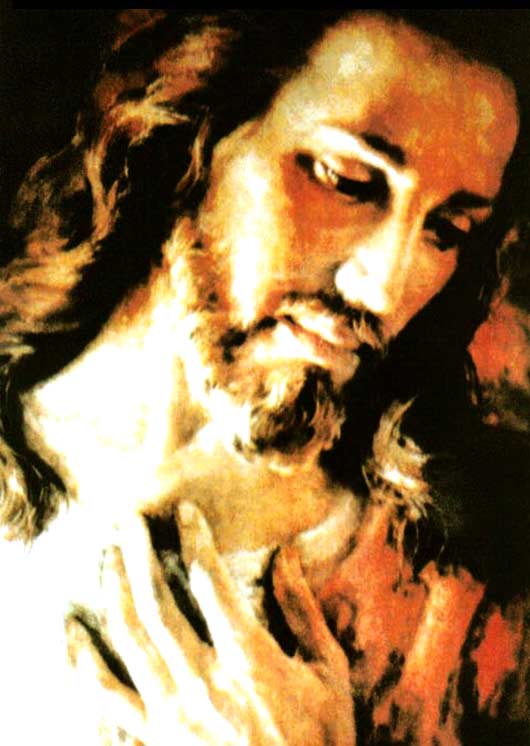 My beloved People:
MY LOVE REMAINS BEATING IN EACH ONE OF YOU.
MY LOVE IS THE LIGHT OF MY TRUTH AND MY TRUTH IS THE VOICE OF MY MERCY.
My People, My Heart grieves before each creature that moves away from Me by hiding all wrongdoing under My Forgiveness.
My Works are begotten by My Love and My Justice for My children whom I love. In the Creation I provide you with everything you need and more, so you will not seek other waters. However, not satisfied with what they have, My children delve in the unknown and penetrate the darkness which leads them to move away from Me. The human creature develops a curiosity which is not wrong until the curiosity prevails over man's will and leads him to get into all that is not My Will.
Man must rebel against that servitude to which sin ties him; and to liberate himself from that tether, the human creature must delve in the knowledge of love, and to know love they have to know Me.
I offer all My Mercy to the sinner so he will convert and aim for the true life. I LOVE YOU SO MUCH, CHILDREN, THAT TO THOSE WHO DESSERVE GREATER WOES I GIVE MY MERCY SO THE WOES WILL BE LESSENED.
HE WHO LOVES ME MUCH, MY MERCY EMBRACES AND SHELTERS.
My beloved People:
Suffering is an act of Mercy towards you. If you accept it with patience and love, it will bear fruit in abundance and you will be closer to Me. Painfully I see men reject Me, blaspheme in their instants of affliction, considering I am to blame for their misfortunes and without pausing to meditate: If you clamor for My Mercy, I will give you the balsam of My Love, but My Mercy is not always what man asks of Me, although it is what is best for his life.
Come to Me every instant, you will not find Mercy like Mine in any creature. Humanity helps and propitiates My children to stay in the mundane and sinful, but when My children decide to get away from the world, they find themselves alone and appeal to Me. Children, may humanity's sense of abandonment not lead you to fall in defeat or lead you to seek human consolation tainted by sin which comes from the denigration and guilt of my children.
My beloved People:
WHEN IT IS FOR YOUR OWN GOOD, SUFFERING NEVER REMAINS WITHOUT BEARING FRUIT.
AFFLICTIONS PURIFY AND LESSEN YOUR FAULTS, AND IN EACH PURIFICATION, THE SOUL RISES MORE TOWARDS ME.
Beloved, I call you not to forget to appeal to My Mercy every instant; otherwise, the enemy takes advantage of it to make you feel miserable and unworthy of My Forgiveness, and thus leads you to remain in the mud.
I call all of you, all are My children, but not all wish to be My People…
I am eager to embrace you; this is why I call those who have left Me, those who have great debts with Me, and those who do not love their brothers.
I call you to give you My Love, just like I received the good thief because it was in My Power, and I granted him participation in My Kingdom.
NO HUMAN CREATURE ON EARTH WILL HIDE FROM ME. EVERY HUMAN CREATURE WILL FIND
MY MERCIFUL LOVE AS LONG AS HE COMES TO ME TRULY REPENTED OF HIS WRONGDOING AND WITH A FIRM PURPOSE OF AMENDMENT.
My People:
I act with Mercy and with Justice; I am Merciful but this does not lead Me to set aside My Justice…
With his free will I allow man to reap the fruit of his actions …
MY MERCY DOES NOT DESTROY MY JUSTICE, ON THE CONTRARY, MY MERCY IS INFINITE AND, IN THAT INFINITY, MY JUSTICE WAITS UNTIL THE LAST INSTANT, BUT MY MERCY AND MY JUSTICE CONTINUE TO ACT IN EVERYTHING. In no judgement My Mercy or My Justice is missing; in no judgement My Goodness and My Wisdom are missing. My People know Me and know about My Mercy, but at the same time they know I am the Just Judge.
The men who cause the destruction of humanity and do not repent must fear the Judgement, because they will carry on their shoulders the lives of the innocent that suffer…
The men who crudely seek the reduction of the human population and do not repent must fear the
Judgement Day…
The men who pretend to love their neighbors but do not, crucify Me time and again. These men must make good use of this instant to repent before the instant comes when—because of My Mercy— each one must look at himself.(1)
AFTER THE WARNING, MANY OF MY CHILDREN WILL NOT UNDERSTAND THE WAY MY LOVE WORKS
AND THEY WILL RECRUDESCE IN SIN UNTIL AFTER THE MIRACLE WHEN MY HAND WILL MAKE THE CHASTISEMENT DESCEND.(2)
My People:
So much evil is spread all over the Earth by the human creature!...
So much sin increases every instant!...
So much misery I see on the Earth!...
So much difficulty to achieve the unity of those who are Mine!...
So many struggles for the better jobs and to reach the most renowned places at instants when the unity attracts Me, at instants when fraternity attracts Me!
So much rivalry when everything is Mine, nothing belongs to the human creature!…
My People:
RESPECT FOR ONE ANOTHER IS NECESSARY… ALL OF YOU WORK FOR MY KINGDOM, NO ONE SHAPES A SECURE FUTURE FOR HIMSELF IF IT IS NOT BECAUSE OF MY WORK AND ON MY PATH.
I SUMMON YOU TO PARTICIPATE IN MY UNITY;
HE WHO WALKS SEPARATED FROM MY UNITY HEADS FOR THE ABYSS.
My People:
PRAYER IS NECESSARY,(3 ) IT S NECESSARY TO APPROCH ME WITH A SINCERE HEART SO YOU WILL REMAIN SECURE. I used to retire and pray to My Father; thus, he who does not know about prayer is far from Me.
I INVITE YOU TO PRAY THE HOLY ROSARY AT THESE INSTANTS WHEN THE DEVIL IS TAKING OVER THE SOULS THAT ARE MIRED IN THE MUD AND DO NOT WISH TO GET AWAY FROM THE MUD.
I am attracted to the souls that come visit Me in the Sanctuary and to the souls who receive Me in My Body and My Blood, in a state of Grace.
I am attracted to the simple souls who fight for the unity and love their brothers, not before the society that gawks at them, but before Me because they are true.
Beloved, pray for the whole world so that those who still wish to approach Me will recognize Me. Beloved, pray for Perú, it will suffer.
Beloved, each one of you pray for your own salvation, I wait for you.
Children, return to Me, My Arms remain open for those who wish to come to Me.
I WANT YOU TO BE LIKE PURE OIL FROM THE BEST OLIVE ORCHARDS… I WANT YOU TO BE LIKE CRYSTAL WATER WHERE I CAN SEE MYSELF…
Your Jesus.
HAIL MARY MOST PURE, CONCEIVED WITHOUT SIN. HAIL MARY MOST PURE, CONCEIVED WITHOUT SIN.
HAIL MARY MOST PURE, CONCEIVED WITHOUT SIN.
(1) The Warning. Luz de María's experience
(2) Great prophesied events
(3) Prayer: Messages given to Luz de María