Wednesday, April 15, 2015
Message Given by the Most Holy Virgin Mary
To Her Beloved Daughter Luz De María.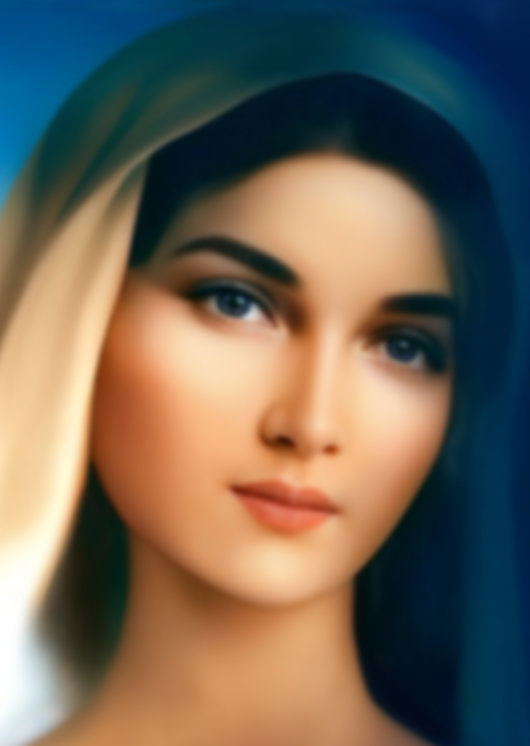 Beloved children of My Immaculate Heart:
RECEIVE THE PEACE THAT EMANATES FROM MY HEART FOR EACH ONE OF YOU, MY CHILDREN.
Beloved:
How different is this instant of this generation from what the Divine Will wishes for those who are His!
Man has diminished, and will diminish even more…
Living a saintly and just life as dictated by the Commandments is a matter of the past in the daily living of the human beings.
Giving thanks to God for each gift received is also a matter of the past and, at this instant, cause for embarrassment to some.
Mankind created strange gods, false idols, and then devoted themselves to accumulate wealth so the human heart would move away from the True and Living God.
My Son's Mandate, "DO THIS IN REMEMBRANCE OF ME"(1), has lost value. The same thing is true regarding the Greatness, the Blessing, and the Solemnity with which My chosen children should carry out My Son's giving of Himself on the Eucharistic Table, where My Son's Body and Blood — the Great Miracle of Divine Love—become present for the Nourishment of His People.
At this instant, the Eucharist is seen with disdain, it is received without being prepared and without realizing that to receive a Eucharist in mortal sin forges the condemnation of the creature, if the creature remains sane.
In the coming instants, how sorry will be the human creatures who despise the Eucharist!
Beloved children of My Immaculate Heart:
Without pausing you fall in the abyss of the abysses… You do not think that everything that relates My Son to humankind has been slowly eliminated making it seem normal or evolutionary within the instant in which you move. Evil has acted strategically to prevent My Son's People from manifesting against what separates them from their God.
Children:
You need courage to rise after you fall…
You need humility to continue along My Son's path…
After discrepancies arise among brothers, you need wisdom to deal with fools… You need Faith not to get off the boat when it is convulsed.
This is the way My Son's Disciples went: Giving testimonials and turning the other cheek, they made way for you, for this instant.
Evil has evolved with great intelligence to build the emporium that dominates humanity at this instant. Dominates, yes; dominates by making the human creatures abandon My Son and accept satan as their god, surrendering to the abuse by the demons to injure My Son and this Mother where it hurts the most: Exterminating the human being in contempt for the Gift of Life. This is satan's retaliation for the Salvation that My Son bequeathed to His People by giving himself on the Cross.
Evil has evolved, My children have not. My children have slumbered in lethargy; they did not take My Son's teachings in their essence to get closer to Him and to fuse into One with the Divinity.
Beloved:
Satan's slyness constantly wins souls before an immutable society dedicated to the technology that has invaded man's mind with false and unreal adventures, carriers of mind control to induce the human beings to join the performers' cast shown to them. And this way they have accomplished their purpose: To create this violent generation which is to a great extent contrary to My Son, thirsty for revenge and death, before which they will not stop, because they have been trained even in their homes that have become training camps for violence and death.
THE FAMILIES ARE THE OBJECTIVE OF THE DEVIL, AND HE HAS ACCOMPLISHED IT:
DISINTEGRATION, FALSEHOOD, VIOLENCE… AND ALL OF THE ABOVE HAVE BEEN INTRODUCED WITHIN THE HOME BY THE PARENTS THEMSELVES BY MEANS OF THE TECHNOLOGY NOT
CONTROLLED BY THE PARENTS, AND THIS HAS PRODUCED THE GREAT DEVASTATION OF THEIR CHILDREN'S MINDS AS WELL AS THEIR OWN.
Man moves in a hostile environment. What is worldly won against the good, the truth, the mercy, the values, the life, the love of the neighbor, and so many more aspects…
Beloved:
I AM NOT LOOKING FOR SOMEONE TO BLAME; I AM POINTING AT THOSE WHO HAVE BEEN
PERMISSIVE AND HAVE FAILED TO CONTROL THE MINORS. THE YOUNGSTERS HAVE DELIVERED THEMSELVES TO EVIL HANDS TO ACCOMPLISH WHAT HAS BEEN INSTILLED IN THEIR MINDS BY MEANS OF MISUSED TECHNOLOGY.
Children, man does not build without a purpose; and the purpose of the technology—especially the one used by minors which has expanded to all ages at this instant—has been, since the beginning, to penetrate the human mind and replace the good with the bad.
With Divine Wails, My Son has sent Me time and again to His People, in different Apparitions, by means of His instruments; and in My Apparitions My Calls have not been heard; Calls in which I warned of all the things I have mentioned, and more. My Son's instruments are silenced and attacked by their own brothers to keep them quiet.
Children of My Maternal Heart:
YOU WILL NOT SILENCE MY SON'S VOICE OR MY VOICE AT THIS INSTANT, BECAUSE THE FIGHT IS AGAINST SATAN WHO HAS POSSESSED HUMAN CREATURES TO INVADE HUMANITY AND BEND IT THROUGH HORROR.
Beloved:
Men without a conscience evolve in wickedness which satan himself continuously feeds to them in order to prepare the domain of the antichrist on Earth. NOTHING IS HARMLESS, CHILDREN. WAKE UP! Those who kill their neighbors are not the only ones who have allowed evil to take them and dominate them; also some of your brothers have their minds saturated with evil that comes from mass media that invade the Earth with the purpose of penetrating and deviating My children from the Truth, the Morality, and all spiritual relation to My Son.
Save your souls, children!
Show yourselves before My Son and ask for His Mercy that you not be condemned. Convert before nightfall!
Pray, My beloved; an asteroid is coming without being seen yet. Indirectly it will cause great tragedy on Earth.
Pray, My children, for Japan; the lament has not finished yet.
Pray, My beloved, for Chile, it will suffer.
My beloved:
RESIST EVIL, DO NOT ABANDON THE EUCHARIST, AND DO NOT ABANDON PRAYER BECAUSE IT GIVES YOU STRENGTH TO CARRY OUT MY REQUEST TO EVANGELIZE YOUR BROTHERS.
Pray the Holy Rosary. I listen.
Instruct yourselves, know the movements of evil and warn your brothers.
Children, evil has condemned humanity to death in complicity with the great powers that contaminate the food; and My children unknowingly suffer because of it.
Children:
I LOVE YOU, I WARN YOU, I ALERT YOU, NOT FOR YOU TO BE AFRAID OF ME, but because a Mother warns those who are Hers and does not abandon them along the way.
I AM WITH YOU, DO NOT FEAR MY WARNINGS, FEAR LOSING THE ETERNAL LIFE.
I bless you, children, I remain with My children. My Legions, faithful to My Son's People, keep watching over you.
I love you.
Mother Mary
HAIL MARY MOST PURE, CONCEIVED WITHOUT SIN.
HAIL MARY MOST PURE, CONCEIVED WITHOUT SIN.
HAIL MARY MOST PURE, CONCEIVED WITHOUT SIN.