Wednesday, April 22, 2015
Message Given by the Most Holy Virgin Mary
To Her Beloved Daughter Luz De María.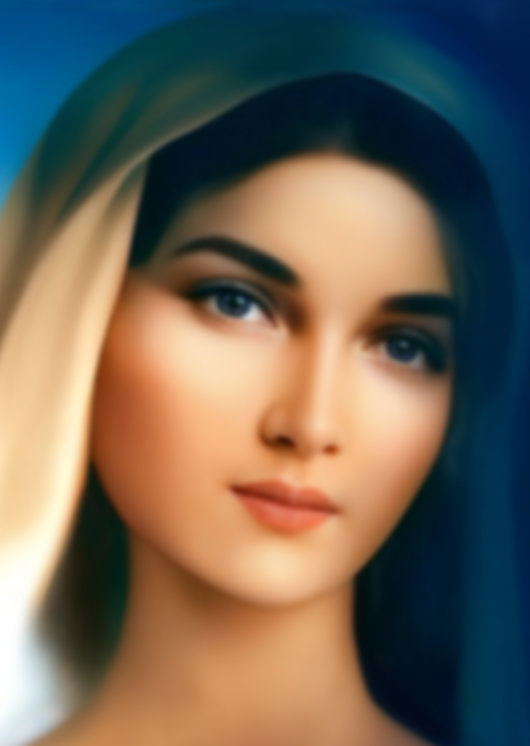 Beloved children, humanity:
SEE ME AS MOTHER OF HUMANITY! THUS I REMAIN.
MY TEARS COME DOWN MY FACE JUST LIKE IMPURITY AND WICKEDNESS HAVE MADE BLOOD FLOW ON THE EARTH.
The Gift of Life lays on the ground, there where the human beings are dedicated to put an end to life because of their free will.
The oceans are contaminated not only with radioactivity (*), but also with man's rage.
The land is contaminated not only with the chemical contamination that man allows to fall on it, but also with the wickedness, the irreverence, and the unconsciousness of the same man.
In the Old Testament God the Father presented Himself to His People; for this He used elements of His own Creation—fire, air, water—however, at this instant you possess My Son's Body and Blood, but you constantly despise Him with great unconsciousness, and on occasion, deliberately.
Beloved humanity:
I see you come up to receive My Son in the Eucharist, but I do not see you share Him with your brothers through your acts and works: Through your works, in My Son's likeness; through your acts, in My Son's likeness, being living testimonials of His Love and His giving of Himself, in the daily struggle, in the thirst for souls that My Son suffers at this instant.
There are so many who believe that My Son is only enjoying His Throne to the right of the Father in unity with the Holy Spirit!...
You are so wrong, children!
CURRENTLY MY SON IS IN EACH ONE OF YOU, IN EACH ONE OF THOSE WHO LOVE HIM, AND IN EACH ONE OF THOSE WHO DO NOT LOVE HIM.
At this instant those who do not love Him pounce like hungry wolves on My Son's Flock to tear it apart, but they ignore that the life of the body is not the only thing you have on Earth; they ignore that each human being has a soul and a spirit, and they can kill the body, but the soul and the spirit belong to My Son, especially when My children continuously give testimonials of the One who lives within each one.
Humanity:
Where do you think you are going in the middle of constant struggle, in the middle of battles, and in the middle of so many wars?
AT THIS INSTANT I AM NOT ONLY TALKING ABOUT WARS WITH WEAPONS, BUT ALSO ABOUT THE SPIRITUAL BATTLE, THE PERSONAL BATTLE, THE ONE EACH OF YOU MUST FIGHT AGAINST EVIL AND WIN. And at these instants I see so many of My children who, because of a setback, forget My Son's Love and His giving of Himself on the Cross, forget His Call, and forget that they have a Mother who Loves them and will never abandon them.
Humanity:
THIS INSTANT IS FOR THOSE WHO ARE TRUE, FOR THOSE WHO HAVE DECIDED TO SAY "FIAT", THAT "LET IT BE", THAT "YES" TO THE DIVINE WILL.
THIS INSTANT IS FOR MY CHILDREN WHO FIGHT AGAINST THEMSELVES AND CONSTANTLY RISE ABOVE THEIR SELFISHNESS.
THIS IS NOT THE INSTANT FOR YOU—AS MY SON'S MYSTICAL BODY—TO ALLOW EVIL TO DIMINISH YOUR FAITH.
Humanity:
If you feel hopeless or evicted it is because there is no love in you, and there isn't any love because you do not allow the Divine Love to live in you. If you feel this way it is because you do not allow My Son's fiery, living, and beating Love to transpire through the pores of your skin; the Love and the Divine Blood that He gave for each of His children. … And as Co-Redeemer together with My Son, I share His pain with labor pains; I share His pain because of the lack of awareness of My Son's Church.
You who listen to Me, you who from instant to instant adhere to Me as your Mother so I will guide you to My Son, you who look within with contrite heart and humility, and that at this instant regret your wrongdoings, to you I say that I come for you to take you by the hand with My Hand.
My Son is not in communion with false ideologies created by men… My Son is Divine….
My Son comes to the aid of His People, of those who are poor, of those who have in abundance, and of those who decide to embrace the Good News…
My Son does not share mundane ideologies established by men…
My Son does not accept that His People be persecuted…
My Son does not accept that His People be slaughtered… That is not His Will…
WAKE UP!
THOSE ARE THE WORKS OF EVIL; THOSE ARE THE WORKS OF THE OPPRESSORS WHO HAVE ALLOWED SATAN'S RAGE TO INVADE THEM.
How much, how much have I exhorted you in My Calls to humanity, in My previous Messages! How much have I called you to open your eyes, your thoughts, your knowledge, and your hearts so you won't be deceived by the malignant serpent of communism! And you continued to be ignorant of these Calls and at this instant you still continue to be indifferent. (2)
You call Me Mother so I will come to your aid in your anguish, so I will protect you when the oppressors persecute you, when they deny you food, and when they deny you health; but—as Advocate for all men—in spite of it all, I see you as if it were the first time you are before Me, and My Eyes shed tears of blood and My Heart bleeds.
I DO NOT ABANDON YOU, BUT IT IS NECESSARY FOR YOU TO CLAMOR TO MY SON; IT IS
NECESSARY FOR YOU TO EXAMINE YOURSELVES ADVISEDLY, WITHOUT BANDAGES OR BLINDERS
OVER YOUR EYES, AND ASK MY SON FORGIVENESS FOR THE OFFENSES YOU HAVE COMMITTED, AND I WILL COVER YOU WITH MY MANTLE, AND IN THIS MATERNAL MANTLE YOU WILL FIND COMFORT AND STRENGTH TO CONTINUE ALONG THE ROAD, BECAUSE AT THIS INSTANT THE LABOR PAINS ARE IN THE FINAL PHASE...
From My unfolded Mantle covering all humankind, My Son will send His Aid, that Divine Aid that is His Will, just like in the past He sent His Prophets.
At this instant, this generation is unknown to all that the Father's Hand has created, because it does not even resemble the Divine Goodness and Love. Nonetheless My Son's Mercy will send His Word, and it will be rejected once again… Nonetheless My Son in His infinite Mercy will send from His Home the aid for all His People through His Envoy.
Humanity, what do you know about My Son if you do not know the Scriptures?
Humanity, what do you know about My Son if you do not love Him, if you do not delve within Him? Humanity, how can you clamor to the One you reject?...
BUT THAT ONE, THE ONE YOU REJECT, LOVES YOU INFINITELY…
AND WHEN YOU CLAMOR SINCERELY, FROM THE HEART, HE LISTENS TO YOU AND HE RENEWS YOU, CLEANSES YOU, AND EMBRACES YOU, BUT FOR THIS YOU MUST BE HUMBLE AND RECOGNIZE HIM, AND CALL HIM "FATHER!" IT IS NECESSARY FOR YOU TO ASK FOR HIS HELP AND BE PREPARED NOT TO OFFEND HIM ANY MORE.
So many winds on the prowl for this humanity! ... Winds of war, winds of hatred, winds of plagues, winds of shortages, winds of grief, winds of death... Could these be sent by My Son? NO! These are the winds that humankind generates because of its ignorance, lack of love, and its own wickedness.
Its own wickedness: Not because My Son put it in humankind, but as man rejects My Son, evil takes His place, the place that corresponds to My Son, and controls man.
My Beloved children:
DO NOT FALTER, CONTINUE TO PRAY THE HOLY ROSARY, you attract Me, My Gaze immediately turns to those who clamor to Me in each Hail Mary, because as Mother of the Verb, in My Maternal Womb I shelter each one of the human creatures, and I bleed with tears of blood for those who have moved away, who reject My Maternity, but above all for those who reject My Son's Love.
Humanity, pray, pray strongly for Russia. It will wake up and spread pain everywhere and to all human beings. (2)
Humanity, pray, pray strongly so you'll be able to resist the snares of evil in his spawn who is on Earth. (3)
Humanity, pray strongly, it is not too late; pray whether the time is favorable or unfavorable, the Earth is creaking.
Humanity, you decide whether you are lost or saved; you are destined for Salvation, but your human free will chooses your cross.
I come to you, and I will continue to give My Word to those who want to embrace it, as My true children, to those who want to obey My Son's Law to attain Eternal Life.
And to those who do not love Me I say: Be certain that My Heart beats for you.
I bless you. I love you.
Mother Mary
HAIL MARY MOST PURE, CONCEIVED WITHOUT SIN.
HAIL MARY MOST PURE, CONCEIVED WITHOUT SIN.
HAIL MARY MOST PURE, CONCEIVED WITHOUT SIN.
(1) The warnings of the Holy Mother regarding the contamination of the seas with radioactivity— among other things—is happening in an alarming way since the accident at the Fukushima nuclear power plant in 2011, besides all the nuclear tests done in the past when several world powers carried out nuclear tests on the seabed, especially in the French Polynesia, the North Pacific atolls, and the Marshall Islands, among other places. Nuclear energy, read more…
(2) The Calls of the Holy Mother regarding communism started almost 100 years ago precisely in Fatima in 1917, on the same year when communism was established in Russia. Read Message from Fatima…
(3) In the face of an ignorant and unprepared humanity, the Holy Mother reminds us and warns us about the fulfillment of a Biblical Prophecy: The emergence and dominion of the antichrist that is already on Earth. Read more...