Sunday, April 26, 2015
Message Given by the Most Holy Virgin Mary
To Her Beloved Daughter Luz De María.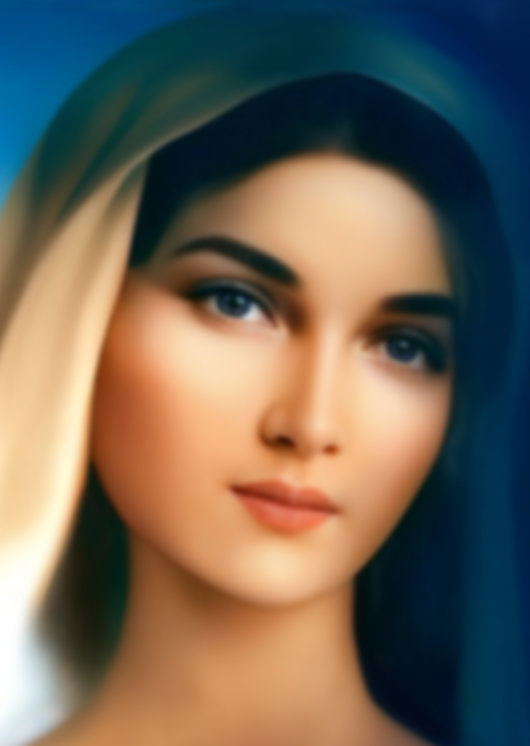 Beloved children of My Immaculate Heart:
I REMAIN BEFORE YOU WAITING FOR YOU TO GIVE ME YOUR HAND SO I WILL GUIDE YOU.
You must not fear My warnings; they are just a reflection of My Love by means of which I want to forewarn you so you will not fall. You are not alone; I am here; I am your Mother.
I continuously walk in front of you to protect you and deliver you from evil at this instant when the demons pounce on the souls to take them to perdition.
YOU ARE NOT ALONE, I AM MOTHER TO ALL MEN, I LOVE ALL, I LOOK FOR ALL.
While My Son is a pilgrim of Love, I accompany Him and beg Him to listen to you.
Beloved children, I received you by My Son's Cross. You are My beloved children whom I embrace, love, protect, and defend; Do not forget this.
The centenary of My Apparition in Fatima (1) is near, and it pains Me to see that they have not yet complied with everything I requested in Fatima to avoid greater woes to humanity.
Do not be negligent, My children; the bear seems to sleep, but he only prepares to attack.
Do not be negligent, My children; delve inside the Scriptures, get to know My Son so you will truly Love Him.
My beloved:
You will find so many setbacks! You will find so many setbacks at these instants when My Warnings are being fulfilled!
My children are not strong in the Faith: They easily decline and get impatient when they do not see My Warnings fulfilled immediately. But My Son is the owner of time. He is the Eternal Present and everything happens according to His Will, not the will of My children.
I have warned about the great woes that humanity will face, and at this instant most of them are being fulfilled because I call you and present to you future events so you will convert, so you will comply with the conditions that the Divine Will asks of you. But still, in the middle of My incessant Calls, My Son's People remain blind and deaf. I will continue to call you. As Mother of Love, I Call you so you will not fall, and I continue warning you as Mother and advocate of humankind.
Beloved children of My Immaculate Heart, the Earth does not stop; every instant it shakes with greater intensity. THE EVENTS WILL HAPPEN SO FAST THAT THERE WILL NOT BE TIME FOR YOU TO HELP ONE ANOTHER. But in the middle of all the happenings, all those who keep their Faith in Me, all those who ask for My protection will not be abandoned. Do not be afraid of My Warnings; love them; embrace them so you will be certain as to where to walk and which are the conditions that My Son asks of His children.
My Son's People are persecuted, My children are persecuted, but evil is the cause of this persecution. At this instant corruption has led man to accept whatever is offered to him. That country that has shown itself before the world as a great defender is part of the pain of My Son's People.
The values in men have declined so much that men accept immoral compromises behind humanity's back to wound My Son's Mystical Body, but they ignore that My Son is The Power Itself, and that every instant His People are strengthened more and more. My children's fidelity, prayer, awareness, and constancy strengthen those who suffer, those who are in pain.
At this end of time the devil will persecute My Son's People with great tenacity; the majority know these words but refuse to accept them at this instant. When the faith is insufficient and the belief is incomplete, the warnings out of love become terror.
Beloved children:
Nature—the Work of the Father's Hand—rebels against man, and man will suffer for this.
Pray for Chile, My children, this land that I visited will suffer greatly.
I have not rested while warning My children. I don't want them to be lost; I want them away from everything that means sin. You know The Commandments of God's Law (2); these cannot be modified or adjusted to the instant man is living.
BELOVED CHILDREN OF MY IMMACULATE HEART: COMPLY WITH THE COMMANDMENTS, COME RECEIVE MY SON IN HIS BODY AND BLOOD. TALK TO MY SON AT THE SANCTUARY, TELL HIM YOUR WOES, HE IS MAN'S BEST FRIEND.
Pray for the United States; it will suffer greatly because of Nature and at the hands of its enemies. Pray for Nepal; your brothers need you. (3)
How tenaciously My Son looks for you along the path of human life! And man rejects Him over and over again. My Son wishes to bring His People to an encounter with Him, and for this He sends His Mercy so each one will examine himself. Prepare yourselves properly; do not let My Words fall on deaf ears.
Pray, My children, pray for the violence in the Middle East; it will recrudesce and more human creatures will suffer because of the folly and senselessness of the rulers of the great powers.
How My Son will chastise humanity because of those who do not listen to Him! They will suffer so much pain because of the great offense man commits by ending the gift of life with his free will! Evil has penetrated the hearts of men, and –since evil knows well how My Son's Heart hurts when wickedness ends the gift of life—evil has pounced on those who do not love My Son so they will end the lives of My Son's People.
Beloved children:
You think that peace is permanent because most of those who read and listen to My Words are not suffering the war, but this is not so. Rapidly the sounds of war are getting close to man, to all of humankind. At this precise instant, the satellites of communism keep in their entrails the necessary weaponry to attack the brothers. It seems like evil is getting ahead; but it is only My Son's permission so you will be aware that you are nothing without Him.
I see how much the souls suffer in hell: The loneliness and My Son's abandonment, endless and indescribable. I want you not to be lost, and this is why I continue to alert and warn you.
I Call you again and again to be united. You must remain united so you will clamor to My Son together for those who suffer and for those who have fallen victims to the powerful.
Beloved children of My Immaculate Heart:
I will bring by My Hand the one who will be consolation for My Son's People. The Paternal House has never abandoned His own, this is why He sends His People's Aide—with the wisdom and the infinite love— so he will soften the hardened hearts and guide you to encounter the Divinity.
My children, pray; the East Coast of the United States will be shaken. Pray, My children, for Japan; do not leave them out of your prayers.
Beloved, the sun is closer and closer to man because of the ice that has paralyzed the love in humanity. It approaches and you will feel burning. What can science do before the power of the Divine Will that wants to alert and wake up His People?
Beloved children, an asteroid is coming close to the Earth. Be aware of this. Maybe you'll ask Me
"What can we do? And I answer: WHEN THE HEART IS IN GOOD DISPOSITION AND THE MIND IS PREPAPRED TO KNOW THE DEPTHS OF MY SON'S LOVE AND OF MY MATERNITY, MAN IS PREPARED TO FACE ABSOLUTELY EVERYTHING.
He who denies My Word and that of My Son:
Is the one who has not delved in the knowledge…
Is the one who ignores the reason for the Divine Calls…
Is the one who looks at Me from afar…
Is the one who does not know the Divine Love…
Beloved children of My Immaculate Heart:
Stop the strife among My own!
Unite in My Son's Heart!
No one is greater than the other because the greatest one is the least one.
OBEY, MY CHILDREN! TIME IS NO LONGER TIME.
Obey My Calls, My Warnings; obey My Son, comply with His Will.
Pray, pray the Holy Rosary, pray, My children by being testimonials of My Son's Love.
Keep away from you all discord, take out of your hearts the hatred, the rancor, the lack of understanding, the intolerance. Fight against the human self, demolish it and make the Divine Love reign in its place.
I remain here before you to help you at all times. You must aspire to My Son; and to achieve this you must have a generous spirit and a heart of flesh where there should never be a lack of love.
The creature who does not allow love to bloom in his heart is the one in the greatest danger, because evil will lodge itself much more easily.
Children, you know well My Calls, My requests, but I do not want you to just know them; I want you to put them into practice in each heart, in each family, in each community, in each region, and in each country. May unity and amity reign!
My children, do not allow your free will to control you, do not allow your heart to lose the peace, not even for an instant. Fight strongly to remain in My Son's Will; this weakens evil. If you wish to fight against evil, be love "(…strive first for the kingdom of God and his righteousness,) and all these things will be given to you as well."[16]
My children, you wait so long for the Great Tribulation (3) and you are already living it! It will reach all of you for it walks slowly, preparing the ground well, but it will reach all human beings, all the countries. This is why I Call you to be together as one.
Forgiveness must be at the ready. Remember that even on the Cross My Son forgave the one who asked Him forgiveness and recognized Him as his God.
My children, remain attentive. The Creation misses the man that God The Father created because, at this instant, and because of his free will, man has been pervaded by all that evil presents to him.
I bless you, I love you; do not move away from My Immaculate Heart.
Mother Mary
HAIL MARY MOST PURE, CONCEIVED WITHOUT SIN.
HAIL MARY MOST PURE, CONCEIVED WITHOUT SIN.
HAIL MARY MOST PURE, CONCEIVED WITHOUT SIN.
(1) Document that explains why what was requested in Fatima has not been fulfilled. Read…
(2) The Commandments of God's Law, read…
(3) Let us remember that on 13 May 2012 the Most Holy Virgin Mary requested "Pray for Nepal"