Saturday, May 2, 2015
Message from St. Michael the Archangel
Given to Luz De María.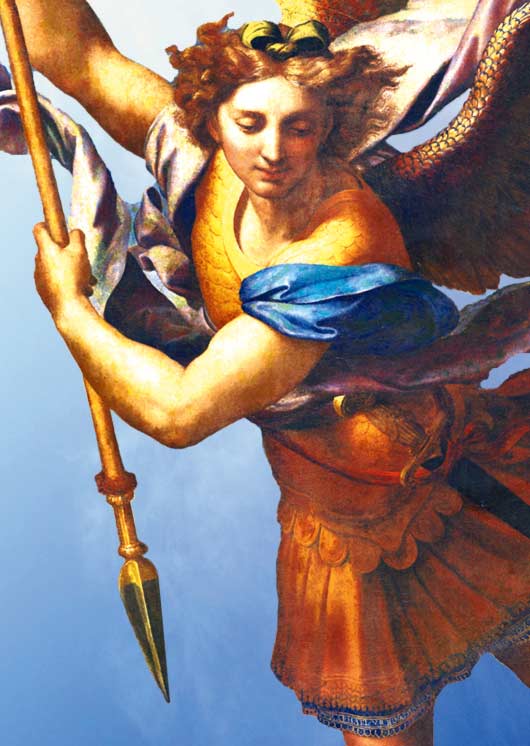 Children of Christ, King of the Universe:
IN OBEDIENCE TO THE DIVINE WILL, I COME TO YOU, TO OUR KING'S PEOPLE, TO ASK YOU ONCE AGAIN TO BE LOYAL TO CHRIST AND THUS, TO BE RECEPTACLES OF THE HOLY SPIRIT.
Humanity needs to be faithful; renew your faithfulness to the Holy Trinity and the past love for our Queen and Lady of Heaven and Earth.
Our Queen commands our Celestial Legions and all the Legions surrender at Her Feet.
Children of the Most High:
Be aware that you are no longer the way you were in the past. The man of this instant has advanced and, in doing this, he has manipulated human genetics, and will continue manipulating it exceeding God's Law and wanting to make himself equal to God, until the instant when he will no longer have control over what he is creating: He will deform what God created, creating monsters.
Our King's beloved:
Those who rule the Peoples are not loyal to their citizens, they deliver their citizens to the wrong hands so these Peoples will be treated vilely, diminishing their decision making, their food, and limiting their freedom so they will totally depend on the rulers, until each man from each People will believe that he cannot live without the ruler, even oppressed as he is.
Beloved:
POWERFUL FAMILIES EXIST FROM YESTERYEAR WHO HAVE TAKEN CONTROL OF HUMANITY;
THESE FAMILIES ARE DESCENDANTS OF THE GREAT MASONS AND "ILLUMINATI". These are nonChristian sects that hold the power regarding the decisions of all humankind, and they remain close to the Church of Christ The King to attack it, pervert it, and destroy it…
PAY ATTENTION! THE FREEMASONRY IS PRESENTED AS THE NEW UNIVERSAL RELIGION. Those that are economically most powerful control humankind; they have tied up the governments by giving them economy in order to keep them in their grasp, and thus oppress the Peoples by means of invalid laws.
THE FREEMASONRY IS LETHAL FOR CHRIST'S CHILDREN AND FOR THE CHILDREN OF THE MOTHER AND QUEEN OF HEAVEN AND EARTH.
THEIR PURPOSE IS TO GOVERN, TO TAKE THE ANTICHRIST TO THE CHAIR OF THE PRIMACY OF PETER ON EARTH, AT THE INSTANT WHEN IT IS CONVENIENT FOR THEM.
At this instant these families decide the reduction of humankind, regardless of the cost of this action, and the majority of the members of Christ's Church ignore this because they live their lives without being interested in what goes on around them. When man is a conformist—like this generation has become—he is pleased only to live with what he wants, without wondering from where the things come; he doesn't think about who manufactures what reaches his hands—sometimes what gets to your hands comes from the tears of the innocent captives, hungry, bloody, and violated.
Children of Christ:
I COME SO YOU AWAKEN, SO YOU REALIZE THAT PRETENDING TO COMPLY WITH CHRIST'S WILL IS NOT ENOUGH; PRETENDING IS NOT SUFFICIENT IF THIS DOES NOT CONGEAL PROMPTLY. At this instant, just like humanity has evolved in every aspect, it must evolve spiritually and fight to understand the urgency of putting into practice the disposition of a radical change, where the first and urgent thing must be to comply with the Divine Will, the Commandments, and thus be loyal to Christ and His Law, which cannot be altered in any way just because man wants it at the instant to please the alleged human evolution.
IF MAN TRIES TO ALTER ONE SINGLE WORD OF GOD'S LAW, AT THAT INSTANT HE WILL FINISH
OPENING THE DOORS FOR THE ANTICHRIST TO CONTROL MOST OF THE MINDS OF MEN, THUS BEGINNING THE DEVELOPMENT OF HIS STRATEGY TO OWN THE SOULS. LATER, ONCE HE CONTROLS THE HUMAN CREATURES, HE WILL TURN THEM INTO THE GREATEST PERSECUTORS OF HIS BROTHERS.
My Call is urgent. Humankind does not want to delve in the Truth because they are afraid of the Truth when they know that they have not been faithful to Christ or to our Queen. This is why the human will betrays man when he does not decide to give himself to the Holy Spirit with all his might in order for the Holy Spirit to give him strength and to pour His Gifts on man.
I saw them fall, the ones who called themselves faithful to God; and at this instant they are serving satan as part of his diabolical legions. There are men who judge the Word sent by the Heavenly Father; there are men who judge the Word of Our Queen of Heaven and Earth. Because of that same pride and arrogance I saw the ones who were by the Father's side fall. No human being can call himself absolutely faithful; instead he must wait to be called faithful by the Holy Trinity.
You know that you are living the beginning of the Tribulation and, with this beginning, man has so degenerated his mind as well as his thoughts, that we, his Guardians remain in a constant battle against evil which, instant to instant and right before his eyes, grafts all the wickedness that satan has in order for man to opt for satan, and thus man will detach from his King and accept all that is sinful offered to him by satan.
Beloved of our King:
YOU ARE NOT AWARE OF THE REALITY, AND THIS LEADS YOU TO A MASKED BATTLE WITH SIN.
Regrettably, since you are controlled by your free will, you fall deliberately, and fall into sin.
Satan will attack man where man loses control: The economy is destabilized and will initiate the general fall worldwide, and those that are not spiritually strong will hand their lives over to evil in exchange for a false economic security given by the microchip; and others will end their lives because of money.
Humanity declines, the Faith of a true and faithful apostle must be continually nurtured. You will not be saved just by remaining a member of the Church; your life must be a testimonial until your last breath.
Beloved of Christ The King:
Pray strongly for Russia. Humankind will suffer because of Russia.
Pray, children of Christ The King, pray for China. China pounces on humankind and will flagellate it.
Pray. The volcanoes will continue to escalate, awakening one after the other, and the Peoples will suffer because of it.
Pray for the Church and its hierarchy; it will be strongly shaken; a schism is near. Pray for Colombia; it will suffer at the hands of Nature.
Beloved of Christ The King:
THESE ARE INSTANTS WHEN YOU MUST BE UNITED, AND EACH OF YOU IN PARTICULAR MUST
GET READY, KNOW PROFOUNDLY THE DIVINE WORD SO YOU WON'T BE DECEIVED; YOU MUST TEACH YOURSELVES SO THE ENEMY OF THE SOUL WILL NOT MAKE YOU LOSE THE PATH; SO YOU WILL BE ABLE TO FIND ETERNAL LIFE.
Reunite everyday with the Body and the Blood of our King in the Eucharist where we guard the souls that worthily receive Him.
Our Queen and Mother will direct us at the end against evil. It is necessary that each of you make an effort not to live a false religiosity; instead you must delve in the Love, so you will live united to the Holy Trinity, and Faith, Hope, and Charity will prevail, and you will be more of the Holy Spirit so you will arrive at the comprehension of True Love.
THE HOLY TRINITY SENT ME, AS DEFENDER OF MEN, FOR YOU TO WAKE UP AT THE INSTANT OF THE INSTANTS.
WHO IS LIKE UNTO GOD?
Saint Michael Archangel
HAIL MARY MOST PURE, CONCEIVED WITHOUT SIN.
HAIL MARY MOST PURE, CONCEIVED WITHOUT SIN.
HAIL MARY MOST PURE, CONCEIVED WITHOUT SIN.