Wednesday, May 6, 2015
Message Given by Our Lord Jesus Christ
To His Beloved Daughter Luz De María.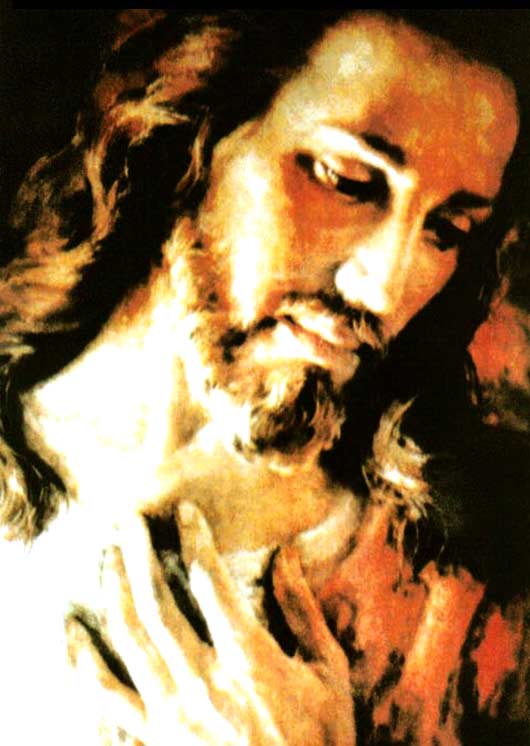 My most beloved People, I bless you.
EACH PRAYER, EACH ACT OR WORK CARRIED OUT BY YOU IN MY WILL IS PRECIOUS INCENSE
THAT RISES UP T0 ME AND ANOINTS ME LIKE OIL THAT HEALS MY WOUNDS, THE WOUNDS THAT ARE CONSTANTLY CAUSED BY MY OWN CHILDREN WHEN THEY GIVE THEMSELVES TO WHAT IS MUNDANE AND PASSING.
You who are called My People must be extremely aware that there are brothers around you who have delivered themselves to the hands of evil, and therefore My children must redouble your prayers and your acts in My Will.
I WALK BEFORE MY PEOPLE AND GUIDE THEM; IN NO INSTANT DO YOU WALK ALONE.
Do not look to the past; the past is gone. Do not be disheartened by thinking about the future; the future is My Property and it is in My Hands as long as you hand it over to Me…
The present is not present, it is instant; and you must work right now, this instant, to harvest a crop in My Will. Rest assured that if you are faithful to Me I will not leave you.
Do not waste precious instants of your life staggering, trying to figure out the future when it has not arrived yet. You well know the events, and these have precipitated, advancing towards man. YOU MUST GET READY FOR IT, SO WHAT IS COMING WILL NOT CATCH YOU ASLEEP, BUT SPIRITUALLY PREPARED, so that during the instants when the Tribulation will intensify and My People will be extremely tested, your Faith will not decline and you will continue to be of My Inheritance.
My most beloved People:
My Heart burns with Love for you, but not all those who say they live in My Will actually do live fully in My Will, because he who lives in My Will obeys the Commandments without exceptions. Thus there is still a lot of tilling to do in the interior field of the human will so you can be really sure that you live in My Will.
WHO LIVES IN MY WILL DOES NOT LOOK AT HIMSELF; INSTEAD, HE LOOKS AT HIS BROTHER BECAUSE HE SEES ME IN HIS BROTHER, HE LOVES ME AND HE DONATES HIMSELF FOR ME.
My most beloved:
Although you are My People, you continue to live between the mundane and My Will in total instability. It pains Me because sometimes you do not treat Me with the proper love and respect, you offer Me repetitive prayers said in hurry like you want to fulfill a duty so you can go back to your human chores.
MY PEOPLE MUST PRAY FROM WITHIN MEDITATING EVERY WORD THEY OFFER ME, LIVING IT TO FUSE WITH ME. I DO NOT WANT THOSE REPETITIVE PRAYERS SAID IN A HURRY BECAUSE THEY OFFEND ME, BECAUSE I SEE YOU TREAT ME CARELESSLY.
My beloved People, I suffer so much for man when I see the human heart turned into stone, insensitive to everything and to the Gift of Life!
You must know that at this instant there are human creatures who in absolute freedom have agreed to give themselves to satan; they have given up being My children and have accepted to be satan's children.
Overwhelmed with rage and the desire for vengeance against My children, they pounce like wolves, like predators against My People, persecuting them from one country to another.
My Temples will be closed, but My People must not misstep, because they will continue to get together to hear My Word, they will continue to receive Me in the Eucharist.
My beloved People:
MY CHURCH WILL STAGGER IN ITS STRUCTURE AND YOU AS MY MYSTICAL BODY WILL BE
STRONGLY SHAKEN. THE DIVISION IS NEAR MY CHURCH, THE DIVISION MY MOTHER HAS
REPEATEDLY ANNOUNCED TO YOU. THE SCHISM WILL HAPPEN SOON WITHIN MY CHURCH.
My beloved:
Not everything is lost; you can still repent and clamor for My Mercy, because My Mercy will never be closed to My children. Nonetheless, I would not be a Just King if I did not give to each one what he has reaped. THIS IS WHY MY JUSTICE IS IMMINENT, ATTRACTED BY THE WRONGDOINGS OF THE HUMAN BEINGS. You are already experiencing My Justice and you do not convert; you are not aware of the importance and reach of My Call and My Mother's constant Calls.
I gave you free will so you could decide between good and evil, so you could distinguish good from evil; however, by ignoring the Calls from My House, you have become "Eve's poor children" and you have become lukewarm. Those who are lukewarm will be spit out of My Mouth for their indecisiveness, for being instants by My side and for being (other) instants doing what is wrong.
At this instant that this generation is living, the signs and signals are prompt and plentiful. It is from a distance that you see your brothers suffer at the hands of Nature; however these events approach all countries in the world. Where the land has never trembled, it will tremble; where people have not suffered because of a volcano, they will suffer; volcanoes and lands that lay dormant will emerge from the sea, and humankind will suffer.
My beloved People:
YOU HAVE SINNED SURPASSING OTHER GENERATIONS AND FOR THIS YOU ATTRACT MY JUSTICE TOWARDS YOU.
THE CREATION, WORK DONE BY DIVINE HANDS FOR MAN'S WELLBEING, HAS BEEN TREATED RUTHLESSLY; IT HAS BEEN LACERATED, AND IT MOANS BECAUSE OF IT.
This Earth, cradle of men, will open in several countries to your astonishment and admiration.
Even the great powers do not totally declare their weaponry, and to create self-destruction they have used all the intelligence together with the science provided to them by Our Holy Spirit.
Pray, My People, for Japan. It will suffer even more.
Pray, My People, pray for the United States. It will strongly suffer because of Nature. It will suffer where sin more than abounds, where indifference towards Me more than abounds and where I have been hurled out of My children.
Pray, My People, pray for Perú. Nature will call it for it to return to Me.
My children, you will continue to suffer because of the volcanoes. You must remain alert; the land will continue to tremble and My children will suffer.
DO NOT FORGET THAT I PROTECT YOU AND KEEP YOU, MY ANGELICAL LEGIONS REMAIN BY
YOUR SIDE TO COMFORT YOU IN THIS VALLEY OF BLESSING WHICH MAN HAS TRANSFORMED INTO A VALE OF TEARS, INTO A CONSTANT SUFFERING FOR HUMANKIND.
The West Coast of the United States will be surprised. The Sun shines on humanity and the Moon arrives promptly when it grows dark. The Sun will place humanity on a great alert. And the signs of My Closeness will constantly be visible.
BE PREPARED, MY CHILDREN, DO NOT PUSH ME ASIDE.
I need:
A courageous People…
A People that will not forget Me…
A People that abide by My Law, that will not deform it, that will not modify it…
A People faithful to Me…
A People that will not love me to save face in front of their brothers, for I know your depths.
I NEED A UNITED PEOPLE WHERE MY CHILDREN, MY TRUE CHILDREN, WILL LOVE THEIR BROTHERS IN TRUTH AND SPIRIT.
So much crucible is coming to you, My beloved People! I suffer so much for it! My Mother sheds tears of blood in different homes or temples announcing that this pain is a new sword in Her Heart; but you do not come back to Me, you are immersed in the mundane wantonness and debauchery at instants when all those creatures who do not remain certain that they are My Property are led by the evil spirits to fall.
I NEED A HEALTHY AND PROFOUNDLY SPIRITUAL PEOPLE MERGING IN MY WILL SO MY HOLY SPIRIT WILL GUIDE YOU AND YOU WILL LISTEN.
I do not want Christians who come to Me only on Sundays…
I do not want half-asleep Christians before Me or before My Sanctuary…
I WANT CHILDREN WHO ARE AWAKE AND ATTENTIVE, CHILDREN WHO KNOW THE MACHINATIONS OF THE DEVIL TO MAKE THEM PREY TO THE ANTICHRIST THAT ALREADY MOVES IN YOUR MIDST.
I need a renovated People that will recognize the antichrist; otherwise, they will be deceived and become prey to him and, thus, they will be persecutors of My People that they claimed to love.
Do not forget that I protect you; do not forget that evil will not triumph; but do not forget that My children will be tested anew. Nonetheless, after the trial I will take you to rejoice in My Peace, to sit at My Table and enjoy Eternal Life.
I DO NOT WANT CRESTFALLEN CHILDREN ON ACCOUNT OF THE ANNOUNCEMENTS OF THE COMING EVENTS. I WANT CHILDREN WITH FAITH WHO WILL NOT BE AFRAID BECAUSE THEY KNOW THAT IF I AM WITH YOU NOTHING WILL TOUCH YOU.
Beloved children:
YOU HAVE STOPPED PRAYING THE TRISAGION; AND WHERE THERE IS AT LEAST ONE DEVOTEE OF THE HOLY TRISAGION, THAT PLACE WILL BE SPARED GREAT EVILS.
Love Me a your King because the King loves and defends His People. Evil will not last; evil will be defeated by My Mother, by Saint Michael Archangel, protector of My People, and by My Legions who are your brothers, your Fellow travelers.
My Peace is within you.
Your Jesus
HAIL MARY MOST PURE, CONCEIVED WITHOUT SIN.
HAIL MARY MOST PURE, CONCEIVED WITHOUT SIN.
HAIL MARY MOST PURE, CONCEIVED WITHOUT SIN.