Sunday, May 10, 2015
Message Given by the Most Holy Virgin Mary
To Her Beloved Daughter Luz De María.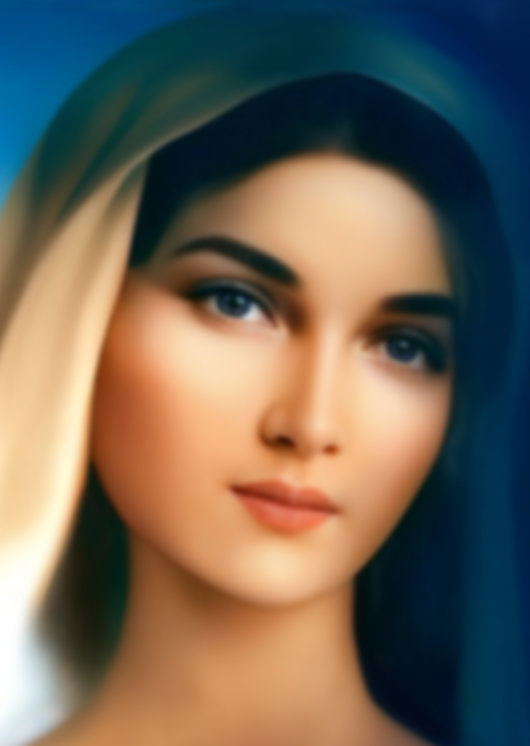 Beloved children of My Immaculate Heart:
MY MATERNAL LOVE SPILLS OVER ALL MY CHILDREN.
I ASSURE YOU THAT REGARDLESS OF HOW TOUGH THE INSTANTS MAY BE, I AM AND I WILL BE WITH YOU.
The Earth will enter darkness, but I will be lighting the way for you with My Love's Light.
Beloved children:
By Divine Order I reveal all that was, is, and will be announced by Me so that spiritual blindness will not control you anymore and you can untie the chains with which evil and ignorance—where humankind has sunk—want to confuse you and make you see My Son in the antichrist.
The antichrist will make his appearance by technological means together with the human means of those who have prepared his presentation before humanity.
MY SON WILL ARRIVE IN SPLENDOR AND GLORY; ALL THINGS CREATED WILL REECOGNIZE HIM AND WILL KNEEL BEFORE HIM:
The Heavens will open giving way to the King of Kings…
The stars will shine in the daytime like they have never shone before…
The sun will dance and emit multiple colors…
The wind will remain in complete stillness…
The moon will dance on itself…
The vegetation will all sprout…
The Animal Kingdom will join in to adore the One who arrives…
Your Guardian Angels, Fellow Travelers, will sing in one voice, and from Heaven will be heard: Holy, Holy, Holy is the Lord God of hosts.
Heaven and earth are full of your glory! …
The Earth will shake with great agitation recognizing the Divinity; and those who have denied Him and have delivered themselves to the devil will run to and fro without finding where to hide; the mountains will not give them shelter and they will not find a place where they can hide…
Before the astonished gaze of humanity, the invisible will become visible…
I will hear the laments of those who denied My Son, the desperation of the lukewarm who served two masters ignoring My Calls; and I will hear My Son's Faithful People prostrate on the ground and worship their King…
The Universe will shake with a commotion and from Earth man will be able to hear how everything that exists in the Universe makes itself felt so that all men will be certain that My Son is King.
Beloved children of My Immaculate Heart:
I AM MOTHER AND I OFFER TO ALL MY MEDIATION SO THEY WILL APPROACH MY SON; AND, AS ADVOCATE OF ALL HUMANKIND, I AM THE MOTHER OF MERCY.
I HAVE REVEALED TO MAN ALL THAT WILL ENSUE IN ORDER FOR MEN TO DEDICATE THEMSELVES TO ACHIEVE
CONVERSION BEFORE THE NIGHT ARRIVES AND THEY WILL NOT BE ABLE TO SEE THE DIVINE LIGHT; STILL I AM
DESPISED TIME AND AGAIN BY THOSE WHO DO NOT LOVE ME AND HAVE GIVEN THEMSELVES TO THE INFERNAL POWER.
With pain I should mention that exercising power over the neighbor by the use of force and injustice has become a fashion that attracts a great many youngsters and children who join in the terror executed against humankind by those who have sold their souls to evil, managing to turn youngsters and adolescents in repeaters of an uncontrolled wanton behavior, having only one way of satisfying that fashion and it is to viciously kill the men faithful to God.
Evil despises the Gift of Life, and even more so, when it is offered instant to instant to give Glory to God. Humankind is beginning its suffering; the crucible is lighting up, man will see a lot more terror which has been forged by the same man and his disobedience.
MY SON ASCENDED AND RESURRECTED; HE GIVES HIMSELF TO HIS CHILDREN IN HIS BODY AND HIS BLOOD AT
THE ALTAR; HE CALLS THEM TO RENEW THEMSELVES INSIDE WITH A GENEROUS SPIRIT. AND WHAT DOES MAN DO? HE TURNS HIS BACK TO MY SON… Poor humanity! They desert themselves. They keep idols in every aspect of their lives; they marvel at the powerful of the world, and applaud the demonstrations of power by the great powers of the world.
My Beloved:
Russia's military power has not been exposed to be admired, but for the world to know with what they will be attacked. It is the cry in silence so you will see the power of the one who will pounce against humanity while using those small countries with which it has created faithful alliances to reaffirm its power and, at this instant, are satellites of the great destroyer: Communism.
IN FATIMA I WARNED ABOUT COMMUNISM AND ITS DESTRUCTIVE POWER. THEY SAW MY REQUESTS FROM A
DISTANCE FOR FEAR OF NAMING RUSSIA, AND NOW THEY FIND THEMSELVES INSTANTS AWAY FROM THAT
POWER—WHICH THEY DID NOT WANT TO SILENCE WHEN I REQUESTED IT—TO POUNCE AGAINST ALL
HUMANKIND. The greatest annihilator of humankind has not yet been shown, it remains protected, and it is nuclear energy.
The great nation of the North, the United States will be communist without being communist; it will abhor My Son and thus it will attract to itself its people's chaos. The civil war will arrive, causing men great pain. It won't be long before this comes to the United States.
My Son's Church will be communist without being communist; it will adopt standards that are not My Son's Will in order to attract a greater number of churchgoers who will later be the detractors of My Son's Church. The strong currents of the freemasonry and the illuminati remain strengthened by the assurance of power that the families that secretly continue dominating humanity have promised them.
Chaos will be generalized and they will not find encouragement, peace, serenity, hope, faith, trust or protection outside of My Son and this Mother.
Pray, My children, the volcanoes awaken in the same way that the bear that was hibernating awakens.
Pray, My children, pray. The Earth trembles and the seas churn, just like the eagle has agitated poor and defenseless countries causing pain to the innocent.
Pray, children; falsehood remains before you. Those who say they help and defend humankind are the same ones that give weapon power to the terrorists that make the true children of God tremble because of the cruelty and satan's vengeance.
Beloved children of My Immaculate Heart:
Man is altered by his surroundings; My children do not think, instead, they act like automatons; they do not react in front of evil, instead they embrace it and nurture it with generalized negativity.
THIS GENERATION HAS BEEN STRONGLY AND STEALTHILY TRAINED THROUGH THE MISUSE OF TECHNOLOGY; creating—with each game placed in the hands of today's youth at this instant—a permanent concentration camp where those who before were children and now have grown up with their minds fused with killing and being powerful.
My Heart suffers so much because of this! Had they obeyed and had they complied with My requests in Fatima, now they would find themselves at another instant.
I WARN YOU, REACT PERSONALLY; GENERATE IN YOUR BROTHERS AN AWARENESS OF THE REALITY IN WHICH THEY LIVE AND HOW TO COPE WITH IT BEING TRUE TO MY SON.
NO CREATURE HAS BEEN ABANDONED BY MY SON IF HE HAS BEEN FAITHFUL TO MY SON'S CALLS.
The Creation will shelter My Son's children, their Guardian Angels and Travel Companions will protect them every instant; evil will not go beyond; maintain confidence in the My Son's Word.
BE UNION, DO NOT GET DISPERSED, STRENGTHEN ONE ANOTHER, HELP ONE ANOTHER, FOR AT THIS INSTANT THE DEVIL POUNCES AGAINST THOSE WHO ARE FAITHFUL TO ME TO TEST THEM. Help one another in every aspect, the test is for everyone. The devil attacks My children because he is afraid of Me. Shelter one another; My children must not decline, instead they must find strength in the unity of only one Heart in the Love for My Son, in the Faith of a better instant, and in the Promise of a New Earth.
THE APOSTLES OF THE END TIMES TOGETHER WITH THE AIDE THAT MY SON WILL SEND TO YOU, ALL WILL BE ONE IN ME, AND THE ANTICHRIST WILL BE THROWN WITH SATAN TO THE PLACE OF FIRE AND MY SON'S CHURCH WILL BE ONE.
My beloved:
Politics is a façade for what is hidden behind and the microchip turns up by surprise fencing in My Son's children. The world economy will fall and as a result the government of evil appears ruling humankind.
Beloved children:
Be faithful to My Son, do not abandon each other, unite in My Son's Love, pray the Holy Rosary and carry on you the Scapular.
Pray to the Holy Trinity, be shelter to the helpless and comfort to those who do not know where they walk.
WAKE UP YOUR BROTHERS, WORK AND ACT LIKE TRUE CHILDREN OF THE KING, DO NOT FIGHT AMONG YOU, JUST STRUGGLE TO OVERTHROW THE HUMAN SELF.
My Beloved:
Be assured that evil infiltrates its allies among you to divide; be alert so they won't divide you.
As Mother and Teacher I bless you, protect you and I impart My Blessing to you.
WITH MY MATERNAL LOVE, IN TOTAL ADORATION OF THE HOLY TRINITY… MY GAZE REMAINS UPON MY CHILDREN.
DO NOT BE AFRAID; MY SON IS WITHIN EACH ONE OF THOSE WHO HAVE PREPARED THE ALTAR OF THEIR HEARTS.
Mother Mary
HAIL MARY MOST PURE, CONCEIVED WITHOUT SIN.
HAIL MARY MOST PURE, CONCEIVED WITHOUT SIN.
HAIL MARY MOST PURE, CONCEIVED WITHOUT SIN.