Sunday, May 17, 2015
Message Given by the Most Holy Virgin Mary
To Her Beloved Daughter Luz De María. in San Juan, Puerto Rico.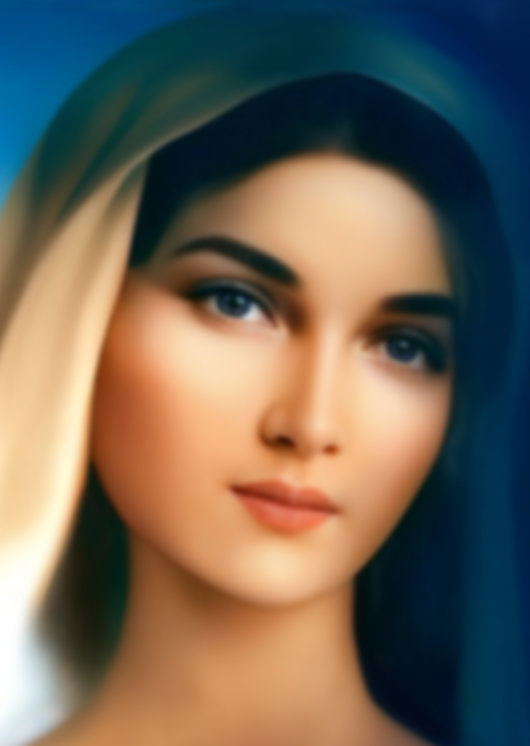 Beloved children of My Immaculate Heart, I bless you.
I REMAIN HERE AS THE ARK OF SALVATION TO DELIVER YOU FROM EVIL
AT THESE INSTANTS WHEN MAN'S ENEMY IS SHOWING HIM THE WIDE ROAD FOR MAN TO TRAVERSE IN THE HUMAN FREEDOM THAT HAS BEEN CONTAMINATED BY CONSTANT SIN.
You, My Son's People, beloved of My Heart,
Come to Me, get on this Ark of Salvation so you won't be lost…
I keep you sheltered from instant to instant, I do not move away from you…
I, as the Mother of Love, take you in My Arms, each one of you as if you were the first one to
Me…
Most beloved children,
Humankind is convulsed; satan seizes men more easily when they allow themselves to be seduced by deception, by the easy roads of sin, and when men allow themselves to choose the path that does not lead them to comply with My Son's Norms.
Remain attentive, My beloved; the schism in My Son's Church is near. There will be confusion, people will not know what road to choose; they will think that it is all over and done with; but this sign will be the Great Sign that My Son will allow in view of humankind's disobedience.
Children of My Immaculate Heart,
Do not wait one more instant, because at this instant you already are in the Great Purification.
My Son needs a solid People, a People of immovable Faith, a People of infinite trust, a People of love, a People of brotherhood, so the dragon that has awakened will not feed on those who are Faithful.
Most beloved children,
Gird up your loins with My Son's Love, and do not allow those who come close to you with bad intentions to make you fall and stay in the mud. "Do not throw your pearls before swine,"[20] but do not keep to yourselves the knowledge that My Son has allowed to reach each of you. Be merciful, do not keep to yourselves the precious Treasure, share it with your brothers, kindle the Faith of those who remain asleep, and remove the blindfold from those who live sinning all the time as if they were blind.
Lift up your eyes on high, do not despise the signs of the times because they will look at you more often warning you about My Son's Second Coming, warning you so you will convert. Each instant is an opportunity for man to convert because no matter you close you think you are to My Son and on His Path, temptation can lead you to waver when you least expect it.
Children, you anoint My Heart with the balsam of your love for the Almighty, but My
Maternal Heart bleeds and It is sore because not all My children love My Son, not all listen to His Word; some despise it so much that they continually throw it in the trash, like those pagans who adored false gods and indulged in all kinds of insults to the Holy Trinity
You, My children, Apostles of the end times,
PRAY CONTINUOUSLY AND, AFTER YOU PRAY, PUT THAT PRAYER INTO PRACTICE BY BEING THE LAMP THAT LIGHTS THE PATH OF YOUR BROTHERS.
Beloved children of My Immaculate Heart,
My Son's Will is not fulfilled in you. The unrestrained world carries a great responsibility for humankind which has been trapped by sin that leads man to the antichrist and his followers.
My children who remain in the constant struggle to fulfill My Son's Will, do not waste even an instant because the enemy of the soul does not waste any time. We know that evil keeps you in a constant trial from which you will emerge victorious as long as you remain in My Son's Will.
DO NOT BE AFRAID. I KEEP LOOKING AT YOU, PROTECTING YOU, AND HELPING YOU SO YOU WILL OVERCOME THE TRIALS.
My Son's People have never been abandoned and neither has My Son ever ignored the prayers of His People as long as these come from deep in the heart.
I invite you to pray, My children; I invite you to pray for Japan. It will suffer once again, the ground will tremble.
I invite you, My children, to pray for this Land of Puerto Rico so all the children in this land will recognize My Presence and will not despise Me, and thus the coming events may be diminished.
Pray, My children, pray tirelessly for Perú. It will tremble strongly.
Beloved children of My Immaculate Heart,
The dragon has awakened and it pounces on those who are Mine to kill them; but My Son's Path is of Salvation and Eternal Life: You will not perish. The body is corruptible but the soul, the soul remains eternally.
My beloved, pay attention to communism, (5) in instants it will rise against humankind and the Third World War will formally begin.
The Hierarchy of My Son's Church has rejected My Call that was stopping the dire consequences for this generation which I Love infinitely. The suffering is near and the prayers of My faithful children reach the Throne of the Holy Trinity giving birth to those who can still be rescued.
DO NOT BE LUKEWARM. CHILDREN, DECIDE IN FAVOR OF THE PATH TO CONVERSION, DECIDE TO BELONG TO CHRIST!
My Son suffered for everyone and His Mercy is before everyone so they will not perish in the eternal fire; and I, as Ark of the New Covenant, do not close My Womb, I keep it open to cradle all My children in it. Do not wait until the last instant, because at the last instant it may be too late since you may not be able to repent of your sins.
Time is not time. Time gets shorter from instant to instant and I, as Mother of Love, beg you not to wait any more, I beg you to move away from all that means sin NOW!
COME TO ME. COME TO MY IMMACULATE HEART AND I WILL TAKE YOU BY THE
HAND AND WILL PRESENT YOU BEFORE MY SON. I WILL PROTECT YOU, I WILL MAKE YOU
INVISIBLE WITH MY MANTLE BEFORE THE EYES OF THOSE WHO PERSECUTE YOU; BUT YOU MUST FULFILL ONE CONDITION: LOVE MY SON IN SPIRIT AND TRUTH.
Do not forget that this Mother embraced you at the foot of the Cross of Glory and Majesty. Do not reject My Calls because when you find yourselves confused and persecuted… even at those instants, if you clamor, I will come to you; but you must seek conversion right this instant and no other. Repent, children, so you can enjoy Heaven in advance, even in the middle of the Great Tribulation.
My Blessing remains in you; do not discard it, do not despise it; come to Me, children, come, as Mother I wait for you. My Heart beats speedily when you look at Me, but it bleeds when you move away from Me once again. I Love you, My children.
Do not forget to pray the Holy Rosary and love My Son in the Most Holy Sacrament of the Altar. Be aware of the One you are receiving when you receive Him. Hasten acquiring knowledge so you will not be deceived by those who will continually place traps for you to make you fall in satan's nets.
A signal will come from above and humanity will know that My Son is alerting them.
May My blessing for all my children be a weapon of Faith and security so you will not be afraid and will not stagger. I will remain with you every instant until together we deliver the Earth to My Son.
My Blessing be in you: In the name of the Father, and of the Son, and of the Holy Spirit.
Mother María
HAIL MARY MOST PURE, CONCEIVED WITHOUT SIN.
HAIL MARY MOST PURE, CONCEIVED WITHOUT SIN.
HAIL MARY MOST PURE, CONCEIVED WITHOUT SIN.