Saturday, May 23, 2015
Message Given by Our Lord Jesus Christ
To His Beloved Daughter Luz De María.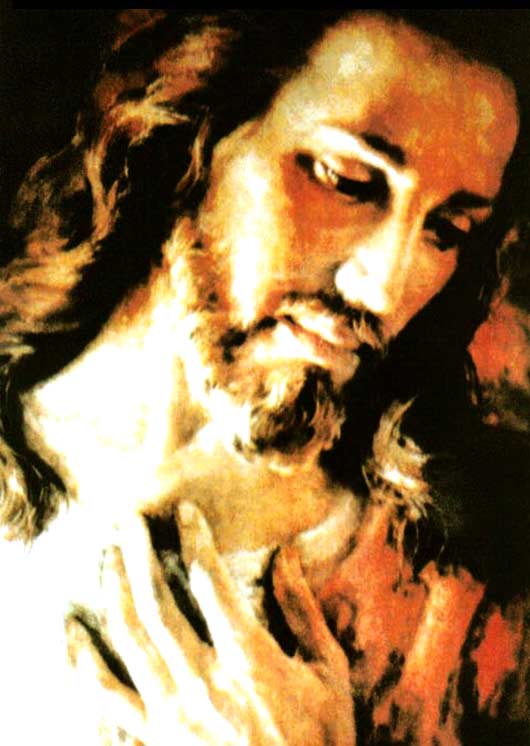 Most beloved children:
MY WILL REMAINS IN FRONT OF MY PEOPLE LIKE THE SUN KEEPS SHINING AND GIVING LIFE.
My most beloved People:
You must live working and acting in My Will; this means being repeaters of My works and My acts, as you put My Word into practice in your daily living like the faithful children of this your King and Lord that you are.
WHEN MY CHILDREN LIVE IN MY WILL THEY BECOME PARTICIPANTS IN THE GOODS FROM MY HOUSE:
When they obey My Law and abide by the Sacraments…
When they love their neighbors as they love themselves…
When charity goes in front…
When hope is transmitted to their brothers…
When faith does not waver but only pauses to breathe in order to continue encouraging those who lose their courage…
When My children pray for their brothers and intercede before Me in their favor… But at the same time…
WHEN MY PEOPLE ARE PEOPLE OF ACTION AND PUT MY WORD INTO PRACTICE, THOSE PEOPLE FILL ME WITH JOY AND DRAW ME TO THEM.
My People must pray; but they must not only find consolation in prayer, they must also come, worthily prepared, to receive Me in My Body and in My Blood; worthily prepared, not like the Pharisees, not like the hypocrites that arrive in My temples to receive Me in order for their brothers to see them, while their hearts are filled with hatred and rancor towards their brothers.
HE WHO IS NOT IN GOOD TERMS WITH HIS BROTHER MUST NOT APPROACH MY TABLE UNTIL HE HAS RECONCILED WITH HIS BROTHER.
My beloved People:
YOU STILL DO NOT UNDERSTAND THAT THIS INSTANT YOU ARE LIVING IS DECISIVE, and that you must not approach Me only to save yourselves: I will ask you about and I will weigh in My Scale the deeds that you have done while you were partaking of My Goods.
You who know Me, you who know all that will happen to this generation, you must not keep it to yourselves. YOU MUST SHARE WHAT YOU KNOW WITH YOUR BROTHERS SO THEY WILL BE SAVED AND WILL REACH FULL KNOWLEDGE OF THE TRUTH.
False doctrines come to humanity and that is why My People must be a People who know My Law and know Me in depth, and know My Word so as not to be deceived.
Bend your knees and pray, My children; but bend your knees for your brothers so you'll be testimonials, not just of the word you preach, but also real testimonials through your acts and deeds.
It is easy for man to say words… but the heart… Is the heart hardened or is it a heart of flesh? Each one of you must answer that, because if man loves only himself, he is well away from being My joy and from doing My Will.
MAN MUST LOVE HIMSELF, BUT HE MUST LOVE HIS NEIGHBOR TO LEAD HIM TO ETERNAL
SALVATION. My Word is for everyone just like the sun is for everyone and its rays shine all over the Earth without any distinctions. So is My Love: It overflows from My Heart towards all human beings, because they are all My children, I Redeemed them all.
Painfully I see some of My creatures move away from Me, and I see how they are taken by the enemy of the souls, they are tied with heavy chains to prevent them from leaving evil and from not letting demons graft them with all possible sins; later the demons remove the chains because they know that these creatures are already creatures of darkness.
MY BELOVED PEOPLE, YOU WILL BE PERSECUTED THE WAY I WAS PERSECUTED AND THE WAY MY DISCIPLES WERE PERSECUTED. APOSTLES OF THE END TIMES, THIS IS WHY I CALL YOU:
To listen to My Word and keep obeying My Law…
To love Me and be nourished by the Sacraments, the Beatitudes, the Works of Mercy… To love My Most Holy Mother and allow Her to guide you… And to love your brothers so they too will be saved.
A CHRISTIAN IS NOT A SELFISH MAN; A CHRISTIAN IS A HUMAN CREATURE FILLED WITH LOVE FOR HIS PEERS, ONE WHO KNOWS THAT IN ORDER TO BELONG TO MY PEOPLE HE MUST LOVE ME ABOVE ALL ELSE AND MUST LOVE HIS PEERS.
My Church, My Mystical Body will be more persecuted, and this will generalize; but even though you are aware of what is happening all around the world, even though you are looking at your brothers' calamities, you doubt; you don't even believe that, because of its wickedness, this generation must be purified.
DEAF AND BLIND ARE THOSE WHO SEE AND FIND THAT ALL IS WELL, AND THEY EXCUSE THEMSELVES BY SAYING THAT THIS GENERATION IS PROGRESSIVE AND ADVANCED.
POOR CREATURES! THEY DON'T SEE EVIL ANYWHERE BECAUSE THEY ARE EMPTY OF ME.
My People have been corrupted ad nauseum… and they will be corrupted even more, without limits! This is why everything that My Mother has revealed is advancing faster towards man.
Beloved People, remain attentive, remain in a continuous state of alertness. You must remain sure of Me.
My most beloved People, what has remained hidden from My People will be revealed. You know that you are My children and that I love you Infinitely.
My beloved People,
I ask you to pray strongly for the United States; its name will be repeated, heard, and written all over the world. Nature approaches in view of the disobedience of these People towards My Law, and suffering will be taken to this land I love by the hands of men.
The volcanoes will continue to be activated one after the other, and the most feared ones will announce to man that they will soon erupt.
Pray for Italy, it will suffer and the cry of its inhabitants will be heard.
My Church must be a Church of love and mercy, but at the same time it must be guided by a Hierarchy that requires everyone to comply with My Law.
The Beatitudes are unknown for so many, because men no longer practice them at any instant of their lives.
My beloved People:
AT THESE INSTANTS YOU ASK ME TO TREAT YOU WITH ALL MY MERCY, WITHOUT LOOKING BACK OR TO THE PRESENT. MEN ARE NOT AWARE THAT THEIR WHOLE LIVES HAVE PASSED UNDER MY MERCY.
What would become of man if My Mercy did not constantly reach:
Those who suffer persecution at this instant?
Those who are martyred for not denying their faith in Me?
Those who suffer at the hands of Nature?
Those who give their lives for you to set an example of true living in My Will, loving Me until the last instant? These brothers of yours must be testimonials; they must not be regarded with indifference—regret for an instant and then forget about them.
My People remain quiet when their brothers are persecuted with all the wickedness possible. I protect you, but it is your duty as brothers to bring prayer and action to your peers. You must not allow your brothers to suffer alone, without My Church's shelter.
When I was led to be crucified they booed Me, they spit at Me, and I offered everything for each one of you… and at this instant your brothers that are crucified and beheaded, raped and abused, they offer that suffering for you.
My beloved People:
How comfortable is the life of one who has everything he needs! But he who has everything forgets so quickly that whatever he gives to Me will never be enough.
Pray, My children, pray constantly for Japan, do not neglect Japan in your prayers.
My beloved People:
Pray asking My Holy Spirit to descend and to abundantly grant His Gifts and Graces upon those who deserve them.
TAKE FULL ADVANTAGE OF THIS NEW PENTECOST SO YOU'LL BE THE INSTRUMENTS HAT WILL ALERT MY PEOPLE WHO ARE STILL ASLEEP.
YOU BE THE VOICE THAT CRIES IN THE WILDERNESS OF THE HUMAN WILL SO THEY LISTEN AND REMOVE THE BANDAGE FROM THEIR EYES.
My children,
YOU ARE ALREADY LIVING THE GREAT PURIFICATION. DO NOT THINK THAT YOU ARE EXONERATED FROM IT BECAUSE YOU ARE NOT SUFFERING. THE HUMAN RACE WILL BE PURIFIED FROM NATION TO NATION.
I come close and My People must be purified so they can receive Me with dignity; and before I arrive, the antichrist will come before you, with all the human power, to confuse My People with false miracles; and since My People do not know Me, they will be confused. This explains MY INSISTENCE ON DELVING IN KNOWLEDGE, ON NOT REMAINING ASLEEP, ON WAKING UP NOW, ON YOUR RAISING YOUR VOICES AND LOVINGLY HELPING ONE ANOTHER.
My beloved People:
You will suffer and, in the middle of your suffering, you will see Me in the help from your brothers, in the way your brothers will shelter you, in My Divine Providence that will not leave you; but you must give Me in return for My Goodness.
DIFFICULT TRIALS ARE NEAR, MY CHILDREN. You know about them, but you must prepare yourselves because man is never well prepared to face the instant of trial. Regardless of how much you know about what is coming, you are not prepared for the instant.
Even if you know about the coming events…, you are not prepared for the instant. This is why I call you to know My Word, to know all the technology through which the great powers will enslave My People by order of the antichrist.
MY PEOPLE ARE HUMBLE, MY PEOPLE ARE CHARITABLE, MY PEOPLE ARE FAITHFUL, MY PEOPLE
DO NOT KNOW PRIDE (HUBRIS), BUT MY PEOPLE MUST BE A LEARNED PEOPLE, MY PEOPLE
MUST NOT BE IGNORANT OF MY WORD OR OF THE EVENTS AROUND THEM, because in every event and every act by the leaders of the world powers the mark of the beast can be found.
Human interest exceeds the goodwill that the rulers might have towards their peoples. All the peoples have been subjugated by the hand of evil. Those who in the middle of their suffering remain faithful to Me are few, and they are and will be persecuted by the followers of the antichrist. Evil knows no limits. Evil will get to hurt My People not with a spear but with the Herod of this generation: Nuclear energy.
My beloved People:
ONE IS MY LAW…
ONE IS MY WORD. WHEN MY WORD IS SUBJECT TO DETRACTIONS, IT DOES NOT BELONG TO MY DIVINE WILL.
MY WILL IS THAT MY CHILDREN LIVE CORRECTLY, RIGHTEOUSLY.
MY WILL IS THAT MY CHILDREN ENJOY HEAVEN IN ADVANCE, but this instant has been taken by satan and his followers. They have pounced on all of humankind and they take by surprise those who remain lukewarm, those who rebel, those who remain away from Me, those who are selfish, those who libel their brothers, those who slander their brothers, those who constantly criticize their brothers.
These seem to be minor sins but at this instant they are not because they are part of the weakness of man and satan uses these small sins to make them grow to the extreme, he uses these sins to turn them into the fall of those who commit them.
My children:
YOU MUST NOT ALLOW ANY ACT, ANY DEED OUTSIDE MY WILL BECAUSE THIS MEANS FALLING IN THE HANDS OF EVIL.
I REMAIN BEFORE YOU, MY MOTHER REMAINS BEFORE YOU, BUT YOU WITH YOUR FREE WILL, WITH YOUR HUMAN WILL, MUST DECIDE NOW TO LIVE IN MY WILL AND ENJOY MY LOVE AND MY PROTECTION.
I love you infinitely. You are My children, My People. Love one another as brothers that you are, children of the same Father. Help one another; close ranks in My Name shielding one another, shelter one another so that evil cannot penetrate My People.
My Legions remain upon mankind and when a town suffers, you must help them as much as possible, because the instant will come when it won't be possible for a town to help another town.
My children:
LOOK AT THE DOME OF HEAVEN; MY SIGNALS ARE NOT DELAYED SO YOU WILL WAKE UP PROMPTLY.
PREPARE YOURSELVES! EXAMINE YOURSELVES! BEFORE YOU ACTUALLY HAVE TO DO IT.
I bless each one who embraces this My Word with love, I bless your walking, I bless your kin, and I protect you and seal you with My Most Precious Blood.
Your Jesus
HAIL MARY MOST PURE, CONCEIVED WITHOUT SIN.
HAIL MARY MOST PURE, CONCEIVED WITHOUT SIN.
HAIL MARY MOST PURE, CONCEIVED WITHOUT SIN.