Wednesday, May 27, 2015
Message Given by the Most Holy Virgin Mary
To Her Beloved Daughter Luz De María.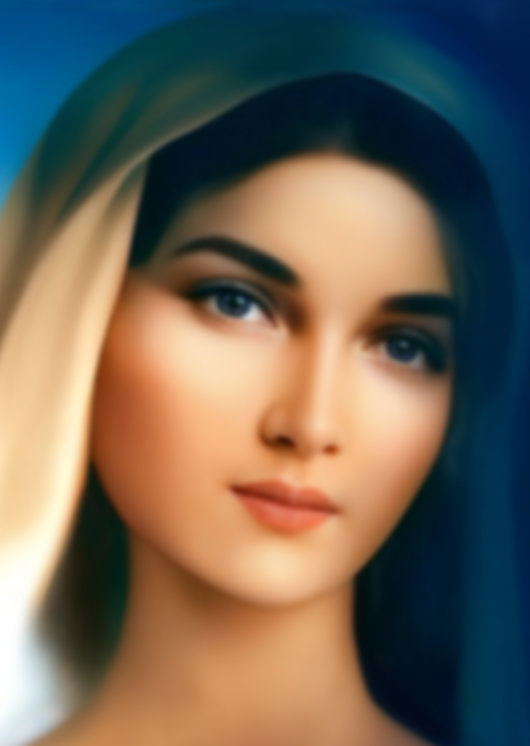 Beloved children of My Immaculate Heart,
DO NOT FEAR, I AM HERE: I, WHO AM YOUR MOTHER.
My Mantle is protection for My children…
My Mantle is understanding for My children…
My Mantle is Truth for My children…
The stars that hang from My Mantle illuminate the path of those who find themselves lost, so that they may retake the path to Eternal Salvation.
WITHOUT THE LAW IN YOU, YOU WILL NOT ACHIEVE SALVATION, YOU MUST BE LOYAL TO THE LAW OF THE LORD, COMPLIANT WITH EVERY ONE OF HIS COMMANDMENTS, SO THAT THE HOLY SPIRIT MAY GUIDE YOU TO LIVE IN DIVINE WILL.
Too many children are the ones who, at this instant, find themselves lost, swayed by false ideologies and by false doctrines that promise to take them to live a great spirituality.
Beloved children, understand that only My Son gives Himself to you in His Body, Blood, and Divinity in the Eucharist. This is the hidden Treasure, which you must receive daily so that Faith may be strengthened, but you must live instant by instant this Communion, doing so with your brothers; being love itself, copies of the same Divine Love from My Son; being charity, being a beacon for those who find themselves lost.
Most beloved children of My Immaculate Heart,
You wish to live Heaven in advance, and this you will achieve through living, with full conscience, the Sacrament of the Eucharist, and extending it throughout all your life, so that My Son may give Himself through you, to your brothers.
YOU MUST BE COMPLIANT WITH THE DIVINE WILL SO THAT CREATION WILL NOT LOOK AT YOU WITH INDIFFERENCE. At this instant, My children, sin is abundant, overly abundant, it does not rest, it does not sleep, it remains constantly alert, seeking to trap within its evil webbing those who plunge into the darkness and who are not compliant with the Commandments.
I offer you the Holy Rosary so that you may meditate upon it, not so that you may pray it lightly, mechanically, without realizing that through meditating the Mysteries of the Holy Rosary, you accompany all of My Son's Life on Earth.
My most beloved children,
NATURE, AS A CREATION OF THE FATHER, DOES NOT CEASE TO WARN YOU, AND BECAUSE OF THIS, EACH INSTANT, AND WITH INCREASING FREQUENCY, HUMANITY UNDERGOES NATURE'S BATTERINGS.
Creation remains within the Divine Will, and wishes to bring mankind closer to complying with that Will, instead of just being an inert spectator. Mankind will continue to suffer, since Earth continues to shake with increasing force as so much innocent blood is spilled over it.
THE PERSECUTION OF ALL CHRISTIANS WILL INCREASE BECAUSE SATAN FEARS MY SON, AND THUS EXTERMINATES THOSE WHO DO NOT SURRENDER THEIR FAITH.
You are not alone, My children, I am an Advocate of each and every one of you, I am Shelter for each of you. I will not abandon My Son's People, I will not abandon any of those I received at the foot of the Cross.
You, My children, MAINTAIN YOUR HUMILITY, remember that the most powerful instrument with which satan extends his power over souls is pride and arrogance. "If any one would be first, he must be last of all and servant of all." Unite, do not allow disunion, build that protective wall through which you will find strength and shelter for one another.
Beloved children of My Immaculate Heart,
Pray for Paraguay, it will suffer greatly, My beloved children of that Nation will suffer.
Pray, My children, for the United States, do not abandon it in your prayers.
Pray, My children, for India, Land of pain for My children, desert Land for My children, where they have been massacred long before.
My children,
REMEMBER THAT PRAYER MUST BE TRANSFORMED INTOASSISTANCE FOR YOUR PEERS:
Bringing My Son's Word…
Letting your brothers know that My Son returns so they won't decline…
Encourage them to continue on the right path…
And share with them that they will enjoy a New Heaven and a New Earth, where peace shall reign, peace which at this instant does not reign on Earth.
Each of you is an ambassador of My Maternal Love, and you must share it not only through the Gift of the Word, but being testimonials of that Word.
My children,
Humanity has always suffered due to Nature, but never as it does at this instant, when all of Creation fuses itself with the wish to save My Son's People and lead them to enjoy Heaven ahead of time; but My Motherly Heart shudders as it sees that My children continue in disobedience and in the spiritual blindness that guides them to seek darkness where Divine Light reigns.
REMEMBER, KEEP IN MIND THAT MY SON DOES NOT ABANDON HIS PEOPLE. THE ASSISTANCE FROM HEAVEN WILL BE SENT BY MY SON AT THE PRECISE MOMENT WHEN YOU SUFFER BEYOND MEASURE.
Beloved children of My Immaculate Heart,
HUMAN STRUCTURES WILL FALL, AND ONLY THE DIVINE WORD WILL REMAIN. Do not trust
institutions; do not trust those who lead you to believe that they are humanity's salvation. It is essential that you delve in the knowledge of what you consume and what surrounds you, because not everything that institutions and corporations present to you is what they make it seem, all of that is not designed to help you but, instead, to weaken your organisms and to weaken the mind, so that you will perish with diseases.
My children,
You cannot deny that bleak instants are coming for humanity. You cannot deny that satan's malice is prevailing so that you will fall in the claws of sin and not be able to free yourselves
Here I am, Mother of Divine Love, Mother of all humanity, come to Me.
I TAKE YOU TO MY SON, HURRY, CONVERT, TIME IS NOT TIME, DO NOT STOP TO LOOK AT THOSE WHO WISH YOU TRAP YOU ON THE WAY, SO THAT YOU MAY NOT REACH TOTAL CONVERSION.
Do not stop, do not look to the right or to the left, because satan is astute and wants you to disperse so that you will waste the instant that must be dedicated to grow, to love, and to adore the King of kings and Lord of lords.
MY CHILDREN, I REMAIN WITH YOU, COME TO ME, FOR I AM YOUR MOTHER.
Mother Mary
HAIL MARY MOST PURE, CONCEIVED WITHOUT SIN.
HAIL MARY MOST PURE, CONCEIVED WITHOUT SIN.
HAIL MARY MOST PURE, CONCEIVED WITHOUT SIN.