Monday, June 1, 2015
Message Given by the Most Holy Virgin Mary
To Her Beloved Daughter Luz De María.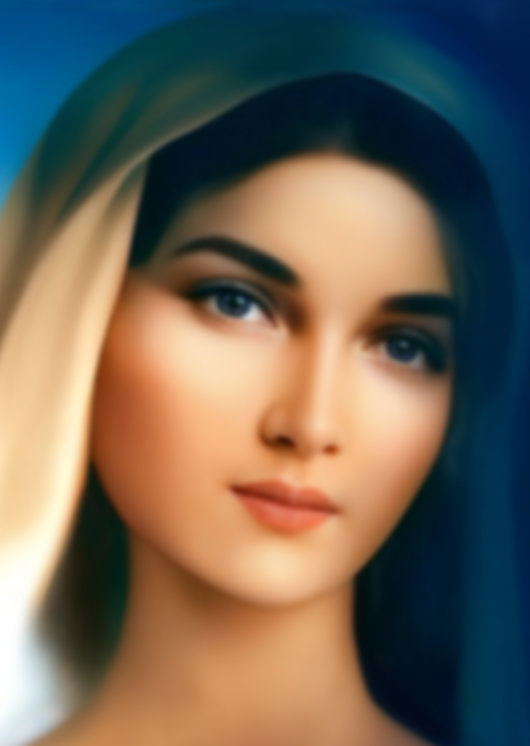 Most beloved children of My Immaculate Heart,
MY HEART RECEIVES ALL MY CHILDREN, ESPECIALLY THOSE WHO ARE TRULY REPENTANT AND WISH TO NULLIFY THE HUMAN WILL WHEN IT IS CONTRARY TO THE DIVINE WILL.
My beloved,
YOU MUST BE SERVANTS OF MY SON, FULFILLING AND LIVING IN HIS WILL.
My Son explains His Word at this instant when humankind lunges at evil and toward everything improper. Sin remains in front of man and man embraces it without hesitating.
Instant to instant My Son is offended and the Gift of Life is despised by humankind. Evil wishes to exterminate man from the face of the Earth, especially the innocent. Evil hates innocence, and man pleases evil.
SIN EXPANDS WITHOUT BORDERS, WITHOUT SOCIAL CLASSES, IT PERMEATES HUMANKIND LIKE THE GREAT MODERNISM IN SOCIETY, and turns this generation into a generation worse than Sodom and Gomorrah.
I WARN YOU WITH MY LOVE BY MEANS OF MY WORD SO YOU WILL SAVE THE SOUL. He who wants to be different from the worldly trend may manage to go against the current with effort and with words that lead him to be not just words but a testimonial of life.
The news you receive is not encouraging. But, how many people believe in what is happening in other countries? Who believes that My children are being persecuted, not only because of the faith but also for the color of the skin? And this will not remain focused on a State; this will expand throughout the world at the instant when the antichrist arrives to rule over the lost humankind and takes over the power that has been reserved for him from time immemorial.
MY SON DOES NOT FORGET YOU. HE KEEPS PROTECTING YOU BEFORE THOSE WHO—OUT OF FEAR—BETRAY NOW AND LATER WILL BETRAY THE FAITH IN A MASSIVE WAY. THESE PEOPLE WILL BETRAY YOU LIKE MY SON WAS BETRAYED.
The persecutions will be plentiful, but I will give you strength. Do not put away the Cross; do not be ashamed of it. I have warned you so much! How they make fun of My loving Word of a Mother who does not want Her children to be lost!
Beloved children, the land will continue to tremble and everyone will suffer some of Nature's fury. Man's discoveries regarding great faults in the land will be corroborated; some they don't know will turn up, and some land still remaining in the seabed will emerge at the sight of My Own.
Beloved children of My Immaculate Heart,
GREAT MYSTERIES WILL BE REVEALED IN ORDER FOR YOU TO INTENSIFY THE FAITH AND THE LOVE FOR THE NEIGHBOR.
Look on high; when the Sun changes color and it looks different to you; when you won't see the moon but only a faint reflection of it; when the water is consumed by the entrails of the Earth, stop and repent, because the instant announced by this Mother is before you.
My children,
PRAY; PRAYER IS INDISPENSABLE…
Come to receive My Son in the Eucharist, adore Him in the Most Holy Sacrament of the Altar, repair in the name of those who offend Him, but do not forget that you, My children, have the duty to live the Holy Scriptures and to know them in depth.
YOU MUST BE DIFFERENT AND NOT EMBRACE THE MODERNISMS THAT LEAD MAN TO FALL IN SIN AND GET MAN CLOSER TO HELL.
I, as humankind's Mother, call you to live the praxis of the Holy Scripture, knowing and practicing the Commandments, loving God above all else and loving your neighbors as yourselves.
THE PRAYER OF THIS INSTANT MUST BE ACCOMPANIED BY THE KNOWLEDGE AND THE PRACTICE
OF THAT KNOWLEDGE SO YOU WILL OVERCOME TEMPTATION AND THE PREDATORS OF THE FAITH.
Remain attentive so they won't poison your organism because this will hasten the suffering of the body beyond measure. As soon as science advances for good, there is another science that advances to finish off the majority of My children.
My beloved, at this instant those who have made money a god will not withstand the great fall of the idol and despair will seize them. YOU, SEEK SHELTER IN ME. DO NOT FORGET TO PRAY THE HOLY ROSARY, BE COMPLIANT WITH THE DIVINE WILL, EACH INSTANT GET CLOSER TO THE HOLY TRINITY. DIVINE PROTECTION REMAINS BEFORE YOU, BUT MY SON CANNOT FIND HEARTS OF FLESH.
My Son is Love, Mercy, and Salvation, walk towards the cherished goal and fulfill the purpose for which you were created: To be compliant with the Divine Will.
Each step must be taken with Faith, love, determination, hope, and constancy.
Keep the children away from the television set, that giant in the homes steals the innocence and will culminate its mission when the great interests of the world will have taken for themselves the will of the childhood and will have led them to deny My Son.
DO NOT BE NEGLIGENT; EVIL PRESENTS ITSELF IIN WHAT YOU THINK IS MOST INNOCENT. EVIL IS ASTUTE AND MEN WALK ONE BEHIND THE OTHER WITHOUT STOPPING.
The great countries in and around their capital cities remain highly contaminated; the pestilence of evil does not stop, instead, it gains followers. Morality is no longer moral; at this instant, men dress as women and women dress as men. Are you so blind that you deny this?
Pray, My beloved, for the United States; it will suffer in its heart and its members.
Pray, My beloved, the freemasonry will bring division to My Son's Church.
Pray, My children, for Japan; it will continue to spread pain through atomic energy, scourge of mankind.
Pray, My children; the volcanoes will wreak havoc.
Beloved children of My Immaculate Heart,
ETERNAL LIFE AWAITS YOU; DO NOT LOSE SALVATION BECAUSE OF SIN.
DELVE INTO THE WAY OF MY SON, BE REPEATERS OF MY SON'S WILL UNTIL PRACTICE LEADS YOU TO WORK AND ACT IN MY SON'S WILL.
Get ready, little children; do not sleep while evil works.
I bless you; unite into My Son's Sacred Heart this month when you must approach Him, Fountain of Mercy, with special adoration.
Mother Mary
HAIL MARY MOST PURE, CONCEIVED WITHOUT SIN.
HAIL MARY MOST PURE, CONCEIVED WITHOUT SIN.
HAIL MARY MOST PURE, CONCEIVED WITHOUT SIN.