Monday, June 8, 2015
Message Given by the Most Holy Virgin Mary
To Her Beloved Daughter Luz De María. in California, Usa.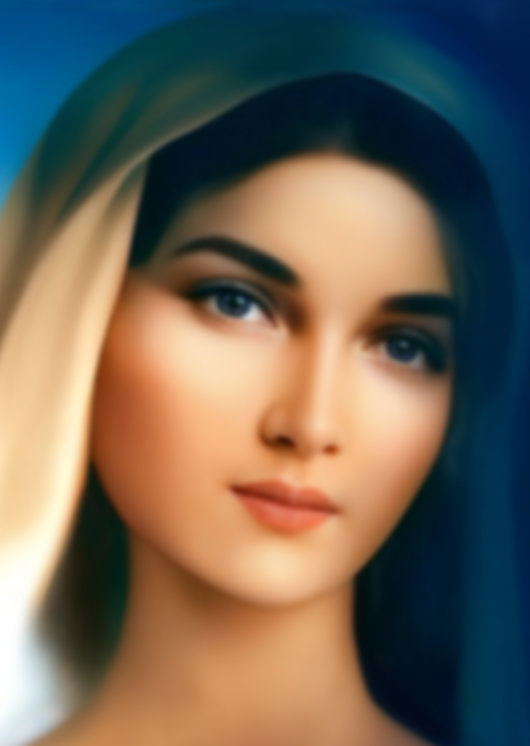 Beloved children of My Immaculate Heart,
EACH HAIL MARY IS A CALL FROM MY CHILDREN TO THIS THEIR MOTHER, A CALL TO WHICH I GO WITH MY LOVE TO SHELTER, TO EMBRACE, TO GUARD THOSE WHO ALLOW IT.
Children of My Immaculate Heart, you are living instants when you must walk with The Truth as banner. The lukewarm fall prey to evil to shake My Son's People.
The love for others has been marred by the very hand of man, by the mind of the men who fight tirelessly for competitiveness and superiority before humanity.
Humanity continues its advance in the midst of blindness. When they banish My Son from their lives, they are blind leading the blind. It has been written this way because those who do not have My Son in their hearts will express little or no love for others; neither will they obey the First
Commandment.
Beloved children,
LIVE WORKING AND ACTING IN THE DIVINE WILL; ESTABLISH PEACE AND TRUTH, because you must not forget that each instant the Cross gets heavier, as at this instant of great spiritual confusion which spreads throughout the world as evil's purpose to deviate you from the only Truth, My Son.
Children, you are living stormy times when those who live like My Son wants His People to live, will be persecuted to discourage them in view of the tribulations.
My beloved,
AT THIS INSTANT, FOR THE TRUE CHRISTIAN, THE LETTER OF INTRODUCTION IS HIS KNOWLEDGE OF THE HOLY SCRIPTURES SO HE WON'T BE DECEIVED.
TO RECEIVE MY SON IN THE EUCHARIST IS THE GREATNESS OF THE LOVE OF THE HOLY TRINITY FOR THE HUMAN CREATURE.
I turn to you—and I will continue to do so—to guide you during these instants of confusion when evil reigns everywhere. You discern.
The Father's Will is that all His children be saved within His Holy and Infinite Love, so each one of His children will act and work within the Divine Heartbeat, even in the smallest thoughts and actions.
My beloved,
This generation has turned love into persecution, love into rage, love into disdain, love into disobedience, love into pride (hubris), and this way evil possesses the feelings and controls the human creature so he will please evil and will reproduce it by means of his wrongdoing, thus abandoning his feelings to the devil and thereby minimizing himself spiritually.
EACH ONE OF YOU HAS A PARTICULAR AND SPECIAL MISSION: TO LIVE AND ACT IN THE FATHER'S WILL, A CONDITION TO ACHIEVE THE FULLNESS OF ETERNAL LIFE.
At every instant My Son has sent Me to make myself known to the humble and simple of heart in light of the urgency of the approaching fulfillment of what I have announced to humanity: The spiritual decadence of this generation that has surpassed all previous generations. This is why My Calls are more continuous and severe.
Children,
ANNULLED BY THE WICKEDNESS THAT INTRODUCES MODERNISMS IN ALL AREAS OF MEN'S
LIVES, THEY ACT LIKE BEINGS DEVOID OF REASONING, REPEATING WHAT IS FASHIONABLE WITHOUT WISHING TO SAVE THEIR SOULS; they just want to appear to remain within the false and demoniac modernism of this instant.
Beloved children of My Immaculate Heart,
THOSE OF YOU WHO ARDENTLY YEARN FOR CONVERSION, DO NOT STOP AT SATAN'S SNARES; GO ON AHEAD FIGHTING AGAINST WHAT DOES NOT BELONG TO THE FATHER FOR THE CONVERSION AND THE SALVATION OF SOULS.
Do not consent sins no matter how minor they might seem; small details give rise to great woes which seem innocent to man.
My Son chooses souls that are small in the eyes of men but are big on faith and obedience to have them transmit the Word from Heaven.
My Son was sent to save souls, and He continues to explain His Word to save souls…
My Son met with sinners, with those who undertook their work pitilessly against their brothers… My Son spoke to Pharisees and teachers of the Law to show His Father's Glory to the erudite scholars who rebutted His Word…
THUS AT THIS INSTANT THE ERUDITE SCHOLARS AND THE LEARNED KNOW THE WORD, BUT NOT ALL PUT IT INTO PRACTICE. I CALL YOU TO PUT INTO PRACTICE MY SON'S WORD SO HIS CHILDREN WILL GIVE HIM THE GLORY THAT ALL CREATURES SHOULD GIVE HIM.
My beloved,
Nature advances tirelessly, it advances through the men who are disoriented and lawless, it advances in search of those who remain in tune with the Father's Will. You be love, be brothers, be charity, be humility. Great men are born of humility like My Son gave birth to you on the Cross.
MY CHILDREN ARE HUMBLE AND FULFILLERS OF THE FATHER'S WILL …
Remain constantly alert and without resting because there are announcements not to believe the prophecies of My true Prophets. Be those children who live and work within God's Law and the Sacraments, feeding on Divine Love.
Children, do not stop; you are already living the Tribulation, it advances without stopping from one place to the next; it advances tirelessly each day waking up the hearts. As it advances, souls are lost, souls that wait for the last instant to repent "Not every one who says to me, 'Lord, Lord,' shall enter the kingdom of heaven."[21]
Pray, My beloved, for My children in the United States, they will suffer constant scourges.
Repent, My children, seek the salvation of the soul.
Pray, My children, for Colombia; this land will mourn its future.
Pray, My children, for England; it will be shaken at the hands of man's rage.
Children,
DO NOT REST; FIGHT AGAINST THE HUMAN "EGO". At this instant the demons surround man and they leave him the sting of disobedience and pride for him to revolt like lucifer. Do not forget that each one will examine himself and darkness will fall over man until he can no longer see his own hands. The darkness dispels with the Divine Light and It reigns in the hearts of the righteous, of the merciful, of those who are repentant and abide by the Divine Law.
Men persecute one another with a thirst for vengeance, not recognizing each other as brothers, without mercy, and advancing each instant towards the large cities. This is satan's strategy.
A president will be attacked and killed; the people will be cruelly assaulted. This is the fruit of the silent communism.
My beloved,
DO NOT WAIT ANY LONGER; PRAY, RECEIVE MY SON, REPENT. The instant of all instants has come to man; do not wait any more. The abomination has arrived at the Temple unconditionally.
THEN THE DIVINE AIDE WILL ARRIVE FOR HIS CHILDREN AND THEY WILL BE LED ALONG THE
TRUE PATH FROM WHICH THEY MUST NOT DEVIATE. The Peace will reign and the enemy of the soul will be cast out far away from mankind, he will be chained, and the Kingdom of Peace will be for all the children faithful to the Holy Trinity and to Me.
I love you and I bless you.
MY HEART RECEIVES ALL THOSE WHO REPENT FROM THE HEART.
Mother Mary
HAIL MARY MOST PURE, CONCEIVED WITHOUT SIN.
HAIL MARY MOST PURE, CONCEIVED WITHOUT SIN.
HAIL MARY MOST PURE, CONCEIVED WITHOUT SIN.