Wednesday, June 10, 2015
Message Given by Our Lord Jesus Christ
To His Beloved Daughter Luz De María.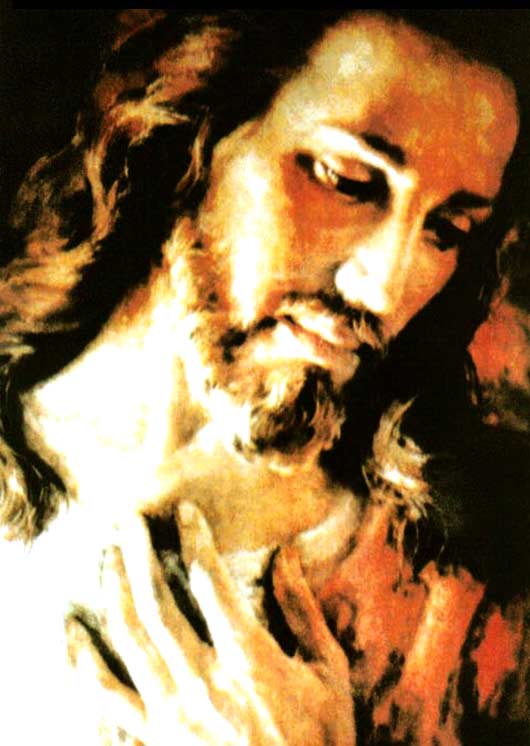 My beloved People,
I DO NOT FORSAKE YOU REGARDLESS OF HOWEVER STRONG MAY BE THE INSTANTS WITH
WHICH YOU ARE NOW DEALING AND WILL CONFRONT …
My beloved,
Disbelief reigns accentuated with the force provided by the men in this generation. This generation does not wish to heed My Calls; instead, it wants to mute My Voice so the ones who want to understand the darkness that invades My People will not find the explanation and the expansion of My Love that does not stop nourishing and guiding the ones I rescued spilling My Blood for everyone's redemption.
I remain in each Consecrated Host…
I remain present in the man in whom My Spirit lives…
I AM OMNISCIENT AND OMNIPRESENT; I remain where man sees Me with his bodily sight and where he doesn't see Me with his bodily sight.
That is My Presence in everything and everyone, which man cannot understand when he does not recognize that he is limited.
GOOD AND EVIL REMAIN IN FRONT OF EACH ONE OF THE HUMAN CREATURES IN ORDER FOR
THEM TO DISCERN, UNDER THE INFLUENCE OF MY SPIRIT, THE TRUE PATH, THE REWARD OR THE CHASTISEMENT... This is My Merciful Love, the one that leads Me to continue to explain My Will to those who are Mine so they will choose freely before they lose the Grace and before they have the opportunity to see the wickedness in which they will fall.
I AM EQUITY … I DO NOT LET MY CHILDREN FALL BEORE SHOWING THEM WHERE THEY WILL FALL, THE CAUSES AND THE PUNISHMENT FOR THE FALL.
Because of his disobedience man loves himself in a disorderly way, attributing to himself what is only under the authority and jurisdiction of My House. Hence, envy, presumption, greed, and disobedience have led man to an idolatry of himself which takes him from sin to sin, from hubris (pride) to hubris (pride), from arrogance to arrogance… So much blindness does not lead to an end other than to lose the Eternal Life if the creatures do not repent in spirit and in truth.
My beloved,
EVIL: SATAN MAINTAINS A FIGHT BROUGHT AGAINST MY MOTHER'S CHILDREN,
AGAINST EACH ONE OF YOU…
MY MOTHER: Queen of all creatures, has been endowed with the Gifts of Grace and Glory, and with the Superior Humility of Our Love, so that Humility will be the one to defeat satan who will present himself to this generation with all his evil intentions.
THIS IS THE INSTANT WHEN EVIL FIGHTS AGAINST GOOD IN EACH ONE OF YOU TO EXLUDE MY
MOTHER FROM THE LIVES OF MY CHILDREN BECAUSE HE KNOWS AHEAD OF TIME THAT HE WILL
BE BROKEN, DEFEATED AND THROWN INTO THE ABYSS BY MY MOTHER TO WHOM MY FATHER
HAS GRANTED THE INTERCESSION AND THE LEADERSHIP OF THE FIGHT AGAINST THE INFERNAL SPIRITS THAT HAVE POURED DOWN ON ALL HUMANKIND; AND SOME OF THOSE SPIRITS ARE INIQUITY, MALICE, SELF EXALTATION, VAINGLORY, VICES, ENMITY, AND IGNORANCE.
Beloved children,
EVIL WANTS YOU TO BE IGNORANT TO DRAG WITH IGNORANCE ONE THIRD OF THE HUMAN RACE, deceiving them to make men fight against each other and to create division among them.
Man has not yet loved Our Will, he denies My Justice, caresses My Mercy with a misunderstanding of It, and relegates My Justice as if the greatness of Our Divinity were subjected to man's approval.
The Gifts and Virtues reside in My Mother's Virginal Womb…
She is Temple of the Holy Spirit and Virginal Sanctuary for the good of My children…
Beloved, painfully I see how the capital sins are reproduced in My children bringing about more and greater sins against Me. The devil makes war on men and in an unprecedented manner men embrace it making the wickedness and the cruelty of evil their own, even though evil's only purpose is to take with it My sons and daughters that are My Mother's, too.
EVIL'S FURY EXTENDS TOWARDS MY HOLY CHURCH AND MY MYSTICAL BODY TO MAKE MY MYSTICAL BODY MOVE AWAY FROM MY MOTHER TO WHOM THE HOLY TRINITY HAS BEQUEATHED THE PREROGATIVES TO DEFEAT THE DEVIL OR SATAN.
My beloved, you embrace evil and caress it, and evil delves inside the human heart to cloud the understanding and create struggle among my children, disunity and confusion, because only through lies can the devil penetrate and unload its wickedness in men.
These are instants when My Church takes course towards the Great Schism already announced by My Mother, when the suffering of those who are faithful to Me will be the glory of My Mother's intersession in favor of the human race, even those who do not believe, do not hope and do not love.
Children, do not decline; you must get to know Me so you won't decline because I do not abandon those who are Mine, I embrace them and I place them in My Mother's loving arms; I shelter those who are helpless.
My beloved People, My People are all those who love Me, adore Me, and call Me the Lord of their lives and of all things created, and who live, act and work within Our Divine Will.
Do not wait for time, it is gone…
Do not deny the signs that I allow to encourage you…
Do not surrender to the adoration of the human ego and do not rebel against Me as it was man himself who has yielded up the power to evil for evil to control him. My children have never been so close to desolation as in this instant…
The war, the great scourge generated by evil, advances relentlessly and ruthlessly without being stopped; instead, it is encouraged by the demonstrations of power of the Nations of the Earth.
My children,
REMAIN ALERT AT THIS INSTANT MORE SO THAN AT ANY OTHER PREVIOUS INSTANT; I WILL NOT ARRIVE WITH WATER BUT WITH THE FIRE THAT PURIFIES.
Pray, My children, for Russia and its allies. The hunger for power feeds the confrontation. Pray, My children, for Indonesia; it will share with humanity the fire that burns in the entrails of the Earth and will peep out so men will rethink.
Pray for Italy; it will be purified by Nature and by man himself.
My beloved,
You well know what is coming…
THE BLIND MAN DENIES IT, THE MAN WHO BELIEVES TO BE WISE DENIES IT, THE PROUD
(HUBRISTIC) MAN TURNS IT INTO A DOUBT; WHILE THE MAN WHO IS HUMBLE PRAYS AND
CONVERTS, HE KNOWS ME AND HE HURRIES TO COME WITHIN ME TO BE SHELTERED, AND HE
CONSECRATES HIMSELF TO MY MOTHER SO SHE WILL SUSTAIN HIM AND INTERCEDE FOR HIM,
HE DELES INTO THE KNOWLEDGE OF THE THINGS HE IGNORES, AND RIPS THE BLINDFOLD OFF SO THE DARKNESS AND THE IGNORANCE WILL LEAVE HIM.
My beloved People,
Receive Me in the Eucharist with a humble and contrite heart, reach out for Me, as your Father I wait for all of you. Do not fall to the ground without getting up again; evil will not remain forever. My Mother will crush the head of evil and Saint Michael will place on My Divine Scale each and every one of My children's work and act, because without works and acts the Faith is barren.[2]
LOVE HAS BEEN BANISHED; IT RESIDES IN A FEW SOULS, THOSE THAT STRUGGLE TO LIVE IN MY WILL. MY WILL IS NOT ONE MORE SPIRITUALITY; MY WILL IS THE ESSENCE OF THE LOVE OF OUR TRINITY.
It is not difficult for man to fulfill My Will. Man finds it difficult because he has given free rein to his human ego and has not decided to defeat it with My Love.
Do not fear; fear is brought to you by evil to stop you, and when you find yourselves being persecuted you will turn yourselves into the hands of the one that will appear to save humankind, the one who comes to supplant Me.
IT IS URGENT THAT YOU DO NOT DISOWN ME; IT IS URGENT THAT YOU COME CLOSE TO MY
MOTHER SO SHE, WHO IS QUEEN AND TEACHER OF ALL MY CHILDREN, WILL TAKE YOU IN HER WOMB AND PROTECT YOU WITH HER MANTLE IF YOU SO DESIRE.
My children, be alert! What My Mother has announced is being fulfilled and it will be fulfilled fully because of the disobedience to Her Calls.
Come into My Side which is open to all; it is not too late; come to Me
I Love you and I bless you.
Your Jesus
HAIL MARY MOST PURE, CONCEIVED WITHOUT SIN.
HAIL MARY MOST PURE, CONCEIVED WITHOUT SIN.
HAIL MARY MOST PURE, CONCEIVED WITHOUT SIN.