Sunday, June 28, 2015
Message Given by Our Lord Jesus Christ
To His Beloved Daughter Luz De María.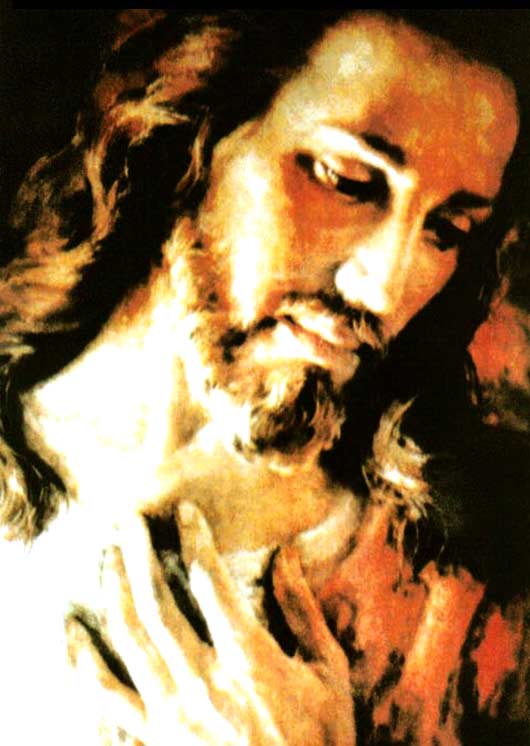 Luz de María:
Here is the King of kings…
In the embodied look of love, our beloved Jesus expresses without disguise a certain solitude caused by those He loves. He asks me to transmit His Word. With His white Vestment, more white from light than anything else, His chestnut Hair, and His complexion the color of grains of wheat, of great beauty which is not so much human as it is of great Divine beauty, His Spirit glows more than any human being could imagine, He raises His Hand and looking at Me intently, says:
Christ:
My beloved, do not expect everyone to believe you. Just like not all believed Me, so it will be repeated with you. Man believes mostly in what he sees and, on occasion, on what he doesn't see; he believes in what is easy or beneficial in some way for his living.
My daughter, You owe obedience to Me; do not stop walking no matter how strong the winds against you. I DID NOT STOP ON MY WAY TO THE CALVARY, SO YOU CONTINUE ON YOUR WAY. The instant will come when those who judge you because you live in compliance with My Word and with that of My Mother, will have to recognize within themselves that it is not you: IT IS I WHO SPEAKS TO YOU AND ORDERS YOU TO TRANSMIT MY WORD FOR ALL THOSE WHO WANT TO COME TO ME
Remember that I was despised; I was disowned by those who called Me brother when I wasn't; the Nazarenes made fun of Me. BUT I, OBEDIENT TO MY FATHER'S WILL, PRAYED INSIDE OF ME FOR ALL THOSE WHO YELLED: CRUCIFY HIM! My gaze was lost in the crowd and, while I walked with My Cross, I saw those who traded with the Divine Word within the free will. I saw some who taught the PSALMS to the People for a few cents. I saw some who sold fragments of the PSALMS and of the Divine Word interpreted by their free will, recognized among men, but unknown to My Father.
My Mother kept Me company and, next to Her, John and My faithful Women Disciples came up to the Calvary showing themselves before all. MOST OF MY DISCIPLES WERE WATCHING FROM A
DISTANCE AND OTHERS TURNED AWAY OUT OF FEAR. BUT I, OBEDIENT TO MY FATHER'S WILL, WALKED SEEING ALL THE INSTANTS OF HUMANKIND AND REPAIRING FOR EACH ONE OF MY CHILDREN.
I still continue looking for My People: Some are hiding so they won't be recognized, others hold so much fear and human respect!... some do not show their true faces, others—in a dim light so as not to be recognized, and in a soft voice—speak unfoundedly against My Word. Some of My other children, not understanding the greatness of My Love, turn their backs on Me in light of criticism and lies. And even then I FORGIVE AND I LOVE, I LOVE AND I FORGIVE… LIKE A BEGGAR FOR LOVE, I REMAIN BEFORE MY PEOPLE WHO WILLINGLY STOP BEING MY PEOPLE.
The splendor of all things mundane overshadows the mind, the thinking and the hearts of men who forget from where they came and acquire habits contrary to righteousness, as the King's offspring that they are.
The instant is coming when before Me each one maybe will find that he did not live in My Will but in a slight varnish of what is My Will…
The instant is coming when each one will see how he despised Me based on slander, and how he despised his brothers by living a false religiosity that is not My Truth or My Commandment…
The instant when each one will see himself is coming to humankind …(1)
"AT THAT INSTANT I WILL BE SPECTATOR BEFORE THE MAN WHO AT THAT INSTANT WILL ALSO BE SPECTATOR OF HIS OWN LIFE IN WHICH HE WAS ACTOR OF HIS ACTS AND HIS WORKS.
My beloved, I am so lacerated! My angels shed tears for this generation.
The human beings are submerged in the accelerated pace of the mundane and do not notice what is brewing, with apparent good intentions, as part of the freedom offered to them by the evil oppressor of the souls to deceive them.
AT THIS INSTANT WHAT IS TRUE IS THE REBELLION AGAINST MY MANDATES: I am despised, they respond to Me with rage, wickedness, falsehoods, lust, disobedience, and hubris, killing their brothers—some with man-made weapons and others with their own words. The blood of so many innocents is spilled out of hatred for the Faith, and violence increases in the men who give themselves to satan carrying throughout the Earth the rage grafted onto them by the demons.
Pray, My children, pray for France and England; they will suffer the weight of the hand of terrorism.
Children, nourish yourselves with My Body and My Blood, nourish yourselves with My Word, nourish yourselves by loving Me, nourish yourselves by loving My Mother, praying the Holy Rosary, and offering Me all that happens to you as you walk, to reinforce yourselves internally. YOU MUST BE MORE SPIRITUAL SO YOU CAN BE MESSENGERS OF MY LOVE.
Pray, My children; the United States will be shocked by the insidiousness of terrorism that will wound it.
Beloved children who console Me,
I DO NOT FORSAKE YOU IN ANY OF YOUR NEEDS. Me legions remain next to each one of those who are Mine, encouraging them in the trials. My People walk towards the New Land, and to get there, they must pass through the crucible to purify themselves.
Pray, My children, for Colombia; it will suffer; the land will tremble.
I do not punish you; folly and disobedience keep you at this juncture. The wails of the innocent who do not reject the Faith in Me will be THE GREATNESS OF MY PEOPLE…
Humanity does not walk, does not take firm steps, they only go by without leaving footprints of Eternal Life. They have associated themselves with evil, the desire to eliminate My People, that is the order given by evil who by means of alliances with the great nations behind humanity's back, has shaken hands to surrender world power, and who will later betray the ones who shook hands with him in order to set up the single government, the single religion, the single coin.
ONE WILL RULE THE WORLD WITH AN IRON ROD, CONTROLLING THE MIND, THE FOOD, THE CLOTHING, AND DENYING MAN THE RIGHT TO GATHER AND TO PRAY.
Then they shall rise against each other and as if they did not know each other, they will turn each other in. This is My suffering for each one of My children.
From the standpoint of humanity, so many alliances appear to be made, when in fact the promoters are great rivals! And this brings the intention of agitating men even more, men who look on, as spectators, the threats of war between countries.
Beloved,
The turmoil of this instant invades the minds—overwhelmed by ignorance, folly, the dulling and numbing of the technology used incorrectly—and spreads like the wind causing social uprisings in the countries. Thus, violence and wickedness walk hand in hand, which together with ignorance of My Love, make man misunderstand My Omnipotence.
THE EARTH THAT RECEIVED THEM WANTS TO EXPEL THEM
BECAUSE OF THE HORROR THAT MAN IS CAUSING WHEN SIN SUPERABOUNDS AS AT THIS INSTANT.
The spasms of the earth will be continuous, the seas will tremble, and the Prophecies will be fulfilled before a man who does not pray to attenuate the events announced by My Mother, before a man who contradicts himself carrying My Word but acting contrary to what he preaches. Men hear the moans from the depths of the Earth but don't know from where they come; they ignore that the layers of the earth shift causing moans to reach the surface.
Beloved children, I suffer with you; I have not separated you from Me. Evil attracts evil; good attracts good.
They have taken to the air to travel from place to place; and not satisfied with that, man will take to the air bringing death with him in alliance with evil.
AT THIS INSTANT MAN MUST DUPLICATE THE KNOWLEDGE. Just like evil knows the weaknesses of humankind, My children must know how not to fall into the traps of evil; and to do that, they must be more spiritual. Men have not known Me; even after more than two thousand years they still have not reached the depths of the knowledge of My Will.
DO NOT REMAIN INDIFFERENT TO MY CALLS.
VISIT ME IN THE SANCTUARY, RECEIVE ME IN THE EUCHARIST, COME TO ME, LIVE MY WORD, REPENT OF SINS.
CONVERSION! CONVERSION! UNION! UNION! UNION!
My People will triumph together with My Mother who guides them.
I am with you, children.
My Protection is for My People as the air for man…
My Protection is the 'land flowing with milk and honey.'[26]…
My Protection is "the light of the world"[27], "the salt of the earth"[28]…
IF YOU ARE TESTED, BE MORE COURAGEOUS;
KEEP UP THE FAITH AND THE TRUST IN THAT I DO NOT FORSAKE YOU.
SHELTER ONE ANOTHER; HELP ONE ANOTHER AS I CARRY YOU IN THE PALM OF MY HAND.
I love you.
Your Jesus
HAIL MARY MOST PURE, CONCEIVED WITHOUT SIN.
HAIL MARY MOST PURE, CONCEIVED WITHOUT SIN.
HAIL MARY MOST PURE, CONCEIVED WITHOUT SIN.