Tuesday, June 30, 2015
Message Given by the Most Holy Virgin Mary
To Her Beloved Daughter Luz De María.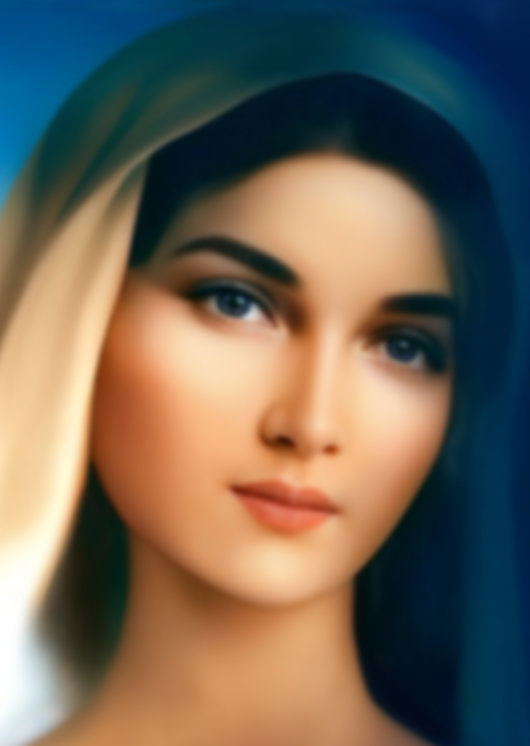 Beloved children of My Immaculate Heart, I love you and you beat inside My Heart.
EACH INSTANT I DEFEND YOU AGAINST THE WICKEDNESS THAT LIES IN WAIT FOR YOU.
Children, you must want to move away from temptation and not to get close to temptation. Man has the capability of saying NO to temptation; however, curiosity is a weapon that predisposes man to sin. Man seeks to have more than his own brothers. In that tireless search, they have transgressed the Natural Laws, they have ignored the natural limits, and have seen with disdain God's Law.
I HAVE ANNOUNCED EVERYTHING THE DIVINE WILL HAS REQUESTED REGARDING
THE FUTURE OF HUMANKIND. AT THIS INSTANT, THE FUTURE ABOUT WHICH I WARNED YOU IS NO LONGER FUTURE; IT HAS BECOME THE INSTANT OF INSTANTS.
Beloved children,
Man has despised the Calls of the Creator; only a few have remained obedient in Faith. All My announcements for you to increase the prayer and lessen the wrongdoings you have omitted in your free will, knowing that the coming events will not be revoked but they can be attenuated by means of prayer, penance, and fasting from My children. Still they deride Me and omit the Warnings.
Children,
YOU SHOULD HAVE STOPPED BEFORE THIS GENERATION PLACED ITSELF IN THE HANDS OF THE EVIL ONE!
You have not measured the wickedness with which you act; you have allowed yourselves to be actors in a shameful fad that saddens My Son…
Men of little Faith! You mock God's Natural Plan, and this leads you to exile…
The same land that has cradled you will make you tremble…
You will examine yourselves and then darkness will linger for three days.
I CANNOT ADDRESS MY CHILDREN CALLING THEM ONLY TO CONVERSION AND TO PRAYER,
INSTEAD, MY DUTY AS MOTHER IS TO CALL YOU TO EXAMINE YOURSELVES, TO CALL YOU TO BE AWARE OF YOUR WRONGDOINGS AND THE WICKEDNESS IN WHICH YOU LIVE, TRANSGRESSING MY SON'S MERCY.
Are you waiting for the antichrist? Have you heard about the antichrist?...
Those who are still aware that the tribulation will fall onto My children wait for him fearfully …
Those who do not obey the Divine Word and do not forget the mundane wait for him incredulously …
Little children, there are great secret organizations that control the world, which they hastily push towards a single government which will be the key to the entrance of the antichrist. Children, the antichrist is on Earth brewing his plan to take man down to the ground so he will thrash around in the mud of sin against the Holy Trinity.
The antichrist has signed pacts, he has taken possession of money, weapons, top grade technology, institutions, religions, and the will of the men who have given up their places for him.
THE ANTICHRIST IS IN YOUR MIDST. HE HAS TAKEN THE REINS OF THE WORLD AND AT THIS
INSTANT HE MAINTAINS CONTROL OF HUMANKIND IN THE ECONOMY, THE FOOD, THE POLITICS,
THE POPULATION CONTROL; AND HE MANIPULATES THE HOLY SCRIPTURE SO THE POLITICS WILL DEVIATE MAN FROM THE RIGHT PATH THAT MY SON HAS LEFT FOR HIM.
You live the most serious moral revolution ever lived in the history of mankind: Governments have decided for themselves debauchery and human deviation, which will generate a great persecution against My children at the hands of a humanity unbridled, uncontrolled, without God, and with a decadent Faith that will silence My Son's Church
My beloved, I have called you so much to conversion and you have mocked Me so much! At this instant you are before what you have denied: The antichrist taking over the power of the world.
THOSE WHO PREPARE THE ARRIVAL OF THE ANTICHRIST ARE THE ONES BEHIND THE
IMMORALITY, THE LACK OF ECONOMIC, SOCIAL, AND POLITICAL STABILITY TO CAUSE CHAOS AND THUS DOMINATE THE SURROUNDINGS NECESSARY TO PRESENT THE ANTICHRIST TO THE WORLD.
HE WILL CULMINATE FIGHTING AGAINST GOD'S CHILDREN.
Beloved of My Immaculate Heart,
Man cannot live without his Creator because he will fall into wickedness if he doesn't repent firmly and convert. This generation will drink the bitter cup of his own misused will, rebelling against their God.
Pray, My children, for France; it will suffer greatly.
Pray, children; man's hubris will take him to war.
Pray, My beloved, the Peoples will stir up and they will blame My Son for their misfortunes without looking at themselves.
Pray for your brothers who adore the god money; they will find no repose.
Beloved children, My Son gives Himself equally to all men, He guides everyone equally; all are His children.
My Son shines like the sun at high noon; no one can get away from its light and its warmth…
My Son shelters everyone. Like the sun's rays reach even the places where there is darkness, so My Son constantly and tirelessly looks for His children; He looks for them even in the darkest places where they can hide to get away from Him.
THE SUN STAR THAT SHINES WITH FORCE IS GOD'S CREATION AND FULFILLS THE FUNCTION FOR WHICH IT WAS CREATED, JUST LIKE ALL THAT EXISTS IN CREATION FULFILLS THE PURPOSE FOR WHICH IT WAS CREATED. The one who rebels is man to whom God the Father, from the beginning of Creation, granted everything necessary for him to be in agreement with God's Divine Will. Man rebels instant to instant, so much so that he hastens the instant with his bad works and bad acts, his wrongdoings.
Beloved, an event will shake My Son's Church; terror will get to Rome to take what is not its property.
The United States will cry because of the rage of those who do not love it.
My Son suffers so much because man rebels against The Commandments of God's Law! The man who throws God out of his life falls prey to the evil oppressor.
Beloved, you who keep listening to this Mother:
Be witnesses of the works and acts of My Son…
Be Love, Charity, and Forgiveness…
Receive My Son properly prepared…
Come before the Sanctuary and repair humankind's wrongdoings… Be unity and fraternity…
CHILDREN, SHELTER ONE ANOTHER.
JUST LIKE HUMANITY REMAINS IN TURMOIL, SO THE DEVIL WILL ATTACK MY CHILDREN WITH MORE FORCE.
Those who remain farthest from worldly things will be better prepared to face the cruelest part of the trial. Who seeks the mundane, in the mundane will perish. You must be like those who do not follow the current of the world; you must walk against the world in order to make a difference.
The land will continue to tremble. Do not get distracted, children; the land will sink in several countries as if it were hollow.
Do not move away from My Son because those who move away risk falling and not getting up. Everyone is tempted but they do not remain in it because My Son's Love has marked the way for them.
Beloved, these are difficult instants; everything you see is different from what My Son preached. But do not get discouraged because My Son and His Angelic Legions will protect you.
DO NOT BE AFRAID; THIS MOTHER IS WITH YOU.
I, WHO AM YOUR MOTHER, I'M HERE NEXT TO EACH OF YOU.
YOU WILL NOT BE ALONE, MY SON'S PEOPLE, COME TO MY MATERNAL ARMS.
Mother Mary
HAIL MARY MOST PURE, CONCEIVED WITHOUT SIN.
HAIL MARY MOST PURE, CONCEIVED WITHOUT SIN.
HAIL MARY MOST PURE, CONCEIVED WITHOUT SIN.