Sunday, July 12, 2015
Message Given by the Most Holy Virgin Mary
To Her Beloved Daughter Luz De María.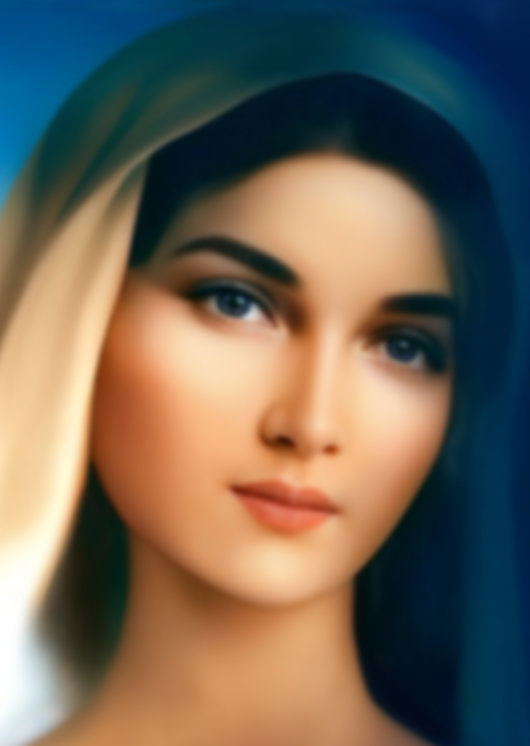 Beloved children of My Immaculate Heart,
I bless you.
MY BLESSING CONTAINS MY LOVE BY MEANS OF WHICH I INVITE YOU TO LIVE ON THE RIGHT PATH.
MY BLESSING IS FOR EACH ONE OF MY CHILDREN WITHIN WHICH I DO NOT RULE OUT ANY OF YOU.
MY BLESSING KEEPS MY INTERCESSION FOR EACH ONE, SO GOOD WILL ATTRACT YOU LIKE A MAGNET.
My beloved children, it is My Son's Will that I remain with you at this instant, in this desperate struggle between good and evil for the souls.
MY BELOVED SAINT MICHAEL ARCHANGEL FIGHTS FOR THE SALVATION OF THE SOULS. Saint
Michael and His Legions continually defend men and assist them in battle against the forces of evil that surround each human being. They are Servers of men and they have a Mission that some of you ignore.
THE MISSION OF THE ANGELS IS:
SERVE, BE GOD'S MESSENGERS, ASSIST MEN, BE AND GIVE LOVE.
The Angels are continually very attentive to humankind, vigilant, adoring God for you; they are your Trustees and at the same time your Guardians, they are Ministers of Divine Justice[29].
God the Father has created all that is visible and invisible, thus, through all things created man sees the infinite perfections with which God manifested Himself imprinting His Love into all things created.
My beloved, Saint Michael Archangel, Great Defender of humanity, does not need superstitious ceremonies to assist you, He doesn't need strange rites to remain vigilant; He knows His Mission and He fulfills it in Obedience and Love. What you must do is invite the Angels to remain with you.
CHILDREN, IT IS IMPORTANT FOR YOU NOT TO FORGET THE ANGELS; THEY ARE YOUR PROTECTORS…
By Divine Will, the Angels keep you guarded insofar as humanity allows them. You may practice what has been revealed to several Saints to invoke the Angels, but the rituals coming from the New Age are contrary to the Divine Will and are totally unnecessary.
My beloved,
SAINT MICHAEL ARCHANGEL CONSTANTLY FIGHTS FOR EACH ONE OF YOU TO KEEP YOU AWAY FROM EVIL AND TO RESCUE YOU FROM THE EVIL OPPRESSOR OF THE SOULS.
At these instants it is indispensable that you pray to the Angels to help you because the devil remains on the prowl seeking to devour souls.
Children, this instant is one of great spiritual attack, and you must empty everything that you carry within you so you will be free, but truly free, and so you will be able to walk yearning for God.
MY SON SENDS YOU ALL THE ASSISTANCE FROM HIS HOUSE TO RELIEVE YOU IN THE STUMBLES AND OBSTACLES, SO YOU WILL BE CERTAIN THAT YOU ARE NOT ALONE; HOWEVER, YOU MUST MAKE THE EFFORT AND RECOGNIZE THE DIVINE HELP.
Beloved children of My Immaculate Heart,
COEXISTENCE AMONG MEN IS INCREASINGLY DIFFICULT EACH INSTANT, BECAUSE THEY HAVE NOT UNDERSTOOD IN DEPTH WHAT IS LOVE AND WHAT IS FRATERNITY. In the middle of this instant the forces of evil cause great divisions among My children to weaken man's support which is unity. Each human being is different, but within this diversity there is a great congruency among all: THEY ARE SONS OF THE SAME FATHER.
Beloved, humanity sees themselves in an individual way; this is the origin of disputes, battles, and rivalries, jealousy and envy…These woes seem minor but they are great evils that eat away man and the love of one another.
SOCIETY HAS EVOLVED, BUT THAT EVOLUTION BRINGS ABOUT THE GREAT SPIRITUAL REVOLUTION OF WHICH I HAVE WARNED YOU IN ALL MY APPARITIONS; THIS IS THE REBELLION OF MAN AGAINST GOD.
As he moves away from My Son, man becomes associated with evil and, when this happens, the catastrophe for man is imminent. I call you to prayer to attenuate all I have revealed, but you will not be able to eliminate the events I have announced, because those who were expected to give a positive response to stop the events did not give it in the way I warned them, the way the Divine Will wanted.
THE BAD BEHAVIOR OF MAN'S ACTS AND WORKS, TOGETHER WITH THE DISOBEDIENCE OF THE DIVINE WILL, ATTRACT TOWARDS HUMANITY A WAVE OF UNSTOPPABLE CALAMITIES OF ALL KINDS. Man despises God and confronts God and tells Him he doesn't love Him.
Division proliferates everywhere from My Son's Church to the smallest communities where the social, moral, racial, and religious differences seep into the fissure which will be unstoppable until the persecution will be more open than it is at this instant.
Humankind will stop feeling like one single People; they say they do not come from the same Father; they adore different gods like pagans, they kill one another, betrayals abound and will continue to increase way too much.
The Clergy will be even more divided and My children will be mostly confused… Some of My favorite children, the priests, will openly proclaim new guidelines for My Son's Church, causing division. Children of My Immaculate Heart,
DO NOT FORGET THAT MY SON'S CHURCH MUST BE:
More spiritual…
Compliant with The Commandments…
Expert on the Beatitudes…
Dedicated to the Word of the Holy Scripture…
Expert and lover of the Sacraments…
BUT ABOVE ALL, MY SON'S CHURCH MUST DESIRE TO "love the Lord your God with all your heart, and with all your soul, and with all your strength, and with all your mind; and your neighbor as yourself."[30]
The Church will be betrayed, persecuted, and its Temples closed, without knowing that it is not with closed temples that they stop those who live the Faith in the Holy Trinity…
Beloved children,
PRAY THE HOLY ROSARY, IT IS OF THE UTMOST IMPORTANCE, BUT DRIVEN NOT BY YOUR INTEREST IN OBTAINING THE GRACES, BUT BY YOUR LOVE FOR MY SON AND FOR ME.
In the sky you will see Great Signs that will frighten man, and, because of the incredulity, the scourges will abound brought onto themselves by the same humanity with phenomena never before known to man.
Disease will turn up in different ways, not only attacking the organism but also man's mind to keep man out of his own control. My beloved,
REMAIN ALERT; not only the epidemics that attack the human organism should worry you and make you aware and alert, but also the epidemic that causes Me great pain: The epidemic that swoops down against My Son's People, the continental epidemic of terrorism that persecutes the Christians who live and profess the Faith in My Son.
MY SON IS COMING; MY BELOVED, LIVE OUT OF SIN.
The earth will tremble with more force in different countries; the earthquakes will be perceived with horror by men; but not even then will they ask My Son for help, just like they have not paid any attention to the blood moons that I have mentioned before.
Beloved children of My Immaculate Heart, MY SON'S CHURCH WILL SUFFER THE SCHISM:
Before the disbelief of My Son's People…
Before the refusal to recognize My Son as their King…
Before the outrageous liberality of men…
Before the inexistence of Values…
Before the refusal to accept that the Divine Justice descends towards man, magnetized by the same man who rebels against what is natural to man.
Beloved children, pray for the United States; it will suffer; its lament will be shocking.
Belovved children, pray for Colombia; it will be shaken.
Beloved children of My Immaculate Heart, pray for Chile; its land will tremble strongly.
Pray, little children; do not miss the recitation of the Holy Rosary.
Pray, little children; receive My Son in the Eucharist.
Pray, little children; My Son's supplanter, the antichrist moves in the world and presents himself to you without being recognized.
THE PATERNAL HOUSE MAINTAINS THE PROTECTION OF HIS CHILDREN; THIS IS WHY HE WILL
OFFER HUMANITY TO SEND TO THEM HIS ENVOY SO THAT, BY MEANS OF THE DIVINE WORD,
HE WILL ENCOURAGE AND RESCUE SOULS FOR MY SON; HE WILL BRING HUMANITY WISDOM
FROM THE HOLY SPIRIT SO THE SOULS WON'T BE LOST ANY MORE,
THE RIGHTEOUS WON'T BE LOST, AND THE HOLY REMNANT WILL UNIFY.
I bless you.
Mother Mary
HAIL MARY MOST PURE, CONCEIVED WITHOUT SIN.
HAIL MARY MOST PURE, CONCEIVED WITHOUT SIN.
HAIL MARY MOST PURE, CONCEIVED WITHOUT SIN.