Thursday, July 16, 2015
Message Given by Our Lord Jesus Christ
To His Beloved Daughter Luz De María.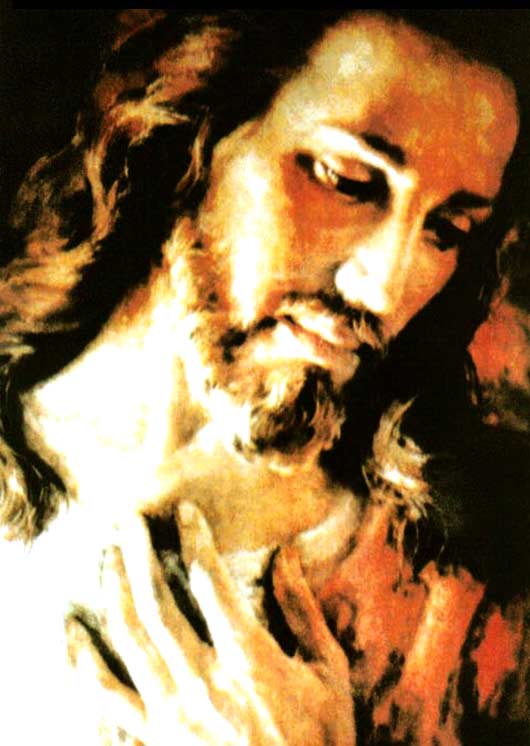 My beloved People,
I BLESS YOU ABUNDANTLY WITH THE SEAL OF MY LOVE.
To Me, each one individually is a beacon of light on Earth in the midst of the densest darkness that, instant to instant, the stubborn human will implants into all humankind.
The Grace of the soul is indispensable for Me to take the creature as Tabernacle of My Holy Spirit… Grace attracts Me to the creature in an indisputable way.
THE STATE OF THE SOUL OF BEING 'IN GRACE' FUSES THE CREATURE WITH MY WILL WHICH HELPS THE CREATURE REFUSE TO ACT OR WORK OUTSIDE MY LAW.
My beloved People,
I CALL FOR THE UNITY OF MY PEOPLE, I call for the unity of those who represent My Church, I call them so they won't transgress My Law. My Law was not given to man for the past, but for all generations, including the present generation.
Man will remain very close to his most inferior spirituality. If they lower My Law towards man with the intention of updating it, this will be the great sin that will lead to the fulfillment of the Revelations given by My Mother.
It is man's duty to comply with My Law because My Law prevents the creatures from ignoring or justifying their evil deeds and evil acts; My Law prevents human acts from being aberrant and human creatures from living away from Me; it prevents evil from leading man to act in total debauchery, which results in giving permission to evil to act in man with all wickedness, and thus human degradation will be unprecedented.
My beloved People,
YOU MUST BE AWARE OF THE ABERRATION IT IS FOR MAN TO ASSAULT ME. They take the initiative of eliminating the innocence present in the little ones. They do not realize the terrible sin that intentional abortions constitute. I suffer for all the children that are slain by the decision of those who have given them life. By means of technology, scientists rob the children's innocence by muddying their senses, making them be adults in their desires, which to Me is a crime.
MISUSED HUMAN FREEDOM MAKES YOU SLAVES OF THE CURRENT INSTANT, when you are influenced by lies and debauchery from where you will not escape if you do not rebel against what is sin in disguise. They will tempt you with lies so you'll be happy in sin, regressing, walking backwards in every respect, which will lead you to a dark future full of shadows.
MAN'S FUTURE OUTSIDE MY LAW IS A CIVILIZATION OUTSIDE MY LOVE WHERE NOBODY
WILL CONTROL YOU, NOT EVEN YOURSELVES, EXCEPT FOR THE ANTICHRIST WHO WILL
CONTROL YOU THROUGH YOUR THINKING—EVIL'S SLAVE IN THE HANDS OF EVIL BY MEANS OF THE MICROCHIP, GADGET THAT SEEMS HARMLESS BUT THOSE WHO ALLOW ITS
IMPLANTATION WILL BE CONTROLED THROUGH IT.
My beloved People,
You have made an agitated life for yourselves which has enslaved you: A man full of desires who forgets about himself to live for worldly appearances that degrade him through hedonism, seeking to be by having. Do you know what this is? That man has come to believe that he can find happiness on Earth NOW and that after life they will come to enjoy My Mercy.
My People,
MY MERCY REACHES ITS FAITHFUL FROM GENERATION TO GENERATION,
IT REACHES THOSE WHO REPENT WITH FIRM PURPOSE OF AMMENDMENT.
THIS IS A CONDITION TO RECEIVE MY MERCY.
I am God of Love and My Love leads Me to keep Mine on the straight path…
I am Mercy when the lost sheep wishes to return repentant to the sheepfold…
I am Mercy even when the greatest sinner comes to Me with broken and contrite heart[31]… What more Mercy than the one for this depraved generation that continues to offend Me denying My Justice to be encouraged to continue in evil, acting and working without any modesty and with a morality that transcends humans to fall in animal behavior!
MY JUSTICE IS TRUE; IT WILL NOT CHANGE IF MAN DOES NOT CHANGE.
Be cautious; evil controls you with deception.
MY PEOPLE, THE FORCES OF EVIL WILL NOT PREVAIL OVER MY LOVE. ALL THOSE WHO
COME TO ME AND DO NOT DENY ME: WE WILL GIVE LIGHT TO INFINITY WITH MY LOVE.
As it has always happened, I do not act without alerting My People; this is why I alert you about all the coming events, because sin must be erased from the face of the Earth.
My People, do you ignore how many offenses reach Me instant to instant by those who at this instant hold the power in the world?
You think you are an advanced civilization, but this is not so; you are a generation totally distracted from My Love: You live without living, you are slaves of the technology that absorbs the mind, the instant, the love, the dedication, the feelings, and turns you into robots, it enslaves you robbing your intelligence and preparing you to be dominated…
I WILL HEAR LAMENTS AND MY HEART WILL BLEED FOR IT, BUT MY PEOPLE MUST BE PURIFIED IN THE CRUCIBLE SO THEY WILL COME BACK HOME.
My People,
The Earth will be shaken by the lack of prayer, by the lack of fulfillment of the Commandments, and by the wicked intelligences that have gone into My own House.
My Law orders you not to transgress it…
My Mother has called you with Love to obey My Mandates…
My Mother has called you be prepared so you won't fall prey to satan…
BUT YOU DISOBEY, AND THAT SAME DISOBEDIENCE DISTANCES YOU SO MUCH FROM ME
THAT IT LEADS YOU TO FEEL FINE WITHIN THAT DISOBEDIENCE WHICH BECOMES A HABIT AND THE HABIT SPREADS LIKE A PLAGUE SO YOU WILL SEE IMPROPER ACTS AND WORKS AS GOOD AND NORMAL.
Disobedience leads you to consent the effect that this has on you, on each one of you. I wish to share with you all the assets of My House; but when I am rejected by humanity because of their free will, I retreat to wait for man to call Me by his own decision.
THIS WORD OF MINE IS FOR THOSE WHO ARE BECOMING AWARE OF GOOD AND EVIL TO COME BACK TO ME.
I will make My People come back to Me before the righteous are lost.
TIME IS NOT TIME AND THE INSTANT HAS HASTENED.
Each one of you must be aware of this as well as of the great part you have in what hangs over humankind; not only having to see yourselves to become aware of sin and its pain, but also to become aware that My Father will let humanity know His Justice.
MY BELOVED PEOPLE, DO NOT FORGET I AM YOUR GOD. The man-made gods will fall one by one. Money—to which so many of My children are so attached—will fall from country to country, creating civil revolutions, major violence, and great racial disturbances among others, because men with no money become desperate. The fallen economy makes governments fall and this is when the antichrist comes in with the single government and the single coin. Do not trust peace agreements between nations; they will betray one another.
MY PEOPLE, DO NOT SLEEP; THE SIGNS REMAIN BEFORE YOU, I MAKE THE SIGNS OBVIOUS, but you do not give them their due importance, you do not fight to save the soul, you do not change for the better, you do not grow but diminish.
SEEK ME; I LOVE YOU; I AM YOUR GOD.
Pray, My beloved People, pray for Israel; it will act improperly.
Pray, My beloved People, pray for Japan; it will be shaken.
Pray, My beloved, pray for Germany; it will suffer.
Pray, My beloved, the plague advances and reaches the big cities.
My beloved People, My Mother has offered you Her Maternal Protection with some plants from nature to endure those diseases; put them to good use at the right instant.
My beloved People, no effort is in vain; every effort is for the good of the soul and of the souls of your brothers. Be living testimonies of My Love. Each act of My children expands towards their brothers; thus, being aware of that, act righteously.
Children, WALK WITH CONFIDENCE AND SHARE MY WORD. Those who make fun of My Word will be those who will come looking for you so you will help them. Walk with confidence and certainty, My Angelic Legions watch over you.
I bless My People, all My children, all humankind.
Later you will enjoy the high noon like when the sun is at the zenith, so you, My beloved, will feel the fire of My Love present in each one of you.
I bless you.
Your Jesus.
HAIL MARY MOST PURE, CONCEIVED WITHOUT SIN. HAIL MARY MOST PURE, CONCEIVED WITHOUT SIN.
HAIL MARY MOST PURE, CONCEIVED WITHOUT SIN.