Tuesday, July 21, 2015
Message Given by Our Lord Jesus Christ
To His Beloved Daughter Luz De María.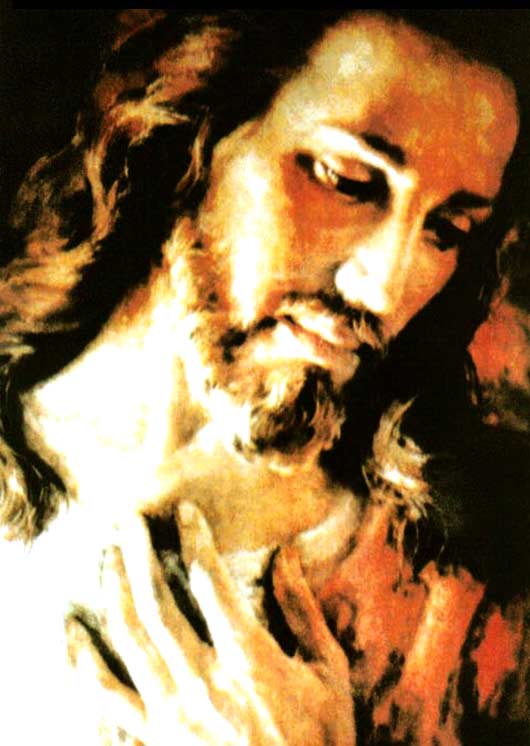 My beloved People,
MY LOVE IS SO GREAT FOR ALL MY CHILDREN!...
MY BELOVED, MY MERCY FOR MY PEOPLE IS SO GREAT!... MY BELOVED PEOPLE, I LOVE YOU SO MUCH!
I see the Earth and on it I see that a great part of it is a desert. It's the souls of My children who indulge in evil at this instant.
My Love for My People is so great! Even in the middle of great offenses and spiritual calamities that abide in the human being, My Mercy continually overflows through this My Word. I do not want anyone to take ownership of this My Word because My Word is for all My children without distinctions, even for those who do not love Me since these are the ones I call more insistently to convert.
My beloved People, within that desert of souls there are so many who have willingly transformed their human hearts into hearts of stone! I look at so many who continue placing themselves in the hands of evil to kill their brothers, acting as instruments of evil and thus preparing one of the tentacles of the antichrist.
My children, you must remain prepared because the antichrist—My People's opponent, the most terrible persecutor of My People—is already among humankind, directing from a small position his for now anonymous leadership, and through that small position he has made himself known without being identified by My children.
Because My Mother has continually announced events to you ahead of time, you know that the one who will try to pass as Me will not present himself before My Church the way he really is. The most terrible persecutor of My Mother's children will come to My Church as the defenseless lamb when inside of him is hiding the wolf that will devour My sheep. THIS IS WHY MY MOTHER AND I CONTINUALLY CALL YOU AND CLAMOR FOR MY CHILDREN TO LISTEN TO OUR VOICES AND STOP
DOUBTING MY WORD, because, if I did not call My People through My Mercy and through My
Justice, then you should doubt this Word. But SINCE THIS WORD IS DIVINE, I MUST CALL MY
PEOPLE WITH MY MERCY AND AT THE SAME TIME ANNOUNCE TO THEM MY JUSTICE, BECAUSE HE WHO LOVES ME RESPECTS ME AND DOES NOT FEAR ME FOR MY JUSTICE; INSTEAD, HE LOVES ME PRECISELY BECAUSE I AM THE RIGHTEOUS JUDGE OF MERCY.
The father of a family loves his children and at the same time admonishes them because he loves them. This is why I explain all that is written in the Holy Scriptures where each one of My Words has taken form.
My beloved People, I am closer to you. My Second Coming is closer to you and, when this happens, I will hear the wailing of those who did not believe in my constant calls, of those who denied Me, of those who rejected My Mother's calls, and of those who were My Prophet's judges.
I come soon, children, in My Second Coming as the King of Glory and Majesty that I am, surrounded by all My Celestial Choirs, by My Legions, by My Dominations, by My Powers, and by all My Angels. I will come to you and not only the Earth will shake, but also everything that was created by My Father's Hand, because the Earth is not the only Divine creation but everything that exists: The Universes that man has not discovered, that he ignores and denies at the same time, thus denying My Father's Omnipotence.
The Earth is not the center of the Universe; the Center of the Universe is Our Trinity. What a small thing has man become after having come out of My Father's own Hands! Although man is My Father's greatest creation, he has become most useless and the creature that mostly offends My Father, Me, and Our Holy Spirit with his rebelliousness and disobedience like no other creature created by My Father has done against Our Trinity. Not even the animals rebel against Us like the human being does, refusing to obey Us, and refusing to get ready when it is precisely for his own good and for the salvation of his soul that he be prepared.
MAN HAS DEDICATED SO MUCH TO TAKING CARE OF HIS BODY! CHILDREN, YOU HAVE COME TO
IDOLIZE YOUR BODIES SO MUCH! AND WHAT IS THE BODY WITHOUT THE SOUL? YOU COMMIT A
GREAT OFFENSE AT THIS INSTANT! PRECISELY WHEN YOU SHOULD SEEK THE GOOD OF THE
SOUL, THE GROWTH OF THE SOUL, AND THE TOTAL NULLITY OF MAN'S EGO, because at these instants you will confront greater calamities, the greatest trials that man has ever imagined, trials born in man's own mind and to which Nature will respond.
My beloved People, with how much love I turn to you and with what contempt you respond to Me! You accumulate riches when these will be of no use to you because the economy will continue to fall from country to country according to each country's importance, so the economy will vanish like water between the fingers.
The great plan designed to exalt the antichrist is bearing fruit and this gives Me great pain. It is bearing fruit because man's disobedience strengthens every structure created to make the antichrist and his tentacles stronger. My children, I know well that within My Church they do not alert you about this of which you should be continually well informed so you will not be taken by surprise and, in the confusion, you will take what you should not take and, when you wake up, you will find yourselves in the nets of evil.
My children, the economy dominates man and, through this control, man has learned to exalt without measure his physical body and has learned to neglect his spiritual state. Thus, most human beings ignore My Law fully. My Commandments were given for all times, they are not selective, they do not belong to any elite. My Commandments are for all My children and they are not subject to any restructuring, to any change, or to any interpretation.
I would be a false god if the Commandments were subject to change, to restructuring. My Word is One, and evil will never prevail before this Word as long as it is respected.
My beloved children, My Mother has alerted you so much regarding the illumination of consciences, and you look at it ignoring so many announcements of the Warning. My children, you are not aware of it.
My People give Me so much pain! I get close, I get so close that in such nearness I will leave them before the conscience of each one, alone, so that each one in particular will look at himself as well as his whole life. All his works and all his acts will pass before his personal conscience and, at that instant, when the creature will look at himself, you will achieve what you have lost for sinning.
My children, repent before that instant comes! Otherwise, you will not see the offenses you have committed against Our Divinity but, having repented, the pain will be less once the sins have been the subject of reconciliation with Me after a sincere and true repentance and a firm purpose of amendment.
Remember, My children, that I call you not only to evaluate your expressions of religiosity before
Me, but also to see the works and acts, the fruit each one will present to Me. My children, My
People, at this instant, the works and acts are the fruits that will weigh more on the scale of Divine
Justice, but these fruits must be born of Love, experience, dedication, and obedience to live in the Will of Our Trinity. And he who lives in the Will of Our Trinity, does not rebel, does not refuse to love his brother as himself, and does not place his personal wishes and whims before obeying My calls. Do not keep the Love only for yourselves: First love Our Trinity, love your brothers, and do not act or work against the Gift of Life.
My beloved People,
Remain alert! At this instant the great powers keep you fully in deception because these powers have given themselves to the power of satan, trusting they will keep their power over the smallest and defenseless once the antichrist exercises its relentless rule over humanity. But these nations, these powers that at this instant are powerful and have sworn to subject themselves to the antichrist's mandate, will be crushed by the antichrist because he will not yield the government— political, social, religious, or economic—to absolutely no creature; he will exercise it himself in a single government, through a single coin, through a single religion; thus becoming the one who exerts control over all human creatures. This is why I constantly talk to My People for them to remain faithful, to nourish the soul and the spirit, to be instructed in My Word; My Holy Spirit invades them and fills them with wisdom, charity, love, and hope, so you will open yourselves to the knowledge of My Love and not deny My Justice towards a generation that keeps Me like a Beggar of Love, that keeps Me totally crucified by the disdain and disobedience to My Calls, but above all, by the disdain for the Commandments.
THE DIVINE WILL IS: TO COMPLY, TO WORK, AND TO ACT IN MY LAW.
My beloved People,
You will walk like wanderers, humanly, feeling lonely; but do not fear because you will see My Legions, if not with the eyes of the body, with the eyes of the soul. You will not be alone at any instant; My Messengers of Love, your partners along the way, My Servers, are sealing My faithful, the Holy Remnant, the Small Flock that will remain faithful and will fight carrying the Love in the word, the gaze, and the heart, helping those who need to be helped in order to take the step that will lead them to Eternal Life.
The coming instant is not flattering, My People. At this instant great struggles are going on of which most of My People are totally ignorant.
The important governments of the world exercise their plans to proceed with the Third World War to make the economies fall and then enter all the homes and therefore all the human beings.
MY CHILDREN, THERE ARE SO MANY UNFORESEEN MATTERS COMING TO YOU!
DO NOT REJECT THE CALLS FROM MY HOUSE. EACH ONE OF MY CALLS CONTAINS THE GREAT TRUTH THAT I SEND YOU LITTLE BY LITTLE.
Pray, My children, prayer is important. And after praying and receiving Me in My Body and My Blood, comply with the Will of Our Trinity being messengers of love, of that Divine Love that I make abide in My faithful People.
MY CHILDREN, RESPOND!
Do not be the ones to get involved in the mundane world…
Do not be the ones to become allies of evil…
Do not be the ones to act against your brothers…
Do not be the ones to exterminate the Gift of Life…
Do not be the ones to become inquisitors…
Do not be the ones to commit adultery…
Do not be the ones to extort your brothers…
Do not be the ones to share false doctrines…
Do not be the ones to embrace false ideologies because of ignorance… Do not be the ones to attribute to Me what is not My Word or My Truth.
MY LAW IS ONE: LOVE. MY WORD IS ONE: LOVE. BUT IT IS NOT THE HUMAN LOVE;
IT IS THE LOVE THAT SURPASSES HUMAN LOVE. MY LOVE IS DIVINE. MY LOVE DOES NOT GO AGAINST CREATION. MY LOVE DOES NOT GO AGAINST MAN. MY LOVE DOES NOT GO AGAINST MY LAW.
Beloved children,
You get involved with ideologies contrary to My Word; you dare compare Me to human leaders who have committed great genocides against humanity; and you do so precisely because you ignore My Word; because, if you knew it in Spirit and Truth you would not commit such heresy. "I AM WHO I AM." (1). I am the One who loves Divinely, and no human creature who has raised the hand to kill the greatest Gift I have given to man and has not repented, can ever be compared, not even compared to My Love, to My Holy and Divine Doctrine. Just like you dare compare Me to human leaders, so because of that great hubris (pride) as well as ignorance, you will embrace the mandates of the antichrist. No, children, I do not want that for My People; that is why I order you to immediately get away from those who dare compare My Love to the previously mentioned human love or ideology that was raised over the blood of your brothers.
My beloved People,
INSTRUCT YOURSELVES, KNOW ME, DELVE IN MY LOVE! I did not come for one, I did not come to bring you vain and fleeting words, I came to give you the Eternal Life. This is why the saints have been sanctified in the crucible, in obedience, in the love of neighbor, in the acting and working in My likeness, and in fulfilling My Father's Will, even though they have had to give their lives for their brothers. Those who claim to love Me, "let them deny themselves and take up their cross and follow me" (2) and do not charge the personal cross on a brother.
My beloved People,
Pray, pray for My beloved People of Greece so they won't continue being deceived. Pray because this People will suffer and will spill their blood.
Pray, My children, pray for Germany; it will suffer greatly.
Pray, My children, for the United States; it will suffer greatly, the earth will shake.
Pray, My People, pray; the Earth trembles, water rises to purify the Earth.
LOOK TO THE SKY, CHILDREN, LIFT THE GAZE, THE SIGNS CONTINUE TO HAPPEN SO MY PEOPLE WILL GET PREPARED.
I bless you with My Love.
I bless you with My Heart.
I bless you and I love you; you are not alone, children, even though you already walk in the Tribulation, you do not walk alone. I carry you in My Arms, and when you feel unprotected, do not forget that I will send My Help to My People.
I love you,
Your Jesus.
HAIL MARY MOST PURE, CONCEIVED WITHOUT SIN.
HAIL MARY MOST PURE, CONCEIVED WITHOUT SIN.
HAIL MARY MOST PURE, CONCEIVED WITHOUT SIN.
(1) Exodus 3:14 New Revised Standard Version Catholic Edition
(2) Matthew 16:24 New Revised Standard Version Catholic Edition