Sunday, July 26, 2015
Message Given by the Most Holy Virgin Mary
To Her Beloved Daughter Luz De María.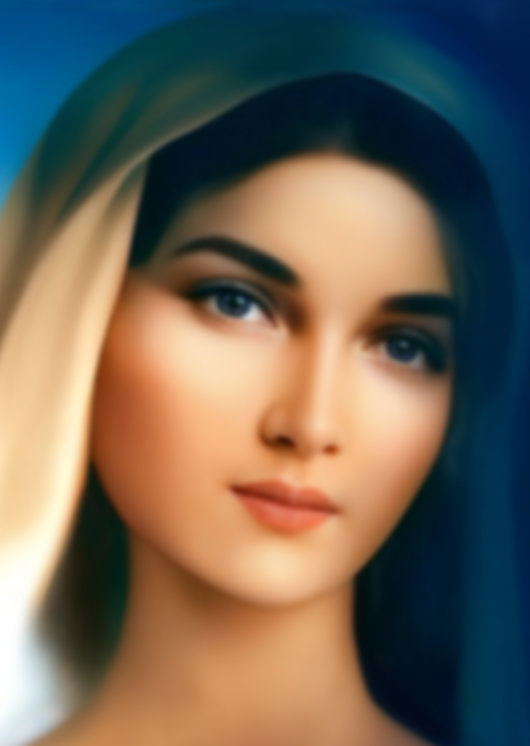 Beloved children of My Immaculate Heart,
My children, receive My Protection with the Flame of My Love burning in every heart faithful to My Son.
My beloved,
STRONG MOMENTS COME TO MY SON'S PEOPLE, AND BECAUSE OF THIS I CALL YOU TO COME PROPERLY PREPARED TO RECEIVE MY SON IN THE EUCHARIST, I CALL YOU TO PRAY THE HOLY ROSARY, AND TO BE COMPLIANT WITH THE WILL OF THE HOLY TRINITY. Children,
THE REASON FOR MY CALLS IS TO MAKE YOU LIVE BEING ATTENTIVE TO YOUR CONVERSION; MY CALLS ARE NOT FOR YOU TO LEAVE THEM ASIDE WITHOUT MEDITATING ON THEM, OR FOR YOU TO TAKE THEM LIGHTLY WITHOUT BEING AWARE OF THE SERIOUSNESS OF MY CALLS. I need for you to be docile to My Calls so I will be able to take you to My Son, so your spirit will grow, and so you will get strong and not allow the road to make you decline without being able to get up again.
Beloved children, I love you so much! How I call you! How I call you with My Maternal Love so none will be lost! Still you prefer to live in ignorance without knowing or understanding that the Father alerts His own before something comes to pass so His People can be prepared. Just like in Nineveh there was conversion, so at this instant, EACH SOUL IS THE GREATEST TREASURE OF THE FATHER'S HOUSE AND, AS SUCH, I DO NOT LEAVE MY CHILDREN DRIFTING; INSTEAD, I ALERT THEM SO THEY WON'T CONTINUE TO GET LOST ANY MORE.
Beloved children of My Immaculate Heart, be careful when you speak lest by the thoughtlessness or ill-consideration with which you misinterpret My Calls, the rest of My children, whom I constantly call, will take the road to perdition. Do not forget that you can do nothing without My Son; you can do nothing without Prayer, without Love in the likeness of My Son, without fulfilling and loving the Will of the Holy Trinity. Outside the Divine Love you will be only a slight varnish.
Children, you cannot go on living and overlooking the events without delving deeper into the great offenses committed against My Son by those who act outside the Divine Will. You cannot live as if nothing were to happen to humanity overlooking how your brothers are lost…
NO, CHILDREN, NO! YOU CANNOT CALL YOURSELVES MY CHILDREN IF YOU
ARE NOT ACTION TO ALERT YOUR BROTHERS AND, IN SO DOING, EACH ONE OF YOU WILL BE
A PART OF THE GREAT PLAN OF SALVATION FOR THE SOULS. MY SON WANTS
EACH ONE OF HIS FAITHFUL TO PARTICIPATE IMMEDIATELY IN THAT SALVATION.
Beloved children, do not listen to those who want to minimize the violent actions of man or to justify his actions against the Gift of Life. They are the ones who are determined to lead My Son's People astray.
IN THE WHOLE HISTORY OF HUMANKIND IT HAS BEEN THE DIVINE WILL THAT HIS PROPHETS MAKE KNOWN WHAT MAN WILL SUFFER ON EARTH AS PART OF HIS PURIFICATION IN THE CRUCIBLE AS A RESULT OF MAN'S FREE WILL… but the prophets were and are denied by those who wish to continue with an ill-conditioned spiritual life, poor, without dedication or sacrifice, molded to man's whims so he won't have to know anything of what the prophets announce in Obedience to the Holy Trinity. Thus men deny that humanity does wrong, offends God, and transgresses God's Law.
Beloved children, these instants are not for those who preach only bonanza or the Gifts of the Holy Spirit for all of My Son's People; these instants are not for those who deny that man must walk towards conversion before he will be called to appear looking at himself in his mode, form, and order of behaving, of acting and working.
Beloved, you will not obtain Everlasting Joy if you are not purified of the disobediences and rebellions against the Divine Love, of the acts and heresies that My Son's Church has committed, of the abuse against the weakest ones, of the lack of charity, of lust and dishonesty, of immorality and lack of appetite for what is spiritual, of the human stubbornness in view of this instant, of fornication, of the hardness of the heart and of the immobility of the soul to which you subject yourselves when you remain in a constant stillness without alerting your brothers.
Beloved children of My Immaculate Heart,
FOR THE ONE WHO BELIEVES, NOTHING IS NECESSARY; FOR THE ONE WHO DOES NOT BELIEVE, NOT EVEN MY SON'S PRESENCE WILL LEAD HIM TO CHANGE HIS PERCEPTION.
Beloved, violence in man takes him to manifest himself with social turmoil. The human being does not use reasoning, but allows himself to get carried away by sudden feelings that come from impulses outside a severe and irreproachable judgment. Each instant there will be greater protests against governments, greed will increase, and this is the instant when men who have money will grapple their money even more, taking them to love money more than My Son and to neglect even more the help to the needy.
Beloved children, pray. The persecution and assaults in Europe come from Europe.
MY SON SUFFERED FOR ALL BEING THE MAN GOD, THE SECOND PERSON OF THE HOLY TRINITY,
INCARNATE THROUGH THE WORKING AND BY THE POWER OF THE HOLY SPIRIT, AND
CONTINUES TO SUFFER BECAUSE OF ALL OF YOU, MAINLY THOSE WHO DO NOT BELIEVE IN THE MYSTERY OF HIS INCARNATION.
Beloved children, this instant is bloody, violent and seductive at the same time, so much so that each human creature wants to believe what is convenient for him and refute or remove what he does not want to believe, avoiding the struggle for his conversion and thus remaining within the stream of worldliness and sin, which is more comfortable than fighting against sin.
My beloved, pray. San Francisco and the coastal areas nearby will be flogged by the trembling of the land and by the sea; they will suffer greatly because of this.
Some who attack like lions will rush forth at these instants when the People suffer.
My children, do not continue making My Son wait for your decision to carry out the mission to be evangelizers of My Son's Word. This is why I have called you to know, to enhance the knowledge, the intellect, to "be wise as serpents and innocent as doves."[33] Do not let the instant go by without you becoming Messengers of the Good News so that nobody will be lost before the darkness befalls.
CHILDREN, DO NOT FORGET THAT THE INSTANT ADVANCES IN HASTE BEFORE EVEN THE RIGHTEOUS GET LOST.
Beloved children of My Immaculate Heart,
My Calls take you to travel along different paths of man's living on Earth, because if I didn't warn you, My Son's People would continue to go towards the cliff. Remain alert regarding the food; they will deceive you making you believe that they have eliminated the transgenic ingredients that cause serious diseases in the human body; political interests take precedence over human interests.
Beloved children, pray for Venezuela; these People of Mine know pain well and will remain in chains with hardship.
My children,
THE MOON WILL TURN RED, THE SAME RED AS THE MARTYRS' BLOOD.
CHILDREN, STORE PROVISIONS, ESPECIALLY SPIRITUAL ONES SO YOU WILL REMAIN WITHIN THE FAITH.
Beloved, the Earth remains wounded; man keeps it agonizing; the Earth moves harshly, with great spasms, thus agitating the sea. DO NOT FORGET THAT A PEOPLE THAT PRAYS IS A PEOPLE THAT ATTRACTS BLESSINGS. With these blessings they will manage to attenuate the scope of the events. A People that responds in Faith is a People that attracts the blessings of their Lord and God.
CHILDREN, YOU ARE NOT CONSCIOUS OF THE EVENTS YOU SEE FULFILLED BEFORE YOUR EYES…
God the Father allowed His Word to be written in the Holy Scripture because everything that is written would come to pass. This generation must wake up, and the only—the only—way that man will be able to listen, obey, and clarify his mind is for man to see himself humbly and place himself in the Divine Hands.
Beloved, the solution to the shadows in which today's man lives does not lie in a "new world order"… Children, be certain that this imposition will be the fearsome persecution against My Son's People; not only the religious persecution, but also the constant threat of allowing the destructive power of nuclear energy underlie every conflict. A humanity at war or in constant calls for war lacerates My Maternal Heart. Racial struggles will increase amid the conformity of the man of this instant guided by evil that covers up whatever is necessary so you, My children, will not wake up.
"And you will hear of wars and rumors of wars; see that you are not alarmed; for this must take place, but the end is not yet. For nation will rise against nation, and kingdom against kingdom"[34]
Beloved children of My Immaculate Heart,
TAKE PRAYER SERIOUSLY, DECIDE TO CONVERT, STAY ON THE RIGHT PATH, DO NOT ALLOW THE ENEMY TO DEFEAT YOU OR TO MODIFY YOUR BEHAVIOR; BE LOVE.
You are not lost, remain alert so you won't place yourselves in the hands of evil, fight against the current of today's decadent and immoral society. Comply with My Son's Calls. Heaven does not alert unless it is for His children to be saved and reach the knowledge of the Truth. The wolf is with the lamb and My children do not discern because they ignore the Word transmitted in the Holy Scripture.
MY SON RETURNS IN HIS SECOND COMING; DO NOT FORGET IT, MY BELOVED.
Do not forget that My Son sends His legacy to His People to give them milk and honey where the Divine Word will abound for God's People and fear will not seize those who are Mine, because the Envoy—like an innocent infant—will radiate True Peace, True Love for My Son's People, with his Love the Divine Way.
NO, CHILDREN, THE PATERNAL HOUSE DOES NOT LEAVE YOU ALONE,
DOES NOT ABANDON YOU ON THE CROSS. EACH ONE WILL GET UP AND, TOGETHER WITH MY SON,
WILL LIVE THE ETERNAL PEACE THAT IS BORN AFTER THE PURIFICATION WHERE THERE WILL NOT BE ANY MORE PAIN AND THE DIVINE LOVE WILL PREVAIL EVERYWHERE.
I bless you.
Mother Mary
HAIL MARY MOST PURE, CONCEIVED WITHOUT SIN.
HAIL MARY MOST PURE, CONCEIVED WITHOUT SIN.
HAIL MARY MOST PURE, CONCEIVED WITHOUT SIN.