Saturday, August 1, 2015
Message Given by the Most Holy Virgin Mary
To Her Beloved Daughter Luz De María.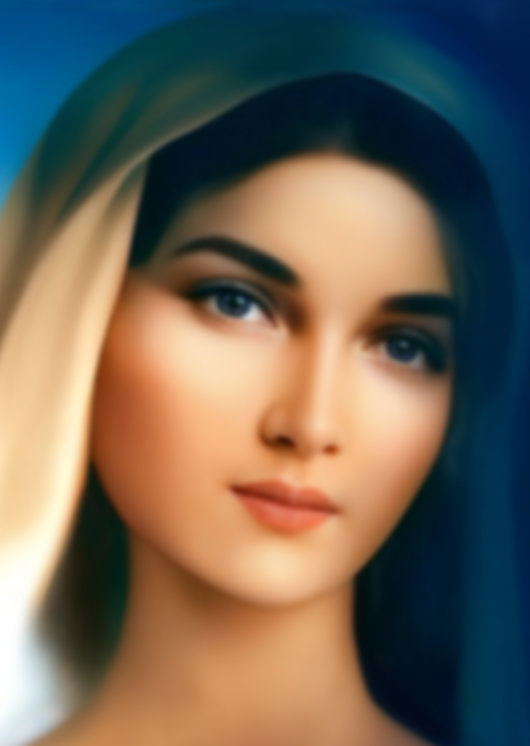 Beloved children of My Immaculate Heart,
I remain next to you to keep you within My Immaculate Heart at instants when My Maternity springs up like a Fountain where the souls find refreshment.
YOU ARE NOT AT A PASSING INSTANT OR JUST ANOTHER INSTANT…
YOU ARE AT THE INSTANT OF ALL INSTANTS WHEN YOU WILL BE TRIED LIKE GOLD IN THE CRUCIBLE. YOUR LIFE, YOUR WORKS, YOUR ACTS MUST BE IN ACCORDANCE WITH ONE SINGLE PURPOSE: THE DIVINE WILL.
You know that gold must be melted at high temperatures to purify it of any particles that could contaminate it and decrease its value. Likewise, My Son's children must be tested like gold in the crucible… SO ARE MY TRUE CHILDREN; THEY DO NOT DISTANCE THEMSELVES FROM THE HOLY SCRIPTURE OR THE EUCHARIST, THEY PRAY THE HOLY ROSARY DAILY, AND THEY IMMERSE THEMSELVES IN MY SON'S DIVINE WILL.
Society rebukes man if he does not accept the mundane, making his life a valley of desolation; at the same time, this same thing is consolation for those who have said YES! All, as brothers, must look inside, in the interior, so you will know yourselves in depth, and then later you may penetrate the Holy Trinity with one single unified conscience.
As Mother of each human being, I am Giver of goods, for My Love overwhelms Me. I HAVE BEEN SENT TO RESCUE SOULS FOR THE DIVINE WILL; I HAVE BEEN SENT TO ALWAYS PROTECT AND DEFEND THE WAY.
Beloved children of My Immaculate Heart,
There is an overabundance of evil acts, irreverence, pleasure in a great degree, and the vices stand out everywhere without being stopped. I see those who are heading towards Eternal Bliss and they differ greatly from the other brothers who are lost… And some are taken to perdition
because of their misused free will, and the others are taken to Eternal Bliss because their human will was sacrificed and placed at My Son's service.
AT THIS INSTANT YOU MUST BE STRONG; YOU MUST KNOW MY SON, SO EVIL WILL NOT
DARKEN THE HEART OR THE INTELLIGENCE; YOU MUST GIVE YOURSELVES,
DEDICATE YOURSELVES TO DELVING DEEP IN THE KNOWLEDGE OF MY DIVINE SON'S LIFE, SO YOU WON'T BE OF THOSE WHOSE HEADS THE DEVIL WILL TAKE AS GREAT TROPHIES.
For lack of knowledge and because nobody warns them, My children put themselves in the hands of the enemy of the soul. At this instant, man is not interested in spirituality; he is not interested because he has not been taught about spirituality, only about religiosity; therefore man is not interested in ascending to be better.
Debauchery is a powerful weapon used by evil to separate My children from Salvation. This is why the Gospel is being forbidden in educational institutes, so the Divine Word will be forgotten and this way men will be willing to do evil, attacking their brothers and being used by the devil as weapons of vice, abuse and vexation, thus chaining the souls so they won't achieve salvation.
EVERYTHING I HAVE ANNOUNCED IS BEING FULFILLED: Plagues and pests will immediately cover the Earth. Man will not have rest in his constant fight against what pounces and will pounce at him to wake him up, to make him aware of the denial of the Divinity and of His constant calls on the part of the human beings.
There are so many children who try to give rational explanations for what is Divine!... using slightly elevated words in a human way but making absolutely no sense regarding what is Divine, words that create great confusion among My children.
THE LIFE OF THE BODY IS THE SOUL, AND THE LIFE OF THE SOUL IS GOD. THE HOLY SPIRIT LIVES IN THE SOULS AND THROUGH THE SOUL THE HOLY SPIRIT LIVES IN THE BODY SO THE BODY WILL BE A TEMPLE OF THE HOLY SPIRIT.
Children, the Holy Spirit lives in man, but man must give Him a good accommodation for Him to stay. Be docile so you can be courageous at the time of dismay and for you to be satiated when you have thirst for God.
At this instant there are so many who ignore the spirituality to which all men are being called! They do not know spirituality since they remain permissive to the designs of rulers who serve evil, rulers who order them not to love God, to get rid of all their sacramentals, not to serve God… and the majority of My children obey out of fear. Beloved, if this happens before a ruler, what will happen to them when the tentacles of the antichrist will pounce with force on My Son's People?
Don't forget that, as the wicked oppressor approaches, there will come men who are perverse, wicked, oppressors, slanderers, servants of evil, and haters of what is good and holy, because they are satan's servers. And at this instant they are difficult to identify as they are amid the wheat with great falsehood.
Pray for the Country of the North; there My children will suffer because of their leader's rebelliousness against God's Laws.
My children are unrecognizable in their behavior; at this instant, humanity is a stranger to God's children, since injustice advances with carnal passions, dishonor, immorality without limits; modesty has been banished from the face of the Earth, it has been usurped by the immoral fashions, and parents enjoy watching their children bare their bodies.
SO MUCH NEARNESS TO EVIL LEADS TO WICKEDNESS GAINING POWER
OVER THE HUMAN CREATURES, SO MUCH SO THAT THE ANTICHRIST
WANTS TO RULE OVER HUMANITY AND HUMANITY IS ALLOWING THE ANTICHRIST'S PATH TO BE EASIER EVERY INSTANT AS HE DOES NOT FIND ANY RESISTANCE.
Humanity will come to despair when they find themselves tied up and unable to move, having fallen prey to evil in every extent. When all of Creation rebels against man, he will groan and moan and wail, and will not find peace in his soul. Evil will lead them to abuse, harass, persecute, and hurt others so much so that when they wake up they will tremble to see what they have done.
Beloved children of My Immaculate Heart,
THESE INSTANTS ARE NOT LIKE ANY PREVIOUS INSTANTS. I hear My children say, "There have always been disasters, there have always been earthquakes, there have always been plagues and pests, always… always." NO! My beloved, NEVER like at this instant or like in coming instants when everything will recrudesce. There will be more earthquakes and of greater intensity.
Pray, My children, for California and especially for San Francisco; it will be shaken strongly. The water will cleanse the earth of all the evil that man has dumped on it.
You must be aware of this and you must get ready by retaking the right path. You must be aware of the union there must be between man and his Creator; you must be aware of the pain you give My Son with your infidelity; so much human respect to hold a social position, above all so much fear of the same man due to a lack of Faith in the Omnipotent Power of the Divinity.
Beloved children,
NO ONE KNOWS THE HOUR.[35] REMAIN AS IF EACH DAY WERE YOUR LAST…
AT THIS INSTANT THE FUSION WITH MY SON MUST BE SUCH THAT ALL HUMAN WORK AND
HUMAN ACTIONS BE IN TOTAL OBEDIENCE TO THE DIVINE WILL, SO YOU CAN COUNTERACT EVIL AND YOUR BROTHERS' OFFENSIVE BEHAVIOR.
Pray, My children, for Japan and Chile; they will suffer the fury of the land and the sea.
Children, do not disregard My Calls. The Earth moves from its entrails and, that constant movement, which doesn't pause, will reach the trembling surface with a lot more force, and My children will suffer because of it.
THESE ARE DANGEROUS INSTANTS, MY BELOVED. THE DECEIVER OF THE SOULS WAS CONSTANTLY WAITING IN AMBUSH AND NOW HE IS IN CONSTANT ACTION AGAINST GOD'S CHILDREN.
Beloved children, topple the human ego. This great emperor continually gives orders to please himself, mocking the value and valor of man, son of God, so he will stir up a revolt against everything that is Order, Peace, Solidarity, Love, Charity, Life, Honesty, Hope, and Faith.
THIS INSTANT IS DIFFICULT IF YOU LIVE IT WITHOUT MY SON. IT IS DIFFICULT FOR THOSE WHO
LIVE IN DARKNESS; BUT THOSE WHO ARE CERTAIN THEY "CAN DO ALL THINGS THROUGH"[36]
GOD, WILL CLEARLY SEE THEIR PATH AND HEAVEN'S HELP WILL BE CONSTANT. Because My Son does not abandon His own, His People will be guarded like the owner of a great treasure guards it.
Children, "help comes from the Lord, who made heaven and earth."[37] DO NOT DESPAIR; HELP IS SENT TOWARDS MY SON'S PEOPLE TO ENCOURAGE YOU WITH THE DIVINE WORD.
My Son's Love for His own will not be mocked; those who make fun of it will have their reward: Loneliness. And it is not because My Son offers them loneliness, but because they pushed My Son away and they chose what was easier and momentary, telling My Son, "Leave. I cannot remain with you because then I would be scorned."
Beloved children, in the land where Magog stood, there is a great power that, together with its allies, will invade Israel.
My children, how often all the signals unfold; those that the blind don't see and the deaf don't hear! You, My children, do not move away from My Son; and, as Mother of humankind, I am here next to you to intercede and help you.
Children,
DO NOT WAIT UNTIL THE END… THE WARNING IS COMING SOON; THIS IS WHY EVIL IS SPEEDING UP THE PACE so man will find pleasure in sinning, until man's wickedness is stopped amid great confusion due to the degree of hubris that humankind suffers.
The sun will launch a strong flare and humanity will live in anguish.
Beloved children, I do not call you so you will not sleep only out of fear or so you will be upset. No! I call you so you will get upset when you sin and for you not to want to offend the Divine Will any more. Have Faith; those who offend My Son and persecute God's People will be given a Great Chastisement as a sign of the Divine Justice.
I remain with My children because I love you.
Look upward; the signs will not make you wait, and there will be greater as My Son approaches.
WALK TOWARDS MY SON, JOIN THE DIVINE WILL, AND DON'T FORGET THAT NO MATTER HOW STRONG THE WINDS, EVIL WILL NOT SUCCEED IN DEFEATING GOOD.
AFTER THE TRIAL COMES THE CALM AND MY SON WILL SIT WITH HIS PEOPLE, WITH HIS HOLY REMNANT, AND MY CHILDREN WILL ADORE THE ONE WHO WAS, IS, AND WILL BE FOREVER AND EVER.
I love you.
Mother Mary
HAIL MARY MOST PURE, CONCEIVED WITHOUT SIN.
HAIL MARY MOST PURE, CONCEIVED WITHOUT SIN.
HAIL MARY MOST PURE, CONCEIVED WITHOUT SIN.