Thursday, August 13, 2015
Message Given by Our Lord Jesus Christ
To His Beloved Daughter Luz De María.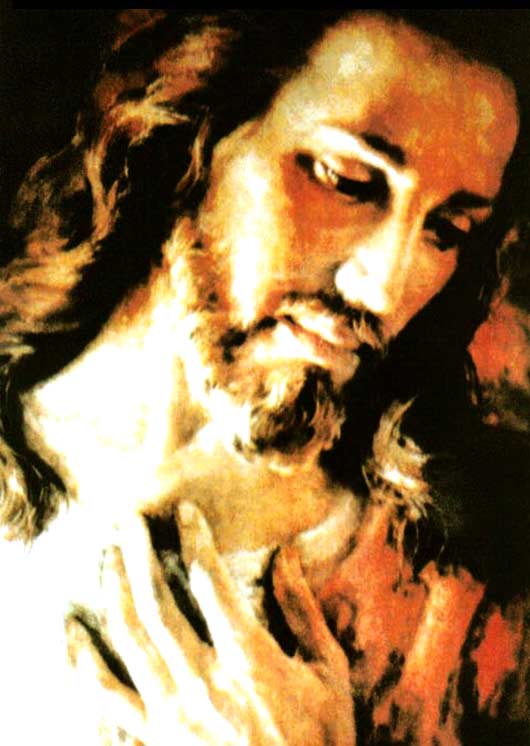 My beloved People,
YOU ARE THE APPLE OF MY EYE AND I KEEP YOU IN THE PALM OF MY HAND.
Instant to instant I come to you, My People. My Love is infinite and this is why I seek you so insistently. I see you asleep in the midst of so much evil, unawareness, conformity and ignorance. I call you to remain in the Faith so nothing will separate you from Me. Even if the winds are strong, the certainty of My Protection must keep you standing.
My children, do not go on living with so much permissiveness which leads you to yield to evil without resisting it. This is the tempter, the enemy of souls, the one who wants My children to be condemned to the eternal fire. So many deny the existence of evil in the world! And those are the ones who enhance and encourage the souls to yield without resisting sin.
This instant when temptations over abound must be for you an instant of prayer, penance, donation of self, without being afraid of your brothers, because you must be true and you must manifest your
Faith in Me, your Lord and your God. He who denies Me before men will receive his pay…
My beloved, chaos is in the midst of humankind without alerting My own. I call you to be true, to love one another as brothers; instead, you act against My Mandates at instants when you must remain in constant adoration of the Holy Trinity and without weakening or feeling faint, for Our Holy Spirit to fill you with the necessary Graces so you will not succumb to what is mundane and sinful.
Be alert, My People, be alert! Chaos will not make you wait; those who remain faithful to Me and to My Mother lose heart and decline because of the weight of those who do not recognize the signs of this instant.
Our Trinity alerts you so you will not feel safe thinking you know everything, thinking that the events happening at this instant are the same as always. My children, that is not so! The events of this instant are greater and they are enhanced by the acceleration of this instant; they intensify to urge you to convert. At every instant Nature has manifested itself, and man is aware of it; it's just that, at this instant, whatever happens is a prelude to the flagellations that My Mother and I have announced to you and AFTER WHICH humankind will not be the same.
THIS INSTANT IS FOR EACH ONE OF YOU TO REPENT AND UNDERGO A RADICAL CHANGE OF LIFE. You do not believe, and this incredulity makes man not hear Me, not love Me, and deviate from the True Path, tossing Me out of your lives, and this is the reason you get to believe that My Warnings and My Calls are not urgent.
STOP! ACT NO EVIL! SIN NO MORE! THE FORCE OF SIN STRENGTHENS EVIL WHICH IMMEDIATELY ATTACKS MAN WITH GREATER TENACITY, BECAUSE EVIL FEEDS ON THE HUMAN RESPONSE AND TAKES ADVANTAGE OF IT TO CAUSE CONFUSION.
Evil not only makes itself known in those who, in view of all, commit what is wicked, but also introduces itself in those who do not commit evil before the eyes of the brothers. So much chaos inside man has made the same man get used to it and so man sees everything as distant and lacking the urgency with which I call him. When men wake up from so much lethargy, they will groan with pain from deep inside because of the lightness with which they took My Warnings and those of My Mother.
YOU MUST GET AWAY FROM ALL EVIL RIGHT NOW!
YOU MUST REUNITE WITH MY LOVE AND MY TRUTH.
Those who deny the veracity of the coming events confuse you, and since you do not delve into the harsh way in which Nature treats you, and GIVEN THE WAY YOU HANDLE YOURSELVES, you continue placidly ignoring or letting go what you should repudiate in yourselves.
EVIL EXISTS, MY CHILDREN; IT EXISTS AND IS DETERMINED TO DIVIDE MY PEOPLE TO WEAKEN THEM, SO EACH ONE WILL BE NEGLIGENT AND ACT AND WORK AGAINST MY WILL.
I see many of My children as dry logs that in the face of the least temptation fall and burn, and as they burn, they do not fight to get ahead and retake the road to Me by confessing their wrongdoings, instead, they burn and consume those around them, AND THOSE AT A DISTANCE FROM THEM, VERY SUBTLY, without being noticed, they carry with them all those who are not firm.
My beloved People,
I CALL YOU—IN THIS MY WORD BY MEANS OF MY PROPHET—TO LISTEN TO MY WILL ONCE AGAIN AND NOT TO WANDER THROUGH LIFE AS IF EVERYTHING WERE FINE… NO, CHILDREN, DON'T BE FOOLISH!
I invite you to hastily edify yourselves in the Faith in view of the undeniable crucible through which humankind will pass. Good and evil have remained in a constant battle; man's free will does not only have an effect within the same man; it also has repercussions on all his brothers; this is why it is urgent for you to become aware of your works and acts.
My children,
EACH ONE FORGES HIS OWN SALVATION WITH HIS ACTS AND WORKS, FOR BLESSING OR CURSE, FOR SALVATION OR DAMNATION. My People have understood that by remaining before My constant Warnings they are more in My likeness; My People have understood, they have become aware and have been alerted about the decisive instant in which they move. This is why all must work towards the common good and not attack one another like wild animals in search of prey.
"IT IS MY WILL THAT EVERYONE BE SAVED AND COME TO THE KNOWLEDGE OF THE TRUTH."49
How many want to be saved?
How many are a stumbling block for their brothers?...
How many are participants in the downfall and perdition of My children because they keep quiet instead of telling humankind about their tragic future?
I REMAIN PROTECTING YOU, WAITING TO MAKE LIFE IN YOU, ETERNAL LIFE; BUT I REMAIN IN WAIT DUE TO THE LACK OF UNDERSTANDING I RECEIVE FROM Y CHILDREN, DUE TO THE ALLEGATIONS AND ACCUSATIONS TOWARD ONE ANOTHER, DUE TO THE LIES, THE ENVY, THE PRIDE.
My beloved,
I call you to wake up, but instead you persecute Me tirelessly without thinking that YOU WILL NOT DEFEAT ME, MY WORD FLIES IN THE WIND NOURISHING THOSE WHO SEEK ME TO ACCEPT ME.
They point at My Word as false. Who will they blame for what is written in the Holy Scripture? Will they blame My Father?
Will they blame Me?
Will they blame the Holy Spirit?...
They blame My Mother for speaking the Truth and call Her catastrophist!
Naive!... It is I you persecute. I give Myself to My People through My instruments.
49 1 Timothy 2:4 New Revised Standard Version Catholic Edition
So the wicked and obstinate will persecute those who are My followers. This is why I come to separate the wheat from the weeds, the lamb from the wolf, and to burn the fig tree that does not bear fruit of Eternal Life.
"I AM WHO I AM"[42] THE ETERNAL AND INFINITE MYSTERY OF LOVE; FOR THIS REASON I WILL
REVEAL TO YOU WHAT REMAINS HIDDEN AND I WILL MAKE MY TRUTH SHINE LIKE NEVER BEFORE.
My People,
Pray whether the time is favorable or unfavorable, but comply with My Will…
Come to the Holy Scripture; in it you will find everything you wish to know, the answers to your questions, what you must do and not do, what your works must be like, when your acts are good and when they are not good, but come to receive Me so you will receive My Holy Spirit, non-human Wisdom, and thus you'll be aware of My Calls at this instant.
My People,
You are not alone; I remain watching you, protecting you, alerting you of the dangers so you will grow. My Help is for My People: Manna, light, and way.
I do not abandon you; My Mercy is with you and will accompany you. My House will get you support, peace, aid to sustain you, and My Holy Remnant will remain immovable.
My Apostles of the end times will be blessing for their brothers, but My Apostles of the end times will be simple and humble of heart, whose path will be protected by the one I will send from My House as I have promised since long ago.
My People, wake up and pray for Argentina; it will suffer bitterly.
My People, wake up and pray for Colombia; it will live the pain.
My People, pray, because knowing you do not heed, and not knowing you disregard.
Children, pray for the United States; its ground will be shaken.
Children, pray for Japan; it is a scourge that will not stop. Pray, the volcanoes awaken again.
My beloved,
DO NOT FORGET ME; BE THE LIGHT OF THE WORLD AND THE SALT OF THE EARTH.
My People are not afraid; those who do not have Faith in My Protection are afraid.
My People know I love and protect them.
My People know that I have given them a Mother who loves them and remains with them at these instants.
My Love and My Shelter is, within each one of you, certainty of My Mercy.
Your Jesus.
HAIL MARY MOST PURE, CONCEIVED WITHOUT SIN.
HAIL MARY MOST PURE, CONCEIVED WITHOUT SIN.
HAIL MARY MOST PURE, CONCEIVED WITHOUT SIN.