Wednesday, August 19, 2015
Message Given by the Most Holy Virgin Mary
To Her Beloved Daughter Luz De María.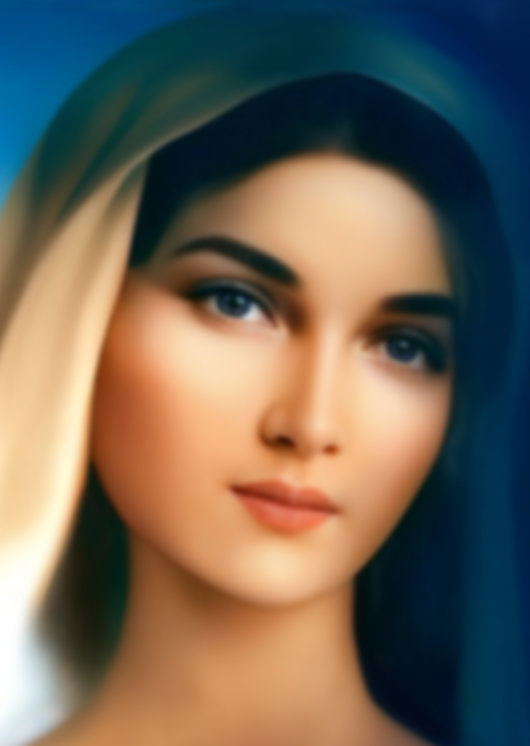 Beloved children of My Immaculate Heart,
I love you, I bless you, you are the apple of the Father's Eye.
My Heart beats continuously for each one of you.
Beloved children,
YOU MUST BE CLAY IN MY SON'S HANDS SO YOU WILL BE THE ACTS AND WORKS OF MY SON AT SUCH A DECISIVE INSTANT.
My children, you have developed in the midst of a society that recedes, that diminishes; this is why your acts and your works are not those of a true son of God who completely complies with The Commandments, the acts of Mercy, The Beatitudes and The Sacraments.
YOU DO NOT DELVE INTO THE HOLY SCRIPTURE; IN IT ARE THE RULES AND REGULATIONS OF DAILY LIVING, OF THE ACTS AND WORKS OF THE TRUE CHRISTIAN.
YOU MUST WAKE UP NOW! You call yourselves Christians and each one has his own scheme of life and his own concept of what it is to live, to act, to work… and some are mistaken.
Each one of you who delves into the spiritual path must clearly understand that in order to continue along this way without falling prey to evil and without allowing evil to turn you away from the righteousness that leads you to Eternal Salvation, YOU MUST ALLOW MY SON TO MOLD YOU ANEW, EVEN WHEN THIS SHAPING BE PAINFUL.
You continue to act and work at your personal will without considering whether it is good or not. To you this does not mean an offense to My Son, it does not mean that evil can take you and make you betray My Son, and above all, you do not think that with these attitudes you betray yourselves and deviate from the correct path; you act and work at your will based on very human interpretations with which you defy My Son Who calls you… and you do not obey.
Beloved children of My Immaculate Heart,
This instant is decisive. IT IS OF THE UTMOST IMPORTANCE THAT YOU COMPLETELY BELONG TO MY SON.
Beloved,
CHANGE THE SCHEMES; CHANGE YOUR THINKING…
MOVE AWAY FROM WHAT YOU WISH ON A WHIM…
MOVE AWAY FROM THE PAST IF AT THIS INSTANT IT CAN HARM YOU IN ANY WAY…
MAN'S THINKING IS TREACHEROUS AND LEADS HIM ALONG DANGEROUS PATHS…
Man is weak before temptation and, at this instant, you must remain attentive not to allow temptation to defeat you. The enemy knows that you keep fighting to get close to My Son and to be faithful to Him; this is why evil tempts you where each one of you is weakest. Resist! Do not yield! When you yield, evil takes you very far away from where you were last trekking.
Beloved children of My Immaculate Heart,
HUMAN STUBBORNNESS IS MAN'S WORST ENEMY. This is why I call you to wake up definitively because it is important at this instant for you to strip off the old man, the man from before, to shed your rags—those you continue to drag with you—and to renew yourselves with generous spirit, renew yourselves completely. To do this, you must be strong and leave behind the rags from the past; otherwise, at some instant, evil will take advantage of you and make you his prey.
Beloved children of My Immaculate Heart, the great famine is approaching humankind; this is why I alert you, not so much for you to stock up on material goods, but for you to grow spiritually and thus allow My Son to multiply all you possess.
Beloved children,
THIS INSTANT IS THE INSTANT OF ALL INSTANTS WHEN ALL I HAVE ANNOUNCED TO YOU WILL COME TO PASS EVEN THOUGH A GREAT MAJORITY OF MY CHILDREN DENY IT. Some deny it without ill will, out of ignorance; others, because they know what will happen and they want My Son's People to continue ignoring this so My Son's People will fall in the hands of the power that controls this generation. This is why it is you who have to wake up immediately.
Beloved children of My Immaculate Heart,
The Earth trembles and will tremble strongly; an expected earthquake will happen soon. Pray for this.
Science used for evil has interfered with Nature. This has been kept hidden from you, My children, but My Angels will come to help you; you are not alone. The evil that man wants to cause will not always happen. My Son protects His People and that's why He calls you to remain faithful to Him.
There will be great changes, the volcanoes will erupt and cause geographic changes. Beloved children, it is man's persistent sin what has awakened Nature, and this Nature, created by the Father's Hand, wants you, My children, to retake the path to sanctity.
My children,
You will encounter great trials because you will not be accepted by your brothers. You are going against the current of the world, and what is mundane does not accept you, does not see you with consent or approval. This is why you are not welcome or looked upon favorably by your brothers; this is why they will persecute you. Remain in state of grace, be strong; he who remains in Faith with My Son's Love and immovable, he receives all the Divine Help.
Beloved children,
SO MANY DENY THE PRESENCE AND THE ACTIONS OF THE ANTICHRIST IN THIS GENERATION! POOR THEM; THEY WILL LAMENT GREATLY BECAUSE HE IS IN ACTION ALREADY DESTABILIZING THE WHOLE WORLD!
The economy falls, and as it does, all men are destabilized and the antichrist will find the greatest opportunity to hypocritically extend his hand towards man setting up a single coin. Follow the steps and development of the economy. After this, he will develop his strategy to control all humankind, achieving at the end that the Temples be closed and that you be denied receiving My Son's Body and Blood. THIS IS WHY I CALL YOU TO LET MY SON RESHAPE YOU, TO LEAVE BEHIND THE RAGS
THAT YOU STILL CARRY WITH YOU, SO YOU WILL BE NEW CREATURES THAT EVIL CANNOT SWAY.
Beloved children of My Immaculate Heart,
Be extremely careful; at this instant, groups that call themselves prayer groups or spiritual groups proliferate, those who call themselves My Son's instruments proliferate, but not all are true…
ANY GROUP WHERE THE BASIS IS NOT TO COMPLY WITH THE FATHER'S WILL, WITH THE COMMANDMENTS, THE EUCHARIST, PRAYER, ACTION IN FAVOR OF THE BROTHERS, IS NOT TRUSTWORTHY. Those who for special reasons do not receive Communion, must comply with a spiritual life like every good Christian, and offer the Spiritual Communion; I do not leave you.
DO NOT ALLOW EVIL TO DECEIVE YOU. MY SON CAME TO REDEEM YOU AND, AT THIS INSTANT, HIS TRUE INSTRUMENTS CALL TO CONVERSION, AND THERE IS NO CONVERSION WITHOUT REPENTANCE, WITHOUT A CHANGE OF LIFE, and this will not happen if you do not approach the Bread of Life, if you do not fulfill My Son's acts and works.
As you walk towards My Son, you must bring works, do not be satisfied only with prayer; that acting and working is the love for your neighbors, it is the praxis, it is taking him by the hand and bringing him to My Son; and this is done by means of the personal testimony given by each one of you and by the wish for the participation of all your brothers of the Infinite Joy. But the works do not achieve fullness if you do not approach My Son so He will strengthen you and guide you, if you are not immersed in My Son's Love.
Beloved children,
THOSE WHO REMAIN LUKEWARM WILL BE VOMITED BY THE FATHER'S MOUTH; ALL THOSE
WHO GET TOGETHER IN THE NAME OF MY SON HAVE ONLY ONE LOVE, ONLY ONE GOD, ONLY ONE GUIDE, ONLY ONE LEADER… AND THAT IS MY SON.
Those who have foundations and build themselves up on human leaders and human ideologies do not comply with the Divine Will.
The groups or the communities that are not Christocentric also move away from My Immaculate Heart; "faith by itself, if it has no works, is dead"52 but the works without My Son and without the fulfillment of The Commandments are not true works.
Beloved children of My Immaculate Heart,
Pray strongly for Japan; it will continue to be a source of contamination for all humankind.
Pray for Finland; it will suffer greatly.
Pray, My children; terrorism will soon give My People great pains.
Beloved children of My Immaculate Heart,
BE FAITHFUL DISCIPLES OF MY SON. AT THIS INSTANT NONE OF YOU CAN BE A HALF-HEARTED DISCIPLE BECAUSE HE WHO REMAINS HALFWAY WILL FALL AND FALL, will not resist the trials, will not resist the temptations, and will fall prey to evil.
Children, renew yourselves, be true; pray, My children, pray "whether the time is favorable or unfavorable"53 because soon you will examine yourselves as the great act of Divine Mercy, before
52 James 2:17 New Revised Standard Version Catholic Edition
53 2 Timothy 4:2 New Revised Standard Version Catholic Edition
the fulfillment of the other warnings that I have announced and that will cause the whole development of the Great Tribulation that you expect.
My Son's People are a courageous People, a People that pay attention to their Mother, a People that know that the Mother loves them and that for you I continue to bring My Word as faithful intercessor in favor of My children.
A mysterious illness arrives which will attack the nervous system. My children, remain faithful and having Faith in My Son and in the assistance of this Mother; place yourselves under My Maternal Mantle and trust that you will never be abandoned by this Mother.
Wait patiently because the calm comes after the tribulation and My Son will send His Help from above so you will continue to be sheltered by the Divine Protection.
My children,
DO NOT FORGET TO INVITE ME; DO NOT FORGET TO CALL ME SAYING: HAIL MARY MOST PURE, CONCEIVED WITHOUT SIN!
I keep you in My Heart, Ark of Salvation. I love you, you are My children, I will not abandon you.
I bless you in the Name of the Father and the Son and the Holy Spirit. Amen.
Mother Mary
HAIL MARY MOST PURE, CONCEIVED WITHOUT SIN.
HAIL MARY MOST PURE, CONCEIVED WITHOUT SIN.
HAIL MARY MOST PURE, CONCEIVED WITHOUT SIN.