Thursday, August 27, 2015
Message Given by Our Lord Jesus Christ
To His Beloved Daughter Luz De María.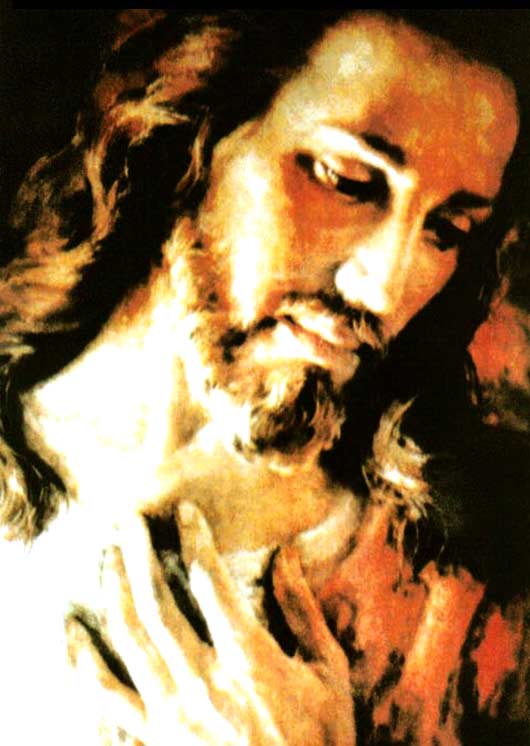 My beloved People,
ALL HUMAN CREATURES REMAIN IN MY LOVE; NOT EVEN FOR AN INSTANT DO I WITHDRAW MY MERCY FROM MY PEOPLE, WHO I LOVE WITH ETERNAL LOVE, WHO I EXCUSE AND FORGIVE WHEN THEY COME TO ME REPENTED AND WITH FIRM PURPOSE OF AMENDMENT.
Because of My great and infinite Love for each one of you, I see your human weaknesses with pain; however, I send fortitude to those who beg for My help not to fall so they will be strengthened not only with courage but also with My Love.
MEN MUST ASK ME TO SEND MY HELP;
I RESPECT THE FREE WILL THEY HAVE AND I WAIT TO BE CALLED.
At this instant there are more who forget than there are who invite Me into their lives; more who remain in false ideologies than those who follow Me. Men follow the masses and these go against My Mandates because the debauchery makes them see furtively and with indifference the harshness they are living.
MY CHILDREN SUFFER BECAUSE OF COMMUNISM, they suffer in several places of the Earth where men do not see each other as brothers but as enemies. Those who have power exile their brothers, torment them, and enjoy doing it; and these are a mere semblance of the suffering that will ensue from this ideology as it advances, this ideology that will fight to weaken the rest of humankind and which My Mother called to defeat, but She was not obeyed.
My beloved,
You do not keep Me in mind as you should; some live a false religiosity with no commitment, without acts that would betray them in front of their brothers…
There are a few who live in a constant struggle to comply with Our Divine Will…
There are a few who share My Word and delve into the knowledge and fulfillment of the Holy Scripture because they want to follow in the Disciple's footsteps, and that is precisely what I want, that the Disciples of the end times keep acting non-stop...
THIS INSTANT IS NOT FOR MY CHILDREN TO REMAIN STATIC, BUT TO ACT IN FAVOR OF THOSE WHO DO NOT KNOW ME AND OF THOSE WHO KNOW ME BUT STAGGER.
I look for humility in the creatures. To a humble creature I give the wisdom that the learned do not have. There are too many who feel they comply with My Will and dare tell Me what is licit and what they do not think is licit for Me to act on one of My creatures. They ignore that with My First Disciples the apostolicity of My Church did not end, it goes on as the duty of each one of you, but you have renounced continuing with this duty; and when most renounce this designation, I SEND MY HOLY SPIRIT TO ACT ON THE SOULS OF THOSE WHO CONTINUE HAVING THE RIGHT DISPOSITION TO TAKE MY WORD AS A RULE OF LIFE.
There is so much man ignores! And man contradicts Me so much when I say, "repent, and believe in the good news."[45] But pride is more powerful than to recognize My Word, the one I explain for the good of all humankind. They ask for Mercy and My Mercy is before each one, but how do they respond to My Mercy?
This is the instant of all instants, and you fear My warnings; but if you were not afraid and if you were to repent and make amends, so many souls would find salvation!
You fear My Calls and those of My Mother, Calls for you to convert before the events you encounter, but you do not amend your ways even in the midst of this critical instant when the events constantly wait in ambush. You deny the signs of this instant; you deny that this generation hurls itself against the Gift of Life, killing millions of innocents by means of the voluntary abortion, and the assassinations of those who think they have the right over their brothers' lives because they do not share the same faith.
Man eliminates innocence from the Earth allowing the enemy of the soul to take whatever he wants because man gives himself to the insatiable thirst for sin with which evil invades humanity getting it ready to accept the one who will rise against My People.
My children,
I AM THE RIGHTEOUS JUDGE; MY JUSTICE IS IN CURRENT STATUS;
OTHERWISE, I WOULD NOT BE GOD. THIS IS WHY THOSE WHO DENY MY JUSTICE OPEN THE DOOR TO SATAN FOR HIM TO TAKE OF WHAT IS MINE, THE SOULS.
You walk towards the abyss; humankind has prepared its own painful future, the one it has forged with its own hands, and it will have to carry the heaviest cross that humankind has ever carried.
The love of money makes men panic and despair takes hold of them. At this instant, men feel relieved by the news about the economy, although this will not last; it will be a slight hope for the powerful, but in instants there will be agitation and despair once again.
CHILDREN, YOU DO NOT SEE THE COURSE LAID OUT FOR YOU
BECAUSE YOU DO NOT SEE ME AND YOU DO NOT BELIEVE; OTHERWISE YOU WOULD CLEARLY UNDERSTAND EVERYTHING I HAVE TOLD YOU.
The malignant instills fear:
So you won't become aware of what I alert… So you will deny My warnings...
So you will not be prepared and he can catch you in his grip and then use you to act against your brothers with your consent as if it were correct…
Children, My Heart bleeds for each of you who is lost, and before you are lost I come before each of you looking for your repentance, I send My Angels to show you your mistake, but you are blinded by the fashions and immorality, and you do not hear any Calls or see My Angels because you are engrossed in sin.
My People, the specter of war will no longer be a specter to turn into a sorrowful and feared reality. The peoples are agitated; man perceives the proximity of war. Children, you will suffer so much! A lot of horror will come in instants without you looking for it!
There will be famine and plagues; the heat will be suffocating increased by the weapons.
I, your God, will not abandon My People: He who strives, he who struggles against himself not to disobey Me, he who stays away from all things mundane so as not to be tempted—because he knows he is weak and can fall—he who remains attentive to the explanation of My Word. Obey My Mandates, do not act against my Donation in the Eucharist, each instant be living testimonials of all I have revealed.
Pray, My children, pray for the United States; it will suffer greatly; it will be shaken and scourged by its enemies.
Pray, My children, for Colombia; its soil will be shaken and its People threatened.
Pray, My children, pray for China; it does not show the truth regarding its economy to make humankind panic.
Pray, My Favorite Children (the priests) so that at every instant you adhere to My Word and to My Mother…
The waters will continue to be eager to wash man's sin.
My beloved People, do not wait for a distant God, I am within each one of you, look for Me in the interior of each one, and there, where only you and I talk to each other, with all My Love, I will take My sheep, the ones that follow Me and those that are lost.
My beloved People, do not be caught unprepared, each one will examine himself. Convert promptly. Beloved, the darkness will come unexpectedly and the malignant will send his devils over the Earth and, together with thunder and lightning, will torment man ceaselessly.
MY PEOPLE, I DO NOT FRIGHTEN YOU, I EXPLAIN THE EVENTS, because all the gibberish does not let you hear and you intend to continue like this. But man's hand has forged his own path.
My Love does not stop; it is a constant emanation of good for each one of you. Be carriers of My
Word, "I AM WHO I AM"[46] and I will talk to each one, I will feed you like I feed the birds of the field,
I will soothe your pain and calm your thirst, because "I AM (the Lord) YOUR GOD"[47]
I bless you.
I Love you.
Your Jesus.
HAIL MARY MOST PURE, CONCEIVED WITHOUT SIN.
HAIL MARY MOST PURE, CONCEIVED WITHOUT SIN.
HAIL MARY MOST PURE, CONCEIVED WITHOUT SIN.