Tuesday, September 1, 2015
Message Given by the Most Holy Virgin Mary
To Her Beloved Daughter Luz De María.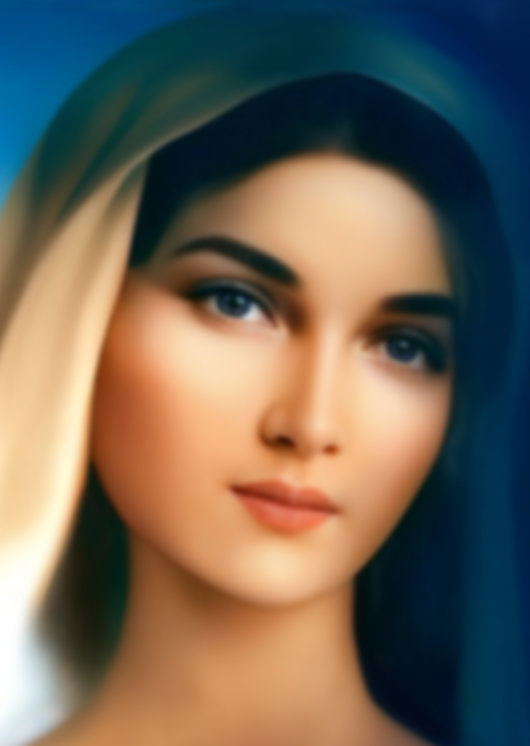 Beloved children of My Immaculate Heart,
My children,
I LOVE EACH ONE OF YOU AS IF YOU WERE THE ONLY HUMAN CREATURE I AM THE MOTHER
MY SON CALLS YOU REGARDLESS OF YOUR AGE; EACH ONE HAS A STRENGTH COMING FROM THE HOLY SPIRIT TO CONTINUE BEING FAITHFUL CHILDREN AND LIVING TESTIMONIES OF MY SON'S LOVE FOR EACH ONE OF YOU.
Children, you know you are living the fulfillment of My Revelations which you must attend to properly. Before My Son's Second Coming there is Purification, and at the same time it is the defeat of the system the antichrist has been establishing for thousands of years to implement it at this instant and so mankind will see it as normal.
My children, the political, ideological, economic, technological control and the mistaken religions are the bases on which the antichrist has been establishing himself stealthily in the midst of humankind, producing at this instant the rebellion of man against God.
Children, the economic crisis you have lived is not over, it will be accentuated more, creating chaos and an instability never seen before. The master of humanity will fall, and man, without money, loses control of his acts, thus becoming unrecognizable. This will be the instant when evil will offer to form one unique and single government as the solution to rescue man, and he will take advantage of this instant to carry out large-scale terrorist acts, and submerge man in the struggle for survival.
AS MOTHER OF ALL MEN I MUST ALERT YOU ABOUT
WHAT YOU ARE LIVING AND WILL LIVE, BUT, AT THE SAME TIME, I MUST ASSURE YOU IRREFUTABLE VICTORY OF MY SON OVER THE FORCES OF EVIL.
This Phase of the Great Tribulation is what My Son announced to you as the beginning of the woes when "nation will rise against nation, and kingdom against kingdom, and there will be (pestilences), famines and earthquakes in various places."[48]
Man will see what he has never seen…, man will live what he has never lived… because those who hold the power in the world powers will lose it to be given to the unified system of the one single power. The antichrist will have that form of world power.
My beloved children, My Son's Church must keep the Faith and the Unity with My Son, it must not get involved in political pacts because it would be entering mortal territory due to the inescapable confrontations in which it would get involved with the world represented by politics.
My beloved,
WAKE UP AT THIS INSTANT!
LATER YOU WILL WANT TO HEAR ONE WORD AND YOU
WILL NOT FIND IT, WHEN THE TRUE CHILDREN OF THE MOST HIGH BE DISABLED TO COMMUNICATE THIS WORD.
WAKE UP AT THIS TIMELY INSTANT!
WHEN MY CALLS BE FULFILLED AND YOU REMEMBER THESE MY CALLS…YOU WILL REGRET SO MUCH NOT HAVING BELIEVED!
Beloved children of My Immaculate Heart,
The imbalance in man has touched his Faith and he has become rebellious and incredulous under the pretext of staying within the society. Man's heart has hardened to such an extent that one mere thought is the trigger to turn him against his brothers, to make the human creature react like a cruel persecutor, like a terrorist, or cause somebody's death, or feel pleasure executing those he thinks are outside his beliefs.
DO NOT SUCCUMB TO THE TRIALS; YOU KNOW WELL THAT YOU WILL BE PRESERVED AND SHELTERED…
PRESERVED BEYOND WHAT COULD BE EXPLAINED NATURALLY OR SCIENTIFICALLY, BECAUSE HE
WHO KEEPS AND OBEYS THE DIVINE WORD AND HIS PATIENCE, WILL BE PROTECTED AT THE TIME OF THE TRIAL.
Beloved children,
MY WARNINGS ARE FOR YOU TO GET PREPARED, NOT FOR YOU TO BE AFRAID AND FREEZE (BECOME NOT REACTIVE); they are not for excuses but for good purposes and fulfilled works. My children must comply with the Works of Mercy and be light for those who are in the dark.
Man has destroyed Nature and there will be merciless famine. Only God knows the day and the time of all that is approaching; this is why the Signs are there, one happening after the other, but My children do not pay attention to the Signs because they do not believe, and arrogance makes them think that they deserve all Mercy.
My beloved, heed My Calls, see beyond what you think you do well; look, the events arrive out of control, one after the other, increasing their sequence and severity.
Pray, My children, pray for Japan; it will continue to contaminate humankind before a part of that territory will be washed away by the sea.
Pray, beloved children, pray for the United States; the pain will arrive in the hands of men. Pray, the land will be strongly shaken.
Pray, beloved children, pray for Hungary.
Pray, beloved children, pray for Venezuela; the tribulation will increase. Pray for Colombia and for Chile; they will be shaken.
Beloved children, without the source of Love for My Son's Word, every creature will live his crucible in the face of a sequence of acts and works contrary to the Divine Will, until he repents.
THE INSTANT REQUIRES FAITH TO LISTEN AND HUMILITY TO BELIEVE… The pharisee arrives at the temple and receives My Son; then he leaves and his life is a constant wave of offenses and mistreatment towards his fellow human beings, disagreements with those around him, impatience towards everything, his entertainment is everything forbidden and what is outside the Commandments. He tries to forget the conflicts with which he lives and immerses himself in false doctrines and modernisms, he feels he is properly dressed up because of his presence in God's House, but away from God's House he is an instrument of evil.
Children,
BE AFRAID TO OFFEND MY SON. BE FAITHFUL ADHERENTS OF THE ACTS AND WORKS OF A TRUE CHRISTIAN WHO IS INSTRUCTED IN THE HOLY SCRIPTURE AND KNOWS THE DIVINE WILL IN ORDER NOT TO BE CONFUSED.
Remember that "Not everyone who says to me, 'Lord, Lord,' will enter the kingdom of heaven." [49]
GOOD INTENTIONS ARE NECESSARY, AND THE PROPER DISPOSITION IS NECESSARY.
BUT THE ACTION MUST PREVAIL AND CARRY OUT WHAT THE INTENTION AND THE DISPOSITION HAVE PROPOSED; OTHERWISE, YOU'LL BE LIKE A TOMB.
Beloved, do not follow those who ask you to look at what is good in you; instead, follow those who lead you to look at yourselves as you are and encourage you to change, to be more spiritual, to realize that religiosity is a fruitless act if it is not put into a constant practice within you and towards your brothers.
CHILDREN, HE WHO ACTS AND WORKS IN THE DIVINE WILL ADHERES TO THE GOSPEL.
The Earth wails because of all the blood of so many innocents that is spilled on it. The water will cleanse the Earth of that innocent blood, but not before man learns his lesson regarding the weight of his folly.
Beloved children,
BE BETTER EACH DAY;
BE AWARE OF ALL THAT HAPPENS ON EARTH;
THE SIGNS ARE NOT GIVEN TO BE SEEN BY MAN BUT TO WARN MAN; LOOK ON HIGH.
Children, the House of the Eternal Father does not abandon His children; each creature who repents is a blessing that pours on the Earth and lessens the hand of the flagellators just like every sinner encourages evil to spread with more force.
Be aware of the Merciful Love and repent; do not be afraid of loneliness or desertion; the Giver of Eternal Life does not close the doors on those who repent from the heart, and does not abandon His own without sending them protection. THUS, HE WILL SEND HIS LOVE IN A CREATURE WHO WILL GUIDE YOU AND WILL LET YOU FEEL THE SWEETNESS OF THE TRUTH AND THE PROTECTION OF HIS WORD.
Children,
I REMAIN HERE TO CRUSH THE HEAD OF THE INFERNAL SERPENT AND TO FREE MY SON'S PEOPLE FROM ALL SLAVERY.
I love you.
Mother Mary
HAIL MARY MOST PURE, CONCEIVED WITHOUT SIN.
HAIL MARY MOST PURE, CONCEIVED WITHOUT SIN.
HAIL MARY MOST PURE, CONCEIVED WITHOUT SIN.