Saturday, September 5, 2015
Message Given by Our Lord Jesus Christ
To His Beloved Daughter Luz De María.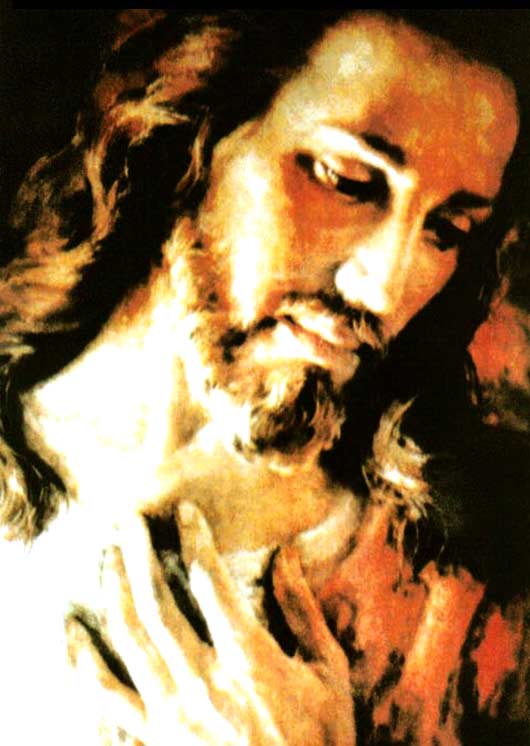 My beloved People,
My daughter, tell your brothers that My Heart bleeds for all that happens in humanity…
MY CHILDREN LIVE IN A DESERT IN WHICH THEY SATIATE THE THIRST WITH ANY TEMPTATION THE DEVIL PLACES IN FRONT OF THEM.
The sufferings that scourge this generation, together with those that are coming, are a consequence of My Father's Justice; they have offended Him gravely. They talk of peace in a complete falsehood, since in their countries weaponry is being prepared with which they can eliminate most of humankind, and they will use it against their brothers, the brothers with whom they are having peace talks. Where did the truth go?
My daughter, tell them that the constant scandals at all levels are the reason My children are more rebellious and silly. The scandals within My Church make some souls distance themselves from the true path; the lack of prayer of those Consecrated to Me devolves upon them, making them weak to face evil and weak regarding the faithful.
My children do not know what is hanging over humanity and they know less about what is coming because they are not instructed about this. This is why I call My children the Priests to announce that My Time is near and that My People must not only bend knees, but also fast, offer sacrifices and be action in favor of their brothers, alerting them so they won't be lost.
Come to Me…
Receive Me in the Eucharist…
Love My Mother, Pray the Holy Rosary…
Be testimonials of My Love…
Be Charity…
Give hope to those who think they will not be forgiven if they repent from the heart…
Lift up the Faith in your brothers…
Do not let one instant go by without bearing fruit for Eternal Life.
The attacks against My Church will be greater. You who know Me, do not move away from Me, do not be afraid, do not stagger, keep yourselves nurtured by My Love sheltered under My Mother's Mantle; I will not abandon you.
CHILDREN, IF YOU REMAIN IN SIN, YOU WILL BE LOST.
There is no path with shortcuts; you have two paths before you: The path to good and the path to evil. Darkness is hovering over humanity to harden your hearts. Evil fights against the innocent to fill the adults with rage, and allow the pain to make them rise against one another with greater force for vengeance.
My beloved, tell them that the strength of My Word will keep those who walk with Me; tell them to nourish themselves with My Body and My Blood in the Eucharist.
EACH ONE OF YOU, MY BELOVED, WHO READS THIS CALL OF DIVINE LOVE WITH FAITH, IS IMPORTANT FOR MY PLAN OF SALVATION. But he who reads this My Word to attack it, will harden his heart. The light shines for all but not all accept it.
Tell them, My beloved, that the men of science have created another Tower of Babel: The HIGGS BOSON(*), their desire to penetrate the unknown through energy and atomic acceleration is a challenge for man himself. Just like in Babel their language was confused and men did not know one another in their language, at this instant evil opens man's mind so that, wishing to overcome the unknown, he will cause a great and catastrophic harm to all humankind.
Children, you who sleep without knowing the decisions of those who rule the world; you who sleep without knowing the so-called modern scientific advances, you are the ones who can accept what you do not know and the harm that misused science is capable of adding to this badly contaminated humanity. The plagues will arrive from outside and the man of science will not be able to eradicate them. When man opens the unknown, in the unknown he perishes.
The Earth will continue to open in several countries, insistently, so that the men who inhabit it will see that what seems safe to man, his land,—when he insists in continuous sinning—the Earth does not want him to live there.
My beloved, tell your brothers to be firm, tell them how much Love constantly grows in My Heart for each one of them.
At instants when before humankind the drums of war are rumbling, Europe will suffer more due to this war although the battle will be universal, spread by the allies of the antichrist, attacking Spain strongly, and persecuting My faithful as they are doing already.
Pray, My children; from Asia arrives the desolation for the man who bases his faith on the economy.
Pray, My children, for Rome; terror will come to Rome.
THERE ARE SOME OF MY CHILDREN WHO CALL THEMSELVES CATHOLIC BUT ARE HERETICS, AND
THEY REMAIN WITHIN MY CHURCH TO UNDERMINE IT BECAUSE THEY ARE SERVERS OF THE ANTICHRIST.
I thirst for souls. Do not be afraid of those who can kill your body; be afraid of those who can take your soul. Be creatures of Faith. I will not abandon you.
My beloved, you have gone so far that you do not cater to My Calls and you do not want to be faithful children… THIS IS THE INSTANT OF THE ABOMINATION; MY HEART BLEEDS FOR IT.
Like nursing infants, you are deceived by the great world organizations, they just forget that "I AM WHO I AM"[50] and they will never be able to topple My People.
My People will not be abandoned; even if they walk in the desert without water or food, the sun will not burn them and the dew will be water.
Pray, My children, pray for Israel; it will be purified with the strength of those who do not love it.
Pray, My children, for the United States; it secretly protects evil, and evil will betray it. Pray; the Earth trembles without stopping. Pray for Chile.
My beloved, tell your brothers that "MAN SHALL NOT LIVE BY BREAD ALONE"[51], to look for Me; I will work miracles for My faithful. I will send Help from My House to encourage those who are Mine, to work miracles in My Name, and to give strength to My faithful.
MY ENVOY IS WAITING FOR MY WILL TO SEND HIM TO YOU,
BUT THIS WILL ONLY HAPPEN AFTER THE PUBLIC APPEARANCE OF THE ANTICHRIST, TO AVOID ANY CONFUSION AND SO PEOPLE WILL NOT FEAR HIM.
My Word is one…
My Law is the same yesterday, today and always,,,
My Law does not change no matter how much people will want to change it…
YOU, MY BELOVED, OBEY MY LAW. MY WORD IS ONE, THE SAME YESTERDAY, TODAY, AND ALWAYS; KNOW ME IN THE HOLY SCRIPTURE.
My beloved, tell My children to remain alert and attentive; tell them not to trust in the economy, but in the power of My Providence. My Help will not be stopped if My children seek shelter in Me.
Communism continues with its ravages and disastrous decisions against My children. My Mother has already announced it, and this instant is only the beginning of My People's suffering. This is why I call you to remain faithful and immovable, but for that you must know Me.
LOOK ON HIGH; THE SIGNS ARE NOT EXHAUSTED. "I AM THE BREAD OF LIFE"[52], HE WHO GETS NOURISHMENT FROM ME WILL NOT PERISH.
I bless you, I love you.
Your Jesus.
HAIL MARY MOST PURE, CONCEIVED WITHOUT SIN.
HAIL MARY MOST PURE, CONCEIVED WITHOUT SIN.
HAIL MARY MOST PURE, CONCEIVED WITHOUT SIN.
At CERN, the European Organization for Nuclear Research, physicists and engineers are probing the fundamental structure of the universe. They use the world's largest and most complex scientific instruments to study the basic constituents of matter – the fundamental particles. The particles are made to collide together at close to the speed of light. The process gives the physicists clues about how the particles interact, and provides insights into the fundamental laws of nature.
The instruments used at CERN are purpose-built particle accelerators and detectors. Accelerators boost beams of particles to high energies before the beams are made to collide with each other or with stationary targets. Detectors observe and record the results of these collisions.
Founded in 1954, the CERN laboratory sits astride the Franco-Swiss border near Geneva. It was one of Europe's first joint ventures and now has 21 member states.
Our understanding of matter goes much deeper than the nucleus, and CERN's main area of research is particle physics – the study of the fundamental constituents of matter and the forces acting between them. Because of this, the laboratory operated by CERN is often referred to as the European Laboratory for Particle Physics.
On 4 July 2012, the ATLAS and CMS experiments at CERN's Large Hadron Collider announced they had each observed a new particle in the mass region around 126 GeV. This particle is consistent with the Higgs boson predicted by the Standard Model. The Higgs boson, as proposed within the Standard Model, is the simplest manifestation of the Brout-Englert-Higgs mechanism. Other types of Higgs bosons are predicted by other theories that go beyond the Standard Model.
Three years after the announcement of the discovery of a new particle, the so-called Higgs boson, the ATLAS and CMS Collaborations present for the first time combined measurements of many of its properties. All of the measured properties are in agreement with the predictions of the Standard Model and will become the reference for new analyses in the coming months, enabling the search for new physics phenomena. This follows the best measurement of the mass of the Higgs boson, published in May 2015 (link is external) after a combined analysis by the two collaborations.
Next month, the CERN will head an unprecedented experiment. Subatomic particles will be made to collide at almost the speed of light in an effort to recreate the existing conditions immediately following the 'Big Bang.'