Wednesday, September 9, 2015
Message Given by the Most Holy Virgin Mary
To Her Beloved Daughter Luz De María.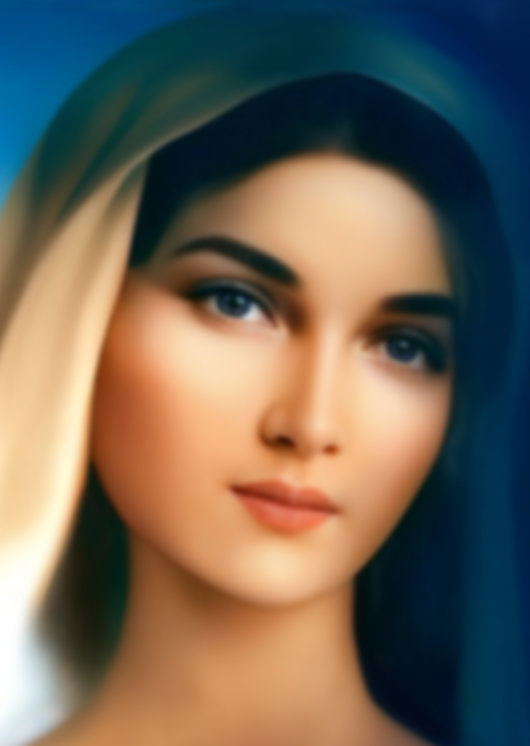 Beloved children of My Immaculate Heart,
My Son wants the salvation of all His children; this is why We constantly share with you this Word which requires a deep knowledge of the Holy Scripture.
Beloved children, at this instant the Christian must recover lost time, when he was not aware of the need to instruct himself and acquire a deep knowledge of God's Word, either because he lacked the people who were in charge of teaching him The Word in theory and practice, or because he lacked personal commitment.
THOSE WHO WANT TO BELONG MORE TO GOD THAN TO THE WORLD MUST MAINTAIN KNOWLEDGE OF THE WORD SO THEY WILL NOT BE DECEIVED.
This instant is difficult. At this instant a great number of contradictions converge, contradictions that are attractive to man but, in light of the Law of God the Father, are nothing but wrong works and acts outside the Divine Law.
MY SON IS MERCY. AND EACH ONE OF HIS CHILDREN MUST BE DESERVING OF THAT DIVINE MERCY THROUGH A SINCERE CHANGE OF LIFE.
Beloved children of My Immaculate Heart,
Man hears so many prophecies everywhere!...
So many of you neglect what is most important, the TRUE FUSION WITH THE DIVINE WILL, which enables you to push sin away from your lives and to renew yourselves interiorly with generous spirit!
Beloved, where is man's conscience that over time has resigned the Divine Treasure of Eternal Life?
There have been periods of strong battles between good and evil but not as at this instant, no! AS MY SON'S SECOND COMING APPROACHES, CALAMITIES APPROACH MAN, JUST LIKE TEMPTATION AND EVERYTHING THAT SEPARATES MAN FROM HIS GOD, BECAUSE SATAN CONSTANTLY TEMPTS GOD'S CHILDREN. And, when God's children abandon the Divine Law, the human heart hardens to the point of feeling that God is no longer needed in their lives.
When you read the stories of the Tower of Babel, you realize God did not stop man; instead He allowed man to exercise his free will, until the same man received what he had gestated. The same happens at the present instant. Man is not satisfied with creating life through cloning. At this instant he works manipulating genetics until he creates monsters; man is not satisfied soaring the Universe, his ambition will be the punishment of man himself.
Time has always been a very subtle point that man has wanted to penetrate in order to control it. My beloved, you will see how in an attempt to delve in the unknown and outside the reality where man lives, he will find what My Son has kept away from you so this generation would not tread on dangerous ground and open the door to the unpredictable and incomprehensible.
Before My Son's Second Coming, events will happen which for humankind are the fulfillment of My Revelations.
MY SON ACCELERATED THE INSTANT; THEREFORE, MAN'S LEAST
EXPECTED EVENTS CAN HAPPEN IN AN UNTHINKABLE SEQUENCE,
AND AT THE SAME TIME, IN THIS WAY, THE WARNINGS AND SIGNS THAT ANNOUNCE THE EVENTS AND THEIR FULFILLMENT CAN COME TO PASS.
The son of perdition remains over humankind so men will live in debauchery without feeling guilty for their wrongdoings.
The instability in which humankind moves was announced by Me well in advance; it is not new because the economic factor is man's Achilles heel. My Son allows this happening so the human creature will be certain that what he has is not a sure thing and he must not seize hold of material goods; instead, since humankind knows My Calls and My announcements, man should convert so he will not perish in the battle against evil, but prevail in the certainty of Eternal Salvation.
Human life does not end on Earth like some claim—that it is on Earth that man lives his purgatory, his hell, or his Heaven. This is not true; this is not real; it is a fallacious lie told by those whose purpose is that you, My children, lose your way and be surprised by evil.
BELOVED CHILDREN, IN THE HOLY SCRIPTURE
MAN FINDS WHAT THE FUTURE HOLDS FOR HIM.
At this instant, the path of the antichrist is designed by the great powers based on freemasonry, on the illuminati, on communism, on the ideologies contrary to My Son, on the distortion of the Holy Word as carried out by the "New Age", on the adherence to satanism; in summary, on those who, coming from the apex of freemasonry, control humankind at this instant.
Men of science have been able to create mechanisms with which they think they can control Nature. What man does not know is that, when he tries to control what he has created, he will not be able to do so, and that his creation has unleashed tragedy, such as earthquakes, because some of them are caused by man.
My beloved children,
Pray; humanity has entered into pains.
Pray, children; man becomes his own enemy and wants to exterminate those he thinks are his enemies. Children, be alert! You will suffer terrorism. Goodness has been offered and the response will be to attack the innocent.
The human being attracts to himself the response of his acts, be they good or contrary to the good. YOU SEE WITH INDIFFERENCE THE ALLIANCES OF THE POWERS, FORGETTING THAT THIS IS A GREAT SIGN PROPHESIED BY ME AND THAT COME TOGETHER IN THE POWER THAT HUMANKIND WILL HAND OVER TO THE ANTICHRIST.
Pray, My beloved; the United States will be weakened, from being a power it will be purified.
Children, the collapse of the world will give rise to ten powers that will use every possible means to help the executor of the tribulation of My Son's Church to make himself present. Do not expect evil's allies to unmask or reveal themselves before the ignorant humanity; they will defend the alliances and will seem to fight for the good.
My children,
YOU HAVE GIVEN YOURSELVES TO EVIL;
YOU PLACE YOURSELVES IN EVIL'S HANDS.
I have warned you so much about the one who would take over humanity and control you! … You expected a man… You have him with you all day, you reveal your intimate information, you expose your family, you have yielded control of your works and acts to those who manipulate power in evil's name. You have given yourselves to a misused technology; you supply your own data and everything that happens in your lives in social networks. Do not wait for the microchip to control you; they already control you, and this way they condition you to accept being sealed with the microchip.
Beloved children of My Immaculate Heart,
DO NOT CONTINUE TO BE EASY PREY TO EVIL. EVIL CARRIES OUT
HIS PROJECT AND TURNS YOU INTO AN UNDIFFERENTIATED MASS.
COMPLY WITH THE DIVINE WILL AND COME
TO MY SON WITH HUMBLE AND CONTRITE HEART; HE WILL EMBRACE YOU WITH MERCY.
Pray, My children, for India; Nature will make it suffer.
Pray, My children, for Nepal; it will feel regret when the earth moves.
My children, all of you must remain in a state of Grace, praying and pleading, giving testimony of My Son's Love which is never quiet: Always thirsty of love for souls, calls them all, preaches to all.
Look on high and don't be stubborn; there will be signs in the sky. You will suffer, but do not lose the Faith.
YOU, FAITHFUL CHILDREN, WILL BE PLACED IN THE CRUCIBLE, BUT YOU WILL NOT BE DEFEATED.
FIGHT TO REMAIN IN MY SON'S ARMS; MY WOMB IS ARK OF SALVATION.
I love you,
Mother Mary
HAIL MARY MOST PURE, CONCEIVED WITHOUT SIN.
HAIL MARY MOST PURE, CONCEIVED WITHOUT SIN.
HAIL MARY MOST PURE, CONCEIVED WITHOUT SIN.