Thursday, September 17, 2015
Message Given by the Most Holy Virgin Mary
To Her Beloved Daughter Luz De María.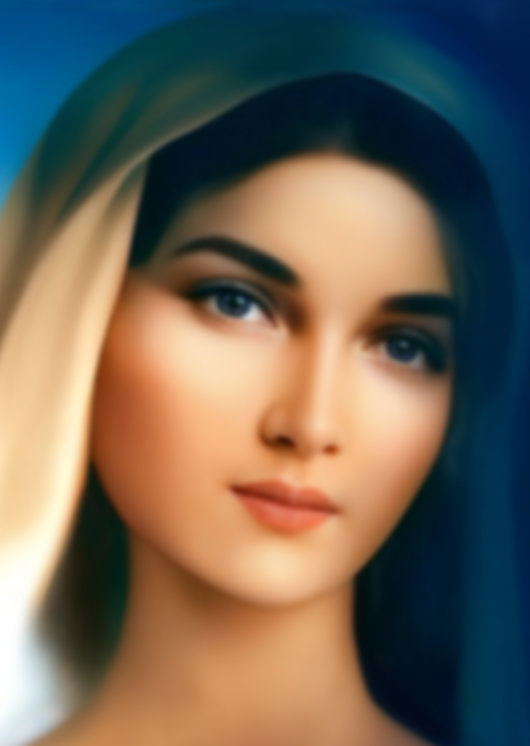 Beloved children of My Immaculate Heart,
EACH ONE HANGS FROM MY CROWN LIKE A BRILLIANT STAR OF PEACE AND LOVE.
Each one is the constant reason that My Heart keeps embracing all those who come to Me to ask for My intercession before the Holy Trinity.
MY SON BLEEDS FOR HIS CHURCH, FOR EACH ONE OF HIS SHEEP, HE DOES NOT WANT EVIL TO ATTACK THEM AND BE LOST.
Children of My Immaculate Heart, not all you see is real; so as not to cause alarm, they hide the truth of what is coming and what man will experience.
Beloved children, at this instant you must pray for Europe. Nature will unleash it elements over this land, from country to country, because of terrorism, lack of faith, and rebellion against God.
Hunger will reach this continent suddenly: Europe, where fruit over abound; they will not give more crops.
Just like man's heart is hardened, man will be denied food. The poor children from Spain will suffer the rebellion against God.
Violence increases all over the Earth, flaring harshly in Europe. Italy will know about the pain of those who despise everything that reminds them of God. Blood will flow on its streets.
My Canaries will be cruelly scourged; brother will rise against brother.
Man's ambition together with atheism, rage and hubris will reach France. The nights of laughter will be darkness of wailing.
BELOVED CHILDREN, THE WARNING IS NEAR, THEN YOU'LL BE GIVEN THE PUNISHMENT. THE SKY WILL BE LIT WITH A CROSS THAT WILL SHINE MORE THAN THE SUN ITSELF.
When the instant of the Warning arrives, right before, you will look on high and you will see fire that plunges towards Earth… HOW MANY WILL CLAMOR TO MY SON AT THAT INSTANT?
Humanity remains pensive because of the events that continuously happen on Earth and those which lately come from on high; but THEY ARE ONLY SURPRISED, THEY ARE NOT AFRAID…BECAUSE THEY DO NOT BELIEVE.
In how many of My Apparitions have I talked about war! And you don't listen until you have it in front of you.
Children, do not forget that God is God and man his son; do not look down on My Warnings before night comes and finds you asleep.
Beloved children of My Immaculate Heart, those who live of money will be distressed; money will fall like a piece of paper in the wind without much hope.
Some countries will impose their own currency, but they will not succeed because one single currency will be decided for Europe, and then it will extend to the rest of the world.
My children, great events are stirring over humanity; volcanoes will continue to erupt; Earth will be agitated.
Pray for the United States; Nature will whip it… AND IT WILL SUFFER AT THE HANDS OF MEN.
Pray; the land that did not shake WILL BE SHAKEN.
PRAY FOR PARAGUAY.
My Son's Church waits carelessly until it will awaken scourged by the hand of the godless man.
Children, you will receive news from royalty; death looms.
Beloved children, you do not see My Son's great Mercy that incessantly calls you; come promptly, do not despise it.
My beloved,
MERCY FOR YOU!; WAR COMES AND—WITH IT—THE CATACLYSMS WITH WHICH MY SON WILL STOP IN PART THE ANNIHILATION OF HUMANITY BY MEANS OF ATMOSPHERIC PHENOMENA AND HAPPENINGS ON THE EARTH'S CRUST. The coastlines will change and the planet's geography will not be the same.
Children, pray; China will attack.
Alliances are built in instants; some will be known by humanity; others will not be known and these will not be respected and everything will be lies and betrayal.
Do not be one to say "Lord, Lord!"[54] without knowing My Son. Love Him being close to Him; He is the Savior of humanity before whom "every knee should bend."[55] LOVE HIM IN THE EUCHARIST, ADORE HIM; UNITE, CHILDREN, IN ONE SINGLE PEOPLE, KNOW HIM.
Victory will come to My Son's People, for the Love of His Faithful and for those next to them. Keep in mind that you are not of this world; the mundane does not accept you because you are creatures of prayer and you live for the good of your brothers. Do not forget that no creature can live without loving My Son, because he will come to despise My Son and will deliver himself in wicked hands. Understand, My children, that My Son is Love and Mercy, and at the same time Justice; great confusion will reach all of humanity, confusion to which you must respond with Faith, remaining immovable.
"A LAND FLOWING WITH MILK AND HONEY"[56] AWAITS YOU…
ANNOUNCE THE COMING EVENTS WITHOUT FEAR; WARN YOUR BROTHERS, LOOK ON HIGH, THE SIGNS ABOUND.
Evil looks for wickedness. When he cannot find it, he induces lies to feed on. Do not stop, continue with Faith along the path of righteousness.
BELOVED CHILDREN OF MY IMMACULATE HEART, THIS IS NOT THE INSTANT TO BE LUKEWARM.
My Son will come to the aid of His People. Your Faith must not decline. My Son's blessing is with His People, with those who walk on thorns, with those who walk with the Cross of My Beloved calling their brothers, with those who constantly sacrifice themselves, with those who announce the truth knowing that this instant must not be wasted.
Do not forget that evil is astute and seeks to distract you with what is not My Son's; this is why I call you to be smart and stay away from evil.
Pray for My Son's Church; pray because My Son is coming for His Church.
Children of My Immaculate Heart, do not neglect the Sacraments, adore My Son in the Most Holy Sacrament of the Altar.
Beloved, at these crucial instants:
† Pray the Holy Rosary,
† Meditate on My Son's Passion,
† Grow in the knowledge of My Son's Life in the Holy Scripture,
† Be prayer for your brothers through your testimony,
† Be truth, do not hold a grudge in your hearts, and move away from evil that is on the prowl.
MY CHILDREN, IF YOU ABIDE BY THE DIVINE WILL AND DO NOT STRAY AWAY FROM
GOOD—RECOGNIZING WHEN YOU FALL AND REPENTING PROMPTLY—I PROMISE
TO COME BEFORE YOU TO HELP YOU DURING THE DIFFICULT INSTANTS FOR ALL
HUMANKIND; I PROMISE NOT TO ABANDON YOU DURING THE PERSECUTIONS AND TO SEND THE HOLY ANGELS TO SHELTER YOU; I PROMISE TO TAKE YOU BY THE HAND AND PRESENT YOU TO MY SON.
Beloved children of My Immaculate Heart, abide by the Divine Will; at each instant strive to be worthy of My Promises and repent promptly.
Children, the human creatures will feel forsaken; you know that your Mother intercedes for each one. Continue forgiving bringing righteousness everywhere. Do not forget that My Son's children pray and do not stray away from the Beatitudes, the Commandments, the legacy that My Son bequeathed to His children for the good of their souls.
My blessing be water in you when you are thirsty.
My blessing be warmth in you when you are cold.
My blessing be a lamp when the darkness comes.
I love you.
Mother Mary.
HAIL MARY MOST PURE, CONCEIVED WITHOUT SIN.
HAIL MARY MOST PURE, CONCEIVED WITHOUT SIN.
HAIL MARY MOST PURE, CONCEIVED WITHOUT SIN.