Monday, September 21, 2015
Message Given by the Most Holy Virgin Mary
To Her Beloved Daughter Luz De María.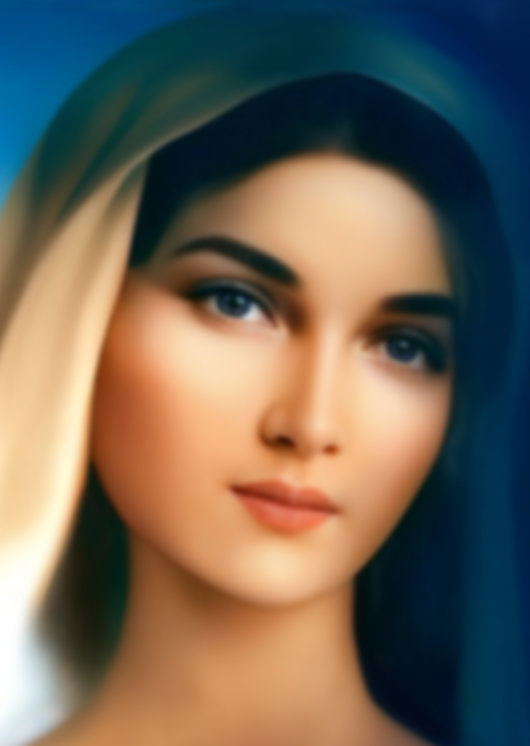 Beloved children of My Immaculate Heart,
As Mother of Humanity—by Divine Will—I will not abandon you…
As Queen of Heaven and Earth—by Divine Will—I love everyone…
As Ark of the Covenant—by Divine Will—I call and intercede for everyone…
I WILL NOT TIRE OF CALLING YOU TO WAKE UP, TO RENEW YOURSELVES WITH GENEROUS SPIRIT, AND TO BELONG MORE TO MY SON AND LESS TO THE WORLD. I know that with each calling some hearts wake up and return to My Son; this makes My Maternal Heart want to send you these Calls, just like the creature needs air to breathe.
Beloved children of My Immaculate Heart, I constantly look at My children with pain in My Heart because of the continuous offenses to My Son and His infinite Mercy.
HUMANITY MUST APPROACH THE HOLY TRINITY, BUT IT WILL DEPEND ON EACH ONE TO REMAIN UNITED WITH MY SON OR TO DECIDE TO CONTINUE UNITED WITH EVIL…
You have seen how great and unexpected events are painted in the sky by the Hands of Angels who wish to help you and make you ponder the Signs and Signals. But My skeptical children defy My Divine Son, despise the Gift of Life, and mock the pleas of the Paternal House and My pleas for them to retake the Road to Salvation.
Beloved,
So many pretend to be My Son's faithful children but are empty inside! They are the ones who carry violence with them by being constantly repressed before their communities.
I see so much rage in the hearts of men!...
There is so much lack of charity and love!...
There is so much indecision because of human respect!...
My Son sends you His Mercy and you… How do you act in this regard? You force My Son to use His Justice to rescue some of His children.
LOOK ON HIGH. DO NOT HOLD ON TO LIFE AS IF LIFE ON EARTH WERE ETERNAL. TRUE LIFE DOES NOT END BUT REMAINS NEXT TO MY SON.
Do not assure yourselves—or before your brothers—that the Faith you have is immovable. You know about the coming events, but do not take My Son's affairs lightly; you must not say that the signs are normal, because in past instants humanity was warned and did not listen and thus had to be purified. There is so much speculation regarding the events, but to satisfy your egos because even knowing what is coming, you forget it instantly.
Beloved children of My Immaculate Heart,
So many events will reach the Earth to purify My Son's People!
FORTITUDE IS AN ATTRIBUTE THAT MY SON WILL GIVE TO THOSE WHO ARE
FAITHFUL TO HIM SO THEY WILL NOT SUCCUMB AND WILL CONTINUE TO BE LIVING TESTIMONY OF THE ACTS AND WORKS OF MY SON, AND YOUR BROTHERS WILL BE SURPRISED BY YOUR DETACHMENT FROM WHAT IS NOT ETERNAL.
CHILDREN, YOU ACT WITH WISDOM WHEN YOU CONTINUALLY ASK FOR HELP FROM THE HOLY
SPIRIT.
At this instant, groups that call themselves Christian proliferate; remain attentive, be alert, because there is no group that truly belongs to My Son where there is no prayer, no meditation, where they do not practice the Commandments, do not live the Beatitudes, do not carry the Cross, where they are not My Son's witnesses by living His Love and His Mercy, by living the Faith, Hope, and Charity. They are not witnesses of My Son without the Eucharist, without living the Holy Mass and without practicing the Gospel.
Beloved children of My Immaculate Heart,
DIFFICULT INSTANTS LIE AHEAD when those who pray will feel the balsam that the same prayer pours over the creature; each one attracts this to himself.
INSTANTS ARE COMING OF WONDER AT THE POWER OF NATURE and at the foolishness of man who manipulates Nature causing tremors in one place or another, producing storms in one place or another[1]… Now you understand, My children, you understand why Nature wants to return the Earth to its Creator. Man has manipulated everything possible without thinking about the consequences… and he will bring them upon himself sooner than expected.
My beloved,
IN THESE MY WORDS DO NOT LOOK FOR THE ANSWER TO YOUR FEARS,
TO YOUR WISHES OF KNOWING MORE… COME TO THIS MOTHER TO GIVE ME YOUR HAND AND I WILL GUIDE YOU TO THE TRUE PATH.
Beloved children, the Earth is exhausted; it keeps upon itself so much contamination, so much blood, so much ignorance, so much foolishness, so much perversion, so much debauchery, so much madness of man who never ends innovating sins… so much so that the Earth wails in pain for this generation that does not stop doing evil, and for this reason the Earth will shake with more force until the hearts of men tremble.
Beloved children of My Immaculate Heart,
They prepare for war, but it will not only be in Europe; other countries will mandatorily get together, out of a sense of duty towards those who have secretly provided them with weaponry, which amidst the discouragement of war will cause surprise.
Children, in some countries you have lived painful instants, but at this instant it will be humanity in general that will suffer as a result of the wickedness, caused by those who have made pacts with satan, as part of the preparation to present the antichrist, for whom powerful families of the world are planning the presentation.
Children, do not take other paths, look face to face at the Truth they hide from you; the economy must necessarily fall so those who, at this instant, decide regarding humanity, will completely take hold of the reins to hasten evil's project to unify the powers around the world and thus take control of all humankind through the single currency, single government, and single religion, under the pretext of eliminating borders, those that the same man created.
MANY DO NOT BELIEVE IN THE DIVINE JUSTICE, BUT IT IS BECAUSE THEY DO NOT UNDERSTAND THAT JUSTICE TAKES DOWN THE THINGS MAN HAS DEFORMED IN ORDER TO MAKE THEM AGAIN WITH GREATER PERFECTION. So also the Divine Justice is to man, calling him until man punishes himself, and My Son brings man closer to His Divine Will.
Beloved children,
THE MOON WILL BE TINGED WITH BLOOD SO MAN WILL NOT FORGET THAT HE MUST REMAIN
UNITED TO MY SON, SO MAN WILL INTERIORLY RENEW HIMSELF WITH GENEROUS SPIRIT, AND BE CONSCIOUS OF THE EVIL INTO WHICH HE FALLS AND THE GOOD HE DOES NOT DO.
Look on high without fear but attentively. Look on high. Look at the Signs of this instant when the Earth will continue to shake.
Pray, beloved children, pray for Russia; it will take wailing to its brothers.
Pray, beloved children, pray for Chile.
Pray, beloved children, pray for the United States; it will tremble. Pray for England; it will suffer at the hands of men.
Mysterious hands of those who do not love the way My Son Loves will continue to spill innocent blood around the world, spreading like a plague. Europe will suffer.
Negotiations are brewing behind humanity's back, and they are not solid, they are like quicksand. The representatives of the countries are like puppets moving in front of the powerful who design their plans to take over the power.
MY SON'S CHURCH WILL SUFFER AMIDST BETRAYAL THAT WILL WANT TO SILENCE IT.
My children,
Do not deviate from the True Path…
Do not forget God's Law…
Approach properly prepared to receive My Son in the Eucharist…
Do good…
BROTHERS MUST NOT DEVOUR ONE ANOTHER; UNITE… BE ONE IN MY SON'S LOVE AND IN MY IMMACULATE HEART.
Do not forget that My Son does not see the great works in gold and precious stones; instead He looks at—and is attracted by—the simple and humble creature where Love over abounds.
I bless you with My Love.
I bless you with My Heart.
I bless you with My Maternity.
Mother Mary.
HAIL MARY MOST PURE, CONCEIVED WITHOUT SIN.
HAIL MARY MOST PURE, CONCEIVED WITHOUT SIN.
HAIL MARY MOST PURE, CONCEIVED WITHOUT SIN.