Wednesday, September 23, 2015
Message Given by Our Lord Jesus Christ
To His Beloved Daughter Luz De María.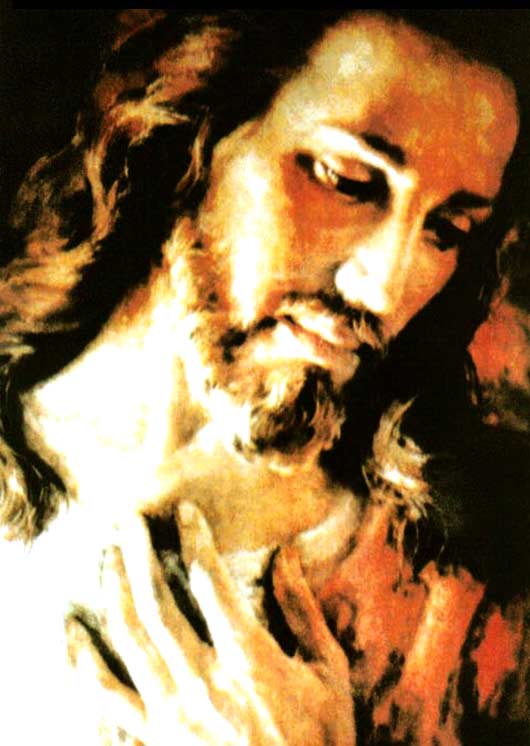 My beloved People, I Love you and at this instant I bless you.
I CARRY YOU IN MY ARMS LIKE NEWBORN INFANTS SO NOBODY WILL BE LOST, SO NOBODY WILL LOSE HIS WAY, BECAUSE, IF I DIDN'T, NOT EVEN THE RIGHTEOUS WOULD BE SAVED.
Humanity is in an instant of chaos…
Immorality reins everywhere…
Madness has taken hold of man to lead him to a total licentiousness in every aspect of his life… Love has been replaced by lovelessness and indifference…
SO MANY SCHOLARS KNOW THAT THE EXPLANATION OF THIS WORD OF MINE THAT I DELIVER AT THESE INSTANTS IS THE TRUTH, THE HIGHEST TRUTH!... and I see how it is denied. I don't say I see it in pain, I just see it within the waiting period of My Justice.
HYPOCRITES! YOU DENY THE EXPLANATION OF MY WORD at instants when humanity adheres to satan's lies!
WHITEWASHED TOMBS WHO WISH TO LEAD MY PEOPLE TOWARDS HELL SO THEY WILL LOSE ETERNAL LIFE!
BUT HERE IS THEIR GOD… I AM WITH MY PEOPLE EVERY INSTANT TO KEEP THEM INSIDE MY HEART AND TO HOLD THEM IN MY ARMS.
"I am thirsty"[1], I am thirsty for souls, although you continue to fill pages and pages with absurd words to contradict Me; but the instant is near when you will have to bend your knees and clamor for forgiveness.
My beloved People, I see you walk with hopelessness and despair because you lack Faith in My Word, Faith in My Love, Faith in My Mercy, Faith in My Protection and My Shelter, Faith in that I will not abandon you. I continue sending My Angels to help you, to protect you, so you will not fall so easily into sin which is contrary to My Will.
My People,
So many call themselves Christians!
So many receive Me and their tongues are filth laden with heresy and blasphemy against Me! Not
because they receive Me on the tongue does it mean that the rest of the body is clean… So many tell Me "Our Father!" But their thoughts are very far from this Father.
So many ask Me for their daily bread, but not the Bread of My Love and of My Word, they want the bread that will help them continue to sink into everything sinful and immoral.
My children,
MY PEOPLE, YOU LIVE ALMOST IN THE UNREAL, BECAUSE THEY DO NOT SHOW YOU THE WHOLE TRUTH ABOUT WHAT IS HAPPENING AT THIS INSTANT BEHIND YOUR BACKS.
You look for newscasts to find the truth, but you ignore that the news do not completely reflect reality as it is because they belong to interests that are part of those who prepare the arrival of the antichrist. Well known learned humans who have gained popularity deny that the antichrist is on Earth and deny that the Tribulation has begun…
Could it be that they are blind, deaf, and mute? Or they live in a crystal sphere…
… without looking to the North, the South, the East, or the West,
… without looking at those of their same gender who disrespect My Law,
… without looking at the immorality in which this youth moves,
… without looking at the irresponsibility of the parents who have yielded the upbringing of their children to a television set?
Could it be that they live in another world far away from where My children live and which I constantly see?
Weapons are moved from one country to another, the governments transport them and nobody brings this out to the light; great powers providing weaponry to small countries because the Third World War depends on the thoughts of the powerful.
MY WILL IS MERCIFUL, MY WILL IS THAT YOU LIVE ON EARTH TO HONOR ME AND NOT TO
DISHONOR ME, but the great nations urgently need war because each instant their economies fall more and more.
Brazil will suffer to exhaustion.
Argentina will fall economically and its people will not withstand.
My beloved children,
Gog and Magog move skillfully.
Because of Syria there will be a major international conflict.
Pray for Israel; it will fall into enemy hands.
My children, HUMANITY IS IN CHAOS: Revolutions, riots, persecutions, killings, abortions… And this makes anger take possession of the minds of men, and still men deny it… Is it not true that in My Word it is written that at the end times all this will happen? How can men deny it now? How do they deny it at this instant? Out of fear? Ignorance?
My beloved People, the Earth will shake strongly.
Do not forget to pray for My People in the United States.
Pray for Japan. Pray for Chile.
Beloved children, the moon maintains great influence on Earth and man. You, too, know this. Just like the sun reaches man, the moon is always united with Nature and man. The waters will move, man's disquiet will be great; but DO NOT LET THOSE WHO GIVE YOU DATES GUIDE YOU BECAUSE THEY ONLY DISQUIET THE SOUL.
My children, get ready; a great purification is coming soon…
The Moon will be so close to Earth that its influence will be greater on Earth and on you, My children.
WALK ALWAYS LOOKING ON HIGH; the signs will abound, and not everything, not everything you see in the sky will be a hologram[2], man's invention; do not be confused by these because I have given signs and signals to man in the Celestial Vault, and I will continue to do so to alert you.
My children, those who do not care to study and delve into man's wickedness must know that, based on misused science, the great powers have built gadgets to cause devastating earthquakes anywhere on the Planet, and some ask, "My Lord, why do You punish us?"
NO CHILDREN, I DO NOT PUNISH YOU… THE GREAT POWERS WANT TO ELIMINATE MOST OF THE WORLD POPULATION; AND I FIGHT AGAINST THEM FOR YOU, OUT OF LOVE FOR YOU, BECAUSE OUT OF LOVE FOR YOU I SPILLED MY BLOOD TO REDEEM YOU.
Whenever there are natural disasters or misfortunes in the families, they blame Me. My Mercy is infinite, but My Justice comes soon, and My Justice is the result of man's lack of respect towards Me, of man's disobedience and hubris. Humanity brings the punishment upon themselves.
My children, each prophesied event that is fulfilled must be a sign of strength for you because you know that I move closer.
DO NOT FORGET THAT YOU WILL BE EXAMINED INTERNALLY; DO NOT FORGET THAT MY MOTHER HAS ANNOUNCED TO YOU THE GREAT WARNING, AND WHAT MY MOTHER ANNOUNCES IS THE WILL OF THE HOLY TRINITY. Do not despise Her Warnings, do not despise Her Calls because as Mother and Queen of humanity She wants you to pause in the daily walking, to review yourselves internally and reunite with Me.
EVIL IS IN A FIERCE BATTLE FOR THE SOULS; THIS IS WHY BROTHERS RISE AGAINST BROTHERS WITH NO PITY AND NO MERCY.
I suffer so much for the innocent children that are maltreated! I suffer so much for them! And this is why man brings disgrace onto himself.
My beloved People,
I WILL NOT TIRE OF CALLING AND ALERTING YOU, I WILL NEVER TIRE BECAUSE I LOVE YOU.
The antichrist accumulates more power, gains more followers; the antichrist maintains his influence on the future of this generation. Man will have to be strongly shaken for him to recover his good sense, his sanity, and will stop denying Me and will stop denying the events that My Mother has prophesied.
My children, at these instants the global interests are economic and prevail over what is spiritual. Great agreements will illustrate the newscasts; do not trust those agreements, behind them My People will be placed in evil's hands.
PREPARE YOURSELVES BY DELVING IN ME AND BY KNOWING THE REVELATIONS MY MOTHER HAS MADE TO MY PEOPLE THROUGHOUT THE CENTURIES.
PREPARE YOURSELVES BECAUSE FAMINE WILL SPREAD ALL OVER THE WORLD.
PREPARE YOURSELVES BECAUSE AT THIS INSTANT MISUSED SCIENCE HAS NOT REACHED ITS HIGHEST POINT, BUT IT WILL BRING GREAT AMAZEMENT, UNCERTAINTY, AND PAIN TO THIS GENERATION.
My People, where are you? I look for you like a needle in the haystack and I don't find you!
My People, how they prepare traps to catch you! How they blind your eyes so you won't be able to see beyond what they set before your eyes!
My People, listen to Me! I will announce the Truth so you will remain faithful and continue to trust in Me. Remember that I am "the same yesterday and today and forever"[3] and that My Word does not change because My Word is for all times.
Beloved children,
KEEP UP THE COURAGE. EVEN WHEN THE EARTH TREMBLES,
EVEN WHEN THE WATER RISES AND COMES INLAND,
REMAIN EVERY INSTANT IN MY PRESENCE, NONE OF YOU WILL BE LOST AS LONG AS YOU REMAIN FAITHFUL TO ME.
Just like the children of a nation resort to other Peoples seeking shelter, thus entire nations will walk from town to town seeking lodging and running away from the war that will begin. The peace agreements are fictitious because the Peoples keep nuclear weapons on their territories.
In all times there have been Herods, those who persecute innocence and childhood; and this instant is no different.
My People, My beloved children, I call you with so much Love to remain faithful to My Word!
I EXPLAIN TO YOU WHAT IS WRITTEN. I DO NOT ADD OR REMOVE ONE WORD.
I EXPLAIN TO YOU FOR YOU TO REMAIN PREPARED BECAUSE I WANT
ALL OF YOU TO BE SAVED AND TO ACHIEVE KNOWLEDGE OF THE TRUTH AND REMAIN FIRM IN THE FAITH WITHOUT HESITATING OR STAGGERING.
You know well that in each Eucharist I completely donate Myself to the creature that I see as a Tabernacle of My Love, so that in the instants when My temples will be closed, I will nourish you constantly.
You do not want to look at reality. Do you know why? Because you see the events in other countries from a distance and at this instant terrorism is communism in disguise. And this communism in disguise is being provided with weaponry, not only by those who are declared communists, but also by those who proclaim freedom and say they fight against communism; all have lent a hand to provide terrorism with weaponry. This humanity is completely confused.
Great nations self-flagellate to have an opportunity to blame others and attack them. The interests of the United States will be above its interest for its citizens.
BELOVED CHILDREN, KEEP HOLDING HANDS WITH MY MOTHER AND ME.
Pray; prayer is necessary…
I have revealed what I have said today to several of My true instruments; however, they do not disclose it out of fear, and this is a grave sin.
My children, pray for My beloved Prophet because there is still a long way to go.
You have entered the Great Tribulation, but there's more; most of it is still to come, the harshest and most ruthless part of the Great Tribulation is still to come.
I WILL NOT ABANDON YOU; I WILL WALK AHEAD OF YOU LIKE A MARCHING COLUMN.
I ONLY ASK THAT YOU BE FAITHFUL TO ME, THAT YOU CONSTANTLY CALL MY MOTHER
FOR HER TO KEEP YOU AWAY FROM DANGER, THAT YOU BE FAITHFUL AND INVOKE ME SAYING,
"SACRED HEART OF JESUS, I TRUST IN YOU!"
Receive My Blessing those who read this Message with faith and with love.
Receive My Blessing those who listen to this Message with right intention, and may this My Blessing cover you with My Most Precious Blood to keep the devils away from you and from those for whom you intercede.
In the Name of the Father and of the Son and of the Holy Spirit. Amen
Your Jesus
HAIL MARY MOST PURE, CONCEIVED WITHOUT SIN.
HAIL MARY MOST PURE, CONCEIVED WITHOUT SIN.
HAIL MARY MOST PURE, CONCEIVED WITHOUT SIN.