Wednesday, September 30, 2015
Message Given by Our Lord Jesus Christ
To His Beloved Daughter Luz De María.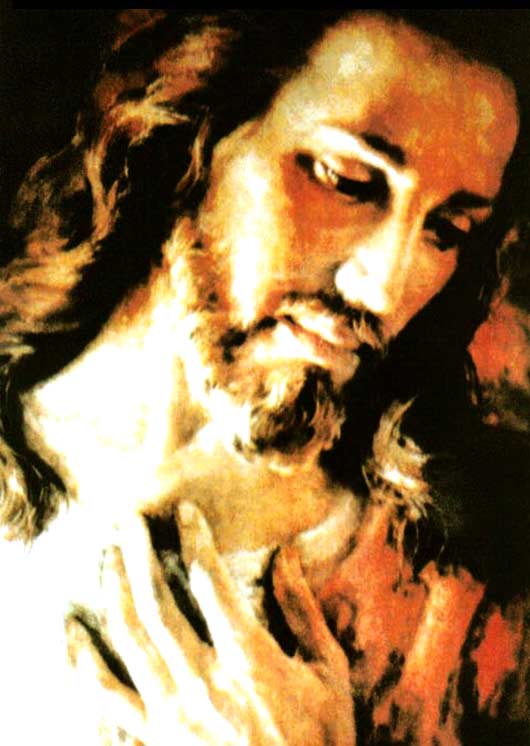 My beloved People,
I CARRY MY PEOPLE IN THE PALM OF MY HAND, LIKE
"THE GOOD SHEPHERD LAYS DOWN HIS LIFE FOR THE SHEEP."[59]
I whisper My Love in your ears, I talk to your hearts so they will soften, I give you new oil for you to fill your lamps and see clearly in the darkness they present to you.
MY PEOPLE HAVE BEEN ALERTED BY MY HOUSE SO THEY WILL NOT CONTINUE TO BE IGNORANT, so they will wake up and voluntarily get rid of the blindfold that other men have placed over their eyes, but My People continue blind and deaf. Evil invaded man's mind by means of the great screens, getting him ready, confusing him, and training him so he won't believe what he sees, and not know that the acts of men will go further.
MAN WATCHES THE EVENTS FROM AFAR. The great enemy has taken man to live a virtual war, and My children believe that everything is like that, virtual, until they will have overhead the buzzing they thought they could never hear, and will come to take away their sleep—to lead them to fear the unknown—and will take away the apparent peace in which they live. No, My children! You will not live something unreal! Evil leads his army instigating man to take the world to a catastrophe, which My Mother revealed in Her Apparitions so you would not allow evil to take the souls, so you would remain united with My Mother and Me, so you would continue to practice the Divine Law.
Evil uses his wiles to generalize conflicts among men; he doesn't stay in one place; on the contrary, he advances taking advantage of the carelessness of one and of the other so that, in the middle of the events and apparent defenses and good deeds, evil's emissaries will act through unholy and ominous alliances, creating confusion, unleashing man's rage in his reactions, thus bringing war closer to man at every instant; war feared by some, and ignored and denied by others.
Children, it will be a long suffering amid earthly powers, some guided by the power of families who keep humanity in their hands; others will follow those who offer them apparent safety for their peoples. At instants it will seem like the alliances and agreements make progress, and this is the curtain covering the real stage. The powers will point at one another as the true culprits and violators of the agreements, but this will only be the lies hiding the true and hidden objectives of the prince of wickedness who, with hooks and gaffs in the jaws will be the scourge of My children.
My beloved, the innocent suffer the effects of the wrongdoings of those who, led by fanaticism, act filled with rage against their brothers. At this instant, humanity will live acts of terror at the hands of real executioners.
Pray, My beloved, pray for France; it will suffer great pain.
Children, leaders of this instant astutely move the thoughts of their peoples. This allows rulers to keep great satellites of evil—without the inhabitants being aware of it—and the people even come to support acts contrary to My Acting and Working, contrary to My Love.
Beloved,
WAR IS AT THE SAME TIME A GREAT SPIRITUAL BATTLE IN WHICH SATAN
FIGHTS FOR THE SOULS OF MY CHILDREN WHO, BECAUSE OF IGNORANCE, SUPPORT THE START OF THIS HARSH SUFFERING TOWARDS WHICH MANKIND IS HEADED.
I feel sorry for all My children who take part in acts contrary to Our Will…
I feel sorry for those who kill the ones who are not like them for pleasure…
I feel sorry for the blood spilled by the innocent…
I feel sorry for the blood that will be spilled…
My People, in the entrails of military action, what prevails is the fight for the souls, the persecution of My children, the destruction of My Church—just like I have continually forewarned you—and the power and strength to establish the single government controlled by the antichrist.
EVIL HAS ACTED ON THE SLY SINCE LONG AGO, IN FRONT OF HUMANITY EMBEDDED IN FANATICISM, IN THE FANCIFUL, SINFUL, AND MUNDANE, DISTANCED FROM ME AND FROM MY MOTHER.
Pray, children, for Venezuela; pray, My children suffer.
Humanity, you look at your path with indifference, the devil takes possession of the souls to make them despise the Gift of Life.
My People, communism flutters in its red color like a tempest that hovers over you at a cloudy instant so you will not disclose communism until the deed is delivered to whom prepares the stage for it.
My People, the path of My Love is different from the one you traverse; the mundane magnetizes men, it attracts them to move them away from Me and to leave Me in second and last place. I AM NOT THE PRIORITY; MY PLEAS AND MY MOTHER'S PLEAS ARE IGNORED AND RELEGATED TO THE LAST PLACE BEFORE THE POWER OF THE GREAT INNOVATIONS THAT ECLIPSE MAN'S MIND, LEADING HIS HEART TOWARDS PATHS CONTRARY TO MINE.
This generation has been involuntarily indoctrinated by technology misused against Me, so My children will live despising life and ignoring My Calls, so they will deliver themselves in the hands of the oppressors.
AT THIS INSTANT, MAN LACKS THE WILL POWER TO GET AWAY FROM EVERYTHING THAT HARMS HIS BODY AND HIS SOUL. Walking in this way, with agonizing pain from the past—which at this instant he seems to forget—which this generation has not experienced and has no awareness of the devastating pain caused by the struggle of peoples against peoples, in which the red flag of the tempest has fluttered due to disobeying My Calls, due to the lack of attention, and to ignoring My Mother's Warnings with which She alerts and warns you about the great struggle for the global government and the great suffering of all humankind. This suffering leaves devastating effects on Nature and renders the land useless so it will not be beneficial to man, and thus it will not fulfill the role for which it was created.
Beloved children, pray for the United States; it will suffer at the hands of humans and Nature.
My People,
Earth wishes to wake up man and, in its zeal to wake you, it shakes with force; because of this, several countries will suffer. Pray for those who will be purified.
Earth trembles; the list of countries would be long; pray for those who will suffer.
The water will penetrate the land to wash away man's sin off it.
With astonishment you will see, in the Celestial Vault, phenomena never seen before: Signs that forebode, for My children, the suffering that advances, in which there will be a small respite to then break out again with more force. Pray, children, pray for Russia; control happens in silence, without noise. The United States hides the truth.
OH, MY HUMANKIND! YOU WALK AWAY FROM ME! COME TO YOUR SAVIOR.
APPROACH YOUR LORD, TAKE MY MOTHER'S HAND SO SHE WILL GUIDE YOU TO ME.
Do not rest in your prayer, continue before Me. I will not abandon you at any instant:
During famine I will send you Manna…
In the plague I will send relief…
Before the oppressors, the Faith in My Love will astonish your persecutors.
Pray, My People, pray for My Church infiltrated by freemasons and illuminati, who wish to take her away from My Truth and My Law. My Church will be harshly shaken.
MY CHILDREN, DO NOT LOSE HEART; MY CHURCH REMAINS ON SOLID ROCK, NOT ON QUICKSAND.
Do not forget that owing to My Mercy, each one will examine himself to separate you from the wickedness you may have joined. The Great Warning is My Love given to you so you will return to My Arms. You must know that some of My children will rebel even more against Me after the Great Warning(1) For this reason prepare yourselves, receive Communion, come be with Me at the Tabernacle where I am alone and abandoned, ask for My Holy Spirit so you can discern and will not follow what those who do not want you to wake up proclaim.
BELOVED CHILDREN, THE ECONOMY CONTINUES ITS DOWNFALL WITHOUT STOPPING. It's the antichrist's great strategy to make humankind plunge into the unique single currency when they can no longer stand material hunger. The antichrist advances towards his own empowerment over humankind.
YOU, MY CHILDREN, BE ASTUTE, WIN SOULS OVER FOR ME. Do not act like hypocrites when you live the fulfillment of My Warnings. Be disciples who do not sleep, who do not rest. Announce and denounce the masked antichrist so My People will wake up. You well know his malevolent plans against My People. His purpose is to possess what belongs to Our Trinity; he will think he wins it all, but I will arrive with My Legions and I will defeat the oppressor, the demonic invader.
Delve into My Word; you do not know Me in depth.
Pay attention to My Mother; this is why I gave Her to you at the foot of My Cross of Glory, Majesty, Blessing, and Plenitude.
I BLESS YOU, CHILDREN, BE OBEDIENT, ADVANCE TOWARDS ME SO THE SON OF PERDITION WILL NOT FIND YOU AWAY FROM ME. I SHELTER YOU BECAUSE YOU ARE THE APPLE OF MY EYE. DO NOT MOVE AWAY FROM ME.
AT THIS INSTANT I BLESS WHO READS MY WORD WITH FAITH AND LOVE.
My strength be your strength…
My Love be your love…
My Love for My Father's Will be your love for Our Pleas. My Mother blesses and protects you.
I Love you.
Your Jesus.
HAIL MARY MOST PURE, CONCEIVED WITHOUT SIN.
HAIL MARY MOST PURE, CONCEIVED WITHOUT SIN.
HAIL MARY MOST PURE, CONCEIVED WITHOUT SIN.