Thursday, October 8, 2015
Message Given by the Most Holy Virgin Mary
To Her Beloved Daughter Luz De María.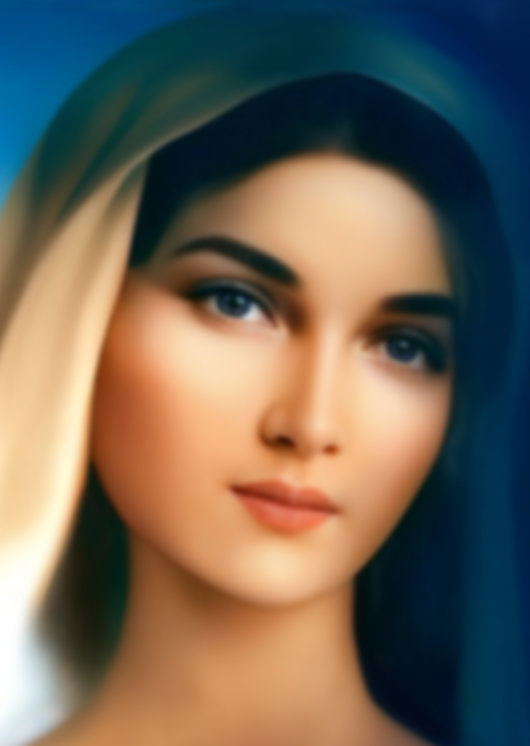 Beloved children of My Immaculate Heart,
MY MATERNAL BLESSING REMAINS OVER EACH ONE OF YOU.
My beloved, at this instant My Son's People must dedicate themselves to pray with force, with faith, with great fervor. The assurance that your prayers are heard must have firmly and permanently taken root in you.
I DO NOT WANT HASTENED PRAYERS. FROM EACH OF YOU I WANT PRAYERS FROM THE HEART for each of you and for humankind in general. Each instant, great dark clouds fog-up mind, thoughts and will of the politicians who are prepared to go to war. My Maternal Heart suffers for it; I am in pain for the innocent who suffer, for each human creature sacrificed to an ideology.
My children, just like in the past when Christians were taken to be devoured by lions, so it is now; at this instant many Christians are crucified by the hands of their own brothers. The Christian who complies with the Divine Will is feared, they can take away his body but they will never erase his Faith, and his soul will rejoice together with My Son. This is why the Christian is feared, because he is the son of the King of Heaven and Earth and, although it appears as though evil is winning, the Christian does not deny his Faith. My Son will arrive, with power and majesty, to rescue His People purified after passing through the fire of the crucible; then they will wear white robes and will live in total and complete peace, but that will be after the Great Tribulation. You must prepare yourselves for this at this present instant and not at another instant.
MY BELOVED, YOU ARE LIVING THE BEGINNING OF THE GREAT TRIBULATION.
Each instant that goes by is an instant closer to the harshness that humankind will live caused by those who do not have My Son in their hearts and despise Him. Pray for them, My children, clamor for them so they will convert.
REMAIN UNITED; THE PATERNAL HOUSE HAS NEVER ABANDONED YOU. Through the faithful instruments, the Father's House announces all that is coming so humankind will have the opportunity to repent, to change their lives and act and work in Divine Will.
My children, there are human creatures who call themselves Heaven's true instruments, without asking for a change of life, without asking to remain in constant prayer—at this instant when all My children must pray—without asking to practice the true Christian life, pray the Holy Rosary, and receive My Son worthily prepared. Discern; IN HEAVEN AND EARTH GOD'S NAME IS ABOVE EVERY NAME. Those who do not insist on conversion, on being more of Heaven than of Earth, on taking off worldly rags, and on coming up trustingly to the Eternal Father and call Him "Our Father…" Those are not My true instruments. Those who do not call humanity to obey God's Law… those are not My true instruments.
MY CHILDREN, MY SON IS LIGHT AND TRANSPARENCY, AND MY SON'S INSTRUMENTS AND MINE REMAIN UNITED, and LEADING THEIR BROTHERS TO ONE UNIQUE CENTER: The Word that My Son and I transmit to humankind through them. This unique center proclaims union, charity, Faith, conversion, and being nourished by My Son. We also call you to acquire knowledge because a Christian who doesn't know My Son and who doesn't know Me is like Simon of Cyrene who was compelled to help My Son with the weight of the Cross; but he only does it to be seen by his brothers and not out of love for Me or to atone for what every man must atone.
My children, at every instant, a special mission is assigned to each instrument of the Paternal House. There is no instrument in whom all missions the Paternal House wants to transmit to His children come together With pain I see how they call each other false instruments, as if each wanted to attain the first place over all others, as if it were a social position, a political charge, or to keep a leading place before a group of followers. None of you, My children, must follow a man; you must follow My Son who IS WHO HE IS. No man must call himself Heaven's favorite; Heaven must call him favorite. THE ESSENCE OF ALL CALLS IS ONE: THE CALL TO CONVERSION, TO UNION, TO BE TESTIMONY OF THE ACTS AND WORKS OF MY SON, AND TO SHED LIGHT ON THE MINDS OF YOUR BROTHERS to help them gain knowledge of what they still don't know, maybe due to voluntary ignorance or to involuntary ignorance for not having been extensively taught.
The man of this instant must keep his mind open to receive My Son's Word and Mine; he must remain with his mind open and attentive to the signs of this instant, because everything you must see and know is not over yet.
Beloved children of My Immaculate Heart,
THIS GENERATION'S DESTINY LOOKS DARK AND, AT THE SAME TIME, GLORIOUS FOR THOSE WHO WALK TOWARDS THE "LAND FLOWING WITH MILK AND HONEY."[60]
War is coming with giant steps in double time, and with it, My Son's Church will be purified and will stagger; it will be fiercely attacked. Reform must never touch what the Heavenly Father has decreed, like the Commandments of His Law. The Sacraments are fruit of God's Love so His Holy Spirit will grow and spill in abundance on and within the human creature; therefore, you must not go against the Word of the Eternal Father. He created man and woman so they would become one flesh[61] in the Sacrament of Matrimony.
Humanity's madness has penetrated the abyss because at this instant the devils remain over humanity to take the souls to perdition. But man is not satisfied with what he knows; man, with the desire to experience the unknown, has come to completely decay in his essence, in his values, and, above all, in all that is moral.
Beloved children of My Immaculate Heart,
I make a Motherly call to you, parents, so you will warn your children of the dangers that exist in what is mundane, the dangers that come from momentary pleasure. I call you. I know how difficult this is when most of the children do not come near My Son and live in the worldly current to stay in tune with society, even though it's against their principles; but I call you. And with this call you participate of the latest news of debauchery and disrespect.
WHAT EXAMPLE IS SET FOR THE CHILDREN BY PARENTS WHO LIVE IN THE GIBBERISH OF THE
WORLD, IN THE GIBBERISH OF ALCOHOL, OF DRUGS, OF UNCHECKED SEX…
WHERE THERE ARE NO VALUES WHATSOEVER AND WHERE MY SON DOES NOT REIGN BECAUSE HE HAS BEEN RELEGATED TO THE LAST PLACE?
But there are so many human beings, so many men that I hear blame My Son for their diseases, or fatalities in the families, and they blame Him and detest Him even more!
This is the hubris that satan himself instills in the souls so they will detest My Son and join the files of satan who has prepared the stage for the antichrist.
Beloved children,
Misused science has penetrated the pharmacological industries so these will dare create vaccines contaminated with viruses so human beings will carry death or diseases with them.
My children, why do you feed and continue to feed on the garbage with which the great transnationals want to eliminate most of the world population? You are the great experiment of the large food industries. DO NOT ALLOW IT. YOUR BODIES ARE TEMPLES OF THE HOLY SPIRIT AND YOU MUST PROTECT THEM AND TAKE CARE OF THEM, NOT ONLY WITH GOOD CHRISTIAN BEHAVIOR, BUT ALSO WITH A CORRECT AND HEALTHY NUTRITION.
Beloved children of My Immaculate Heart,
I have been calling you throughout the history of this generation to be Light for your brothers, but a majority of you are darkness and nauseating gloom for them. The ones I love run away from their countries, and in that fleeing, the innocent—that I love most—suffer so much! And yet you continue to ignore that, for years, thousands and thousands and thousands of innocents silently die from starvation in Africa, in India, and in many other countries of the world.
MY CHILDREN, DO NOT ALLOW THEM TO EXPLOIT LITTLE CHILDREN; DO NOT ALLOW THE FILM
INDUSTRY TO FINISH UNDERMINING THE MIND AND THE PSYCHE OF LITTLE CHILDREN AND ADOLESCENTS to finish their wicked and criminal work because for many years they have been preparing your children to be guerilla fighters, combatants, soldiers, and to look at life with disdain so they will be cruel to exhaustion, without any fear or resentment, and without any remorse.
My children,
HOW HAVE YOU ALLOWED THE FILM INDUSTRY, WITH ITS MEAN TRICKS, WITH ITS POISONED
DARTS, TO DESTROY WHAT THE HEAVENLY FATHER CREATED TO LIVE WORTHILY ON THIS EARTH?
Some of you see the concentration camps of the Second World War with great amazement, but you should turn your gaze towards your own homes where you have been the torturers of your own children by allowing the television to continue to be the concentration camp by means of which the large film industries have instructed and prepared your children so that at this instant they will join those who bring terror to the whole world.
Beloved children, pray for France; it will be shaken by terrorism.
Pray for Rome, My children; terrorism lurks and will deal a mortal blow. Pray, My children, pray for Chile and for the United States.
VERY SOON THEY WILL BEGIN THE OBLIGATION AND THE IMPLANTATION OF THE MICROCHIP SO EACH ONE OF YOU WILL ACCEPT IT. YOU KNOW WELL THAT THIS IS SATAN'S SEAL[62], through which they will not only follow your steps and control your social life, but also your economic aspect, and even your mind, so that, even if you interiorly want to pray, you will not be able to utter one word of prayer, you will not be able to ask My Son for help.
Beloved children of My Immaculate Heart,
At this instant you must remain prepared…
You must constantly keep the ardent and fervent desire to belong to My Son, despite what you see and the discouragement you may feel.
My Son's Church will be shaken but not defeated. Woe to those who see these instants as far away, because they truly are closer to you than at any other instant!
My children, look at the whole world and mark the countries where the rulers are communist, mark where the rulers are freemasons or illuminati. These are the ones who deliver you into satan's claws so you will be lost…
You ignore the truth, the inside objective in the fight in which the nations participate at this instant with false alliances, and soon the same nations will become enemies of one another. They hide the real reasons of this instant behind the scenes so you will think that, behind the defense of a People, there is a great purpose and a great love. This is not true, My children, and when the bear awakens he will give you great pain indeed. No wolf will show his true skin until the last instant when he will take off the lambskin to appear as he truly is.
My children, love My Son, pray so I continue to help you. Love one another and beware of those who have criticism and rancor on their tongues.
My children,
A COMET WILL COME TO EARTH AND WILL CAUSE THE THREE DAYS OF DARKNESS WHICH I HAVE ANNOUNCED SO MUCH. Three days during which you must remain at home; keep the windows sealed so the light from terrible thunder and lightning, falling from above, will not harm you, because behind the thunder and lightning, the devils will kill a large number of My children, and I, with great pain, will shed My tears over them.
My children, it is necessary that you:
Wake up…
Rekindle that first love for My Son…
Comply with the Divine Will…
Be humble to accept the Advice and Calls of this Mother.
AS AT EVERY INSTANT MY SON HAS SENT HIS HELP TO SPEAK WITHOUT FEAR TO MY SON'S PEOPLE. SO THIS PEOPLE WILL CONVERT. THIS INSTANT IS NO DIFFERENT. MY SON WILL SEND ONE HE LOVES WITH SPECIAL LIKING TO ENCOURAGE MY SON'S PEOPLE DURING THE MAJOR AND GREATEST INSTANTS OF TRIBULATION OF THIS GENERATION. For this reason, delve into the Reading of the Holy Scripture so you will possess all the knowledge needed to be able to discern between good and evil.
My children, I will permanently remain next to each one of you, and the Legions assigned to My charge will be the ones to help My Son's People and to create once more the Great Rainbow with My children's conscious Love repentant for the very serious offenses against their brothers and through which they have gravely offended My Son.
Beloved children of My Immaculate Heart,
Walk in peace every instant; do not try to hasten the pace of the Divine Will because everything arrives at the precise instant for your own good. Love one another. I love you and I keep you in My Immaculate Heart.
Remain alert because a weapon will arrive, a weapon unknown by you, a weapon created by man that will cause great sores and ulcers on the skin of My children.
Man has come so low! But man can repent and retake the path of Truth. Children of My Immaculate Heart, come to Me and I will take you to My Son.
I love you. Remain attentive, extremely attentive; at no instant lose Faith and do not take other paths; come to Me and I will take you to the Celestial Fatherland.
I bless you and I bless your families, in the name of the Father and the Son and the Holy Spirit. Amen.
Mother Mary.
HAIL MARY MOST PURE, CONCEIVED WITHOUT SIN.
HAIL MARY MOST PURE, CONCEIVED WITHOUT SIN.
HAIL MARY MOST PURE, CONCEIVED WITHOUT SIN.