Wednesday, October 14, 2015
Message Given by Our Lord Jesus Christ
To His Beloved Daughter Luz De María.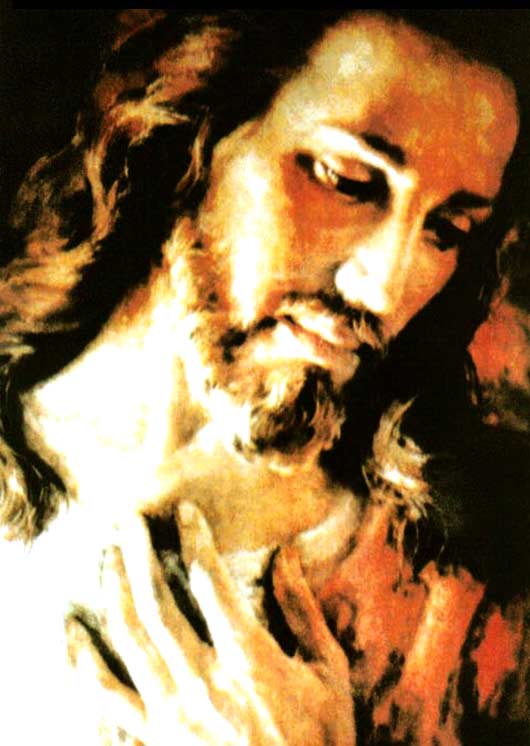 My most beloved People,
YOU ARE THE APPLE OF MY EYE; EACH ONE IS MY GREAT TREASURE… FOR YOU I GAVE UP MYSELF ON MY CROSS OF LOVE. I LOVE YOU INFINITELY… I AM WHO I AM[64].
My People, I want you to increase the Faith, to persevere, and to act and work concordantly. My People must have more Faith than they have at this instant so they can overcome the trials and realize that all I allow is for your own good because I want you to be perfected, because I do not want lukewarm children, I do not want children of instants that move in different directions where the wind may take them, as when the wind blows over a palm tree, but constant children. YOU MUST HAVE CLARITY OF MIND, OF THOUGHT, OF WORKING AND ACTING IN AGREEMENT WITH OUR DIVINE WILL.
Most beloved children, I constantly look at this generation and how they remain in the sway of what is modern and sinful, and even so they come to receive Me without awareness that I AM WHO I AM,77 they come to receive Me without the proper preparation, without asking for forgiveness for the faults committed.
My children,
IT IS NECESSARY FOR YOU TO STRENGTHEN THE FAITH; IT IS NECESSARY THAT YOU DELVE IN MY WORD SO YOU WILL NOT CONDITION IT TO YOUR WHIMS OR DISDAIN, BECAUSE MY WORD IS NOT SUBJECTED TO MY CHILDREN'S WHIMS. My Word is One and it is written; otherwise, if My Law were not permanent and eternal, what would become of My People if each one acted and worked in his free will?
My beloved People, I see how everything that reaches the life of each one of you makes you fall immediately… Where is the Faith you profess? Where is the Faith you claim to have in Me? If you call Me, do I refuse to help you?... But you do not call Me. You immediately let yourselves be defeated by the daily vicissitudes, and you sink like a boat taking on water; that is not true Faith. You are still very lukewarm because you have not truly understood the Call of which My children participate, the Call to live, work, and act in My Father's Will.
My children,
YOU ONLY LOOK AT YOURSELVES, YOU LOOK AT YOUR EGOS AND YOU FALL TO THE GROUND
MIRED IN THE MUD WHICH DOES NOT LET YOU GET UP; YOU CONSTANTLY COMPLAIN ABOUT ALL THAT HAPPENS TO YOU WITHOUT REALIZING THAT EVERYTHING I ALLOW IS FOR YOU TO MATURE EVEN MORE BECAUSE YOU STILL LACK TOO MUCH.
My People are being persecuted, but the worst is yet to come… and at these instants you are diminished by small trials, you lose your strength, your thoughts take away your peace and prevent you from coming to Me, you are worn out by any situation and do not pray because of the bitterness you carry inside of you. You cannot listen to My Words because you close your ears to painful circumstances. Those are not My children! That is not the Faith My People must have!
YOU MUST FIGHT TO INCREASE YOUR FAITH, YOU MUST KNOW ME SO YOU RECOGNIZE ME; YOU CANNOT COME INTO MY WILL CRASHING IN DISORDERLY HASTE AND CONFUSION. It's not that you are to put aside a concern, but be careful because satan, the enemy of the soul, makes it a point to take you and keep you mired in the mud so you will not be able to move, and thus delay your union to Me. How is a creature, in a state of perennial desolation and without letting Me help him, going to be able to get out of the mud and allow Me to clean him with the Water of My Love so he can continue on his way holding My Mother's hand?
The lukewarm will be spit out of My Father's Mouth…
I see so many who are lukewarm and keep swaying to and fro! When everything is favorable to them, they remain happy and they think they live in My Will; however, when not everything is favorable to their egos, they forget Me and move away from Me, and, just like deflating balloons, hurriedly bounce against all those around them.
NOT ALL THOSE WHO COME TO RECEIVE ME EVERYDAY LIVE AND FULFILL OUR WILL; HE WHO, IN THE DAILY SMALL VICISSITUDES REMAINS IMMOVABLE, SETTING AN EXAMPLE AND GIVING TESTIMONY THAT I LIVE IN HIM AND THAT HE HAS DONATED HIS WHOLE LIFE TO ME FOR ME TO GUIDE HIM AND TAKE HIM ALONG THE RIGHTEOUS PATH, HE LIVES AND FULFILLS OUR WILL. My children are action, they do not remain static, looking with indifference all that happens around them.
You do not see the birds of the field starve to death; I take care of them… How could I not take care of My children's situations? I give to each one according to his measure so he will mature soon because we are at the verge of the instant of desolation. I cannot do anything else with My People if they do not hasten the pace to grow in righteousness and so be able to encounter and overcome all that happens.
I see so many defeated and unhappy human beings who do not see beyond what is right in front of their eyes… I see so many who call themselves Christians and they still do not understand the mission I have entrusted to them. All My children, all of My People are a Missionary People and they must serve and help one another; but they still do not understand the meaning of the mission: LOVE.
I have addressed some souls in particular and I have charged them with high Missions, and they still look at them from a distance because their human will and free will lead them away from fulfilling My Will.
My beloved People, the persecution will continue and will get worse. My People will suffer the harshness of their brothers.
AT THIS INSTANT HUMANITY HANGS BY A THREAD JUST LIKE HAIR ON THE HEAD: AT ANY INSTANT A HAIR CAN FALL.
The great powers that think they rule humanity provoke one another, and this will cause a fatal outcome. Man is not aware of the harshness of war; man is not aware of the doom and destruction that would come to mankind with the use of nuclear energy.
Man creates absolutely nothing that he will not use for better or for worse. The use of nuclear energy by science is the great desolation of My Heart. Humanity will suffer greatly without looking for it, without wanting it. When a power finds itself economically weakened, it raises war. You are not looking at a ghost, you are looking at war, and the suffering will be stronger and its harshness will become generalized.
I INVITE YOU TO PREPARE SOME HERMETICALLY CLOSED FOODSTUFF—WITHOUT
EXAGGERATING—TO KEEP IN YOUR HOMES. Prepare without exaggerating because I will have My Angels multiply what each one possesses according to his possibilities; and to those who have nothing I will give Manna from My House if necessary; I do not abandon My People ever.
Children, so much blood continues to spill without any mercy! And that blood clamors for violence to stop. Blessed are those who, invoking My Name, have shed their blood!
You must open your mouth to adore Me, to declare My praise, to call Me: Abba Father! Do not open your mouth to utter improper words; do not open your mouth to bring pain to your brothers; do not use the Gift of speech to hurt somebody when he is down. YOU MUST BE CHILDREN OF LOVE AND NOT USE VOCABULARY THAT OFFENDS ME, WORLDLY VOCABULARY THAT I CONSTANTLY HEAR REPEATED TIME AND AGAIN.
Woe to you, woe to you who hurt My little ones!
Woe to you who hurt My instruments consciously!
Woe to you who act against My People; My People are those who remain faithful all over the world!
My children,
WALK AS YOU PREPARE YOURSELVES AND GIVE TESTIMONY, IN THE SMALL DAILY DETAILS, THAT YOU DO COMPLY WITH MY FATHER'S WILL.
Remain faithful to My Word; My Word is not subjected to man's condition; do not forget it. My Church will be shaken but not defeated; this is necessary, everything must be purified. I need to seize My Church from the hands of those who work and act against My Will so they will not deviate it even more.
My Priests have been called to live in austerity, not in great luxury, or in great banquets; not in great palaces like the Pharisees. You, My children, do not contribute to their non-compliance of My Orders.
My People, pray for the United States; it will suffer greatly because of the stubbornness of its ruler and at the hands of those who use terrorism to exterminate their brothers.
Pray for Chile, My children; the land will continue to shake and they will suffer greatly. Pray for one another because war comes relentlessly.
However, delve even more in the knowledge of what I say to you, so you will not be interested in investigating what they offer you making it seem to be good before your eyes, because not everything that they tell you is good, is good for you. Not everything is good for the soul. At this instant humanity lives in satan's disguise.
DO NOT FORGET THAT THE MICROCHIP IS NOT AN INVENTION OF MAN TO HELP MY PEOPLE. IT IS USED TO STEAL THE CAPABILITIES OF THE CREATURES AND TO MAKE THEM PLACE THEMSELVES IN THE HANDS OF THE ANTICHRIST. The antichrist is already on Earth and stealthily directs the nations while being the greatest persecutor of My People, the flogger of My People, the one who will rejoice in My children's pain; but do not be afraid because I AM WHO I AM [65] and My Angelic Legions will protect all those who are faithful to Me.
Each instant is an instant of conversion. You are not completely converted, and the trials are trials, and they bring to reality what the creature really keeps deep in his heart.
My beloved, pray for your brothers, give testimony of the love you possess.
WOE TO THE CREATURE WHO DOES NOT KNOW HOW TO LOVE BECAUSE HIS FREE WILL HAS
NOT ALLOWED HIM TO ENJOY MY LOVE OR THE LOVE OF HIS FELLOW MEN—WHICH IS MY LOVE EXPRESSED THROUGH HIS BROTHERS!
I INVITE YOU TO OPEN YOURSELVES TO MY LOVE SO YOU WILL KNOW ME, TRULY KNOW ME.
Pray, My children, pray for Venezuela. This My People will continue to suffer greatly.
My People, why do you voluntarily carry heavier crosses than the ones I have given to each of you? Each of you makes your cross heavier; with your free will, with the human ego, you make your cross heavier, so much so that you fall because you cannot bear it anymore.
I WANT MY PEOPLE TO BE COURAGEOUS IN THE FAITH… I WANT MY PEOPLE DETERMINED TO GIVE IT ALL IN ORDER TO ENJOY THE ETERNAL LIFE THAT I OFFER YOU.
I love you, My children, I love you so much that I will continue to alert you. You must be prepared; there is a disease that will advance and affect directly My children's skin. This is a weapon they have created in laboratories to be launched and attack man directly at the instant when war recrudesces.
How much evil man commits when he lives his free will and allows to be controlled by it!
My beloved, do not be afraid; at the precise instant, My Mother will give you what is necessary for you to combat all that man will create to harm you, but you must remain faithful and fighting every instant of your lives.
I WILL NOT ABANDON MY PEOPLE; I WILL SEND HELP SO THAT, WITH MY WORD IN HIS MOUTH,
HE WILL ENCOURAGE YOU AND INCREASE YOUR FAITH WHEN YOU, MY PEOPLE, THINK YOU FALL.
Pray, My children, so My Will, Our Will, be done, and no human creature interrupt it.
Most beloved children,
MY LOVE IS IN FRONT OF YOU, GIVE ME YOUR HAND AND POSSESS THIS MY LOVE.
I CONSTANTLY LOOK AT YOU AND I CONSTANTLY BLESS YOU; I ILLUMINATE THE PATH SO YOU WILL NOT WALK IN THE DARK, BUT YOU MUST WANT AND ACCEPT MY HELP.
I AM WHO I AM[66] and, although My People may seem to be defeated, they will never be defeated, and it will be at that instant when they will be most glorious and triumphant.
My Love, My Blessing is in each of you: In the Name of the Father and of the Son and of the Holy
Spirit.
Your Jesus
HAIL MARY MOST PURE, CONCEIVED WITHOUT SIN.
HAIL MARY MOST PURE, CONCEIVED WITHOUT SIN.
HAIL MARY MOST PURE, CONCEIVED WITHOUT SIN.