Saturday, October 17, 2015
Message Given by the Most Holy Virgin Mary
To Her Beloved Daughter Luz De María.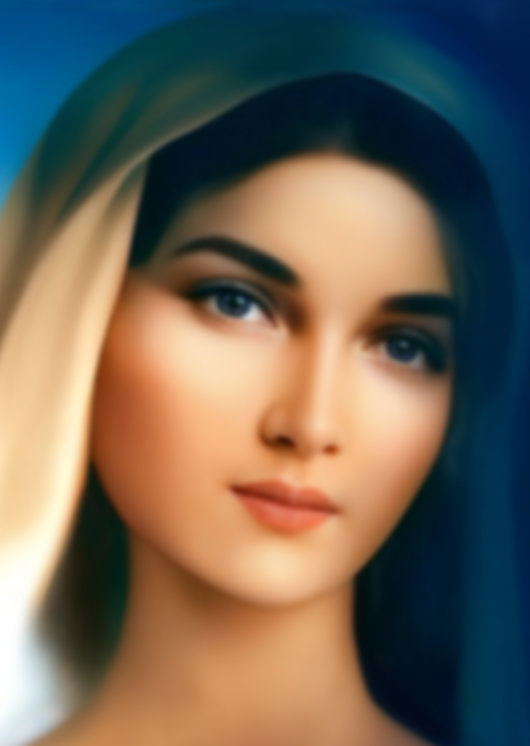 Beloved children of My Immaculate Heart,
I SEND MY BLESSING TO EACH ONE OF YOU, CHILDREN OF MY IMMACULATE HEART.
My Heart is Ark of Salvation; I do not exclude any of those who are Mine. My Heart is always thirsty for the love of all those who adore My Son. I am the Mother of all humankind.
Beloved children,
MY HANDS ARE EXTENDED TOWARDS YOU, CHILDREN; I WAIT FOR YOU SO I CAN INTERCEDE FOR EACH ONE, AND I INVITE YOU NOT TO DECLINE IN YOUR PRAYERS.
THE HOLY ROSARY IS A STOP TO EVIL. THE DEVIL RECOGNIZES THE BLESSINGS MY CHILDREN RECEIVE WHEN THEY PRAY THE HOLY ROSARY.
Continuous prayer is a downpour of blessings for your brothers; prayer multiplies itself and reaches the neediest souls so they will convert. Put into practice, each prayer and the Divine Word are powerful assistance that testifies to what the human creature lives in his interior: The Love of My Divine Son.
Beloved, the anger and the power struggle for control of all mankind continues. This is a latent danger for My Son's People throughout the world. Mankind does not deliberate the danger of World War III, although, since several instants ago, I have mentioned that the war would start because of a small country.
Men have become so hardened that even the Angels are amazed when men remain inactive while the great powers prepare for war. The great powers are responsible for the continuous path of retaliation, exhaling repressed fury that waits to be liberated to attack My Son's children.
This instant when technology and progress in every field where man acts are advanced, the spiritual setback in human creatures is unstoppable in light of the licentiousness of the souls that give themselves to debauchery and immorality, renouncing My Son and giving themselves to the devil.
My children,
THOSE WHO CALL THEMSELVES OWNERS OF THE WORLD—GROUPS OF POWERFUL FAMILIES
AND FREEMASONRY—TAKE HUMANKIND TO THE EXPECTED WAR
TO HASTEN THE PRESENTATION OF THE ANTICHRIST TO THE WORLD.
The alliances between nations will be betrayed and the Bear will take over the power to lead the invasion of Europe amid signs in the sun and the moon that My Son has allowed for His People to wake up, but since His People do not wake up, the earth cracks here and there, and shakes in a country and another. Even land that had not trembled will be surprised.
On repeated occasions the sea will hurl itself on the land, thus increasing human suffering when men will not be able to help one another. My children will suffer. Because of the fallen economy, famine will be the reflection of man ceasing to be man, furiously fighting for survival.
I AM SCORNED; THEY DO NOT WANT TO HEAR MY CALLS… DISOBEDIENCE CONTINUES AS
RUSSIA HAS NOT YET BEEN CONSECRATED TO MY IMMACULATE HEART (1)
AND, BECAUSE OF THIS, LABOR PAINS ARE INITIATING MANKIND'S SUFFERING, WHICH I HAVE REPEATED TO THIS GENERATION TIME AND AGAIN.
My children do not heed My Calls and refuse to know My Son in the Holy Scripture; and without the knowledge of My Son's Word, with sincere and humble heart, they continue to be fools, fools who deny what they do not know, and hubris can make them fall prey to satan's deception.
MY SON'S SLUMBERING CHURCH DOES NOT PREACH THE GREAT WARNING (2) AS AN ACT OF MERCY OF MY SON; INSTEAD, THE WARNING IS REJECTED AND DENIED. FOR THIS REASON MY SON ALERTS ABOUT WHAT WILL HAPPEN THROUGH HIS INSTRUMENT even though her own brothers deny the truth of My Calls.
I AM A MISSIONARY MOTHER; I CALL AND ALERT; I COMMUNICATE AND EXPLAIN FOR THOSE WHO HAVE EARS TO HEAR AND CONVERT.
Beloved children of My Immaculate Heart, the instant shortens before the indifferent gaze of humanity which is surprised by the Divine Will that has not been heard.
The earth will burn the way dry hay in the sun burns. The fire will burn, the fire that man feeds with his great ignorance which has led him to deny the existence of evil, and for hiding the Truth, for living immersed in worldly distractions that confuse and make man lose his way. When evil operates on man's thoughts, he uses the inappropriate ideas and behavior of the same human being to inspire man to act evil and work evil.
Beloved children, satan knows he must not waste an instant, so his demons hurl themselves over humankind because they are aware that they have little time left to take men to perdition.
CHILDREN, LISTEN TO ME! ACTING AGAINST THE DIVINE WILL OPENS THE DOOR TO SATAN SO HE CAN COME INTO THE LIFE OF THE ONE WHO ALLOWS IT.
DO NOT ALLOW IT! STOP, REPENT, AND RETURN TO MY SON!
About God's People, keep in mind that "My people are destroyed for lack of knowledge." (Hosea 4:6) Knowledge provides authority so you will not fall because of ignorance. One who falls and has knowledge acts against the Divine Will, therefore he must subdue his evil inclinations because he doubly offends My Son.
Beloved of My Immaculate Heart,
Pray for Spain; it will suffer at the hands of men.
Pray for Japan; it will be shaken.
Pray for the United States; it will be shaken. Pray for England; it will cry.
Beloved children of My Immaculate Heart,
The instant shortens. I have given humankind so many warnings! … ONLY A FEW COME TO ME; THE
REST GO AWAY OUT OF FEAR, AFRAID THAT MY WARNINGS WILL BE FULFILLED; SATAN TAKES ADVANTAGE OF THIS TO LEAD MORE TO PERDITION. I DO NOT BRING FEAR TO YOU; I CALL FOR PREPARATION AND FOR KNOWLEDGE SO YOU WILL NOT REMAIN IN IGNORANCE.
Love one another as brothers…
Do not forget that My Son will separate the wheat from the weeds…
Do not destroy one another; My Heart aches for it…
Do not be the ones who do not love their brothers and have forgotten the precept of loving your neighbor…
EACH ONE IS A MISSIONARY OF PEACE;
ONLY THOSE WHO ALLOW THEMSELVES TO BE TRAPPED BY EVIL POISON THEIR BROTHERS' HEARTS.
My children, pray; the Etna volcano will be grounds for alert.
Unite, respect one another, do not hurt My Son.
My Heart, Morning Star, lights the way of all men. Come to Me so I can guide you to My Son.
Every instant My blessing remains in each of My children. I love you.
Mother Mary.
HAIL MARY MOST PURE, CONCEIVED WITHOUT SIN.
HAIL MARY MOST PURE, CONCEIVED WITHOUT SIN.
HAIL MARY MOST PURE, CONCEIVED WITHOUT SIN