Tuesday, October 20, 2015
Dialogue of Our Lord Jesus Christ
With His Beloved Daughter Luz De María.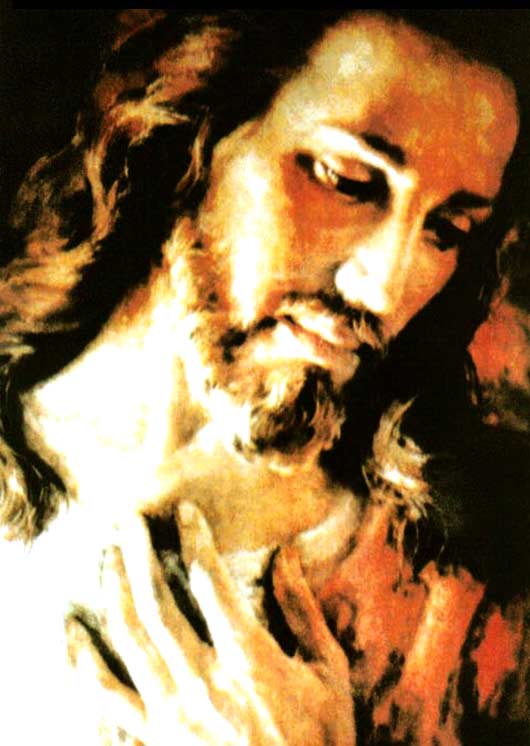 Christ:
My beloved People,
PROMPTLY I CALL AGAIN SO THE INSTANT WILL NOT BE WASTED.
LIKE THE DAWN SHOWS TO BRING LIGHT AND OVERCOME THE DARKNESS, THUS I BRING YOU MY WORD SO IT WILL BE THE BEACON THAT WILL DIRECT YOU TO ME; DO NOT GET LOST AT THIS CONFUSING INSTANT.
Luz de María:
My Lord: There is so much violence in the world and man continues to ignore it!
Christ:
My beloved, they live in the midst of earthly powers which are not transparent, they do not move in search of humanity's wellbeing, they seek political power.
My beloved, political and economic power lead humanity to a continuous struggle to steal your freedom which I have given you with My Sacrifice on the Cross. My children hurl themselves participating in what is not real; the mask of the ultimate interests is so subtle that humankind cannot decipher it.
Beloved children, you hear the information they choose for you; the truth is postponed so humankind will not react against the great powers that, with dehumanized acts, kill My children.
Luz de María:
My beloved Lord, men are divided by taking sides with the most powerful nations without concretely looking at the great danger posed by war with nuclear weapons.
Christ:
He who will seem protector of the people will be humiliated before all humankind. Conflicts increase and they enlist the small countries which, without thinking it twice, join the premeditated game of those who remain as dictators and owners of humankind. These are the powerful families that have stayed together with one single purpose: Institute a single government, thus initiating the unification of religion, education, economy… and preparing humankind for the arrival of the one that will flagellate My children.
THE ANTICHRIST IS IN THE WORLD AND STEALTHILY EXAMINES THE STAGE WHERE MEN MOVE AND SET ALL THAT IS NECESSARY UP FOR CHAOS TO BECOME GENERALIZED and for his arrival to be taken by My People as an act of salvation when they are immersed in suffering at the hands of terrorism, war, strife, and famine which will be a specter that will pass amid My children, taking men to despair and to be wilder than animals. When facing famine, man is not man.
THE EARTH, BEQUEATHED TO MAN BY MY FATHER, HAS BEEN THE OBJECT OF ABUSE WITHOUT MEASURE AND IS IN AGONY. Man does not cultivate the land; instead he destroys it to build large buildings, and this is part of the plan of construction en masse offered to humankind by the antichrist as solution; but this is not the solution, it is another door for My children to continue to be against each other, and millions of deaths will occur throughout the planet.
The man of this instant mostly ignores the evil that nuclear energy generates; this is why he looks at it with disdain until it comes to his door and shows man's lethal creation demolishing everything in its way. In seconds, one nation will be left without inhabitants.
Luz de María:
Christ, You suffered for Your children; how much harm has Creation suffered by human hands!
Christ:
My beloved, man has not given good accounts of the administration of all that was given to him for his own good. The earth will crack open before your surprised gaze, you who refuse to convert and reject My Love.
Pray, My children, the earth will shake until it breaks.
Pray, My children, Japan will be swallowed by the sea.
Pray, My children, the Western United States will be immersed in sea water.
My children, the tired earth will fracture and the geography will change; pray for Europe.
NOTHING MATERIAL WILL GIVE MAN HAPPINESS; NOTHING MATERIAL WILL SATIATE MAN …
The Eagle has boasted power …
The Bear with generosity pounces on the small city and, advancing in partnerships, will increase his strength and will expand and cause pain …
When the Dragon awakens, mercy will not be mercy …(*)
The peace that man negotiates transforms into violence. Israel will ache at the hands of terrorism and, by reacting hastily, it will attract suffering.
Luz de María:
Lord of Mercy, men are so ignorant when they disdain what You have said about acting and working to stop the advance of evil!
Christ:
My beloved, man grows in knowledge, and this is good when knowledge is not used to do evil, but at this instant, man is the cause of his own destruction with fierce violence, ignoring My Love and My constant Calls to prevent the advancement of evil.
My People,
THROUGH WILES THE DEVIL HAS POURED IGNORANCE ON HUMANKIND, IGNORANCE THAT HAS TAKEN HOLD OF YOU SO! Ignorance has overcome humankind so much that man no longer thinks, no longer reasons; he only lets himself get carried away by the crowd.
I see man that, amid great technology, is ignorant of his own volition; he does not delve in the knowledge of his surroundings and, because of this mistaken action, man has fallen in a great precipice.
MAN YIELDS IN FAVOR OF THE ONE WHO CONTROLS HIM BY DOING EVERYTHING
THE CONTROLLER WANTS AND, DUE TO HIS IGNORANCE, MAN ALLOWS
HIMSELF TO BE CONTROLLED; AND IT WILL BE THIS GRATUITOUS IGNORANCE WHAT WILL TAKE HUMANKIND TO BE A SLAVE TO THE SPAWN OF SATAN.
My children, in view of this massified ignorance there are no distinctions of class, titles, academic degrees, or age; there are no social positions. This ignorance has been evil's great strategy: Override the desire for knowledge and increase ignorance in humankind in order to easily subdue them and make them see good where evil reigns, and not to see evil where evil has already taken over the power.
Luz de María:
Lord, Your People, besieged by evil at every instant, continue loving ignorance, probably thinking that if they are ignorant, they have less responsibility …
Christ:
My beloved, everybody will appear before Me, and I will toss the weeds into the fire, the weeds that were ignorant of their own volition or for convenience. In My Second Coming, My Justice will give to each his reward. Before My Second Coming, My Mercy comes to this generation in the form of the Great Warning, which you already suffered and of which you must give testimony, because there will not be a single act that will escape My Justice.
The one who is voluntarily ignorant is the most lukewarm; he rejects knowledge in order not to be responsible for his wrongdoings. The one who knows and acts as ignorant is an even greater sinner than the one who is voluntarily ignorant.
I call My children to know Me, to delve in Me and they will not be deceived by the pharisees of this instant who tend to other practices that are not those of My Will.
HE WHO DELVES DEEP IN KNOWLEDGE IS AT THE SAME TIME LOVE IF HE INSTRUCTS HIS BROTHERS TO COME OUT OF IGNORANCE. My ministers are called by Me to bring My People out of ignorance so evil will not steal souls. The thing is that, without prayer, My ministers are like empty large earthen jars, they do not contain the wine of Wisdom and the lamp is not lit because they do not have the good oil.
My beloved, I call My People for them to minister and help one another. I call My faithful Priests, those who are driven away (1), to preach My Truth; I call them to remain vigilant to bring the explanation of My Word to your brothers and to be a constant practice of My acts and works.
My People, the clouds darken because of the rivalries among powers; humankind will suffer and will be purified. You, My faithful, will be persecuted, but My Cross is Sign of Victory over death, it is Sign of Resurrection forever and ever.
MY HELP WILL ARRIVE DURING THE CRUELEST INSTANTS AND WILL BE BALSAM FOR MY PEOPLE.
Go ahead, My beloved children, My Mother does not abandon you. Take nourishment from the Eucharist, do not falter, I do not abandon you.
DO NOT REJECT MY WORDS; SUFFERING IS NEAR, AND WITH IT, THE JUBILATION OF MY PEOPLE.
I bless each one of you, My People, I bless you so My Blessing be strength and you will not decline at any instant.
I Love you.
Your Jesus
HAIL MARY MOST PURE, CONCEIVED WITHOUT SIN.
HAIL MARY MOST PURE, CONCEIVED WITHOUT SIN.
HAIL MARY MOST PURE, CONCEIVED WITHOUT SIN.
1. Our Lord Jesus Christ mentioned all those faithful Priests that alert regarding the Calls from Heaven and, for this reason, are pushed away from their communities, and He encourages them to continue preaching The Lord's Truth.
(*) Eagle = U.S.A., Bear = Russia, Dragon= China