Monday, November 2, 2015
Message Given by Our Lord Jesus Christ
To His Beloved Daughter Luz De María.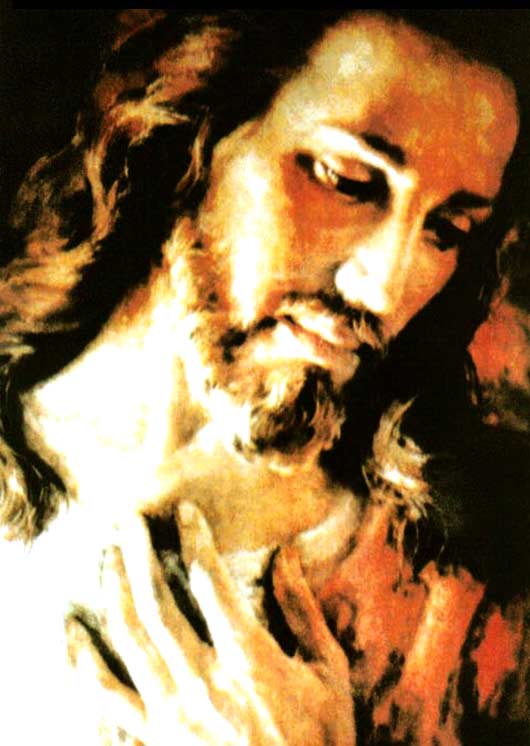 My beloved People,
EACH INSTANT MY MERCY KEEPS OVERFLOWING TOWARDS ALL HUMANKIND.
I constantly look at each human creature and I hope he will look at Me and ask for My help. I am respectful of man's free will and I patiently and painfully wait when I see them suffer because of their disobedience, their ignorance, their conditioning, and their rebellion.
My People,
I remain attentive to your requests, to your cries for help to get out of the mundane and sinful. I remain attentive so My Holy Spirit will give you the necessary discernment when you ask Me for it so you will not fall into what is not My Will.
My beloved People, the worldly current drags, pulls; it is a wave that keeps moving, touching My children's lives in every aspect until, at the most algid point, it takes you to rebel against Me and to yield to what seems easy but in the end will leave you in a spiritual abyss from which you can only get out by starting once again the path towards Me.
WITHOUT EVEN NOTICING, YOU GET INVOLVED IN WORLDLY MATTERS IN A CONSTANT COME AND GO OF SITUATIONS THAT ABSORB YOU AND COMPROMISE YOU. Sometimes some of those will seem good and you may think that they keep you close, very close to Me, but when My children do not make room for prayer, when they do not live that instant alone with Me, they leave because the human will pushes you towards what seems and could be good but distances you from those instants when the creature and his Creator must establish a dialogue. The creature must examine himself so My Holy Spirit will show him the way of Truth, and thus—and only thus—your acts and works will be the result of My Will and not of any human will.
My People,
EACH OF YOU IN PARTICULAR MUST REMAIN IN CONSTANT ALERT; EVIL MAKES YOU LONG FOR SOME THINGS OF WHICH YOU DEPRIVE YOURSELVES AND WHICH YOUR BROTHERS—WHO HAVE NOT MADE A COMMITMENT TO ME—ENJOY. Do not be sorry for this, do not regret this, because those who enjoy worldly things will have plenty to regret when they find themselves in undesirable situations of which, sooner or later, they will repent without setting aside the consequences.
My beloved, you know that I am Mercy and Justice at the same time… And as the Righteous Judge before all things created, they urge Me to allow them to act in order to wake up the souls, AND I CANNOT DENY THE OPPORTUNITY FOR A SINGLE SOUL TO BE RESCUED.
My beloved People, you do not pay attention to the signs of this instant when you must prepare yourselves with everything My Mother has requested for your own good.
An Apocalyptic Rider traverses Earth. My children suffer because of it; it is the result of rebelliousness, the result of wanting to modernize Me when I am the Eternal Present. What is new to My children is mostly the result of sin in which men get immersed and which attracts their attention and they feel complacency in what is illicit, and they feel disdain for what is licit to Me.
At the time of Noah, sin over abounded on Earth. This instant makes sin proliferate in a constant renewal so My children will feel fine when having one way or another to rebel against what is instituted in the Holy Scripture.
My beloved People,
IF I CALLED YOU TO MODERNIZE MY WORD, I WOULD NOT BE GOD;
BECAUSE I AM GOD, I KNOW MAN'S PRESENT, THIS INSTANT, AND IF I CORRECTED MY WORD,
I WOULD BE ADMITTING THAT I MADE A MISTAKE AND THEREFORE I MUST RENEW
WHAT IS WRITTEN SO TODAY'S MAN WILL BE PLEASED WITH HIS UNRULY, IMPRUDENT, AND ALTERED OR ANGRY ACTS AND WORKS THAT ARE OUTSIDE MY WILL.
My beloved People,
Earth continues to crack out of pain because man ignores what is spiritual…
The Sun will emanate a gust of heat so strong that it will greatly affect communications, the security systems of the world powers will be paralyzed… and humankind will see that My Creation does not find man in agreement with that Divine Tuning which man should keep with his Creator.
My beloved People,
DO NOT BE SATISFIED WITH GOING DAILY TO THE EUCHARIST; ALLOW ME TO
MOVE THE HEARTS, MINDS, THOUGHTS, ACTS AND WORKS THAT WILL TAKE YOU TO LIVE A TRUE COMMITMENT TO ME AND IN FAVOR OF YOUR BROTHERS.
My People enjoy sharing the Wisdom that is not stationed within the human creature, the Wisdom they can find in the actions of My Love, the knowledge of Me, and the reduction of your brother's suffering with the Hope of a better tomorrow.
My People live in anxiety and grief because of a Church that froze so as not to publicize these events that My Mother has prophesied throughout the whole Earth.
I CALL YOU TO BE PREPARED, I CALL YOU TO COME CLOSE TO ME AND TO LIVE THE PRACTICE OF MY WORD AS TRUE WITNESSES TO MY LOVE AND MY JUSTICE.
My People, I had already announced to you that war would rise from a small nation; that instant has arrived because of the constant rebellion of humankind, because of disobedience to My Law and contempt for My Will which is for the good of My children.
Climate changes tirelessly, climate is altered by man who, in his desire to be god, has touched the finest fibers of My Love, My Mercy, My Truth, and My Justice.
At this instant, the supply of weaponry to small countries is in a state of agitation, the drums of war increase their roaring amid a humanity that lacks a sense of reality where man has created weapons with which he can make humanity disappear.
ONE IS THE THINKING AND THE WISH OF MAN…
SOMETHING ELSE IS WHAT MY WILL WILL ALLOW AND NOT ALLOW…
Pray, My children; new volcanoes will emerge in unthinkable places.
Pray, My children; volcanoes become active. Pray for Italy.
Pray, My children; the earth will shake with force in several countries on the same day.
Pray for the United States, pray for Chile, pray for India, pray for Central America, pray for Japan.
Beloved, look at the Signs attentively; notice that the one who will raise the antichrist with most strength is already showing signs of his power, and leading brother countries to become his allies by means of a silent strategy taking advantage of the needs of the other countries.
THE UNIFICATION OF HUMANKIND INTO ONE SINGLE GOVERNMENT WILL BE THE THRUST WITH WHICH YOU WILL KNOW WHO WAS HIDING BEHIND THE SCENES.
My beloved People, I SUMMON YOU NOT TO BE INSENSITIVE TO MY WORD AND TO MY MOTHER'S WORD, you complain saying that My Prophecies and those of My Mother are not fulfilled… Man is so conceited! You should thank Me for not having suffered the oppression of a creature—relentless and without feelings—that will control humankind with whip and iron fist.
I LOVE ALL OF YOU, BUT THIS LOVE IS TRAMPLED ON BY A VERY LARGE MAJORITY OF MY CHILDREN; NOT ALL RECOGNIZE ME AS THEIR LORD AND SAVIOR.
At this instant, on one front and another, evil takes over humanity and leads it surreptitiously towards total control by a power born of the devil.
The ocean will be shaken and will hurl itself on the land in coastal areas of the State of Mexico after an earthquake of great intensity in Mexico.
HUMANITY, MY PEOPLE, WAKE UP! THE WARNING IS NEAR AND I WANT SOULS READY TO REPENT AND NOT HUBRISTIC AND DISOBEDIENT CHILDREN.
My People who understand Me, repair for your brothers, each one be a witness to My Love. I DO NOT MOVE AWAY FROM YOU; IT IS YOU THAT CONSTANTLY MOVE AWAY FROM ME. I protect you with My Most Precious Blood, which makes evil withdraw when My children recognize the value of My Divine Blood. I bless you, I Love you.
YOUR JESUS
HAIL MARY MOST PURE, CONCEIVED WITHOUT SIN.
HAIL MARY MOST PURE, CONCEIVED WITHOUT SIN.
HAIL MARY MOST PURE, CONCEIVED WITHOUT SIN.