Tuesday, November 3, 2015
Message from Saint Michael the Archangel
Given to Luz De María.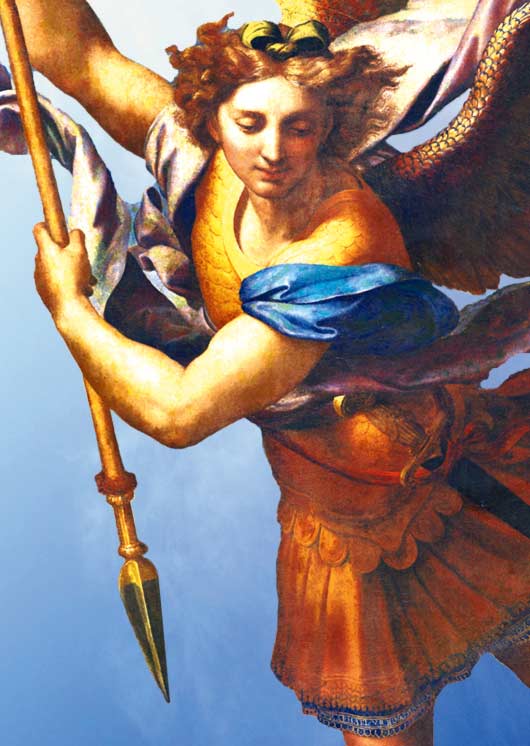 Beloved of Christ,
Man has become totally foolish; he believes he is self-sufficient at humanity's most algid instant when man is about to break the thread that, one way or another, has bound all men, God's creatures, in equanimity; and at this instant man is at an algid point—I repeat, algid—when man will enter the stage of the biggest disaster for this generation.
I, LEADER OF THE CELESTIAL COURT, COME TO CALL YOU WITH GREAT URGENCY TO A CHANGE IN ATTITUDE.
Man, son of God, cannot continue in that unbridled race towards all that he doesn't know; he cannot continue to fall into turpitude, because when spirituality falls into turpitude, it becomes heavy, and darkness prevents it from soaring again.
AT THIS INSTANT, WE, THE CELESTIAL LEGIONS FIND OURSELVES IN A CONSTANT BATTLE AGAINST EVIL; a relentless battle because the legions of evil are over all men to take them prey and tie them down with chains of sin so they will not feel the desire for conversion.
As Chief of the Army of God, I feel great pain when I hear preaching by some of Our Most Holy Queen's favorite sons: the priests, in which the existence of the devil is denied, because Our Celestial Armies fight instant to instant against those demonic legions that enter the mind, the thoughts, and invade man's intelligence and nullify it in order to fill man's heart with wickedness, bitterness, and desire of vengeance, awakening in man unthinkable acts and works. I listen and I realize how— through only one word that denies the existence of the devil or satan—human creatures give themselves to debauchery and thus fall in the traps of all that is sinful and offends Our King and Lord Jesus Christ.
At this instant, in order for man to remain true and faithful to Our King, it is necessary for him to know Our King, not through what other brothers say, not through what other brothers have experienced: IT IS NECESSARY FOR EACH ONE TO HAVE HIS OWN PERSONAL EXPERIENCE WITH OUR KING. The encounter of each creature with his Creator is necessary for the Faith to be invincible; on the contrary, a faith based on someone else's experience and on someone else's prayers is a faith of quicksand which will fall any instant and will not get up again.
Beloved children of the King, as Prince of the Celestial Armies, I must share with you that man has reached the maximum point of desire for power, and for this reason he will not think about his brothers and will rush into war. And rivers of blood will run throughout the world before a merciless man, a man eager to fight just so he can kill, torture his brothers, because those creatures—who will choose the path of force and sin—will persecute those whose souls are on the Right Path, Our King's Path.
Beloved of Our King,
You wish to be better and to take steps of Eternal Life. You will achieve this by defeating yourselves, by fighting against yourselves. This is the instant when you decide to knock down everything that prevents you from ascending towards a fusion with the Will of the Holy Trinity. If you continue to act and work just like you have done and continue to do at this instant, it will be difficult for you to know more, beyond what you see with the naked eye.
EACH OF YOU MUST BE DETERMINED TO MAKE A REAL CHANGE, A TRUE CHANGE; AND A GREAT DAMPER ON THE SPIRITUAL PATH IS YOUR TEMPERAMENT… OUR KING LEFT THE TEACHING OF A TEMPERAMENT OF PEACE, and as long as the human creature does not opt for this model of peace of Our King, it will be difficult for him to ascend and achieve a full life in the spirit.
HUMILITY IS NECESSARY and he who does not defeat himself, allows hubris to take him where it pleases, and it won't be to an encounter with his Creator. At this instant it is necessary for you to be messengers of love and peace. A hubristic creature, an arrogant creature, a loveless creature… is a creature who will find it impossible to achieve promptly an encounter with his Lord and King.
YOU HAVE FREE WILL; USE IT TO CONTROL YOURSELVES AND, EVERY INSTANT WHEN THAT
HUMAN EGO WISHES TO OVERCOME THE STEPS YOU HAVE TAKEN TO ADVANCE SPIRITUALLY, STOP AND DO NOT LET IT CONTINUE.
We are all over Earth because we want to calm Christ's thirst for souls. We are fellow travelers, we are God's messengers, our duty is not to abandon you. As it has been arranged by the Divine Will, each creature has a Guardian Angel. Given what is coming, we shelter each one of you with all the help from us in accordance with Heaven's request, so you will be able to conquer and transcend this world that constantly prevents you from living fully the joy produced only as a result of being faithful to the Holy Trinity and loving Our Queen and Mother of humanity.
Pray the Holy Rosary; Our Queen listens and intercedes for you.
Man combats himself, fights against himself, fights to stand out and to be first in every aspect. MAN IS DOMINATED BY HUBRIS AND BY THE BAD TEACHING OF MOST PARENTS WHO ARE PERMISSIVE WITH THEIR CHILDREN, AND THE CHILDREN DO NOT SHOW THEM DUE RESPECT. THE REBELLION OF TODAY'S YOUTH HAS BEEN KNEADED WITHIN THE HOMES WHERE THE CENTER OF THE HOME IS TECHNOLOGY AND THEREFORE THE TELE-VI-SION SET.
Parents do not attend to their children for constantly worrying about the programs of which they are faithful fans, and the children do not attend to their parents; communication in the families has been lost. The children use technology until the wee hours of the morning and this is why they do not do well in their studies and rebel as human beings, because misused technology constantly transmits to them violence, rebelliousness, strife, killing, shortage, deprivation, war, indifference, and competitiveness.
Beloved children of the King, at this instant, the homes are so misdirected! And satan takes advantage of this misguidedness to divide the families—parents against children, children against parents, brothers against brothers—because satan is the owner of division in which he takes great pleasure. In the families one can no longer hear concrete dialogue because every place is occupied with electronic gadgets. You, God's children, do not allow this to defeat you, that through the social networks you are being controlled precisely by those who act in favor of the antichrist. You have not noticed! At this instant man is totally controlled in his acts and works and therefore will easily fall prey to the antichrist.
Children of the Queen of all Angels and Mother of men, it is indispensable for you to return to be true, to stay on the right path, not to yield to evil, and not to deny God. You must be courageous, generous, active in the communities to take the Word of the Good News to all those who are on the wrong paths.
Great events happen on Earth; among them, a meteorite will fall in the sea and will cause a great tsunami in the Atlantic Ocean; several islands will be flooded and a large number of your brothers will perish forthwith.
Change at this instant! Do not wait until tomorrow! Be new creatures who act and work knowing that time belongs to Our King and not to man, and when man expects or trusts there is plenty of time, maybe at that instant is when he has the least time. Man waits and does not change, he cannot correct his path if it isn't through true repentance, and true repentance means acting and working in the likeness of Christ.
There are charitable, kind souls who love their brothers, but deep in their hearts what prevails is arrogance, a desire to stand out and, above all, a domineering temperament that controls all those who come near them. Temperament is a blessing because it forms the creature, but, at this instant, it is necessary for the creature to mould his temperament and to deliver it into Divine Hands and into the Hands of Our Queen so, by means of the crucible of life, They will take him to be a new creature filled with peace and love.
Children of the King, hurry, do not waste this instant because those who are repentant during the Great Warning will be the ones who, after the Warning, will continue, with determination, the steps of the Master; but those who over abound in hubris at the time of the Warning, after the Warning, will rise against their brothers and will make your crosses bloodier and heavier.
It is of the utmost importance, children, that you pray for Indonesia, because besides the shaking of its land, fire will come out from the volcanoes and cause great misfortune for man.
Do not forget that the sun is a sign of life and welfare for man, but at this instant, that same sun rebels against man's wickedness.
THE HISTORY OF HUMANKIND IS A HISTORY OF LOVE AND MERCIFUL OPPORTUNITIES FROM THE KING, but men of this generation have taken advantage of the Divine Mercy to abuse that Mercy, and then Christ comes on His steed to purify His People before they are all lost. Our King allows His children to be purified so their souls will not be lost.
Beloved children of Our King and Our Queen, war will come sooner than you imagine; do not forget it; keep it in mind without forgetting that the Divine Mercy will remain with each of you; however, likewise, the Divine Justice also remains and will remain with each of you.
PAY NO ATTENTION TO THOSE WHO DENY SIN, HELL, AND EVIL, BECAUSE THEY WILL DRAG YOU INTO ETERNAL FIRE.
Our Queen and Mother of all Angels intercedes for all of you, and Her Son Jesus Christ has ordered Her to command Our Legions so She will be the One to crush satan's head and chain him in the abyss so he will not be able to seduce the nations and will not continue to create snares among men.
The blood of the King's children will spill and Earth will shake with force causing the Earth's axis to shift—and shift forcefully—causing sea water to pour over the Earth until humankind bends knees, and Our Queen and Lady orders the elements to stop. In their stubbornness, they do not admit that they are guilty of bringing upon themselves what they attract, that they are to blame for the misfortune, the pain, and the suffering of this particular instant.
SMALL CHILDREN WILL NOT SUFFER WHAT ADULTS WILL; ADULTS ARE AWARE OF THEIR ACTS
AND WORKS. THE RIGHTEOUS, THE INNOCENT WILL BE RESCUED BY US WHILE THE GREAT AND FEARED PURIFICATION IS GOING ON. Later they will be taken to their places of origin. It is easy to bring the Word, it is difficult to fulfill it in everyday life.
Beloved children of Our King, you are waiting: Our King will send to His People His beloved Creature who joyfully waits for the order from the King to arrive on Earth and continue His Apostolate sheltering the People of Our Righteous King from the great interests that converge at this instant, interests that will lead humankind to be wiped out.
PRAY, PRAY; THERE IS NO HUMAN CREATURE THAT PRAYS WITHOUT KNOWING WHY; THOSE WHO PRAY DO SO BECAUSE THEY NEED SOME HELP. THOSE WHO PRAY DO SO BECAUSE THEY NEED TO BE SHELTERED, GUIDED, AND PROTECTED. Pray, pray with Faith while you convert; you must convert so your prayer will be heard by the Creator, by the Mother of all men so She will intercede.
WE REMAIN WITH YOU AND EACH OF YOUR GUARDIAN ANGELS SUFFERS WHEN YOU ACT
AGAINST DIVINE WILL, when you act thinking only of your personal wellbeing, and when you act to gain importance before your brothers.
Our King needs humble People, simple People, but invincible People, People convinced and converted, willing to carry the Word and turn it into an act of love to be shared with their brothers. Humankind is full of creatures who do not know what is coming; they are ignorant, and because of their ignorance they deny the fulfillment of the Prophesies. They are so ignorant that they assure that the announcements from Heaven are just inventions to scare man and do not assume their own responsibilities.
You are the ones who need to save the soul and achieve Eternal Life.
You are the ones who need Divine Help; you are the ones who need to clamor ABBA FATHER! HAIL MARY!
You are the ones who need to conclude that without Divine Help you are nothing and you will advance little or nothing at all.
Do not continue to be easily deluded or hubristic. You must go back to being humble and aware that you would be lost without Divine Help. You must clamor for a new opportunity of Mercy, and we, who remain attentive to your calls, will come to help you, but we need man's will to allow it.
Pray, it is important to pray for Japan; it is important for you to be aware that nuclear energy is the new Herod of this instant.
It is necessary for you to be aware of the huge importance and infinite meaning of the Cross, so much so that those who do not love Christ, those who despise Him and deny Him, and deny the Commandments and deny the Sacraments and deny the Beatitudes and deny Love and the Donation of Christ for humanity, those are particularly afraid of the Cross because they know it represents Eternal Life, Glory and the triumph of life over death.
You will hear the earth roar once again, and you will see in awe how it opens; in the sky you will soon see great signals; do not continue denying what is announced to you through Christ's Prophet, Our Queen's beloved daughter. The Revelations are given ahead of time before they are fulfilled and science endorses them subsequently.
WHO LIKE THE LORD GOD?
IF GOD IS FOR YOU, WHO IS AGAINST YOU?
BUT STRENGTHEN YOURSELVES AND DO NOT DENY
WHAT IS UNDENIABLE, BECAUSE THERE WILL BE GREAT DISCOVERIES AND GREAT TRUTHS WILL BE KNOWN.
May the God of Peace and Mercy and Our Queen bless you.
Saint Michael Archangel
HAIL MARY MOST PURE, CONCEIVED WITHOUT SIN.
HAIL MARY MOST PURE, CONCEIVED WITHOUT SIN.
HAIL MARY MOST PURE, CONCEIVED WITHOUT SIN.