Monday, November 9, 2015
Message Given by Our Lord Jesus Christ
To His Beloved Daughter Luz De María.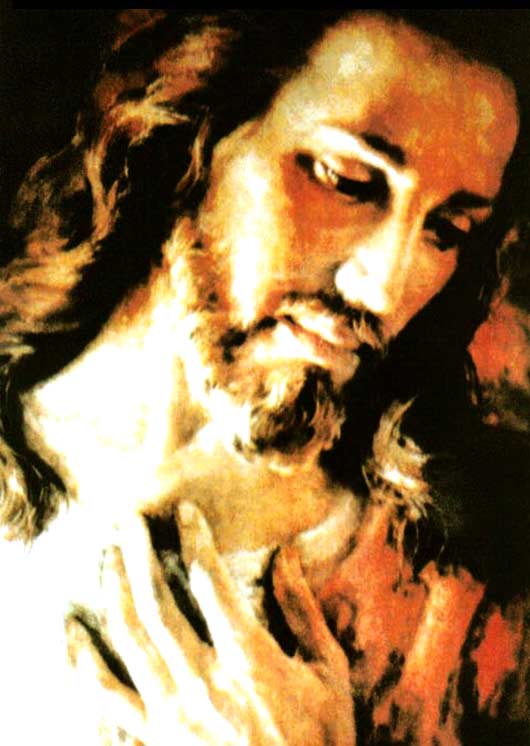 My beloved People,
I COME TO YOU, MY BELOVED CHILDREN, WITH MY LOVE AND MY MERCY TO ALERT YOU LIKE THE GOOD SHEPHERD CARES FOR HIS FLOCK.
Love pours for all from My Heart; it is the inexhaustible fountain where everyone can satiate their thirst, the thirst that increases in what is worldly and takes men to look for new fountains where they sink even more and move away from Me.
My Love is at hand… it is a step away from you, but you do not recognize it because you are far away from It. YOU MUST MAINTAIN YOUR SENSES CONSTANTLY JOINED WITH ME SO YOU WILL LOVE ME MORE AND CHOOSE MY PATH; OTHERWISE, YOU WILL REMAIN BETWEEN SIN AND MY LOVE, and those two are not compatible: Evil is evil and good is good; for "whoever is not with me is against me" (Matthew 12:30). Keeping your senses centered in Me will make you be centered in Me, and thus the soul will be attached to Me.
My beloved People, each thought must be born from the need to take Me to your brothers; each act must be born from the need to make Me known. Do not forget that the response you will receive will depend on the acts and works with which you approach your brothers.
Who can deny My Word?
Who can deny the existence of the place of eternal suffering?
Who can deny My Justice when My children need It so they will not be lost any more? Who can deny My Omnipotence?
I am not pleased with the behavior of some of My children, but My Love waits until the last instant for them to repent. They have forgotten that the righteous acts and works magnetize My Heart towards the creatures who thus give testimony of My Presence in them.
MAN PUNISHES HIMSELF THROUGH HIS ACTS AND WORKS DIRECTED TOWARDS EVIL.
THE RESULT OF THEIR WRONG ACTS AND WORKS IS THE NEGATIVE CONSEQUENCE THAT THE HUMAN CREATURE GENERATES FOR HIMSELF.
My beloved People,
I CALL YOU TO REMAIN ALERT AND WATCHFUL, TO PREPARE YOURSELVES AND TO KNOW ME AS MUCH AS YOU CAN…
DO NOT SKIMP ON THE INSTANT TO KNOW ME, TO DELVE IN MY MERCIFUL LOVE AND AT THE SAME TIME IN MY DIVINE JUSTICE.
I do not punish My beloved children; My children generate for themselves the consequences of their wrong acts, of their contempt and disrespect towards My Will, of their rebelliousness and hubris.
I wait and Love, Love and wait for those who are Mine; I am Patient, Omnipresent. I do not let My children's faults go by unnoticed. I wait for man's repentance, I act promptly allowing My Creation to act and awaken in man the need to look for Me.
My beloved People,
MY CHURCH WILL BE SHAKEN, MY MYSTICAL BODY WILL BE CONFUSED AND WILL SWAY FROM ONE PLACE TO ANOTHER; MY MYSTICAL BODY WILL FEEL STUNNED. THERE WILL BE INSTANTS OF UNCERTAINTY AND SERIOUS CONFUSION.
My Church will be flogged by the hidden power of freemasonry and by interests foreign to Me. My Mother will be rejected and Her Maternity despised.
Attention, My children! Ask for My Holy Spirit so you will discern and not decline or lose heart.
SOME OF MY CHILDREN WILL LIVE INSTANTS OF TRIAL IN THE FAITH; THIS IS WHY THEY MUST
KNOW ME AND KNOW THAT MY WORD IS ONE, IT DOES NOT CHANGE; DIVINE LAW IS ONE, IT
DOES NOT CHANGE…
Children, pray knowing that prayer is effective when it springs from the bottom of the heart; fasting reinforces the petition and unifies the wish of the creature to be heard by My House, especially at these and the coming instants when confusion will make My faithful cry.
Pray, My children, for Venezuela; it will suffer at the hands of Nature.
Pray, My children, pray for My Church; it will be strongly confused.
Pray; the volcanoes continue to erupt; pray for Ecuador and Indonesia.
Do not take steps backwards; do not leave by the wayside your love for Me; on the contrary, if you find yourselves in great confusion, come to Me, receive Me in the Eucharist, visit Me at the Tabernacle, do not move away from Me, pray the Holy Rosary offered to My Mother, ask your Guardian Angel and My Archangels for help.
MY WORD IS ONE AND IRREVOCABLE; IT IS WRITTEN AND THROUGH THESE CALLS I EXPLAIN MY WORD TO MY CHILDREN TO ALERT THEM AND TO HELP THEM SO THEY WILL NOT BE CONFUSED.
My beloved People,
ONE IS MY MERCY AND ONE IS MY JUSTICE…
My Mercy calls My children not to make decisions regarding the lives of the innocent…
My Mercy knocks on My children's doors so they will not kill each other…
My Mercy calls My children not to offend Me acting and working complacently with what is not My Will…
MY MERCY IS JUST, IT DOES NOT EXCUSE WHAT IS CONTRARY TO GOOD, AND IT DOES NOT
ABOLISH DIVINE LAW, it does not take pleasure in the opulent will of the powerful, and it does not rejoice in the sadness of the helpless or in the hunger of the hungry; it does not like the ignorance to which My People have been subjected, and does not take pleasure in those who gestate war and calamity.
Woe to those who cause war! Ruin will befall them!
My People, the devil takes pleasure in the restlessness of My children. Come to Me, I will give you rest from the heavy burdens that distress you. Do not forget that My Truth remains; do not forget that My Mother does not stop walking with My children.
"I AM WHO I AM" (Exodus 3:14): INFINITE POWER, INFINITE LOVE, INFINITE MERCY…
I AM THE OMNISCIENT, AND OMNIPRESENT: "I AM WHO I AM." (Exodus 3:14)…
MY PEOPLE ARE NOT ALONE; I GO LIKE THE PILLAR OF CLOUD AHEAD OF MY PEOPLE IN A
MARCHING COLUMN…
MY PEOPLE WILL FIND REST FROM THEIR SUFFERINGS AND CLARITY AMID CONFUSION…
MY PEOPLE WILL REMAIN BEFORE ME…
MY PEOPLE WILL ENJOY MY HOUSE…
My blessing in each of you is balsam at this instant.
I Love you.
Your Jesus
HAIL MARY MOST PURE, CONCEIVED WITHOUT SIN.
HAIL MARY MOST PURE, CONCEIVED WITHOUT SIN.
HAIL MARY MOST PURE, CONCEIVED WITHOUT SIN.