Thursday, November 12, 2015
Message Given by Our Lord Jesus Christ
To His Beloved Daughter Luz De María.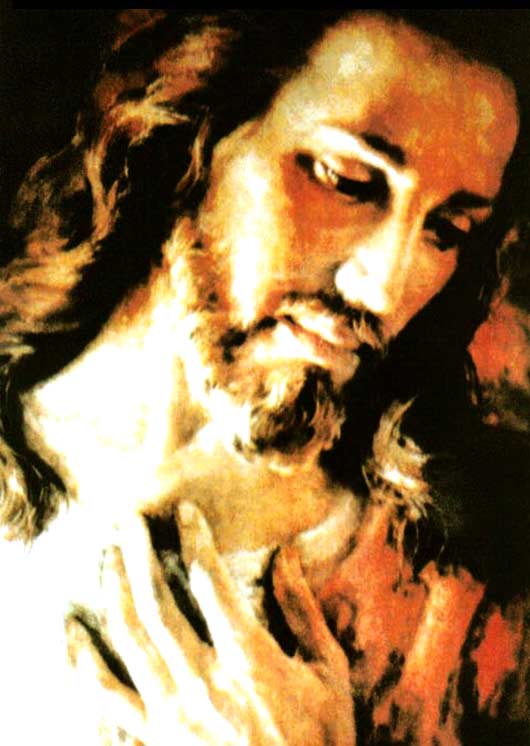 My beloved People,
MY BLESSING IS WITH YOU EVERY INSTANT. I DO NOT KEEP ANYTHING FOR ME; ALL I HAVE I
POUR OVER MY CHILDREN: GIFTS, GRACES, VIRTUES, BLESSINGS, HELP, PROTECTION…
Once again I call you to walk in My Truth so you will persevere acting in My Will and not in the will of men, because each one has his own interests.
You, My People, do not forget that "I AM WHO I AM"(Exodus 3:14 ) and you must keep Me in the first place so that, sheltered in My Will, you will work and act in My likeness.
Humankind leads an accelerated race towards their own suffering caused by disobedience and hubris which keep them moving away from Me more and more each instant.
MY PEOPLE, TRUST IN MY WORD!
YOU, WHO DO LISTEN TO ME, DO NOT SPARE ANY EFFORT TO REMAIN IN THE STRAIGHT PATH; DO NOT LOSE HOPE UNDER ANY CIRCUMSTANCES.
The enemy of the soul is an expert placing you in instants of severe temptation so you will fall; his purpose is to prevent you from standing up again so you will sink and he will steal from you Eternal Life. But you know that I am here to help you, because if you do not defeat temptation and do not stand up again you fall into sin, but if you fall and stand up with firm purpose of amendment, you recognize that the creature is a creature and that God is God.
My beloved, be prepare! Peace among nations will shatter and men will fall prey to restlessness.
At this instant, evil boils in its own insidiousness and spills it over all humankind so that those who are not firm in Faith and knowledge will fall. I HAVE CALLED YOU TO REMAIN ALERT AND TO STUDY MY WORD BECAUSE THIS INSTANT IS ONE OF GREAT CONFUSION WHICH WILL INCREASE AS THE ARRIVAL OF THE OPPRESSOR OF HUMANKIND IS NEARER.
These are instants of great temptation for My People, because they are given freedom to act according to their own law disrespecting the Divine Law…
Few are those who have responded to My previous pleas and have come to delve into the Holy Scripture where the Law for My People is found.
IT IS WITH PAIN THAT I SEE SO MANY PEOPLE WHO ARE LUKEWARM AT THIS INSTANT, SO
MANY WHO ARE LUKEWARM…
These are instants when violence increases in the world. Communist leaders, who control their people like slaves, will lead the innocent to suffer because the leaders will not give up their power. Before communism reached heyday, I alerted you, but you eluded My Calls and yielded power to that force which has turned against you, and the consequences are at hand.
The alliances of this arm of the antichrist which is communism have happened unnoticed right under
My children's noses. This is due to a lack of preparation on the part of men who only see the current act without considering the subsequent actions to which they will be submitted: They have taken Me away from public places, they do not allow My children to talk about Me, and soon My children will not be allowed to think about Me…
For humankind everything is just a fashion. For this reason they will accept being microchipped; they will see it as just another thing because they will forget that, with this act, they give themselves to the antichrist yielding power over their souls to him.
REPENT AND I WILL MAKE YOU ANEW! I will take you with My Hand and I will show you what is worldly and the evil found in it.
REPENT!... MY PEOPLE, MADNESS HAS INVADED YOU IN ALL THE FIELDS IN WHICH YOU HANDLE YOURSELVES. Insanity, unnoticed, has penetrated each of you like a silent plague by means of modernisms that, at this instant, the allies of evil have rapidly increased to deny you the opportunity to ponder the mistakes you make and to make you see evil as good and sin as good.
My houses of prayer and training have been contaminated by those who direct them, allowing modernism—little by little—to lighten the consciences of those who give themselves to Me so they will become lukewarm and not abide by "your word be 'Yes, Yes' or 'No, No'" (Matthew 5:37) but follow the path of tepidity, of mediocrity, of pleasing oneself first, and My Word be relegated and later forgotten.
My People, My Law is put off and it will be postponed even more by the society where aberrations prevail which have led women to fight against what I have given them, the greatest Gift with which I crowned woman: MOTHERHOOD. At this instant, this Gift embarrasses and bothers those who come voluntarily—irresponsibly and without conscience—to be executioners of the one they carry in the womb.
THE CRIES OF THESE INNOCENT, ABORTED BY WILL OF THE MOTHER, INVADE MY HOME.
This is the Justice that man generates against himself, the one the devil facilitates by legal means in a great many countries, means that are legal on Earth but are aberrations to Me and give Me great pain.
Creation does not recognize humankind… lost in all sins in all forms. The lament against human cruelty reaches all the way to My House. Our Trinity—hurt, superseded and forgotten—waits for man to return to Our Path, but to do that, he will have to be purified of so much evil he commits. The crucible is painful when it burns, but only this way sin will be forgiven when man identifies himself as the cause of his own perdition.
My beloved People,
DO NOT DESPISE THESE CALLS; DO NOT SEE AS GOOD WHAT IS EVIL; DO NOT ACCEPT SPIRITUAL MODERNISMS THAT TAKE YOU ON THE WAY TO ETERNAL FIRE.
My beloved People,
DO NOT DESPISE THESE CALLS; DO NOT SEE AS GOOD WHAT IS EVIL AND YOU HAVE ACCEPTED.
Promptly return to Me before night falls and darkness will make you take wrong turns that are not
My Will, and you will give yourselves to evil… Do not hurl yourselves to the "second death." (Revelation 21:8)
My People, pray for England and Russia; they will carry a heavy cross for their wrong decisions.
My People, Creation looks at man with great indifference because man has mortally wounded Her. Pray, children; several countries will suffer when the earth shakes hard and with great continuity.
My People, water continues purifying humankind immersed in sin. Pray for the United States, Mexico, and Chile.
My People, My Mystical Body suffers confusion because they do not know Me.
Come to me, all you that are thirsty, and I will give you drink. Come to me, all you that suffer, and I will give you relief.
My faithful enter desolating instants; they will force you away from Me. No, My children!
Our union overcomes physical separation…
Our union overcomes human limits…
Our union overcomes human insidiousness…
Our union overcomes human life itself, BECAUSE I AM TRUE LIFE, ETERNAL LIFE, AND IT IS MY PROPERTY.
My beloved People, My Love for My faithful surpasses all that man can devise to separate us.
MY LOVE FOR EACH OF YOU IS SUCH THAT MY HELP ARRIVES AT THE INSTANT WHEN YOU NEED IT MOST SO YOU CAN CONTINUE THE WAY TO THE "LAND FLOWING WITH MILK AND HONEY"
(Exodus 3:8),
TOWARDS OUR ENCOUNTER WHERE EVIL WILL NO LONGER TOUCH YOU, GOOD WILL HAVE TRIUMPHED AND EVIL WILL BE CHAINED FOREVER.
My beloved People,
War will peek and dawn causing great pain and dread because of the incorrect use man has made of science, thus hastening the unbridled arms race of the world powers through technology. The same man will shudder after having caused so much harm to his brothers which is a great torment.
My beloved People, do not reject My Calls; come to Me at this instant when light still shines and before night falls.
I bless you, beloved children, I bless you.
Your Jesus
HAIL MARY MOST PURE, CONCEIVED WITHOUT SIN.
HAIL MARY MOST PURE, CONCEIVED WITHOUT SIN.
HAIL MARY MOST PURE, CONCEIVED WITHOUT SIN.