Monday, November 16, 2015
Message Given by Our Lord Jesus Christ
To His Beloved Daughter Luz De María.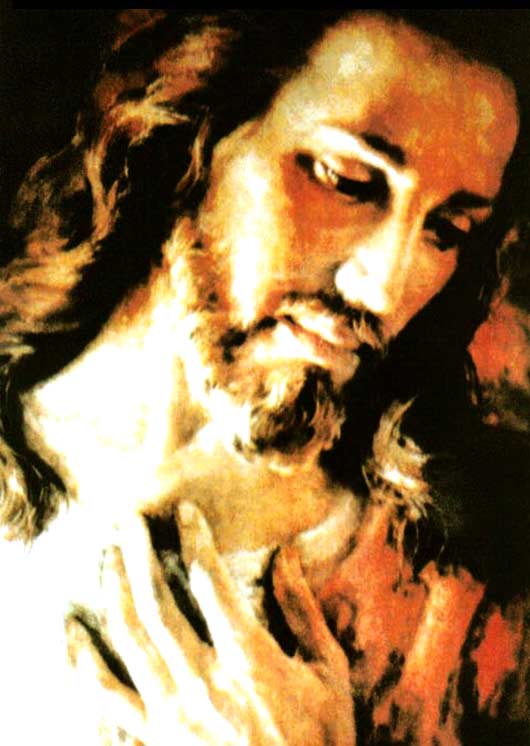 My beloved People,
YOU ARE MY PEOPLE AND I AM YOUR GOD.
YOU WILL NOT WALK HESITATINGLY BECAUSE I GO BEFORE MY CHILDREN.
Beloved, you live instants of confusion when you need to be aware of the Faith you have in Me and of the conscience with which you obey My Word. Each one has a conscience, and your conscience calls you to get back on track; the thing is that most do not listen to the conscience because they live immersed in the mundane, and this creates a great abyss between those who live this way and what My Will wants from each of you.
AT THIS INSTANT YOU MUST BE CREATURES OF A FIRM FAITH;
CREATURES DETERMINED TO LEAVE EVERYTHING THAT PULLS YOU AWAY FROM ME.
Each one will see himself and, with his own conscience, will examine his acts and works towards his brothers and his life in My Will towards his brothers, as I have not kept from you the Divine Will; instead I reveal It through each one of My Messages.
FOR THOSE WHO DO NOT CENTER THEIR LIVES ON ME IT WILL BE DIFFICULT, VERY DIFFICULT, TO ABSTAIN FROM SINNING, AND IT WILL BE VERY DIFFICULT TO DISCERN BETWEEN GOOD AND EVIL. Young people and adults cannot continue away from My Will because that makes them weak against the wiles of satan and opens for them the road to perdition.
In these My Calls I alert you about what is coming, but you believe so much in your human self that you leave out the explanation of My Will to follow yourselves according to your own convenience and to those who tell you that I impart only Love and Mercy and, therefore, you should not listen to these My Messages and, less, listen that sin is sin and that it drives you away from Me.
Human creatures without Faith are like a weak weathervane that moves in all directions reacting to the gusts of wind at its convenience. This is the reason for My insistent Calls. I want you strong and immovable. Hence the importance and urgency of My House for you to be aware of the possessions of evil on Earth and the urgency for each one of you in particular to remain alert to the slightest snare of the devil.
Beloved children,
The more you disobey Me, the greater the power you give to evil…
The greater the obedience, the sacrifice, and the love with which you follow Me, the less is the grip of evil over humankind…
I am Omnipotent, nothing is impossible to Me. This is the reason I Call you again to remain in Holy Wait. You, children, want to hasten Me, but I KEEP YOU IN INSTANTS WHEN MY PROPHECIES AND THE PROPHECIES MY MOTHER HAS ANNOUNCED TO YOU WILL BE FULFILLED AT MY INSTANT, NOT YOURS. AND MY INSTANT IS THIS ONE, THE INSTANT OF THIS GENERATION; THE THING IS THAT WHAT YOU CALL TIME IS OUR POSSESSION.
They continue killing the innocent. My Mother suffers deeply for My People, She suffers because of the persecution caused by the ignorance in which the great powers keep humankind. Man has centered himself on what terror does to humanity and has forgotten the comet that approaches Earth and will cause great calamities and great devastation.
My beloved People, all that happens is just preparation for the arrival of the antichrist, the one who will bring enormous pain to My children.
I AM LOVE FOR ALL MY CHILDREN. THOSE WHO TAKE AWAY FROM MAN THE GIFT OF LIFE DO NOT ACT IN MY NAME; THEY ACT UNDER THE POWER OF THE DEVIL.
Those who cause terror and dread will perish in it. He who brings love and freedom will prosper and be free, but truly free. (John 8:36)
Pray, My children, pray for Spain; suffering will show itself while the sun still shines.
Pray, My children, for Japan.
Pray, My children, pray for Central America; it will be shaken.
My beloved People,
Blood is spilled without pity. The floggings which humankind will encounter are trials you brought onto yourselves. Each soul is My greatest treasure; I Call you again to be My People.
Children,
INSTRUCT YOURSELVES IN MY WORD; I AM ETERNAL PRESENT.
DO NOT IGNORE MY LEGACY. THE ENEMY OF THE SOUL IS QUICK
TO MAKE YOU FALL AND, FOR YOU TO TRIUMPH, YOU MUST KNOW ME IN DEPTH.
My Church sprang from My Side and will be tested, like gold in the crucible, by the modernism that I reject.
Children, it is not in vain that I send help to you. MY PEOPLE CAN RECOGNIZE THE ONE WHO COMES IN MY NAME, BUT TO RECOGNIZE HIM, YOU MUST REMAIN FAITHFUL, PERSEVERANT, AND OBEDIENT, IN A CONSTANT BATTLE AGAINST THE HUMAN EGO.
Each man will feel like a stranger on Earth as he lives in constant ambush by his brothers.
Persecution and terrorism will increase without stopping.
Those children who mock My Word will come before Me pleading for Divine Help so they can remain until evil will be controlled by Me and My People will stop being held captive by evil and recover their freedom, their true freedom, which is for MAN TO LIVE IN OUR WILL AND GIVE EARTH BACK TO ITS CREATOR; THEN WE WILL BE ONE.
I love you, I bless you.
Your Jesus
HAIL MARY MOST PURE, CONCEIVED WITHOUT SIN.
HAIL MARY MOST PURE, CONCEIVED WITHOUT SIN.
HAIL MARY MOST PURE, CONCEIVED WITHOUT SIN.