Friday, November 20, 2015
Message Given by the Most Holy Virgin Mary
To Her Beloved Daughter Luz De María.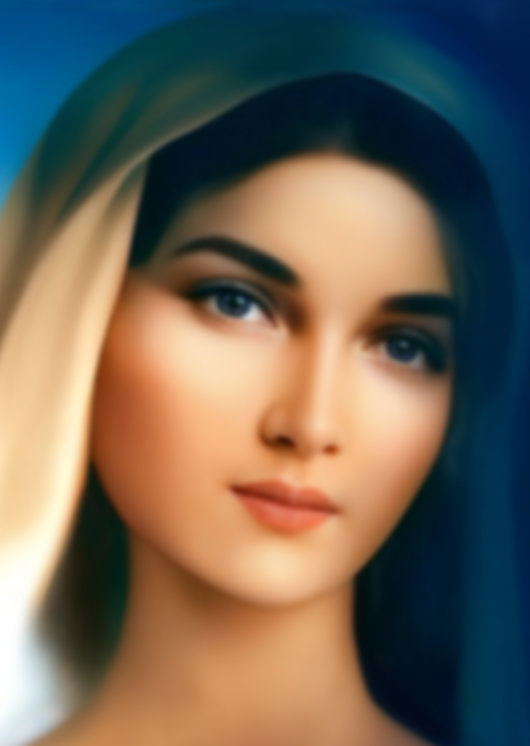 Beloved children of My Immaculate Heart,
My children, I bless you from My Maternal Heart, from which I have called you since the first instant when the Divine Will sent Me to announce to you the events that would arise on Earth from humanity's disobedience and from man's rebelliousness against the Divine Will, which is for ALL HIS CHILDREN TO BE SAVED.
You have remained distant from what the Holy Trinity has asked of you…
You have been against what I have requested in My Calls around the world…
I have been rejected; My Word has been ignored when I have asked you to be cautious… For humankind, living united to the Divine Word, has been a constant struggle in which you have not found yearning, but a bone of contention with the Father's House…
I have asked you for so much prayer! Not only because this is the way My Son's children must remain, but also because at this instant you will encounter great spiritual battles—greater than those you have faced and greater than those you will ever face—and, in order for you to triumph, you will need not only the wish to win or the good intentions, not only your determination; you will need THE FIRM BELIEF TO BE UNITED WITH MY SON AND THE FIRM DECISION TO ENTER AND WALK ALONG THE ROAD TO SALVATION. You will find this Road by living daily with My Son in the Eucharist and by living the Mass—which is an extension of the Divine Will—for the rest of your lives, in order for It to multiply towards all your brothers.
I have called you to pray the Holy Rosary with love and respect, with feeling and surrender…
CHILDREN, YOU HAVE THE WEDDING COINS, AND MORE, TO REMAIN FUSED INTO ONE WITH MY SON WHO WAITS FOR YOU EACH INSTANT, so you—eager to live the New Life—will delve in Divine Love and, penetrating in It, will drink from the fathomless Ocean of the Divine Will and exhale Supreme Love towards your brothers.
BELONG TO MY SON; YOU ARE HIS PEOPLE AND HE WAITS FOR YOU WITH ALL HIS LOVE ON THE ROAD TO SALVATION. DO NOT RESIST SO MUCH SUPREME LOVE; DECIDE NOW TO BE ONE WITH MY SON!...
You still do not surrender with the proper trust of one who firmly believes in the Divine Word. The Divine Word calls you not to belong to the world and its machinations but to be image and likeness of the Divine Acts and Works.
As Mother of all humankind, I suffer, and My Blood pours from My Heart like a river without stopping.
Beloved children of My Immaculate Heart,
Do not continue in the rebelliousness that only the enemy of the soul can offer you. You, My children, must fight against yourselves, against your own free will that, at each instant, conditions you to remain within the rules of the world or the rules the majority of the people follow.
My Son is the One Who calls each of you by your own name.
Beloved children, no human creature knows what will happen to humankind the way The Father knows. This is why you must keep the Faith in My Son's Truth… "For many are called, but few are chosen." (Matthew 22:14)
BELOVED OF MY IMMACULATE HEART, WHAT ARISES AT THIS INSTANT IS THE RESULT OF
DISOBEDIENCE, IMPATIENCE, AND IGNORANCE OF THE MYSTICAL BODY OF THE CHURCH.
Man's mind is like a minefield: In the minimum instant, violence takes over and makes man perform acts that are guided by evil to gain a greater wrong.
At this instant weaponry is spread all over the world. He who denies the truth of the reality of this generation is deluded... This instant is for My children to recognize the lack of Faith and the deception in which they have lived. The lack of initiative to get close to the Creator of all things visible and invisible has produced great ignorance in man, and ignorance leads man to reject the Divine Calls that urge preparation. Instead, humankind rejects the presence of the Holy Spirit in man and rejects insistently the Salvation Plan for humankind.
Beloved children of My Immaculate Heart,
REMAIN ATTENTIVE TO EACH CALL THAT INCLUDES
WHAT IS IN STORE FOR HUMANITY, WHAT HUMANITY WILL HAVE TO FACE, NOT TO FRIGHTEN BUT TO AWAKEN HUMANKIND SO THEY WILL NOT FALL IN THE TRAPS LAID OUT FOR THEM BY EVIL.
Children,
Faith cannot grow if you do not know the One Who loves you: My Son…
Faith cannot grow if you do not know how much My Son loves you, how Merciful He is for man and how Just He is, and for this reason each one is responsible for his acts and for the way his acts will affect those around him for better or for worse.
LIKE A ROARING LION, THE DEVIL HAS TAKEN ARMS AGAINST HUMANKIND TO STEAL SOULS FROM MY SON. Man's spiritual condition has opened the door to the devil making it easy for him, not only the insinuation but also the manipulation of man's senses, for these faculties to act against Divine Will and in favor of what is necessary for evil at this instant when the appearance of the antichrist is defined by the evil forces that remain upon humanity.
MY SON'S CHURCH WILL BE STRONGLY SHAKEN BY THOSE WHO DO NOT LOVE MY SON, taking advantage of the division that remains in the heart of My Son's People who, having no notion of this, allow themselves to be carried away by external interests of those who govern them to modernize what is not subject to be modernized: DIVINE LAW.
Pray, My children, pray for My Son's Church; evil has infiltrated it.
Pray, My children, pray for Mexico, My beloved land; its acceptance of modernizing the moral fabric of society will promptly make it tremble.
Pray for France; the sun will clearly show the pain of those who hurl themselves without pity against their brothers.
Pray, children, pray for Japan; atomic energy is rising, making man suffer and contaminating the Planet.
Beloved, everyone goes on with life according to their interests. YOU MUST ASCEND AND BECOME BETTER EVERY INSTANT EXAMINING YOURSELVES IN YOUR WORKS AND ACTS, AND TIRELESSLY SEEKING KNOWLEDGE SO YOU WILL NOT BE DECEIVED.
The action of the antichrist is in your midst through constant attacks to which My Son's People are led to kill innocents. The antichrist does not love man, he despises everything that means God to him and is determined to defeat My Son's Church to establish himself as lord and master of what belongs to My Beloved.
MY SON'S PEOPLE, I NEED YOUR PRAYERS SO MY SON'S WAY WILL BE BEARABLE IN THIS
CONTINUOUS TEACHING PROCESS TO WHICH
THE SOULS ARE LED TO BE PERFECTED LITTLE BY LITTLE.
Beloved children, you must take The Word—My Son's and Mine—to your brothers so they will open their eyes and not fall for every Word that is Heard. Prayer is indispensable, but acts and works say more than one thousand words, and this is what is needed: TESTIMONY.
EACH ONE MUST BE CONSCIOUS, EACH ONE MUST KNOW THAT WITH HIS ACTIONS HE CONTRIBUTES TO THE EXPANSION OF GOOD OR EVIL THROUGHOUT THE WHOLE WORLD.
Those who are strong, firm, and determined are the ones occupying the first places, because Faith must be solid for it not to decline; your Faith must provide the impulse for your brothers not to remain at a standstill because then the crucible will lead them to suffer more than they should. Beloved children of My Immaculate Heart,
HUMANKIND WILL SUFFER TO THE POINT OF NAUSEA, WATCHING WITH FRIGHT AND HORROR THE EVIL THAT MAN CARRIES WITHIN HIMSELF. BUT DO NOT GRIEVE; THIS MOTHER WILL NOT ABANDON YOU EVER, AT NO INSTANT.
I love you and I bless you.
Mother Mary.
HAIL MARY MOST PURE, CONCEIVED WITHOUT SIN.
HAIL MARY MOST PURE, CONCEIVED WITHOUT SIN.
HAIL MARY MOST PURE, CONCEIVED WITHOUT SIN.