Tuesday, December 8, 2015
Message Given by the Most Holy Virgin Mary
To Her Beloved Daughter Luz De María.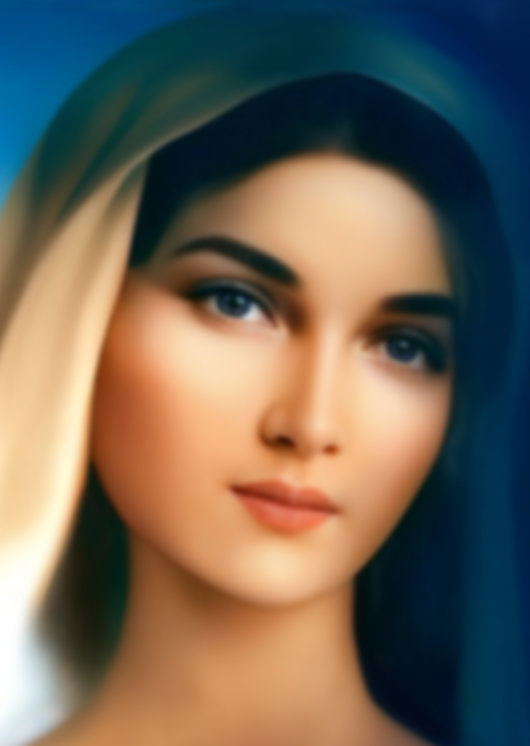 FESTIVITY OF THE IMMACULATE CONCEPTION
Beloved children of My Immaculate Heart,
Once more I come to you as echo of My Son's Word in order to attract you towards the Divine Will.
BE DISCIPLES FAITHFUL TO MY SON AND MISSIONARIES OF MY LOVE FOR ALL HUMANKIND.
I wish to find in you reciprocity towards My Son's Love for His People. When you are aware of the Call, you must fight against the human ego and against everything the world presents to you to make you fall. You must grow and triumph united with Me; I intercede so that each instant you can overcome all adversities. The devil does not tempt you and then move away; he insists and insists with strength, time and again, until he weakens you. For this reason you must remain attentive with your physical and spiritual senses awake and united to Heaven, without looking at the mundane so that you will be able to drive away the temptations and persevere, and in this way we will triumph.
Beloved children, you live in an impious world that will get worse and worse in the middle of all the sins consented by man. THESE ARE AND WILL BE DIFFICULT INSTANTS FOR MY SON'S PEOPLE. IN ORDER FOR YOU TO REMAIN IN STATE OF GRACE YOU MUST REDOUBLE EFFORTS TO FULFILL THE COMMANDMENTS, THE SACRAMENTS, THE WORKS OF MERCY, AND THE PRAYERS; AND YOU MUST NOT FORGET TO PRACTICE WHAT I HAVE MENTIONED BEFORE: BE LOVE FOR YOUR BROTHERS WITHOUT WEAKENING FAITH, HOPE AND CHARITY.
I see so much poverty in the world, and I see you; although you are materially poor, you over abound in Faith and therefore you have more than all your brothers.
For My Son, Faith is balsam, incense, gold, myrrh; it is the greatest thing man can offer to Him at this pressing instant when the wheat will be separated from the weeds.
I, Mother of God the Son, address you by means of My faithful daughter, I guide you, and I give Myself to all of you.
Each one of My instruments has his mission which has been bestowed so that he will remain faithful in this mission and will carry it out together with his brothers. Each mission is important for the fulfillment of the Divine Will; no instrument of Mine knows everything, and no instrument knows everything regarding his brothers; each instrument knows what pertains to the development of the events that loom over humanity.
God the Father does not place all His Word or all His help for humankind in one single of His creatures. It has never been this way in the past and it will not be this way at this instant when the freedom of the beast that wanders around the world pours all its malignant power over My children with the purpose of making them fall.
Children, the beast, the beast does not persecute those who have declared themselves enemies of My Son or those who pretend to be christians but are not. The beast persecutes My children that struggle to remain on the right path.
Beloved, this My Word reaches all of My children, and My faithful instrument must transmit what I, as Mother, want you to know. I do not come for a small number of souls; I come so that all the inhabitants of the world know the Divine Will. Some know My Son better because they have penetrated the Divine Word with great earnestness, but this does not make them superior to their brothers. EVERY HUMAN BEING HAS A GIFT THAT MAKES HIM SPECIAL IN SOME SPECIFIC ASPECT OF LIFE, AND ALL TOGETHER, UNITED, THEY CONSTITUTE MY SON'S PEOPLE.
My beloved children, you must be clear about the extreme gravity of this instant for all humanity. The whole of evil has arrived to pervert My children, to steal souls from My Son; but this Mother of humanity will not allow to perish those who clamor for My Help; at the same time, I wait for those who do not yet call me Mother.
My children, you who keep growing spiritually know that My Son was derided and that you will be, too. You will be told that you are extremists and that this is not My Word; you will be called crazy for not living in lust the way a great part of humanity lives. However, do not lose heart and do not lose your strength; bear in mind that you are not alone and that you struggle to be better not only for you but also for your brothers.
At every instant, My calls are for all humankind, not for a small number of creatures, and not to exalt those that remain close to the instrument because they must be the most humble. It is true that My Son prepared a small number of disciples, but they quickly shared the same Word received from My Son, they did not deform My Son's Word, they did not possess that which belongs to all of humanity. My Son's disciples are in communion with all those in spiritual need.
Beloved children of My Immaculate Heart, as Mother of all humankind, I have alerted you so that you will be prepared for war because war will intensify a lot more until it contaminates everything in its way. I do this out of Maternal Love and because IT IS MY SON'S WILL that everyone be saved and have knowledge of all that happens around humanity at this instant all over the world.
Some of My children deny My Word; they claim the war has not started because their idea of war requires that most countries be attacked with war weaponry; they ignore that terrorism, hunger, mass migrations of My children to other countries in search of safety are all part of the war. Aren't all of these things part of the war that has already started?
The war will intensify, My children, and the pain and persecution of all evil against all good is going to happen, but righteousness will not be defeated; evil will be defeated and will be bound and chained, AND MY SON'S PEOPLE WILL BE FREE, TRULY FREE.
Beloved children, science has been of great help to man until the ambition epidemic penetrated one man, and this human creature spread to his brother scientists the same ambition. Since then, the good of each branch of science took a wrong turn, and some scientists were corrupted and produced contamination everywhere and in all possible ways in order to contaminate My children and make them fall into passive vices that, instant to instant, gnaw the minds, the thoughts, and the hearts of My children who become so hardened that they see everything through contaminated eyes.
CHILDREN, IT IS NECESSARY THAT YOU START WALKING TOWARDS CONVERSION, SENSITIZING THE HEART SO THAT YOU SEE MY SON IN YOUR BROTHERS AND PUT AN END TO VIOLENCE IN YOU FOR MY SON'S PEACE TO ENDURE IN YOUR HEARTS FOREVER.
Beloved children of My Immaculate Heart, this generation will suffer ad nauseam because of their disobedience and their hubris against My Son.
I DESIRE SALVATION FOR ALL MY CHILDREN AND THIS IS WHY I KEEP MY ANGELIC LEGIONS WITH
YOU; OTHERWISE, YOU WOULD FIND YOURSELVES IN ADVERSE CIRCUMSTANCES IMMERSED IN CONTINUOUS SIN.
Remain alert and attentive; communism seems to be submissive… What does a predatory animal do when he is on the hunt? He waits, he patiently waits until he has his prey defenseless and helpless, and then he pounces on it.
Therefore, make sure you are not caught asleep. Wake up, My children! Good will triumph, but before this happens, the crucible will come to MY SON'S CHURCH so that it will be purified, from the Hierarchy to My Son's Mystical Body.
I do not mention this for you to be afraid but for you to reconsider:
Where are you?...
What steps are you taking?...
What Word do you utter?...
How do you fight against evil?...
Do you advance every instant or are you defeated by evil?...
Children, defeat evil; man must live in righteousness and be Love for his brothers.
Beloved children, pray for My children who will perish in large cities of the world because of terrorism.
Beloved children, pray for the United States; it will suffer greatly by the hand of your brothers and Nature that comes with strength.
Children, pray for Nicaragua; the land will be shaken.
Beloved children, pray for Italy; the enemy hand will lead it to suffering and Nature will strike it in different parts.
My Son's beloved People, as My Son's children, news will shock you.
The war brought about by man rages.
Do not stagger. I protect all, I alert all, I give myself for and to all. Be conscious and reciprocate to My call through obedience, humility, and perseverance. Do not forget that I carry you in My Immaculate Heart. My Son is not slow; He seeks Salvation for all His children.
Beloved children of My Immaculate Heart, on this date when you dedicate to Me a great festivity,
I, MOTHER OF ALL MEN AND QUEEN OF HEAVEN, PROMISE THOSE OF YOU WHO—TRULY
REPENTANT AND WITH FIRM PURPOSE OF AMENDMENT—PROMISE TO TAKE THE CORRECT
PATH TO THE SALVATION OF THE SOUL AND THUS REACH ETERNAL LIFE, I PROMISE TO TAKE
YOU BY THE HAND AT THE BLOODIEST INSTANTS OF THE GREAT TRIBULATION, AND DELIVER
YOU TO THE HANDS OF MY MESSENGERS—YOUR FELLOW TRAVELERS, YOUR GUARDIAN ANGELS—SO THAT THEY WILL STRENGTHEN YOU AND FREE YOU FROM THE CLUTCHES OF SATAN TO THE EXTENT IN WHICH YOU CONTINUE TO BE OBEDIENT AND FOLLOW GOD'S LAW.
My Son's People, no matter how difficult the instant may be, this Mother will not abandon you, My Maternal Protection remains with each one of My children.
I love you.
Mother Mary
HAIL MARY MOST PURE, CONCEIVED WITHOUT SIN.
HAIL MARY MOST PURE, CONCEIVED WITHOUT SIN.
HAIL MARY MOST PURE, CONCEIVED WITHOUT SIN