Friday, December 11, 2015
Message Given by Our Lord Jesus Christ
To His Beloved Daughter Luz De María.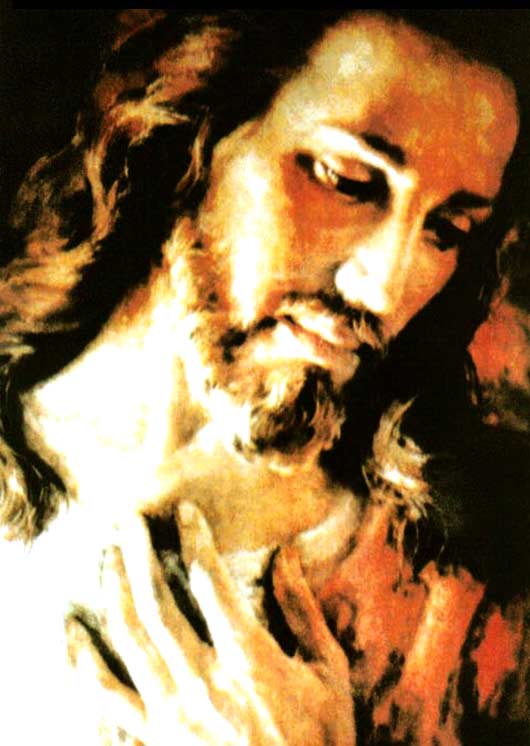 My beloved People,
JOIN MY WILL; IN IT YOU WILL FIND THE NECESSARY BALSAM FOR THE INSTANTS
WHEN THE LOAD BECOMES HEAVY OR DISCOURAGEMENT TRIES TO DISHEARTEN YOU SO THAT YOU STOP AND NOT CONTINUE BY MY SIDE.
In My Will you find the sweet delight of a duty done out of Divine Love, which surpasses all other forms of love. My Love makes possible what is impossible to man when he wants to act by himself.
Children, the instants you find in My Word, in the Holy Scripture, and later explained and clarified to My instruments, and which My Mother has repeated throughout the Earth, come close to this generation with greater strength.
The instant has come when the act of sinning rushes in before My children with great complacency, because it is seen and accepted as inherent to man's acts and works. This action of man is followed by pain and sorrow: some find a way to amend sin and to reconcile with Me; others wait until it is too late, not because My Mercy does not wait until the last instant, but because they refuse to repent.
Routine takes man to see his works and acts as something good…
Routine makes you become stagnant and does not allow you to advance, because routine becomes habit and habit leads man to act mechanically numbing the thinking process which is rendered inactive because of lack of use…
In the face of routine, the mind gets used to repeating the same acts and thus it is rendered useless and tied up in chains, it does not need to fly or to innovate, it does not need to look for anything beyond its immediate surroundings…
Little by little, routine immobilizes the heart. When the creature acts mechanically, the heart gradually becomes stone when it is not fueled by knowledge.
Beloved children, mankind must wash the gravel it carries with it; this gravel increases until you despise life and violence leads you to act against one another. You cannot wash the gravel without Me; this is why human pride plunges you in the ignorance of those who, having in front of their eyes the Promised Land, deny themselves entry.
Ignorance is brought to this generation by satan, father of lies, to render the souls useless and thus prevent them from coming close to Me.
So many call themselves My chosen ones, My instruments…! And their purpose is to take advantage of the ignorance of My children who come to see these so called instruments as their god because they lead My children to see themselves as superior to their brothers. My children, to Me, the one who is superior is the one who is humble, the one who knows he will never finish learning, the one who does not limit My Acts and Deeds.
MY CHILDREN, AT THIS CRUCIAL INSTANT YOU MUST GO TO MY WORD, GET CLOSE TO THE HOLY
SCRIPTURE AND SEARCH IT SO THAT YOU WILL NOT FALL PREY TO THE WOLVES IN SHEEP CLOTHING BECAUSE OF THE IGNORANCE OF THOSE WHO SAY THEY LOVE ME BUT DO NOT KNOW ME.
SIN IS FOOD FOR SATAN, AND EACH OF YOU HAS THE RESPONSIBILITY OF KNOWING THIS SO THAT YOU WILL NOT CONTRIBUTE TO THE WORK THAT THE ANTICHRIST IS ABOUT TO CARRY OUT. For this reason the persecutions against My People will be greater as the instant goes by. My Temples will be closed by the same ones that, out of love, were embraced by My Church; and the purpose is to eliminate our encounter: My Eucharistic Spiritual Delicacy for the souls.
My children do not grow; they make themselves useless by remaining attached to prayers that are not wrong but have been transformed into routine mechanisms and have no inherent love or reflection or surrender, no meditation. In this state, prayer does not bear fruit.
My Church has not been instructed in the practice of My Word; they have been taught to repeat words, to repeat without feelings and without knowledge. This is why at this instant it is so easy for man to leave Me and adopt ideologies contrary to what is truly My Love.
Most of the houses where future priests and members of religious orders are instructed have become houses of bustle and noise where prayer is no longer indispensable and where being a part of society has become fundamental; and I am set aside, My Mother has been relegated so much that I am offended. She is My Mother and She is the greatest intercessor that humanity has.
You, My People, are greedy; you want to easily obtain what others have acquired through sustained effort to be ever more Mine than of the world, to be close to Me and to My Mother.
I CALL MY CHILDREN TO UNITY; I CALL MY INSTRUMENTS TO UNITY, RESPECTING ONE ANOTHER.
I know well that some will not listen to this and that others will despise it, but do not forget that
"from everyone to whom much has been given, much will be required." (Luke 12:48)
My People are centered on the current state of their lives, in comfort, in the apparent peace in which your countries live, setting aside My Warnings… You will regret this because you had right before your eyes My Warnings and My Mother's Calls and you despised them saying, "This is far from happening." When you see the mountains shake and the plains crack open, when the winds devastate villages in places where this never happened before, when the land shakes where it never shook before, Nature behaves in unusual ways throughout the whole world, and the animals have changed their behavior, the rivers flatten villages where that never happened before, torrential rains undermine the land, inactive volcanoes wake up, asteroids and comets are ever more frequent, thunder and lightning contain increasing power given to them by the contamination with which man has made Nature react uncontrollably.
MEN DO NOT SEE THE REALITY AROUND THEM WHEN THEY IGNORE MY CALLS AND MY
MANDATES, AND WHEN THEY RELEGATE ME AND IGNORE MY MOTHER BY DESPISING HER MESSAGES AND EVEN BY MAKING FUN OF HER TO MINIMIZE THE FACT THAT SHE ADDRESSES MY INSTRUMENTS.
My beloved People, it is extremely difficult for those who do not come to Me and do not receive Me to encounter Me and, even more so, to fulfill My Will.
OPEN YOURSELVES TO MY REVELATION, TAKE IT SERIOUSLY AND KEEP IN MIND THAT THESE ARE DIFFICULT INSTANTS FOR MY PEOPLE.
If My People refuse to listen to Me, evil will not stop the attacks. My Words and those of My Mother do not stop, BUT YOU EMBRACE THE SNARES OF EVIL AND SET ASIDE MY CALLS AS NOT IMPORTANT, UNTIL YOU FIND YOURSELVES COMPLETELY IMMERSED IN CHAOS.
Pray, beloved children; Iceland will suffer and, with Iceland, part of humanity will suffer as well.
Pray, My children, the plague is here and it will spread rapidly.
Pray, My children, for Central America; it will be shaken.
Pray, My children, for the United States; man's hand will make it suffer and Nature will flog it. Pray for Spain and Italy; they will lament.
My People, Nature flogs humankind.
Violence increases as the instant passes in apparent calm and the powerful of the Earth direct their efforts to expand the war.
UNITE, PRAY BEING AWARE THAT PRAYER, RECOGNIZED AS SUCH, IS STRENGTH FOR MY CHILDREN AND IT IS HEARD BY ME WHEN IT IS BORN IN THE DEPTHS OF MEN'S HEARTS.
COME TO ME AND TO MY MOTHER, DO NOT DESPISE HER, SHE IS LOVE AND SHE GUIDES YOU TO THE TRIUMPH OF HER IMMACULATE HEART.
My children, I bless you, do not be afraid; My People are protected, you are the apple of My Eye.
Your Jesus
HAIL MARY MOST PURE, CONCEIVED WITHOUT SIN.
HAIL MARY MOST PURE, CONCEIVED WITHOUT SIN.
HAIL MARY MOST PURE, CONCEIVED WITHOUT SIN.