Sunday, December 20, 2015
Message Given by the Most Holy Virgin Mary
To Her Beloved Daughter Luz De María.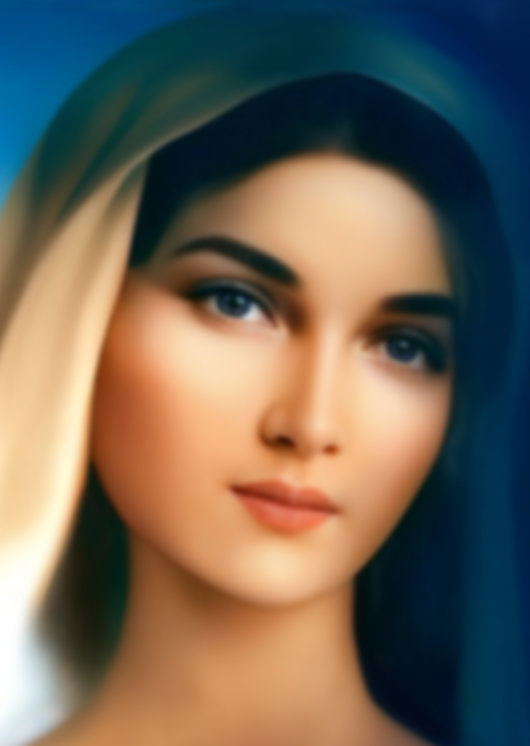 Beloved children of My Immaculate Heart,
MY HANDS HAVE ALL THE LOVE THAT AS MOTHER I OFFER EQUALLY TO ALL OF YOU.
The faithful children of My Son and Mine do not consider themselves defeated when they fall to the ground; instead, they stand up immediately and amend, with humility and repentance, the errors committed against My Son.
Beloved children, raise your thoughts towards My Son, do not allow your misused free will to control you leading you to live in wickedness. You must enjoy your free will which is a grace, and you must use it to do good at every instant being messengers of the Love of My Son and Mine.
PRAY THE HOLY ROSARY, OFFER IT FOR YOUR BROTHERS AND ALSO FOR YOURSELVES, MAINLY FOR YOU TO RENEW YOURSELVES IN THE INSIDE WITH GENEROUS SPIRIT. Children, transmit to your brothers the fruit you receive from praying and from putting into practice your prayers, by seeing My Son in each of your brothers, by living, working, and acting the way My Son orders.
Do not forget you have the human ego which tends to control you taking you to where most of your brothers are: AWAY from the Divine Will. For this reason I call you to righteousness, so that Good will weigh more and you remain yearning for Good and for Peace.
Beloved children of My Immaculate Heart,
I CALL YOU TO REMAIN ATTENTIVE, WALKING IN THE KNOWLEDGE OF THE IMMUTABLE
PRINCIPLES THAT MY SON BEQUEATHED TO YOU AND TO THOSE HE CALLS TO HIS PEOPLE;
OTHERWISE, YOU WILL BE WEAK, BECAUSE THOSE WHO DO NOT KNOW THE DIVINE WORD RISK BELIEVING IN WHAT THEY HAVE DISTORTED, AND THIS WAY THEY WILL FALL EASY PREY TO THOSE WHO WANT TO CONTROL THEM.
At this instant, evil is acting with force in a strong battle for the souls just prior to a greater persecution of My Son's faithful People so that they will regress in the Faith and deny God.
THE ANTICHRIST IS COMING…
The antichrist is a beast that oozes evil from his pores and propitiates debauchery in humankind so that they will adhere to him...
The antichrist will make it easy for you to air every kind of expression contrary to My Son's Guidelines and Calls; he will allow whatever man wants so that he will control humankind and add the human beings to his ranks…
The antichrist is acting and will continue to act in this way until the Help that My Son will send to His People arrives to counteract evil, vehemently calling My Son's People to retake the true path which is the only one that will take them to Eternal Life…
Alliances will not lead to long lasting peace; on the contrary, when peace is being invoked, others will be planning to defeat it. This is why there is great confusion among My children when they hear talks about peace while, at the same time, My announcements alert them about calamities and war. BELOVED, THIS IS THE WAY EVIL ACTS: STEALTHILY, CREATING CONFUSION… THESE ARE HIS STRATEGIES.
Children, the relations between world powers are not well; on the contrary, each one has been able to make a show of weaponry, and not only to be seen by the others but also to intimidate those that could eventually become adversaries.
My beloved children,
I HAVE WARNED YOU SO MUCH ABOUT THE HAPPENINGS AT THIS INSTANT!
DISOBEDIENCE AND LACK OF ATTENTION TO MY CALLS have prevailed above all else, and you continue to disobey and to rebel against the Commandments.
DISOBEDIENCE COMES FROM AN ACT OF REBELLION, AND REBELLION COMES FROM AN ACT OF HUBRIS; the detachment of the creature from the Creator starts achieving a diminished Faith, and as Faith diminishes, man is more involved in a severe struggle between believing and not believing. This is where you are headed, My children, when you keep your distance from the Divine Will. The crisis of Faith increases and man will be in a maze from which he will not find a way out, unless he recognizes the need for the One Who has given him life: God.
THOSE WHO WANT AN ENCOUNTER WITH MY SON MUST LOOK FOR AN INSTANT ALONE WITH
HIM; IN THE BUSTLE THE CREATURE WILL BE CONFUSED AND WILL NOT KNOW WHAT VOICE TO FOLLOW; THE CREATURE WILL NOT DISTINGUISH BETWEEN GOOD AND EVIL.
Humankind renounces God's Law, they renounce all authority, and the instants will come when a total debauchery will be experienced all over Earth—in broad daylight and in the dark—because of the rules that the men without faith will impose.
Children, doubts regarding the Faith are increased by the allies and supporters of the antichrist who is behind the alliances and divisions between the great Nations.
Beloved children of My Immaculate Heart,
ILLNESS SHOWS ITSELF TO HUMANKIND AND IS NOT TAKEN SERIOUSLY; HUMANKIND EXPOSES
ITSELF TO ILLNESS AND GIVES IT
THE POWER TO SPREAD THROUGHOUT MUCH OF THE EARTH UNTIL IT BECOMES A LASHING EPIDEMIC.
I have called you to look at the sky to see the signs and remain attentive. Instants are near when humankind will be subjected to continuous threats coming from outer space; these threats will be greater and will cause fear when the comets or asteroids get closer than they should.
Beloved children, keep in mind that the seawaters will make humankind suffer great floods in several places of the planet; water rebels against man just like man rebels against his God.
Pray, beloved children, pray for Indonesia; its lament will increase.
Pray, beloved children, pray for the United States;
fear will not let its inhabitants be in peace. Its ground will be shaken vigorously.
Pray, beloved children, pray for France;
it will suffer again at the hands of those who want revenge.
My beloved, the Earth announces what man is going to face; it cracks in several countries to the surprise of the scientists. Could this be the way in which souls fall to evil because of how little they know My Son?
My children, humankind will shudder because of a serious act against a President; pray that the blood does not spill even more.
Italy, do not sleep. Wake up! The siege is at your door. This beloved land will suffer promptly.
Beloved children of My Immaculate Heart,
UNITE! DO NOT TOPPLE ONE ANOTHER,
BE FAITHFUL DISCIPLES OF MY SON, AND CONTINUE TAKING THIS CLARIFICATION OF THE DIVINE WILL THROUGHOUT ALL THE EARTH JUST LIKE THE WIND BLOWS WITHOUT BEING STOPPED.
Beloved children,
DO NOT BE AFRAID; AM I NOT HERE, NEXT TO EACH ONE OF YOU,
I, WHO AM THE MOTHER OF HUMANITY?
COME UNDER MY MATERNAL MANTLE… I WILL COVER YOU AND PROTECT YOU, AND YOU WILL REST WITHOUT YIELDING, REMAINING FAITHFUL, AWAY FROM SIN, AND WITH FIRM PURPOSE OF NOT RESIGNING MY SON.
Children, I do not scare you, I call you to look at reality so that you do not despise the Calls from the Paternal House. You are not alone, come to Me, I intercede for each one of you, even for the greatest sinner if he repents and amends his ways. I am Mother and, as Mother, I love all of you.
Do not forget My words. I bless all of you. I love you.
Mother Mary.
HAIL MARY MOST PURE, CONCEIVED WITHOUT SIN.
HAIL MARY MOST PURE, CONCEIVED WITHOUT SIN.
HAIL MARY MOST PURE, CONCEIVED WITHOUT SIN