Tuesday, January 5, 2016
Message Given by the Most Holy Virgin Mary
To Her Beloved Daughter Luz De María.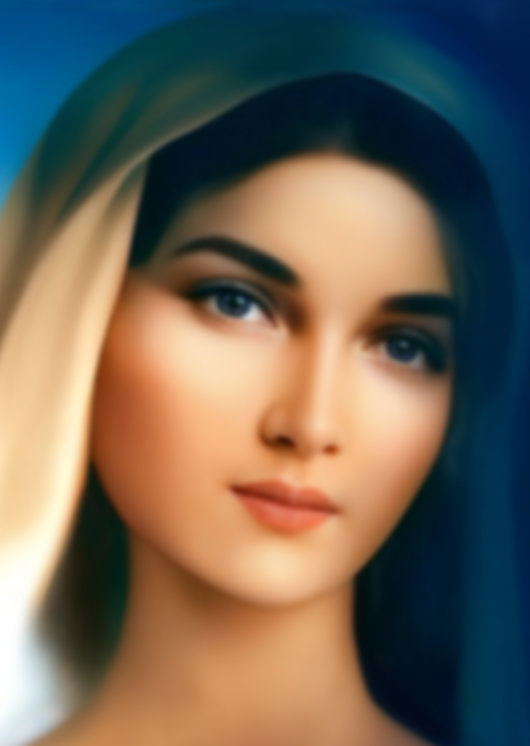 Beloved children of My Immaculate Heart,
I BLESS YOU WITH MY LOVE AND I PROTECT YOU WITH MY MANTLE.
I look at each one of you with the same look, with the same wish for salvation, with the same Love. For each one of you I hurt, I suffer when you do not heed the requests from Heaven, and I immediately intercede before the Eternal Father so that you will not be lost in eternal fire.
Beloved children of My Immaculate Heart,
As you move away from My Son, you are taken by evil at this instant when, right before your eyes, violence and war loom, not only on Earth, BUT ALSO A SPIRITUAL BATTLE IS BEING WAGED OF SUCH GREAT MAGNITUDE THAT YOU ARE NOT CAPABLE OF PERCEIVING IT BECAUSE YOU DO NOT LIVE ACTING AND WORKING IN DIVINE WILL; HOWEVER, IT IS AS REAL AS MY LOVE FOR YOU.
Demons pounce on the souls to confuse My Son's People; for this reason you will have to walk wisely, move wisely, express yourselves wisely, and treat your brothers with this Wisdom that only comes from the Holy Spirit.
IT IS NECESSARY FOR YOU TO ASK THE HOLY SPIRIT TO ENLIGHTEN YOU AT EACH AND EVERY INSTANT so that Faith will not decline in view of the contradictions that you will hear or see in the behavior of those who in fraternity shape religious communities or formative centers for priests. Evil has entered through the Vatican House itself and it spreads throughout the world without borders, shooting darts of indifference, disobedience, lust, hubris, and rebellion at My children; especially towards those few of My children who are strong and do not give up on the Faith and continue to be faithful to My Son and to My Love.
Pray, My children; My Son's Church will experience instants of pain and perplexity.
Lay people will ask Me to help My Favorite Children, and I will help those who are in a State of Grace or repent with a firm purpose of amendment and decide to continue being faithful to My Son and to continue protecting and helping the parishioners that are harassed by the ungodly and by those allied with the antichrist; these are possessed by evil and will be the ones to mount the worst scenarios that have ever been seen.
MY FAVORITE CHILDREN ARE CALLED TO PROTECT THE PEOPLE FAITHFUL TO MY SON BY OPENING THEIR CONSCIENCES, PREACHING TO THEM ABOUT WHAT IS COMING FOR HUMANITY AND ABOUT THE DANGER OF LOSING ETERNAL LIFE if man—who says he belongs to God—is between good and evil and ignores the Revelation which, as per Divine Order, I have given throughout the entire world. For this reason all of you must decide NOW to belong to My Son so that My Son "may be all in all" (1 Corinthians 15:28).
Beloved, move away from the mundane that saturates your thinking with thunderous technology to make you act like zombies, without thinking, attracted only by the magnet that evil possesses at this instant to get you away from My side.
UNDERSTAND THAT YOU CANNOT BELONG TO GOOD AND TO EVIL BECAUSE THOSE WHO ACT THIS WAY WILL BE SPIT OUT OF THE FATHER'S MOUTH. (Rev 3:16)
My Son's People, at this instant there are so many that suffer this insanity that covers humanity like a cloud and prevents the fusion of the creature with his Creator, because of the prevailing human unconsciousness which watches from a distance what happens, with their hearts hardened and without knowing the signs of this instant!
Pray, My children; those who have placed the future in the hands of the economy will feel like they are dying on several occasions due to the constant global economy drops.
Beloved children,
YOU FEEL SAFE WHEN YOU STEP ON THE GROUND BECAUSE IT IS SOLID, BUT THERE ARE FEW
WHO EXAMINE THE EVENTS AND DELVE INTO THEM TO MAKE THEM PART OF THEIR KNOWLEDGE.
The ocean floor moves and is opening the earth from its entrails until it reaches the surface, causing amazement in those who live where these things happen. Those of you who have not lived this, think that the land is surrounded by faults, and some of these faults have opened to the surface or in the ocean. This is the reaction of the Earth cradling you and alerting you about the wrongdoings of humanity with events. The Earth trembles and will continue to shake with force.
Pray, My children, for Japan, for China, and for India; the suffering will be great.
Pray, My children, for Chile, for the United States, and for Central America; they will be shaken.
My children, the land widens as it cracks (3); the instant when some countries become islands is not far away.
My beloved,
PRAY WITH SINCERE HEART, PRAY WITH GENEROUS SPIRIT, SO MUCH SO THAT THESE PRAYERS WILL BECOME ACTION, ACTS THAT WILL BEAR FRUIT OF ETERNAL LIFE.
Do not go through life without bearing fruit. Each one of My children must be aware that it is the duty of every Christian to bear fruit, and this happens when prayer is action and spirituality is shared with the needy and with those who do not know what is the Divine Will for this instant.
Each one has an instant to pray personally, in silence—if he wishes—or by means of ready-made prayers. Then, the fruit of the prayer must be shared alerting the brothers so that they will not fall prey to satan.
My Son's beloved People,
THE HUMAN BEING GROWS IN RAGE UNTIL THIS VIOLENT UNCONTROLLABLE ANGER TAKES
POSSESSION OF THE MAN AND LEADS HIM TO COMMIT UNTHINKABLE AND DISCONCERTING ACTS. BUT WHAT DO THE REST OF MY CHILDREN DO IN VIEW OF THESE HORRENDOUS ACTS OF BARBARISM?
Pray, yes, you must pray, but then you must warn those who ignore what is happening at this instant—as these acts will spread throughout the Earth—when there will be an all-out war, because with the war, barbarism will be rampant all over the world.
Children, do not take sides; he who seems to be a dove, in an instant will be a serpent that delivers humanity to wailing, to pain, and to death. He who seems to be a hibernating bear will awaken in an instant and will be the hand that destroys and subdues the Nations. The dragon does not sleep; it watches quietly to wake up and attack My Son's children as the domineering executioner with seven heads over a faithless and reckless humanity.
Beloved children, man acts in the middle of the penumbra, preparing his premeditated attack. The People will suffer at the hands of terrorism until terrorism falls prey to its own behavior. The creature does not walk in peace; he lives in a disconcerting wait.
Pray, My children, pray for England; it will mourn terror.
Beloved,
THIS MOTHER WHO LOVES YOU WILL NOT ABANDON
ANY OF THOSE WHO ARE FAITHFUL, OR THOSE WHO REPENT, OR THOSE WHO CLAMOR FOR MY PROTECTION.
Keep in mind that I am Queen of Prophets and Intercessor in favor of each human creature before the Holy Trinity.
DO NOT BE AFRAID; ON THE CONTRARY, REDOUBLE EFFORTS TO KEEP AWAY EVIL THAT IS ON THE PROWL BEFORE THE GREAT HUMAN EGO which, inflated like a balloon, grows and grows encouraged by you. But do not ignore that the balloons do not always remain floating up high, because for whatever reason they blow up and when they do, they go down towards the ground, and when they fall, they can carry with them other balloons that were getting ready to take to the air.
EACH ONE OF YOU, MY CHILDREN, MUST BE AWARE OF THE EGO THAT YOU HAVE AND YOU MUST WORK ON IT:
When you feel that the words of your brothers are not the ones you want to hear and rage invades…
When your brothers welcome someone else and this makes you uneasy…
When you are dominated by childishness and this leads you to get excited with rage and you cannot stop yourself…
When hubris makes you look at your brothers as creatures who cannot be better than you are…
When ignorance about true Divine Love prevails and you act lashing out against your brothers…
When Love is lacking, STOP! because without Love you cannot advance…
MY SON WILL SEND HIS HELP, THIS ANGEL OF DIVINE LOVE WHO WILL PROTECT MY SON'S PEOPLE AT THE INSTANTS OF TRIBULATION; he will sustain you in the great oppression by the antichrist and his legions. Do not be afraid, My children, do not be afraid; the Father's House does not abandon you and will not allow evil to triumph over good.
DO NOT BE AFRAID EVEN WHEN IT SEEMS THAT EVIL SURPASSES GOOD;
THIS WILL HAPPEN DURING AN INSTANT, THEN GOOD WILL RISE
IN POWER, GLORY, AND MAJESTY AND YOU WILL SEE
MY TRIUMPHANT SON REIGNING OVER EVERYTHING AND EVERYONE.
I shelter you, I protect you, and I guide you when you take My Hand that remains before each of you.
Come, children, let Me guide you to My Son.
MY MATERNAL BLESSING REMAINS WITHIN YOU WAITING FOR MY CHILDREN'S ANSWER.
I love you.
Mother Mary.
HAIL MARY MOST PURE, CONCEIVED WITHOUT SIN.
HAIL MARY MOST PURE, CONCEIVED WITHOUT SIN.
HAIL MARY MOST PURE, CONCEIVED WITHOUT SIN