Wednesday, January 13, 2016
Message Given by Our Lord Jesus Christ
To His Beloved Daughter Luz De María.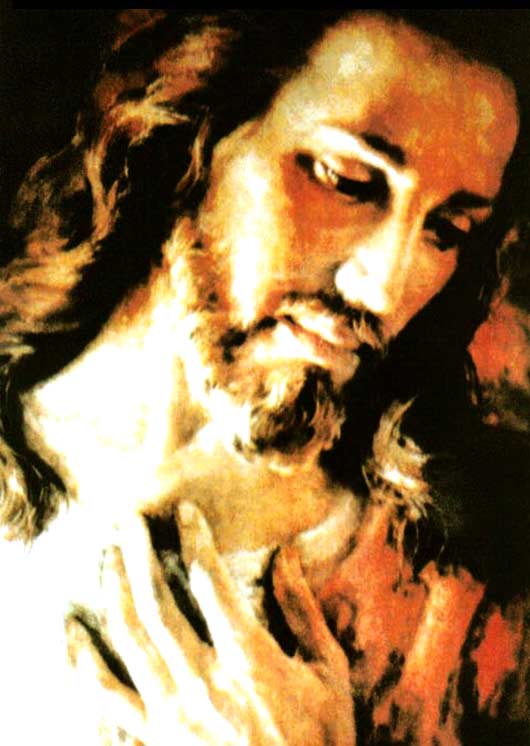 My beloved People,
I OFFER YOU SALVATION AND YOU REJECT IT…
I CALL YOU TO SALVATION AND EACH ONE DECIDES WHETHER TO ACCEPT IT OR REJECT IT.
Through My prophet, I convey to you My wish that all be saved, and at the same time, I talk to you about My Justice, true and fair.
To some, I am Mystery as they feel I am distant…
To others, I am Eternal Truth for Whom nothing is impossible…
I ask each one of My People for explanations to lead them to delve into each sign of My Love for this generation in which you do not see each other as brothers.
MY PEOPLE, REMAIN ATTENTIVE
BECAUSE THE NOW HAS ARRIVED BUT NOT YET!
THOSE WHO AT THIS INSTANT SURRENDER TO MY HOLY SPIRIT, SENSE ME AS MORE PRESENT, MORE ALIVE, MORE PALPITATING.
I am both actor and spectator in the history of Salvation of humanity in the New Testament. In this history I call My People to be active in prayer so you can share it with your brothers and thus be true evangelists; beginning at this instant, evangelize "whether the time is favorable or unfavorable" (2 Timothy 4:2) so that nobody be indifferent to My Call of Salvation.
Each one of My People is truly a prolonged action of those I performed on Earth, when each one acts and works in My Will; although I know they reject Me, My Love does not stop for any of My children until the end time when the history of humankind will end.
Children, I will embrace all those who approach Me with "broken and contrite heart." (Psalm 51:17) Hence the urgency of My constant messages, alerting you about the events of this generation so that you repent and delve in My Love and My Mercy by means of the love with which you look at Me. I know that at this instant Love is unknown to some who are immersed in the worldliness of the values that have taken over man's greatest intimacy in order to overshadow completely My Will, which shone in man as the sun shines in the zenith at noon.
My children rushed towards modernisms, and modernisms are the creation of those who set the stage for the antichrist on Earth.
JUST AS MY PEOPLE REBELLED AGAINST MY FATHER'S
CHOSEN ONES, THE PROPHETS, SO AT THIS INSTANT, THEY WILL IGNORE
THOSE WHO, OBEYING MY WILL, ALERT THEM, THEY WILL IGNORE
THE KNOWLEDGE THAT I REVEAL IN EACH OF MY CALLS, CALLS I MAKE OUT OF LOVE FOR THOSE WHO CONTINUE BEING FAITHFUL TO ME.
Beloved Consecrated who from the altars lead My People, alert them about their lack of knowledge regarding Me. My People cannot love someone they do not know; they cannot love in the midst of contempt for each of My Warnings, My Calls, and My Love which are given so that My People do not fall into the temptation of acting wrong and of working wrong.
Announce to My People that they must delve into the explanation of My Love for humanity; do not hide the oppressor, the liar, the impostor of My Love. You know that the antichrist comes to engage in the great spiritual battle, persecuting those who are faithful to Me, to instill in them fear and doubt so that they will deny Me.
THIS GENERATION WILL FACE THE GREAT TEST OF FAITH in which the wheat will be separated from the weeds; i.e., those who know Me and will not resign Me, and those who—in the midst of My People, like wolves in sheep's clothing—remain among My People to betray them and deliver them to evil.
My beloved People, humanity is called to get ready; and when you hear rumors of wars, get away, do not watch the terror of which the world is a slave.
Pray, My beloved People, pray for the Salvation of the souls.
At this instant, pray for the East of the United States; sin reigns in some States.
Pray, My beloved People; the land continues to tremble with force, ocean waters are agitated, and some tsunamis will keep humanity in suspense.
As King, I remain with sadness in My Heart. They live by "the law of the strongest" as a pecking order; some men carry death in their hands, snatching the lives of those who do not think like them, and terrorism will keep humanity in constant uncertainty.
Pray, My beloved People, pray; Italy will suffer for it.
Humanity will live without enjoying the nights. The governments will keep the people in their houses beginning at sunset in order to placate the anxiety caused by terrorism.
The man without conscience develops wickedness without precedent and becomes the great threat to humanity itself. Communism will use its weapons to take over world power, and in its desperation, it will shed the sheep's clothing and will hurt humanity, forgetting that "IF ANY OF YOU PUT A STUMBLING BLOCK BEFORE ONE OF THESE LITTLE ONES WHO BELIEVE IN ME, IT WOULD BE
BETTER FOR YOU IF A GREAT MILLSTONE WERE FASTENED AROUND YOUR NECK AND YOU WERE DROWNED IN THE DEPTH OF THE SEA." (Matthew 18:6)
Some powerful presidents of nations built hiding places when they learned about the imminent power struggle for power; they believe they have security to preserve their lives. THEY HAVE FORGOTTEN THAT I AM THE OWNER OF LIFE; MY PEOPLE DO NOT NEED PROTECTED UNDERGROUND HOUSING; MY PEOPLE ARE PROTECTED BY MY LEGIONS. NOTHING WILL BE SAFE WITHOUT MY BLESSING.
My beloved People, the economy keeps the elite in suspense. MY PEOPLE KNOW ME AND KEEP THE CONSCIENCE OF MY POWER, WHICH IS ABOVE ALL POWERS: I AM OMNIPOTENT. They have forgotten that it would be better not to be born than to hurt one of My children ["It would be better for you if a millstone were hung around your neck and you were thrown into the sea than for you to cause one of these little ones to stumble." (Luke 17:2)]
The single coin comes to take the reins of humanity. I will feed My People just like I feed the birds.
I WILL SEND MY PROTECTION TO MY PEOPLE THAT HAVE BEEN HURT BY THE ANTICHRIST AND HIS ALLIES. MY PROTECTION WILL BE SUPPORT, LIGHT, AND GUIDANCE TO MY PATH, TOWARDS OUR ENCOUNTER.
Pray for the one who will be protector of My People.
Keep the Faith, do not be weak, come to Me, delve into this explanation of My Love, drink this My Word, feed on It so that they will not find you asleep. Come to Me to nourish you in the Eucharist, extend your prayer to your brothers so that it will not be just for your own salvation. He who knows only for himself, does not bear fruit, and is like the fig tree. (Matthew 21:19)
KNOW MY WORD IN THE HOLY SCRIPTURE
AND KNOW THIS MY WORD THAT WARNS YOU.
Beloved children, I call you to be vigilant; do not neglect to pay attention to world events. I call you, I alert you, I warn you, I get you ready, I protect you, I love you.
My People, My beloved People, do not forget that "I am who I am." (Exodus 3:14)
My Blessing is with those who are faithful to Me and with all those who approach My Mercy.
I Love you.
Your Jesus
HAIL MARY MOST PURE, CONCEIVED WITHOUT SIN.
HAIL MARY MOST PURE, CONCEIVED WITHOUT SIN.
HAIL MARY MOST PURE, CONCEIVED WITHOUT SIN.