Monday, January 18, 2016
Message Given by the Most Holy Virgin Mary
To Her Beloved Daughter Luz De María.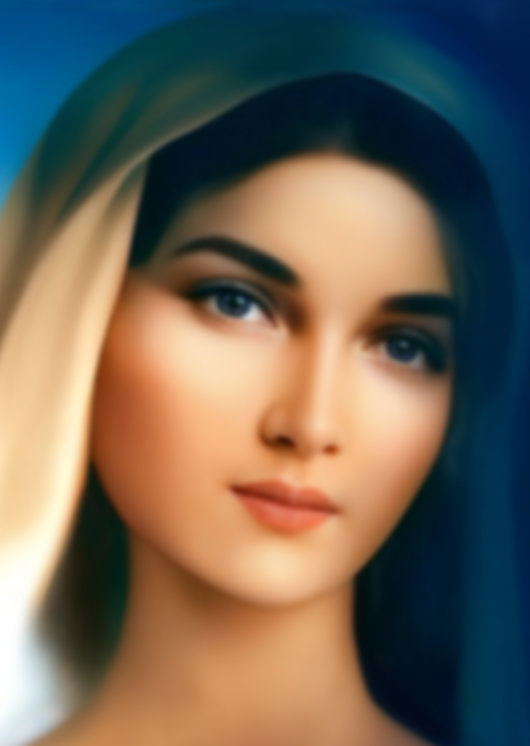 Children of My Immaculate Heart,
BELOVED CHILDREN OF MY MATERNAL LOVE, EACH INSTANT I PRESENT TO MY SON EACH ONE OF MY CHILDREN'S NEEDS.
I implore that those who are Mine be delivered from evil, and the good disposition be what drives you to take the first step on the way to Eternal Life.
Beloved children of My Immaculate Heart,
You know the Divine Law with which each man must comply in order to achieve salvation. You will not achieve it if you do not comply with all that My Son tells you.
I call you to come into My Heart, Ark of Salvation, because My Heart is Maternal Love, and as Coredeemer, I continually intercede in favor of all My children without exception, so that you will arrive at the knowledge of the true Faith.
My Divine Son calls you to take My Hand and allow Me to guide you. My Son entrusted to Me the RESCUE of His People, not because I exceed him in holiness but because My Love surpasses all created Love and Holiness, and in Heaven there are myriads of Angels who thank God the Father for the Splendor of My Heart from the first instant of My terrestrial existence.
I call you to come into My Heart so that you drink Love, Obedience, Wisdom, Patience, Charity, Hope, Faith, and Humility, and advance complying with the Divine Will in a continuous joy, without feeling the loss or absence of what is worldly, and thirsting to bring souls to My Son.
Beloved children, those who walk in Faith inhale joy and exhale joy; those who do not live the surrender to My Son with the truth, do not experience joy; instead they live in bitterness which implies an effort that does not bear the fruit that the creature expects to see with his own eyes.
You live at the instant when you will see the fulfillment of a great many of the events that My Son and I have announced to you, not during this past month, but since the start of this Mission.
For this reason, because of His Love for you, My Son reiterates that you must live struggling with the human self that is selfish, disobedient, uncharitable, and disrespectful, EVEN WITH YOUR BROTHERS THE PROPHETS. CHILDREN, THE PROPHET ANNOUNCES, DENOUNCES, AND COMMUNICATES THE DIVINE WILL. HE WHO REBELS AGAINST THE DIVINE WILL IS A REBEL, NOT THE ONE WHO DISOBEYS THE PROPHET, BUT THE ONE WHO DISOBEYS THE REQUESTS THAT THE PATERNAL HOUSE SENDS BY MEANS OF THE PROPHETS.
Some take the Divine Word and adapt it to their personal interests. How pitiful! They do not know My Son and take Him lightly.
When Heavens talks, it is Divine Word, and this Word is not subject to tastes or whims of any human creature. Pride wreaks havoc in those who are hubristic and who feel or think that the Divine Word or My Maternal Word is not for them but for those who are ignorant. This is a huge mistake! The Word explained in these Calls is for each and every one of My children to examine themselves; all, all need correction to get to Heaven and to live on Earth as if in Heaven; all men belong to My Son, but not all men comply with My Son's Will.
NOT EVERYONE WALKS BEHIND MY SON'S TRACKS, AND NO MAN AT THIS INSTANT CAN SAY THAT HE BELONGS TOTALLY TO MY SON AND THAT HE WILL NEVER FALL. NOT UNTIL HE IS RIGHT IN FRONT OF HIM.
My Son's People, keep in mind that evil will lead you to believe that you have already earned salvation, that you belong to Christ, and that nothing will separate you from Him. Yes, you belong to My Son because HE REDEEMED YOU, but each one of you personally must give life to this redemption; each one in particular must gestate his salvation. The fact that you belong to a certain religion is not what will save you. The fact that you belong to a particular group is not going to save you. WHAT WILL SAVE YOU IS LIVING, ACTING, AND WORKING LIKE MY SON! WHAT SAVES YOU IS LIVING IN DIVINE WILL; IT IS STRIVING EVERY INSTANT OF YOUR LIVES TO PRACTICE CONSTANTLY MY SON'S WORKS AND MY SON'S ACTS, BECAUSE THIS WILL LEAD YOU TO REMAIN IN A CONSTANT BATTLE FOR THE SALVATION OF THE SOUL.
Do not forget that you are constantly pursued, without truce or rest, by evil by means of the debauchery reflected by man since an early age. This generation does not see beyond their personal square meter, their immediate surroundings. They forget too soon! It is as if memory froze beneath their very personal interests, thus allowing the selfishness in which they move to be reflected.
The brother is something more or something less with whom to live; fraternity has been nullified because of the insensitivity in which man walks and which prevails in man.
IT IS PRECISELY THIS INSENSITIVITY OF HUMANKIND WHAT WILL LEAD THE POWERFUL MAN ON EARTH TO EXTERMINATE WANTONLY A GREAT PART OF HUMANITY.
Man is excessively ambitious, and this has blinded him completely, and leads him to look only at what is convenient to him, even when this goes against his brothers and against what My Son demands of His children.
Beloved children, My Son's Church will be persecuted with cruelty. My Son's enemies, those who do not want to believe in Him, those who live without Faith, will pounce on Christ's children using all that the power of evil has, because they wish to live without anything that could remind them that My Son remains present in each one. The antichrist is not one more legend; it is the wickedness that will hurl itself against My children to exterminate them if they are not prepared, and the Faith must be strong enough so that nothing will make them decline.
Children, there will be more false prophets who tell their followers that they are saved. BE CAREFUL! My Son bequeathed to you The Salvation, but each one of you must fight for this salvation, not only by praying, but also by making your prayer be life in your brothers, because this way of acting and working will sensitize you, will teach you what it means to be a truly practicing Christian. Keep in mind that if somebody assures you that you are already saved and that you have earned Heaven already, this is who does not want you to be saved, it is who wants you to continue living without making any spiritual effort as if everything had been completed. This is a fallacious lie from the deceiver of men. The antichrist has not yet started the all-out persecution against Christians. At this instant you see the cruelty, but not all of evil's cruelty; you see famine, but not all the famine caused by evil; you see death, but not all the death that the antichrist and his legions will cause; you hear about plagues spreading, but not all the plagues that will scourge humanity. It is for this reason that I call you to remain alert. My children, make progress at this instant, do not wait for another.
Beloved children, evil is a hole that you do not see clearly; it is right in front of you as if it were solid ground. These are satan's strategies and deceits: He makes you see everything as if everything were good, as if everything were accepted by God so that you will be confused and fall in the hole which is the way to perdition.
Pray, beloved children, pray for My Son's Church; pray so that it be more strict with My Son's People and they will find salvation.
At this instant, the water of life is polluted in most human creatures who die for lack of living water, the living water of Love that My Son spilled on the Cross, the water of truth, of hope, of faith, of charity, of conscience, of the notion of real and unreal, of good and evil, the living water of discernment, the living water of constancy and steadiness, and the living water of surrender.
Man lives in the mud of impiety, of irreverence towards all that means salvation; the mud of modernisms, of drug addiction, the mud of lies, the mud of adoring false gods, the mud of following falsehood, the mud of continuous laments when they do not have all they want, the mud of petty interests, the mud of spiritual ignorance, the mud of sensationalism, the mud of false wisdom which is not guided or accompanied by the Holy Spirit, the mud of not taking into humanity's light the truths that are not revealed, the mud of oppression and rebellion, the mud of power over those who are humble and dispossessed.
My children, My Son's Church is oppressed, so much so that there will be an event tortuous for My children because of the treason of those who do not love Her.
Pray, My children, pray. Drought is spreading, and with it, famine will wreak havoc.
Pray, My children, the economy falls before man's perplexed look, and as man finds his power annihilated, he feels annulled and acts out of control.
Pray, My children, pray for Chile, pray for the United States; nature will show severe.
Pray, My children. The introduction into the Holy Temple of those who will later plunder the Faith of My Son's People is an ambush and a trap.
Pray; the volcanoes continue to erupt and the lava will level villages.
Pray; nature reacts in most unusual ways and surprises man.
LOOK ON HIGH. THE SIGNS ABOUND.
Beloved children of My Immaculate Heart, at this instant it is very important for the People to have the priestly blessing; unfortunately, some priests are not aware of its value and they do not apply it with faith in favor of the People.
Children, the uncontrolled desire for power over the whole world leads to an open declaration of war. War is beneficial to the great nations when they sell weaponry to other countries, and this is what happens without most of My children being aware of it. Previous wars devastated nations with great cruelty, with famine, and genocide, but at this instant, war will be ruthless without measure because of the great advances in technology used incorrectly. Man has no love for his fellow men, the devil is inside a great deal of men, there is a thirst for vengeance and a struggle for supremacy: THIS IS THE SCENARIO THAT SATAN NEEDS IN ORDER TO FULFILL HIS PLAN TO IMPOSE HIMSELF ON HUMANKIND WITHOUT DELAY.
Children, look around, do not trust what is merely human; you must come to My Son, have Him in Communion, nourish yourselves, and be of those of whom the Gospel speaks, God's Saints.
The knowledge of what is sensible must be pursued delving into the matters of the spirit. Man cannot look for fresh water in the midst of the swamp of the world.
Beloved children of My Immaculate Heart, do not be disheartened by those who will arrive to propose separating Me from My Son's Church. This is a sign of the arrival of the antichrist. Pray the Holy Rosary and love My Son the way I Love Him.
By means of that same Maternal Love, the conductor of My Son's children will arrive at instants when My Son's People will be oppressed by freemasonry empowered in My Son's Church by the elite that follows the antichrist and that has worked to facilitate power to the devil incarnate.
Not all the ones who call you to belong to My Son speak with the truth, not all are convinced and not all are faithful to My Son's mandates.
Beloved children, I remain in front of you to accompany each of you and to intercede in your favor.
DO NOT BE AFRAID; I, YOUR MOTHER, AM CLOSE TO EACH ONE OF MY CHILDREN.
I bless you. I love you.
Mother Mary.
HAIL MARY MOST PURE, CONCEIVED WITHOUT SIN.
HAIL MARY MOST PURE, CONCEIVED WITHOUT SIN.
HAIL MARY MOST PURE, CONCEIVED WITHOUT SIN