Sunday, January 24, 2016
Message Given by Our Lord Jesus Christ
To His Beloved Daughter Luz De María.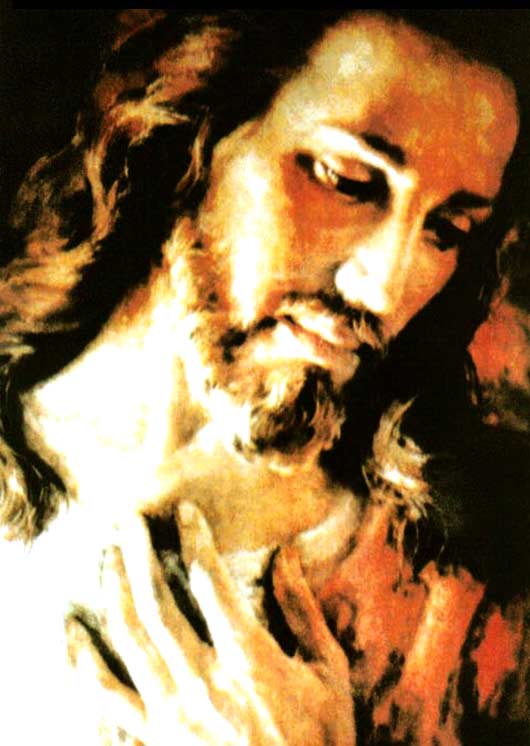 My beloved People,
MY BLESSING DESCENDS OVER YOU AND OVER THOSE WHO DO NOT KNOW ME YET. MY HEART REMAINS CONTINUOUSLY WAITING TO ATTRACT YOU TO ME.
My Mercy is infinite, and in this endless waiting I stay until the last instant. You are My children and therefore you can choose Salvation.
MY CHILDREN DO NOT GIVE UP. THEY STAND UP AGAIN AND AGAIN TO BE FREE FROM THE CHAINS OF SIN, OF IGNORANCE, OF STUBBORNNESS, AND OF SPIRITUAL BLINDNESS. THIS, CHILDREN, I REWARD AMPLY.
At this instant you are besieged by many doctrines that have come up as a result of man's search for Me. The reason for this rise is to confuse you so that you will lose the way towards My Truth and to make you take shortcuts that will never lead you along the right path.
Beloved children, you must renew yourselves inside with a generous spirit (Psalms 51,12) without placing obstacles with which men often condition the definitive surrender. I must explain very much so that, when you do not understand My Words, you will know to wait, expecting for them to be clear along the way. You are My People and I will not leave you defeated by the evil of ignorance. You just have lots of patience in large quotas, as well as abundant discernment.
Who will be able to prove that prayer is not important?
CHILDREN, THERE ARE SOME HUMAN CREATURES WHO DO NOT PRAY. PRAYER IS A CALL FOR ME; IT IS A WAY TO KEEP ME ALERT. MY HOLY SPIRIT HELPS YOU, AND THOSE WHO DO NOT PRAY DO NOT ADVANCE BECAUSE THEY DO NOT PRACTICE PRAYER.
Just like the body uses nourishment to go on instant to instant, so the Soul and the Spirit must be nourished by Me.
Children, remain attentive to the development of events; it is part of the instruction to which each one is called in order for you to stay within My Will that asks you to alert your brothers.
THE INSTANT WILL COME WHEN MY JUSTICE WILL SHINE EVERYWHERE blinding all those who persecute My People and casting down the hypocrites who pretended to love Me but did not love Me, putting down those who denied My Justice trying to hide it when it has never been hidden or nonexistent; it is they who have been hiding it from My People. Debauchery is not My Will; My Will is that you respect that
I AM YOUR GOD; "I AM WHO I AM." (Exodus 3:14)
My beloved People,
I am God present in the Creation and absent in those children of Mine who have taken Me out of their lives, contriving the oppression of those who are faithful to Me. These only seek personal glory, human applause, and status in society by the recognition of the wealth they own which, when offered to their brothers, these will not receive it because wealth will be worth nothing.
My beloved People, terror carries the human seal. In factories and industries, suffering is forged by their own hands. The harm they will cause will be such that this generation will be the one that will prepare pain with their own hands.
In the intimacy of your hearts you know that this generation is building its own death; and I want you to be aware of this.
Pray, My children, pray. Hunger makes prey of My People who ate and drank without ever thinking about these Truths that I reveal to you.
Pray, My children, pray; dormant volcanoes awaken.
My beloved People, the contamination that has been poured over this planet blames man and exhales its fury through the mouths of the volcanoes.
Pray, children. Hatred debases. Hatreds ruin relations between the inhabitants of the countries.
CHILDREN, BE TRUE; MOST HAVE NOT HEEDED MY CALL AND THEY HAVE GOTTEN THEMSELVES INTO A NEW DECEITFUL SPIRITUALITY THAT DRAGS THEM UNTIL THEY ARE FAR FROM ME, GOING AGAINST MY FATHER'S LAW. By acting this way, they will obtain the terrible consequences of the increase in geological changes transforming the geography of Earth, given the major offensive and actions of man, separating himself so much that those who rule the Nations will have authority and with great pride will lead them to what is sinful, to war, breaking peace agreements. To their great astonishment they will live among violence, robberies, insults, vexations, diseases, landslides, strong rain and wind of which there will be no weather forecast.
RELIGION WILL FALTER. Sin, well inside My Church, will have caused havoc because of the folly of those who do not obey, those who have not known Me and have rejected Me. My House will be treated irreverently because they confuse My Mercy with the transformation of the Divine Law to adapt it to the constant disrespect of a ruthless generation.
Beloved,
AMID SO MUCH CONFUSION, AS YOU HAVE NEVER SEEN BEFORE, THE GREAT IMPOSTOR MAKES
HIS APPEARANCE, ANNOUNCING THE SOLUTION TO EVERYTHING THAT IS HAPPENING. WITH HIS HANDS STAINED WITH THE BLOOD OF THE JUST, HE WILL PERFORM MIRACLES THAT COME FROM HELL TO DECEIVE MY CHILDREN.
This impostor arrives during the bloodiest war that humankind has lived. He appears as savior of a desperate humanity, desperate and out of breath, that will embrace immediately the offer satan himself presents to them, and they will surrender to the armies of evil.
This impostor will confuse My People with great eloquence; his voice will seem melodious; his eyes, black, will confuse; his words will confuse; he will be false because his wisdom will not be that of the Holy Spirit but that of the devil.
Humanity is careless; they see with indifference acts that are not My Will, and they accept all that is imposed on them.
Pray, My children, Rome will be invaded, terror will pounce on My Church.
My beloved People, pray for Japan; the harshness of Nature reaches its shores.
The pain of the People will be cruel.
My beloved People, pray; the United States continues it route towards desolation.
Another danger for humanity has been exhibited: The hydrogen bomb…
My beloved People, those who do not expect summer will fuss over it when it arrives; those who do not expect cold weather will suffer great weakness for lack of food and other causes, and will die when it arrives. My children must be prepared; although it seems that the sun shines in the same way every day, it does not.
Nature has taken ill, as the mind of man has turned away from Me.
My beloved,
I CHRIST, YOUR GOD, WILL SEND HELP TO MY PEOPLE; I WILL SEND ONE WHO IS ANGEL OF
PEACE: A CREATURE WHO LIVES IN MY LOVE AND IS NOURISHED BY MY LOVE. MY PEOPLE NEED MY ENVOY SO THEY WILL NOT BE LOST AMID SUCH BLOODY SPIRITUAL BATTLES.
DO NOT DESPAIR; I WILL NOT ABANDON YOU TO THE FORCE AND GREAT EVIL THAT WILL REACH
YOU. TRUST IN THAT MY PEOPLE ARE PRIVILEGED; MY HOUSE DOES NOT ABANDON ITS FAITHFUL.
My beloved People,
My Spirit resides in the interior of each one of My children; each one finds My Truth, which does not change in any instant. THIS IS THE WAY THE MAN OF FAITH IS: HE DOES NOT CHANGE BECAUSE HE KNOWS THAT I AM INFINITE AND ETERNAL PRESENT.
Each one with his free will has two paths before him: Good and evil. I have explained both. Each one is responsible for choosing to remain among the wheat or to be part of the weeds.
I bless you, I love you.
Your Jesus
HAIL MARY MOST PURE, CONCEIVED WITHOUT SIN.
HAIL MARY MOST PURE, CONCEIVED WITHOUT SIN.
HAIL MARY MOST PURE, CONCEIVED WITHOUT SIN.